5.2

/

10

Alchetron

5.2

Rate This





Genre

Drama, Romance




Language

Hindi




Country

India




Director

K. S. Adhiyaman




Release date

May 24, 2002 (India)




Duration




Language

Hindi





Release date

24 May 2002




Writer

K.S. Adiyaman, Arun Kumar (assistant dialogue), Ashok Mehta (assistant dialogue), Reema Rakesh Nath (dialogue)




Songs

Aa Gaya Aa Gaya






Similar

Hum Aapke Hain Koun!, Saathiya (film), Saajan
Hum tumhare hain sanam official trailer
Hum Tumhare Hain Sanam (English: I am yours, darling) is a 2002 Hindi romantic drama film. It features Salman Khan, Shah Rukh Khan and Madhuri Dixit in the lead roles. This is the second film to feature Salman Khan and Shah Rukh Khan where both are protagonists after Karan Arjun (1995). Shah Rukh Khan and Madhuri Dixit were paired up for the fourth time. Aishwarya Rai Bachchan played a cameo in the movie.
Contents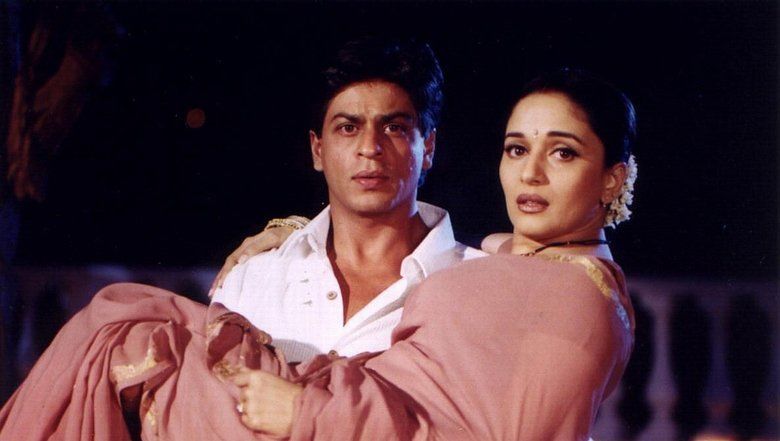 The movie is K. S. Adhiyaman's first in Hindi, a remake of his own Tamil film, Thotta Chinungi. It took five years to make, with huge sabbaticals between shoots due to production problems.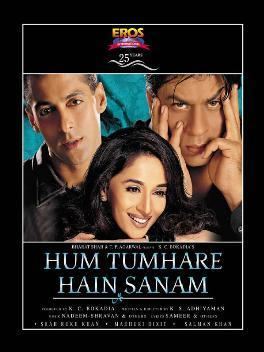 The rights of this movie are owned by Shah Rukh Khan's Red Chillies Entertainment.
Hum tumhare hain sanam some deleted scenes
Plot
Dev Narayan (Alok Nath) lives with his widowed daughter Laxmi (Aruna Irani) and her children Radha and Prashant. Dev also looks after two orphaned children, Gopal and Nita. Laxmi believes that Dev is taking more care of Gopal and Nita, so she leaves the house with her children. Laxmi soon spots an orphaned boy on the streets and takes him in. Radha forms a sisterly bond with him and names him Suraj. Suraj has a particular passion for singing.
Years pass and Suraj (Salman Khan) is now a famous and popular singer. Radha (Madhuri Dixit) is particularly fond of him – Suraj is grateful to Radha for contributing to his success. Meanwhile, Gopal (Shah Rukh Khan) has become a wealthy business tycoon. When Laxmi is killed in an accident, Radha and Prashant (Atul Agnihotri) are taken to live in Gopal's house. Also living with them is Nita (Suman Ranganathan). Gopal asks Radha to marry him and she agrees. Before their wedding, Gopal meets Suraj where he asks Gopal to watch over Radha (as Suraj loves her like a sister). On their wedding night, Gopal asks Radha who she loves most in the world. She answers her mother and Prashant. Gopal is hurt that she did not mention him. As time goes on, Gopal starts to disapprove of two things. First, he does not like the fact that he and Radha are supporting Prashant financially and second, he does not like the fact that Radha is always on the phone with Suraj. After a misunderstanding, Gopal loses his temper with Prashant and throws him out of the house.
Gopal soon suspects that Suraj and Radha are secretly seeing one another and consequently throws her out of his house. Radha goes to live with her relatives, where Prashant is staying. Everybody thinks that Radha has simply moved out for a few days. However, when Gopal sends Radha a divorce note, Suraj realizes the situation. He and Prashant tell Radha they wish to speak to Gopal, but Radha does not want them to do so. Suraj secretly holds a meeting with Gopal. Gopal arrives and angrily confronts Suraj. Eventually, Gopal pulls out a loaded gun and asks Suraj to shoot him. After an argument, Gopal leaves. Suraj now believes that he is the reason for Radha's divorce and feels extremely guilty. He is determined to set things right. Radha has realised that Gopal was angry about her sibling relationship with Suraj. Radha and Suraj agree never to meet again.
Suraj explains the situation to his girlfriend Suman (Aishwarya Rai Bachchan). Suman talks to Gopal and explains where he went wrong. Gopal now realises that he misunderstood Radha and Suraj's sibling relationship for adultery. Just as Radha is about to commit suicide, Gopal arrives and stops her. They reconcile. They visit Suraj at his show. Gopal and Suraj apologise to one another and things end well.
Cast
Salman Khan as Suraj, Radha's Childhood Friend
Shah Rukh Khan as Gopal, Radha's Husband
Madhuri Dixit as Radha
Aishwarya Rai Bachchan as Suman, Suraj's Girlfriend (Guest Appearance)
Atul Agnihotri as Prashant, Radha's Younger Brother
Suman Ranganathan as Nita, Gopal's Younger Sister
Aruna Irani as Laxmi, Radha and Prashant's Mother
Laxmikant Berde as Hasmukh,
Alok Nath as Dev Narayan, Gopal's Grandfather
Asha Sharma as Mona, Gopal's Secretary
Vikas Anand as Ramu
Dinesh Hingoo as Gopal's Lawyer
Production
Production was first reported in February 1996 when it was revealed that producer K. C. Bokadia had signed on K. S. Adhiyaman to remake his successful Tamil film Thotta Chinungi (1995) into Hindi. Initially it was revealed that Sunny Deol, Juhi Chawla and Aamir Khan were to play the three lead roles, though there ended up being a total change of cast, with Shahrukh Khan, Madhuri Dixit and Salman Khan replacing them.
Soundtrack
The music was composed by Nadeem-Shravan, Nikhil-Vinay, Daboo Malik, Bappi Lahiri, Bali Brahmabhatt, and Sajid-Wajid. Lyrics were penned by Sameer, Praveen Bhardwaj, Maya Govind, Kartik Avasthi, and Jalees Sherwani. The background score was composed by Uttam Singh. According to the Indian trade website Box Office India, with around 16,00,000 units sold, this film's soundtrack album was the year's fifth highest-selling.
Review
"Hum Tumhare Hain Sanam has sparkling star cast" said Taran Adarsh the Indian Film critic journalist.
Reviewer Anita Bora writes "A medium-sized dose of love with a big dash of suspicion. Add to it several scoops of friendship. Towards the end, add a few drops of humor". She even says that "The premise of the film is simple. Jealousy. If you discount the fact the 'falling in love' was instant (but when is it not?), the topic is quite interesting. Haven't we all at some point read too much into situations, overreacted, undergone pangs of jealousy that seem downright silly later?"
Another reviewer Margaret E. Redlich expresses that "I really liked the concept, of a husband who loves his wife but is not sure how she feels about him, if it is just a "good wife" or if she really cares. It's an intriguing twist on the usual Indian film idea, of a woman automatically falling in love as soon as the wedding is over. Is that what a husband really wants, a wife who loves him just because she is married to him?"
Box office
Hum Tumhare Hain Sanam grossed ₹22.26 crore (US$3.5 million) in India and $2.55 million (₹12.49 crore) in other countries, for a worldwide total of ₹34.76 crore (US$5.4 million), against its ₹12 crore (US$1.9 million) budget. It had a worldwide weekend opening of ₹11.11 crore (US$1.7 million), and grossed ₹17.23 crore (US$2.7 million) in its first week. It is the 4th-highest-grossing Bollywood film of 2002 worldwide.
India
It opened on Friday, May 24, 2002, across 300 screens, and earned ₹1.42 crore (US$220,000) nett on its opening day. It grossed ₹4.14 crore (US$650,000) nett in its opening weekend, and had a first week of ₹6.84 crore (US$1.1 million) nett. The film earned a total of ₹13.52 crore (US$2.1 million) nett, and was declared "Average" by Box Office India. It is the 10th-highest-grossing film of 2002 in India.
Overseas
It had an opening weekend of $875,000 (₹4.28 crore) and went on to gross $1.215 million (₹5.95 crore) in its first week. The film earned a total of $2.55 million (₹12.49 crore) at the end of its theatrical run. Overseas, It is the 3rd-highest-grossing Bollywood film of 2002.
References
Hum Tumhare Hain Sanam Wikipedia
(Text) CC BY-SA
Hum Tumhare Hain Sanam IMDb
Hum Tumhare Hain Sanam Rotten Tomatoes
Hum Tumhare Hain Sanam themoviedb.org