From 2010 to 2014, she was a member of the Virginia House of Delegates. She first won election to her seat in 2009, defeating Democratic incumbent Margaret Vanderhye. She has worked in numerous positions for various government agencies, including as chief counsel of the House Government Reform and Oversight Committee, director of public affairs at the Department of Justice, and as a staffer for Congressman Frank Wolf. She is a founding partner and co-principal of public relations and public policy firm Corallo Comstock.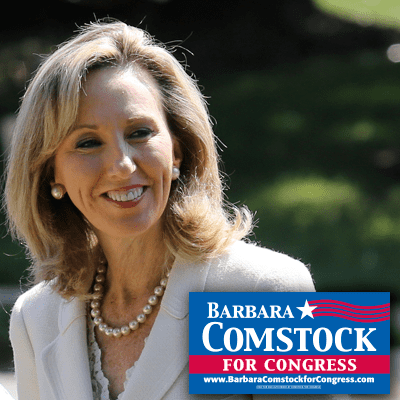 Comstock was born Barbara Jean Burns in Springfield, Massachusetts, on June 30, 1959. She is the daughter of Sally Ann Burns, a teacher, and John Ferguson Burns, national manager of polymer sales for Shell Chemicals. Comstock graduated from Westchester High School in Houston, Texas in 1977. She graduated cum laude from Middlebury College in 1981. In college, Comstock spent a semester interning for Senator Ted Kennedy. While interning for Kennedy, Comstock, who was raised a Democrat, realized she was a Republican. She has been married to Elwyn Charles Comstock, whom she had met in high school, since October 9, 1982. Comstock received her Juris Doctor from Georgetown University Law Center in 1986.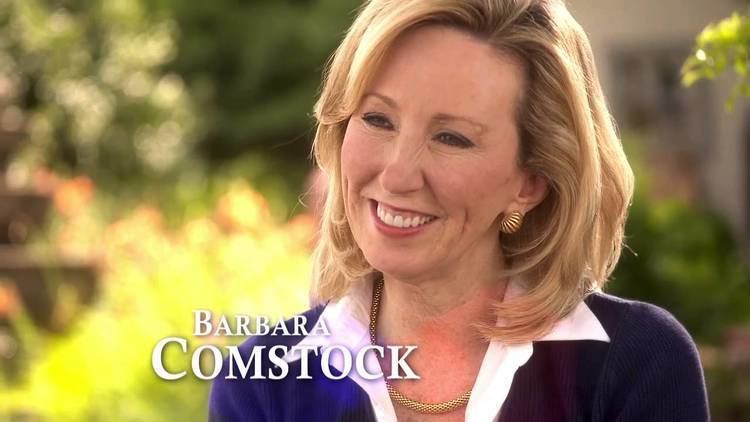 After working as a lawyer in private practice, Comstock served from 1991 to 1995 as a senior aide to Congressman Frank Wolf. Comstock then served as chief investigative counsel and senior counsel for the U.S. House of Representatives Committee on Government Reform from 1995 to 1999, working as one of Washington's most prominent anti-Clinton opposition researchers.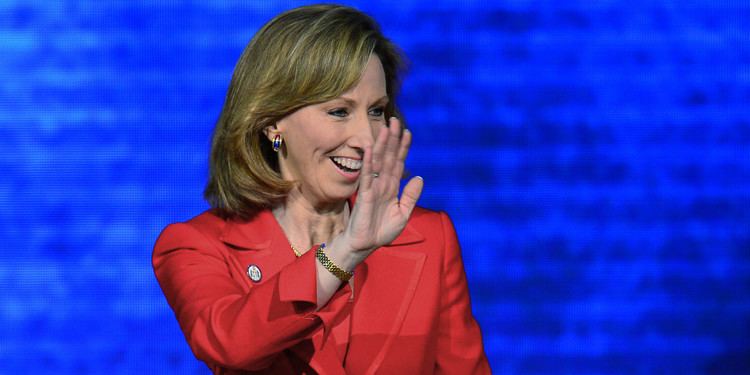 Comstock worked on behalf of the 2000 presidential campaign of George W. Bush. Her research team built massive stores of paper and electronic data, known as "The Gore File," that were a key source of information on the former vice president for GOP publicists and ad-makers. Comstock is credited with writing the Republican "playbook" defending Bush nominees such as John Ashcroft for U.S. Attorney General. Comstock later served as director of public affairs for the Justice Department from 2002 to 2003.
Comstock and Barbara Olson, the wife of United States Solicitor General Theodore Olson, formed a partnership known to Washington insiders as the "Two Barbaras." Barbara Olson died in the September 11, 2001 terrorist attacks.
Comstock joined law firm Blank Rome in 2004. Comstock assisted the defense teams of both Scooter Libby and former House Majority Leader Tom DeLay. In 2005, Comstock was hired by Dan Glickman to lobby on behalf of the Motion Picture Association of America. In 2008, Comstock was a consultant on the presidential campaign of Mitt Romney. Comstock is a former Co-Chair of the Executive Committee of the Susan B. Anthony List.
In 2009, Comstock was elected to a seat in the Virginia House of Delegates. She defeated incumbent Democrat Margaret Vanderhye by 316 votes. While in the state legislature, Comstock was involved in enacting legislation that increased the penalties for teen sex trafficking.
Comstock's public relations firm consulted for the Workforce Fairness Institute (WFI), a conservative group advocating on a variety of federal labor policy issues, from 2008 through 2012. According to a 2014 report by Politico, during her time in the Virginia House of Delegates, Comstock sponsored legislation that advanced WFI's overall public policy objectives. Legislation sponsored by Comstock called for union votes by secret ballot, prevented employers from giving employees' information to unions, and prohibited awarding contracts for state-funded construction projects exclusively to unionized firms. Comstock's campaign responded to the report by saying "Barbara Comstock disclosed her federal clients under Virginia law as required."
Comstock was re-elected to her seat in the Virginia House of Delegates in 2011 and 2013. When she won a seat in the U.S. Congress in 2014, she formally resigned her seat in the Virginia House of Delegates and a special election was called to replace her.
On January 7, 2014, Comstock announced her candidacy for the U.S. House of Representatives from Virginia's 10th District, following the announcement that incumbent Frank Wolf would retire at the end of the 113th Congress.
The Daily Caller reported that an opposition research packet on Comstock suggested she would "likely come under fire in Virginia's 10th congressional district race over the question of whether she is conservative enough."
On April 26, 2014, Comstock won the Republican nomination for the U.S. House of Representatives in the 10th District primary, defeating five other candidates and winning approximately 54% of the total vote.
Comstock and Republican U.S. Senate candidate Ed Gillespie planned on attending a public meeting of the Northern Shenandoah Valley Tea Party in early August 2014. After rumors arose that the gathering could be infiltrated by Democrats, both candidates initially moved the meeting to a private location before opting to speak with the group by phone instead. This decision prompted a statement from David Sparkman, chairman of the Tea Party group, who said "I'm disappointed, I wanted to look these politicians in the eye and take their measure."
Comstock received the endorsements of the United States Chamber of Commerce, the National Federation of Independent Business, and both the Virginia Association of Realtors and the National Association of Realtors. On August 28, 2014, Comstock received the endorsement of the Virginia Police Benevolent Association (VAPBA). In 2012, the VAPBA had endorsed the Democratic challenger to Representative Frank Wolf in the same district.
Comstock won the election on November 4, 2014, defeating Democrat John Foust with 56 percent of the vote.
Comstock faced Democrat LuAnn Bennett, a real estate executive and ex-wife of former Virginia Congressman Jim Moran, in the 2016 election. Given the swing state status of Virginia in the 2016 presidential election, the race was expected to be one of the most heavily contested races in the country. Democratic strategist Ellen Qualls said the 10th District is "essentially the swingiest district in the swingiest state." In early October following the Hollywood access tape Comstock called for Donald Trump to drop out of the Presidential race releasing a statement that in part said "This is disgusting, vile, and disqualifying. No woman should ever be subjected to this type of obscene behavior and it is unbecoming of anybody seeking high office. In light of these comments, Donald Trump should step aside and allow our party to replace him with Mike Pence or another appropriate nominee from the Republican Party. I cannot in good conscience vote for Donald Trump".
Comstock won re-election by a margin of 53%-46%. During the first recess of the 115th session of Congress, constituents requested to meet with her in a Town Hall format, however, she declined to appear in person citing scheduling difficulties. Along with other members of congress facing anti-Trump backlash, Comstock scheduled conference calls, dubbed "tele-town halls," during which questions are screened by aides, with no follow-ups, crowd reactions, or visuals.
In April 2016, Comstock said she would support legislation introduced by Democrat John Delaney to overhaul the board that oversees the Washington Metropolitan Area Transit Authority, which runs Washington's Metrorail system. The legislation would require the next three federal appointments to the authority's board of directors to be either a certified transit, management, or financial expert.
Comstock was re-elected in 2016 with 53% of the vote to Bennett's 47%.
In early 2017, the Democratic Congressional Campaign Committee named Comstock and her 10th district seat one of their top targets in the 2018 midterm elections. By May 2017, five Democrats had announced their candidacy for the Democratic nomination to run against Comstock. In July 2017, Republican Shak Hill, who ran for the Republican nomination for U.S. Senate in 2014, announced that he was preparing to mount a primary challenge against Comstock in 2018.
Comstock has been named as a potential candidate for the U.S. Senate against incumbent Tim Kaine in the 2018 election.
As of September 2017, Comstock voted with her party in 97.2% of votes so far in the current (115th) Congress and voted in line with President Trump's position in 95.1% of votes. Comstock was ranked as the 82nd most bipartisan member of the U.S. House of Representatives during the 114th United States Congress in the Bipartisan Index created by The Lugar Center.
Comstock supports a ban on abortion except in cases of rape, incest, or when the mother's life is in danger. However, in an interview with Chris Matthews, Comstock stated that the portion of Roe v. Wade that holds that late-term abortion must be permitted when the mother's life is in danger, should be overturned. In 2011, Comstock voted in favor of HB 462, which required women to have ultrasounds before receiving an abortion. When opponents pointed out that this would necessitate an internal ultrasound for early-term pregnancies, an amendment was passed to limit the requirement to external ultrasounds only. She also voted in favor of the amendment. She supports making birth control available to women over the counter.
Comstock favors a balanced budget amendment to the U.S. Constitution.
Comstock opposes federal regulation of greenhouse gas emissions. In February 2017, she voted to repeal the Stream Protection Rule, a regulation that required coal companies to restore streams and mined areas to their pre-development conditions. In February 2017, she voted in favor of repealing a rule that required energy companies to disclose payments to foreign governments. In March 2017, she signed onto a Republican resolution acknowledging the impact of human activities on global climate.
Comstock favors repealing the Affordable Care Act (ACA or Obamacare). She was one of twenty Republicans in the House to vote against the American Health Care Act of 2017 (H.R. 1628), the House Republican bill to repeal and replace the ACA.
Comstock opposes net neutrality, the principle that Internet service providers do not discriminate against users, content and websites. In 2015, in the wake of a Federal Communications Commission (FCC) ruling protecting net neutrality, Comstock said that net neutrality is "government overreach" and "robs the internet of its freedom".
In March 2017 she voted to reverse a landmark FCC ruling that opens the door for internet service providers to consumer data and browsing habits to advertisers. During the preceding election cycle, she accepted $56,457 in donations from the telecom industry.
In a 2014 election debate, Comstock criticized President Barack Obama's executive orders on immigration (see Deferred Action for Childhood Arrivals, Deferred Action for Parents of Americans), calling for immigration-law policy changes to be made via legislation. Comstock also suggested tracking people entering the U.S. like "FedEx can track packages coming in here all of the time".
Comstock criticized President Donald Trump's 2017 executive order to impose a temporary ban on entry to the U.S. to citizens of seven Muslim-majority countries, saying: "The president's Executive Order [goes] beyond the increased vetting actions that Congress has supported on a bipartisan basis and inexplicably applied to Green Card holders. This should be addressed and corrected expeditiously."
She opposes same-sex marriage.
In February 2017, President Donald Trump signed into law the INSPIRE Women Act, a bill sponsored by Comstock, which compels the director of the National Aeronautics and Space Administration (NASA) to encourage women and girls to pursue an education in the science, technology, engineering, and mathematics (STEM) fields.
She favors a prohibition on human embryonic stem cell research. She supports adult stem cell research.
Committee on House Administration
Committee on Science, Space and Technology
Subcommittee on Energy
Subcommittee on Research and Technology (Chair)
Committee on Transportation and Infrastructure
Subcommittee on Aviation
Subcommittee on Economic Development, Public Buildings and Emergency Management
Subcommittee on Highways and Transit