Country

India




University

SSM College for Engineering & Technology




Language spoken

Urdu


Area

01952




State

Jammu and Kashmir




District

Baramulla




Literacy

66.93%



Baramulla (?baer??m?l?) is a municipality in Baramulla district in the Indian state of Jammu and Kashmir. It is located on the banks of Jhelum river, downstream from Srinagar (the state capital). The city was previously known as Varahamula (Sanskrit for "boars molar").
Contents
Map of Baramulla
Baramulla bomber if you want peace prepare for war
History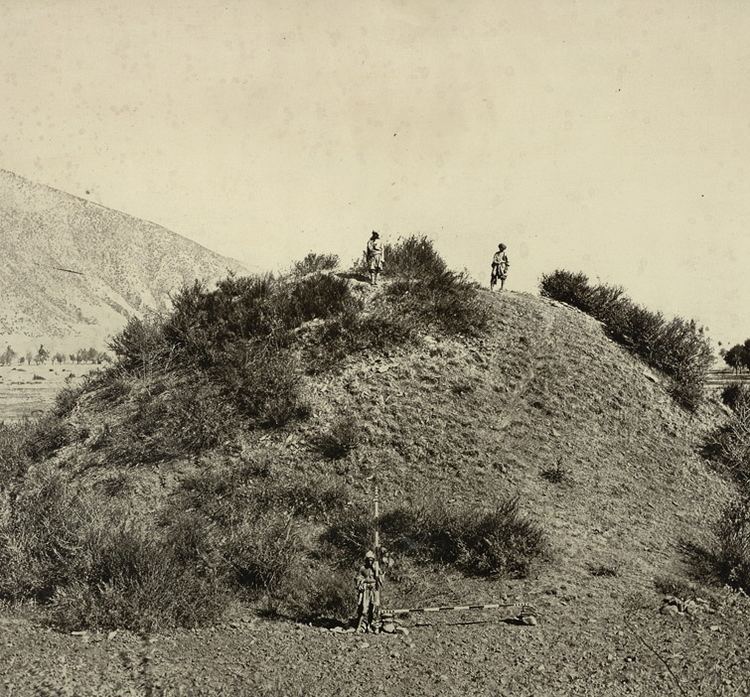 The city of Baramulla was founded by Raja Bhimsina in 2306 BCE. A number of visitors have travelled to Baramulla, including Hiun Tsang from China and a British historian named Moorcraft. Mughal emperors were fascinated with Baramulla. Gateway of the Kashmir Valley, Baramulla was a way station during their visits to the valley. In 1508 CE Emperor Akbar, who entered the valley via Pakhil, spent several days at Baramulla; according to Tarikh-e-Hassan, the city was decorated during Akbars stay. Jahangir stayed at Baramulla during his visit to Kashmir in 1620.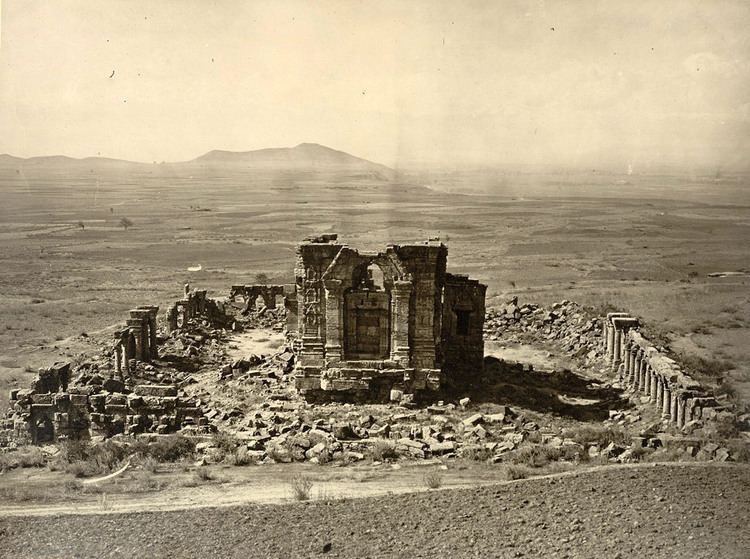 From its beginning, Baramulla has had religious importance. Hindu Teertha and Buddhist Vihars made the city sacred to Hindus and Buddhists. During the 15th century the city became important to Muslims also; Syed Janbaz Wali, who visited the valley with his companions in 1421, chose Baramulla as the centre of his mission and was buried there. His shrine attracts pilgrims from throughout the valley. In 1620 the sixth Sikh Guru, Shri Hargobind, visited the city. In Baramulla Hindus, Muslims, Buddhists and Sikhs lived in harmony and contributed to its culture.
Baramulla was the oldest and most-important town in northern Kashmir and Jammu and "Gateway to the Kashmir Valley" (by the Rawalpindi-Murree-Muzaffarabad-Baramulla Road) until 27 October 1947. It was ceded to India when the maharaja signed the instrument of accession on 26 October 1947. The city is the headquarters of Baramulla district.
Geography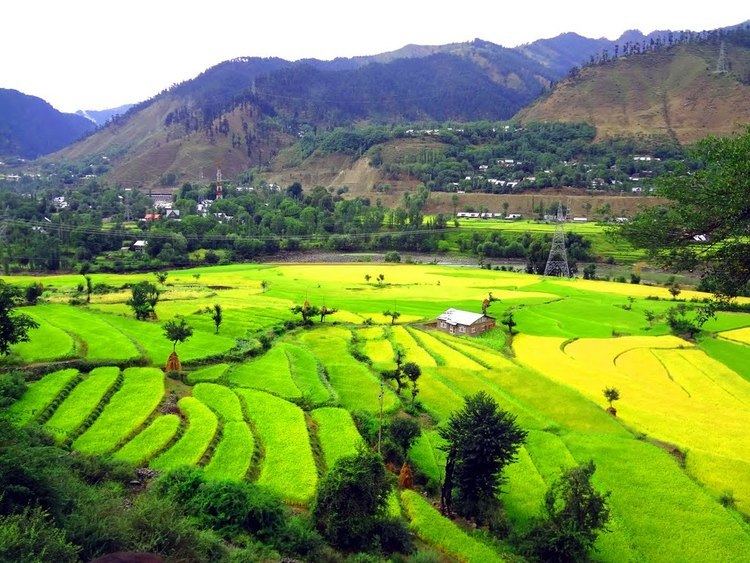 Baramulla is on the Jhelum River, at its highest point. The old town is on the north bank of the river, and the new town is on the south bank. They are connected by five bridges, including a suspension bridge connecting Gulnar Park and Dewan Bagh. Five more bridges are being built or are planned. A bridge will connect the Khanpora and Drangbal areas of the city.
The old town is densely populated, and smaller than the new town. Government offices, hospitals, the bus station and most other facilities are in the new town. The railway station is on the eastern end of the new town, on the river. Beyond the old town, the river divides into two channels at Khadanyar (near police headquarters), forming an island known as Eco Park.
Economy
Baramulla is the largest grower in the state, with apples as one of the major crops.
References
Baramulla Wikipedia
(Text) CC BY-SA
(,)http://upload.wikimedia.org/wikipedia/commons/1/16/Buddhist_tope_baramula1868.jpg(,)http://upload.wikimedia.org/wikipedia/commons/5/51/Sun_temple_martand_indogreek.jpg(,)http://www.andrewwhitehead.net/uploads/3/5/0/5/3505647/7390146_orig.jpg(,)http://www.railnews.co.in/wp-content/uploads/2015/03/usbrl.gif(,)http://tourmet.com/wp-content/uploads/2013/12/Baramulla-Jehlum-River.jpg(,)http://4.bp.blogspot.com/-GbWb5mbz38w/T9Yxtb8gfKI/AAAAAAAAKho/NgcfbnnShck/s1600/bridge%2Bat%2Bbaramulla%2B1854.jpg(,)http://upload.wikimedia.org/wikipedia/commons/0/0e/India-view_of_shilla.jpg(,)http://static.ibnlive.in.com/pix/sitepix/05_2014/baramulla_clshes_mufti1.jpg(,)http://static.ibnlive.in.com/ibnlive/pix/sitepix/09_2013/hurriyat-conference-leader-found-dead-on-roadside-in-baramulla_120913044924.jpg
(,)http://static.panoramio.com/photos/large/58687566.jpg(,)https://fbexternal-a.akamaihd.net/safe_image.php%3Fd%3DAQDUVQn0YU9izXZh%26w%3D720%26h%3D540%26url%3Dhttp%253A%252F%252Fupload.wikimedia.org%252Fwikipedia%252Fcommons%252Fthumb%252F0%252F05%252FGulmarg.JPG%252F720px-Gulmarg.JPG(,)http://i1.wp.com/www.topworldfact.com/wp-content/uploads/2015/04/Kashmir-Valley-Railway-Jammu-Srinagar-Baramulla.jpg%3Fresize%3D750%252C433(,)http://41.media.tumblr.com/faafaa06579e646045cd118a04918b0a/tumblr_netzo6calC1tfyp9go1_1280.jpg(,)https://m1.behance.net/rendition/modules/165444369/disp/ea73ee605f325ed1ed21dcc1b4b7c4c5.jpg(,)http://im1.indiarailinfo.com/549417/0/dsc7538.jpg(,)http://www.indiatravelspots.com/images/jammu-and-kashmir/travel-guide.jpg(,)http://bubblegumtours.com/images/PahagamLandscapeKashmirTouristPlaceTours.jpg
(,)http://i.ndtvimg.com/i/2015-02/baramullah-j-and-k-baramullah_650x400_71423489022.jpg(,)http://dd508hmafkqws.cloudfront.net/sites/default/files/styles/article_node_view/public/J%2526K_Baramulla_Grenade_attack_google_maps.jpg(,)http://tourmet.com/wp-content/uploads/2013/12/Baramulla.jpg
(,)https://astrodevam.com/images/religious/baramulla.jpg(,)http://i.ytimg.com/vi/a4338YByJKo/0.jpg(,)http://i.ytimg.com/vi/3VkqckKyshc/0.jpg(,)http://i.ytimg.com/vi/3VkqckKyshc/maxresdefault.jpg
(,)http://files.prokerala.com/news/photos/imgs/800/actress-neelam-from-baramulla-in-jammu-and-106064.jpg(,)https://s-media-cache-ak0.pinimg.com/736x/ef/8c/5d/ef8c5d90ae6f2232cd13dfcc11895f0a.jpg(,)http://www.thehindu.com/multimedia/dynamic/01386/jand_k_1386186f.jpg(,)https://thepeopleofpakistan.files.wordpress.com/2010/07/kashmiri_youth-killed_baramulla_june2010.jpg%3Fw%3D630(,)http://www.thehindu.com/multimedia/dynamic/02361/TH03_KASHMIR_2361850g.jpg(,)http://www.scmp.com/sites/default/files/styles/980w/public/2013/04/01/65ab290dd096afaffa0ac12f952e68a6.jpg%3Fitok%3Da1CoM6Fg(,)http://www.thevoxkashmir.com/wp-content/uploads/2013/02/531825_481456715251417_1546643126_n.jpg(,)https://s-media-cache-ak0.pinimg.com/736x/01/f3/df/01f3df0466ac27f98409cf77b371526e.jpg(,)http://www.fearbeneath.com/wp-content/uploads/2008/10/maneatingleopard.jpg(,)http://i.ytimg.com/vi/t2E0Xb5sw6E/hqdefault.jpg
(,)http://focuztours.com/sites/default/files/imagecache/SlidingBanner-730x203/baramulla-2.jpg(,)http://www.nativeplanet.com/photos/600x450/2012/05/_13376898971.jpg(,)http://focuztours.com/sites/default/files/imagecache/SlidingBanner-730x203/banner.3.png(,)http://www.nativeplanet.com/img/2013/08/01-theseabridgeriderameshwaram.jpg(,)http://www.mapsofindia.com/maps/jammuandkashmir/tehsil/baramula-tehsil-map.jpg(,)http://w0.fast-meteo.com/locationmaps/Baramulla.10.gif(,)http://1.bp.blogspot.com/-WxPzCx7qOng/UcfzmTxAsGI/AAAAAAAAAbU/5b5MyX-IJMQ/s1600/sardari%2B2.jpg(,)http://www.onefivenine.com/images/Travel/2255.jpg(,)http://3.imimg.com/data3/MN/DM/MY-10671746/katra-500x500.jpg(,)http://cdn.indiatourism4u.in/images/22531.jpg