Country

India




Languages spoken

Kashmiri, English, Urdu, Pahari




State

Jammu and Kashmir




District

Baramulla




Points of interest

Gulmarg Gondola, Khilanmarg, Alpather Lake, Gulmarg, Ningle Nallah, Gulmarg, Outer Circle Walk, Gulmarg



Gulmarg (translation: "Meadow of Flowers") is a town, a hill station, a popular skiing destination and a notified area committee in Baramula district in the Indian state of Jammu and Kashmir. The town is within the Himalayas and is within miles of the Line of Control between India and Pakistan.
Contents
Map of Gulmarg
3d view of gulmarg best place to visit in jammu kashmir
Kashmir best tourist attraction place gulmarg people are enjoying snow falls
History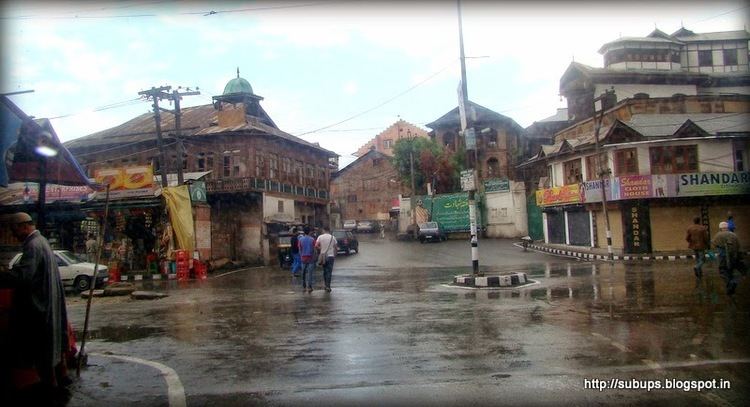 Originally named Gaurimarg or "the fair one" by shepherds in honour of the Hindu goddess Parvati, the resort was renamed Gulmarg or the "meadow of flowers" by Sultan Yusuf Shah of the Chak Dynasty who frequented the place with his mistress Habina Khatoun in the 16th century. Wild flowers of 21 different varieties were collected by the Mughal Emperor Jahangir for his gardens from here. In the 19th century, British Civil servants started using Gulmarg as a retreat to escape summers in North Indian plains. Hunting and golfing were their favourite pastimes and by 20th century three golf courses had been established in Gulmarg including one exclusively for women. One of the three golf courses established survives to the present day and at an altitude of 2,650 metres (8,690 ft) is the worlds highest golf course. In 1927, British established a ski club in Gulmarg and two annual ski events were hosted one each during Christmas and Easter. Central Asian explorer Aurel Stein also visited Gulmarg during this period.
After the end of British colonial rule, Gulmarg became a part of the independent princely state of Jammu and Kashmir. To ensure the accession of the princely state, Pakistan planned an invasion of the state called Operation Gulmarg. One of the routes used by the invading militia of Pathan tribesmen, armed and supported by Pakistani regular troops, passed through the Haji Pir pass and Gulmarg onto the state capital Srinagar. Gulmarg fell to the invading army, but the Indian army led by the 1 Sikh Regiment, which had been airlifted to Srinagar only after the Dogra ruler of the state Maharaja Hari Singh had signed an Instrument of Accession with India on 26 October 1947, successfully defended the outskirts of Srinagar. Thereafter, Indian counterattack pushed the tribesmen backwards and many towns including Gulmarg were recaptured. In 1948, Indian Army established a ski school in Gulmarg which later became the High Altitude Warfare School of the Indian army specializing in snow–craft and winter warfare. On 1 January 1949, the war ended under UN supervision and a Ceasefire line (CFL), which was rechristened the Line of Control (LOC) by the Shimla Agreement of 1972, came into being close to Gulmarg.
Post Indian Independence, Indian planners sought to develop a destination for Winter sports in India. The Department of Tourism of the Government of India invited Rudy Matt, in 1960 to select a suitable location for such purpose. Matt zeroed in on Gulmarg as suitable location for development of a Winter sports destination in India. In 1968, Institute of Skiing and Mountaineering was established in Gulmarg to train ski instructors. Over the next decade Indian planners invested 30 million (US$480,000) to transform Gulmarg into a world class ski destination. Gulmarg became a centre for skiers from Asian nations. In mid-1980s, Heli-skiing was introduced in Gulmarg in collaboration with the French skier Sylvain Saudan of Himalaya Heli-Ski Club of France.
In the 1990s, the rise of militancy in Jammu and Kashmir affected tourism in Gulmarg. With the abatement of terrorism in the area, tourism started to recover in late 1990s. Work on the cable car project between Gulmarg and Apharwat Peak, which was commissioned in 1988 by Government of Jammu and Kashmir but was subsequently abandoned due to militancy in 1990, was resumed in 1998. In May 1998, Phase 1 of the project, between Gulmarg and Kongdori, began its commercial operation. In May 2005, Phase 2 of the project was also inaugurated making it one of the longest and highest rope ways of Asia. The chairlift installed as a part of Phase 3 of the project began its operations in 2011. India's National Winter Games were held in Gulmarg in 1998, 2004 and 2008. Tourism in Gulmarg was affected again by a grenade attack in 2008 killed one tourist and injured five others. In 2014, Government of Jammu and Kashmir drafted a Master Plan–2032 for Gulmarg. The plan includes development of a solid waste treatment plant on 20 acres of land close to Gulmarg.
Geography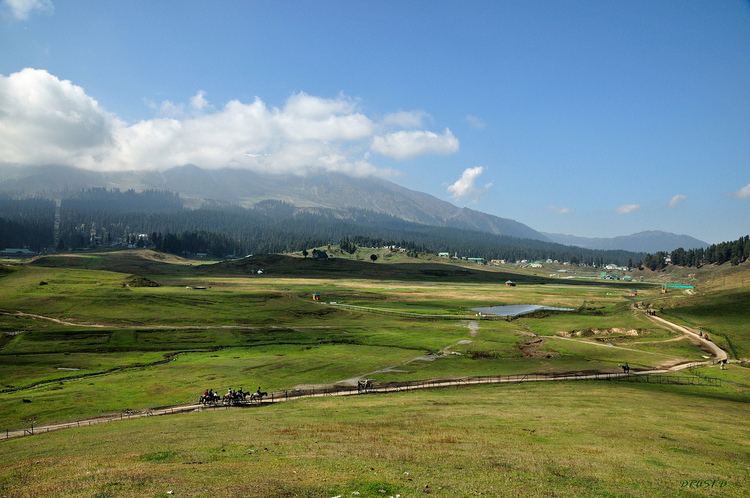 Gulmarg lies in a cup shaped valley in the Pir Panjal Range of the Himalayas, at an altitude of 2,730 m (8,957 ft), 56 km from Srinagar. The soil in Gulmarg comprises glacial deposits, lacustrine deposits and moraines of pleistocene era covering shales, limestones, sandstones, schists and other varieties of rocks. The natural meadows of Gulmarg, which are covered with snow in winter, allow the growth of wild flowers such as daisies, forget-me-nots and butter cups during spring and summer. The meadows are interspersed by enclosed parks and small lakes, and surrounded by forests of green pine and fir. Skiing and other winter sports in Gulmarg are carried out on the slopes of Apharwat peak at a height of 4,267 m (13,999 ft). Many points on Apharwat peak and Khilanmarg offer a panoramic view of Nanga Parbat and Harmukh mountains.
Tourism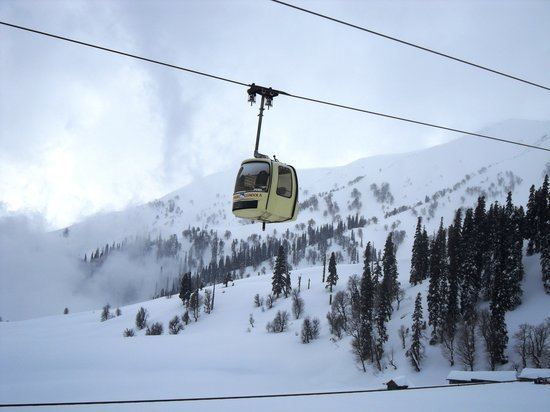 According to CNN, Gulmarg is the "heartland of winter sports in India." The town was being mooted as a possible host for the 2010 Commonwealth Winter Games. As such, Gulmarg has been rated by CNN International as Asias seventh best ski destination. The town is easily accessible from Srinagar. The road to Gulmarg from Srinagar passes through fields of paddy till Tanmarg, a village close to Gulmarg, and is uphill thereon passing through forests of pine and fir. From the TRC bus stand in Srinagar, tourist buses take around two and half hours to reach Gulmarg. Standard buses are cheaper and ply till Tanmarg, where one has the option of riding on a pony to Gulmarg. Winter sports like skiing, tobogganing, snowboarding and heli-skiing take place on the slopes of Mount Apharwat. Apharwat can be reached by a cable car system called Gondola.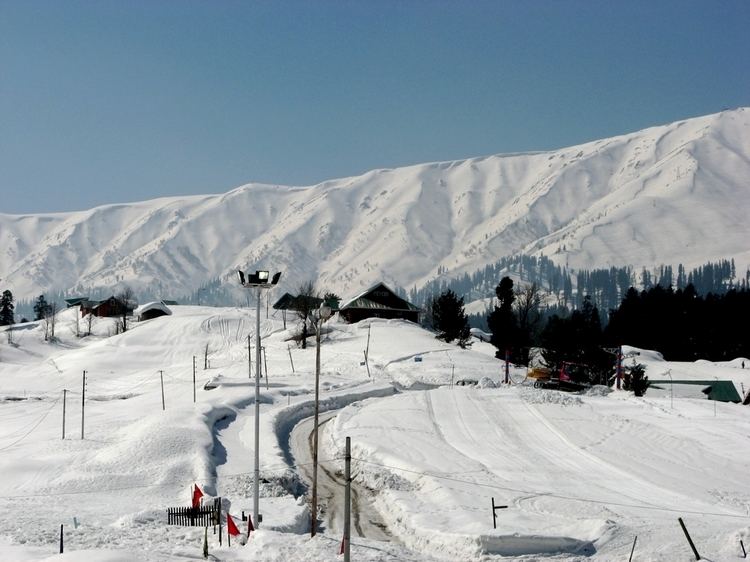 Built by the French company Pomagalski, the Gulmarg Gondola is a tourist attraction in itself. It is one of the highest cable cars in the world, reaching 3,979 metres. The two-stage ropeway ferries about 600 people per hour to and from the gondola main station in Gulmarg to a shoulder of nearby Mt. Apharwat Summit (4,200 m (13,780 ft)). The first stage transfers from the Gulmarg resort at 2,600 m (8,530 ft) to Kongdoori Station at 3,080 m. The second stage of the ropeway, which has 36 cabins and 18 towers, takes skiers to a height of 3,950 m (12,959 ft) on Kongdoori Mountain, a shoulder of nearby Apharwat Peak (4,200 m (13,780 ft)). The second stage was completed in a record time of about two years at a cost of Rs11 crore and opened on May 28, 2005. The French company had also built the first phase of the gondola project, connecting Gulmarg to Kongdoori, in 1998. The Jammu and Kashmir State Cable Car Corporation has also constructed chair lifts to connect Kongdoori with Mary's Shoulder for intermediate and advanced skiers.
The "heartland of winter sports in India", as quoted by CNN, is a gathering ground for all things extreme sports and outdoors related. In the winter, the diverse and extreme terrain combines with torrential snowfall to create a snow destination that is among the best in the world. From the Kongdori station, Skiers can ski down a groomed trail through the woods that descends 450m in about 3.8 km. There are also countless off-piste possibilities through the beautiful Khilanmarg meadows on the foot of Mount Apharwat, which offer a scenic view of Nanga Parbat. The Apharwat ridge at 3850+ metres offers an avalanche controlled ski area that offers a wide field of snow to descend 800 m in approximately 3 km of skiing, and is for advanced skiers only.
As the destination itself is still undeveloped, skiers and riders never have to suffer the long queues that are so prevalent in other international snow destinations – it is not uncommon to get up to 10 runs in a day from the top of the gondola and to be carving fresh lines in untracked snow for the best part of a day. Due to Gulmargs steep terrain, the region is popular amongst advanced and extreme skiers from around the world and has been visited by a number of ski professionals and featured in a number of ski films. The summer is just as busy. With temperatures ranging from 25 to 30 °C, Gulmarg attracts outdoor sports fanatics with its world class golfing, trekking, mountain biking, horse riding, water skiing, and fishing.
There are a few places of religious importance near the resort within a 5 to 20 km radius like Baba Reshi, Haji Murad at Kreeri and Tangmarg. Khilanmarg is a meadow on the foot of Mount Apharwat, 6 km away from Gulmarg, which offers a scenic view of Nanga Parbat.
Gulmarg is among the most famous tourist destinations in India and there is a need for some tightened regulation to save the environment of the area from over tourism.
Culture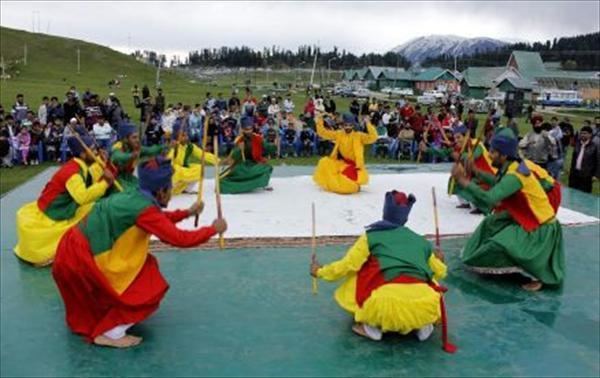 Gulmarg has been the location of shooting of many Bollywood Films like Bobby, Jab Tak Hai Jaan,Yeh Jawaani Hai Deewani, Highway, Phantom Haider etc. A scene in Bobby was shot in a hut in Gulmarg,that later come to be known as Bobby Hut.
An annual three day Gulmarg Winter Festival is held in March. Budding artists in the fields of music, films and photography are given an opportunity to showcase their work during the festival.
References
Gulmarg Wikipedia
(Text) CC BY-SA
(,)http://2.bp.blogspot.com/-uMA-oRNkjGc/U2d1yNLsOHI/AAAAAAAANl4/8BLCe4B0700/s1600/DSC09600.JPG(,)http://www.hotelsingulmarg.co.in/userfiles/800px-Gulmarg_in_1969.jpg(,)http://www.passportchop.com/wp-content/uploads/2013/05/DSC02006-copy.jpg%3Fd0f6af(,)http://www.lookatindia.in/touristplaces/images/hillstation/gulmarg/gulmarg-garden.jpg(,)http://4.bp.blogspot.com/_ctPaL1eJItQ/S5i0wJmlCPI/AAAAAAAADNw/neMR2DXFpuw/s1600-h/800px-Gulmarg1.jpg(,)http://www.kashmirherald.com/images/gulmarg2.jpg(,)http://static.dnaindia.com/sites/default/files/1924916.jpg(,)http://gulmarggolfclub.golfgaga.com/files/2011/07/Gallery8-Some-of-the-greats-at-Gulmarg.The-course-has-a-history-that-goes-back-to-1911-was-a-pioneering-course-in-the-history-of-golf-in-India-.jpg
(,)https://c2.staticflickr.com/8/7287/8743844221_733545596d_b.jpg(,)https://c1.staticflickr.com/7/6238/6281764831_2ac3d6d378_b.jpg(,)http://www.mercyholidays.com/wp-content/uploads/2013/05/Gulmarg-Landscape-645x277.jpg(,)http://hotels.samsantravels.com/places/gulmarg/images/gulmarg.jpeg(,)https://c2.staticflickr.com/8/7286/8715225964_a4e8f9b6dd_b.jpg(,)http://static.thousandwonders.net/Gulmarg.original.11458.jpg(,)https://c1.staticflickr.com/7/6037/6284376027_8a962a50b5_b.jpg(,)http://media-cache-ec0.pinimg.com/736x/f6/9b/c2/f69bc28665f94b304838c667562d6460.jpg(,)http://www.mindfreshtrips.com/MF-Images/B2C/Holiday/destinations/adddestination/4639217976630679453.jpg(,)http://3.bp.blogspot.com/-4ATjdJevNPw/T_KLzVfVuII/AAAAAAAAFxw/mALh6QsR8ro/s1600/Blogspot%2BIMG_3095.JPG(,)http://cache1.asset-cache.net/gc/145065689-landscape-with-village-in-background-gulmarg-gettyimages.jpg%3Fv%3D1%26c%3DIWSAsset%26k%3D2%26d%3D%252BnAtw9vwP2UzN1l7uPY1wRiQkrdMp4N1hNbduLkOMXbEtOB0M%252B7UjnzVr1dlLIjyr5uGvXG5Mc0%252Fkdzz4zXT7A%253D%253D(,)http://cache1.asset-cache.net/gc/145065696-landscape-with-channel-and-pasture-gulmarg-gettyimages.jpg%3Fv%3D1%26c%3DIWSAsset%26k%3D2%26d%3DHnWmUNEz%252BbhXxudz4OdmOK3BFczI17Sp9g53so%252FErb3xcL%252BD5ll6O48wmIRJY8EdkpsEQAZew3spPeGtTCkrSQ%253D%253D(,)http://thumbs.dreamstime.com/z/beautiful-nature-landscape-gulmarg-kashmir-india-sunny-day-35533929.jpg(,)http://upload.wikimedia.org/wikipedia/commons/thumb/e/e9/View_from_Gulmarg.JPG/1280px-View_from_Gulmarg.JPG(,)http://www.wildscapes.net/pix/large/gulmarg-landscape.jpg(,)http://ketgroup.com/picx/Road%2520to%2520Gulmarg.JPG
(,)http://www.makemytrip.com/travel-guide/media/dg_image/gulmarg/Rogan-Josh_2.jpg(,)http://www.holidify.com/images/foodImages/69.jpg(,)http://upload.wikimedia.org/wikipedia/commons/thumb/e/ee/Rogan_Josh.JPG/800px-Rogan_Josh.JPG(,)https://visitingtrips.files.wordpress.com/2014/10/kashmiri-pulav-adukkala.jpg(,)http://edge.ixigo.com/img/bakshis-green-punjabi-dhaba-images-photos-512c5695e4b0695acbefdf7e.jpg(,)http://www.ftd.travel/upload/eatingout_image/2014-06-16-09-40-17gulmarg-food.jpg(,)http://www.holidaytravel.co/userfiles/images/Bengali%2520Food%2520in%2520Shimla%2520Himachal%2520Pradesh.jpg
(,)http://www.dailykashmirimages.com/Upload_Images/Upload_Images_Articles/82a6b767-8ab0-4d4d-bd6b-8faeff9a54de.JPG(,)http://kashmir-house-boat.com/images/larger/tour3.jpg(,)http://www.holidayforindia.com/citypicture/64_Gulmarg.jpg(,)http://edge.ixigo.com/img/gulmarg-golf-course-images-photos-511b8462e4b08049b5d1e017.jpg(,)http://www.rideourworld.com/images/india4.jpg(,)http://4.bp.blogspot.com/-fwzk7C3OyYU/UjbJpGsP4HI/AAAAAAAAMFs/AJCwBVKRXmI/s640/kashmir02.jpg(,)http://www.letsseeindia.com/upload/city/Gulmarg.jpg(,)http://edge.ixigo.com/ixi-api/resize%3Fi%3Dhttp://ixigo-images.s3-website-us-east-1.amazonaws.com/504897e1da06310799c5dfef.jpg(,)http://images.mapsofindia.com/india-tour/newvolume/mapindia/india-tour/wp-content/blogs.dir/14/files/2013/08/horse-grazing-in-the-valley-at-gulmarg.jpg(,)http://visitkashmir.net/hotels/image025.jpg
(,)http://media-cdn.tripadvisor.com/media/photo-s/01/f9/f5/ce/gulmarg-gondola.jpg(,)http://3.bp.blogspot.com/-OXW8K_jFP34/Ufo6k-6mgHI/AAAAAAAAAPw/_PHi_DhJvc8/s1600/MistyKashmir.jpg(,)http://www.holidayiq.com/images/attractions/1347471870_2453.jpg(,)http://cdn1.images.touristlink.com/repository/G/U/L/M/A/R/G/S/gulmarg-ski-resort.JPG(,)http://www.journeymart.com/de/CityImages/kongdoor-in-gulmarg.jpg.jpg(,)http://www.excitingindia.in/wp-content/uploads/2014/10/Gulmarg.jpg(,)http://media-cdn.tripadvisor.com/media/photo-s/01/e2/6c/ff/the-view-of-gulmarg.jpg(,)http://www.indianmirror.com/tourism/images/gulmarg1.jpg(,)http://www.journeymart.com/de/CityImages/gulmarg.jpg.jpg(,)http://www.indiantravels.com/admin/uploads/City_photos/634944790296007514_126.JPG(,)https://smcsite.org/images/gulmarg3.jpg(,)http://delhitourist.in/wp-content/uploads/2013/10/66-gulmarg.jpg