After a man hires a private detective (Shahrukh Khan) to persuade his rebellious daughter (Twinkle Khanna) to marry a man she didnt choose, she falls for the detective.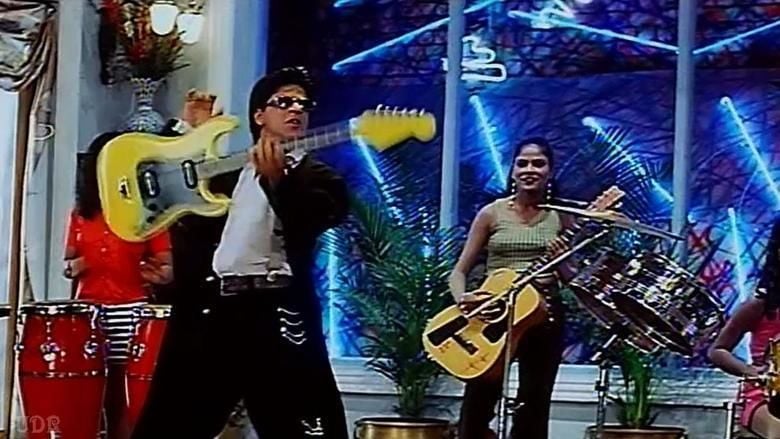 Baadshah (translation: King) is a 1999 Bollywood Thriller Comedy and action film directed by Abbas-Mustan. The film stars Shah Rukh Khan opposite Twinkle Khanna in lead roles. It released on 27 August 1999. It was a success. Shahrukh Khan earned a Filmfare Award nomination for Best Performance in a Comic Role. It is inspired from films such as Nick of Time, Rush Hour, If Looks Could Kill, Mr Nice Guy, The Mask. The movie was a hit. Shahrukh Khan is also known as Baadshah of Bollywood, a name derived from this film.
K. Jhunjhunwala would like to locate his missing/runaway daughter, Seema Malhotra, so that he can get her married to Nitin Dharampal; Prominent businessman, Mahindra, would like to negotiate with his daughter, Sonu's kidnappers, and secure her release. And the Central Bureau of Investigation would like to protect the life of Chief Minister Gayetri Bachchan under the mission code-named "Maa", and the CBI Officer in Charge to be code-named "Baadshah". Now Baadshah happens to be a bumbling and out of work Private Investigator, who has agreed to assist Jhunjhunwala and Mahindra, and while doing so is mistaken for the CBI Agent, ends up working for the assassins, and must assassinate Gayetri or end up losing his team of four fellow-bumblers, and Mahindra's daughter. What results is hilarious chaos, with no one knowing what the other is doing, and each one being each other's suspect(s). To make matters worse Jhunjhunwala is not really Seema's dad, but someone else with an ulterior motive.
Baadshah (Shah Rukh Khan) is a young man still living with his mother who wishes to follow in his late fathers footsteps by working as a detective. He runs Baadshah Detective Agency out of a Mumbai office full of cheesy detective gadgetry. In his employ are his loyal and helpful friends, and his chief assistant Ram Lal (Johnny Lever). Though Baadshah tries hard to pass his agency off as highly sophisticated and constantly busy, he actually receives little business, and is desperate for a big break.
Suraj Singh Thapar (Amrish Puri) is a business tycoon whose bio-chemical plant is due to be shut down following a preventable industrial accident. It will be shut down by the popular Chief Minister of Goa, Gayatri Bachchan (Rakhee Gulzar). As a result, he resolves to have her killed. For the job, he has Rani (Deepshikha), his young henchwoman, hire Shiva, Mumbais notorious contract-killer. Meanwhile, a man by the name of K. Jhunjhunwala (Avtar Gill) comes to Baadshah with a strange case. He claims he is dying of a brain tumor and wants to see his daughter married to the suitable bachelor accompanying him, Nitin, before he dies. The young woman, Seema (Twinkle Khanna), refuses to marry Nitin, hence the need for Baadshahs help. Baadshah comes up with an elaborate plan for the jon: he woos Seema with lies and has her fall in love with him, only to dump her later. Nitin comforts her, and Baadshah collects his payment. However, his feelings for her prove to be genuine.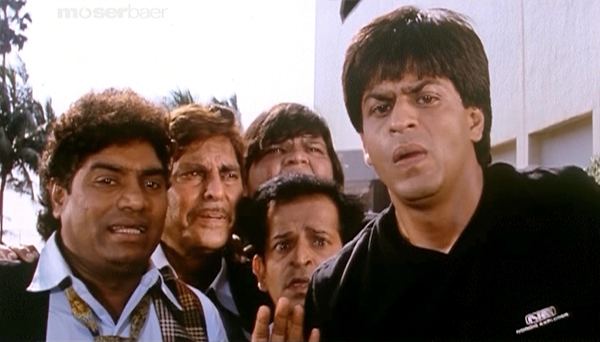 Unbeknownst to Baadshah, Jhunjhunwala and Nitin are actually a father-son team wanted by the Central Bureau of Investigation. The marriage of Nitin to Seema, who is actually the sister of CBI Secret Agent Deepak Malhotra (Deepak Tijori) is meant to stop investigation into their bank fraud case. The plan fails when Agent Malhotra arrests the Jhunjhunwalas before the marriage can take place. It is revealed by the CBI that Shivas attempt on Gayatri Bachchans life failed as a result of his death in a car accident. Fearing a second attempt, CBI headquarters tasks Agent Malhotra with providing further protection for the minister in Goa. Malhotra is assigned the codename "Baadshah" for the mission. Rani and her boyfriend, Moti (Sharat Saxena) travel to the airport, where the latter will eliminate Secret Agent "Baadshah" and assume his identity to gain access to Bachchan and carry out the assassination.
At the same time, Baadshah the detective gets a job from Mahendra Seth (Anant Mahadevan). Manikchand (Razzak Khan) and Saxena (Saurabh Shukla) want to gain his diamonds and have kidnapped the businessmans child for ransom. Baadshah and his assistants are given tickets to Goa, where the child is being held. Both "Baadshahs" are scheduled for the same flight. Through a misunderstanding, Baadshah receives Agent Malhotras ticket, while Agent Malhotra receives Baadshahs. Moti kills Malhotra, and Baadshah finds Malhotras fallen computer disk. At this point, Baadshah has functionally switched places with the deceased agent. Rani then realizes Moti killed the wrong man. Seema and her partner are expecting Agent Malhotra but see Baadshah instead and wonder what happened to Seemas brother. Baadshah is equipped with a James Bond-style car and an assortment of top-secret gadgets. He soon realizes his mistake with Seema after reading a newspaper reporting the Jhunjhunwalas bank fraud case arrest.
Baadshahs friends have been taken hostage by Manikchand and Saxena and he must rescue them. Seema steals the computer disk from Baadshahs possession and searches it, finding out that Agent Malhotra suspected Thapar as the man behind the assassination attempt. Baadshah arranges an exchange of the hostages for the diamonds. Finding the child and his men, Baadshah captures the criminal duo. Sending Ram Lal and the others to Thapars address (where he thinks they are to meet up with the businessman to return the diamonds), Baadshah drives the kidnappers towards town. He finds Seema being chased by armed men who were sent after her by a corrupt security agent. Baadshah saves her and tells her his side of the story. Though they make up, they find themselves in dire straits. Seemas brother is dead, and Baadshahs friends are now in Thapars custody.
Thapar forces Baadshah to assassinate Bachchan himself. if he fails, Thapar will kill his friends and the child. The key players travel to the Holiday Inn, where the Chief Minister is to speak. The child is forced into a bomb vest and Baadshahs assistants are kept in a high-rise room. The entire on-site security force is in cahoots with Thapar, keeping tabs on Baadshah. With Seemas help, Baadshah rescues his friends. Seema puts a warning message inside the chief ministers speech script. Baadshah is forced to approach the chief minister, as Thapar still has control of the bomb. At that moment, she reads the note and learns of the impending danger. However, it is too late: Baadshah is forced to open fire upon the security personal. Thapar flees, and is pursued by Baadshah while the CBI scientist works on the bomb. Thapar has Moti and Rani detonate the bomb while he sits in his getaway car. However, the bomb has been removed and thrown under his car, leading to his explosive demise.
At the end, Baadshah is seen to have booming business back at his detective agency. Ram Lal receives a call from Mr. Clint Eastwood, apparently secretary to American president Bill Clinton, offering $1,000,000 for assistance with the "Monica Case". Baadshah announces his prioritization of "wife duty", refusing the case and disappearing with Seema.
Shah Rukh Khan as Baadshah
Twinkle Khanna as Seema Malhotra
Raakhee as Gayatri Bachchan
Amrish Puri as Suraj Singh Thapar (Antagonist)
Johny Lever as Ramlal
Sachin Khedekar as Tyagraj Bachchan (Antagonist)
Pankaj Dheer as Khanna
Deepshikha as Rani
Sharat Saxena as Moti
Saurabh Shukla as Saxena
Avtar Gill as K. Jhunjhunwala
Razak Khan as Manikchand
Viju Khote as Vijoo
Dinesh Hingoo as Dr. Rustom
Neeraj Vora as CBI Dr. Rusi Surti
Anant Mahadevan as Seth. Mahendra
Kiran Javeri as Gayatri Bachchan PA
Meghana Naidu as Airhostess
Prem Chopra as CBI Chief
Shashikala as Baadshahs Mother
Deepal Tijori as Deepak Malhotra
Woh Ladki Jo (7:07)
Baadshah O Baadshah (6:41)
Hum To Deewane Huye (7:34)
Mohabbat Ho Gayee Hain (6:03)
Main To Hoon Pagal (6:22)
O Baby (7:29)
The movie got an excellent opening, netting ?140 million (US$2.2 million) and grossing ?252.5 million (US$3.9 million). However, was a Hit worldwide.