7.6

/

10

Alchetron

7.6

Rate This




Director

K. Balachander




Cinematography

B. S. Lokanath




Country

India






Music director

M. S. Viswanathan




Duration




Language

Tamil





Release date

25 February 1977




Awards

Filmfare Award for Best Actress – Tamil




Cast

Rajnikanth

(Ramanathan), Sujatha (Anubama), Kamal Haasan (Janardhan (Johnnie)), Ravikumar (Bharani),

Leelavati

(Leelavathi),

Kutti Padmini

(Gayathri)


Similar movies

Girls

,

The Passenger

,

Making Love

,

The Piano

,

Amélie

,

Casablanca



Avargal (English: Them) is a 1977 Tamil-language romance film made by K. Balachander starring Sujatha, Kamal Hassan and Rajinikanth. The film had a reputation of being one of the most sensitive movies on women's lib. A triangular love story, it revolves around a woman who is caught between the man she fell in love with and her former sadistic husband who is supposedly reformed and wants to rejoin her.
Contents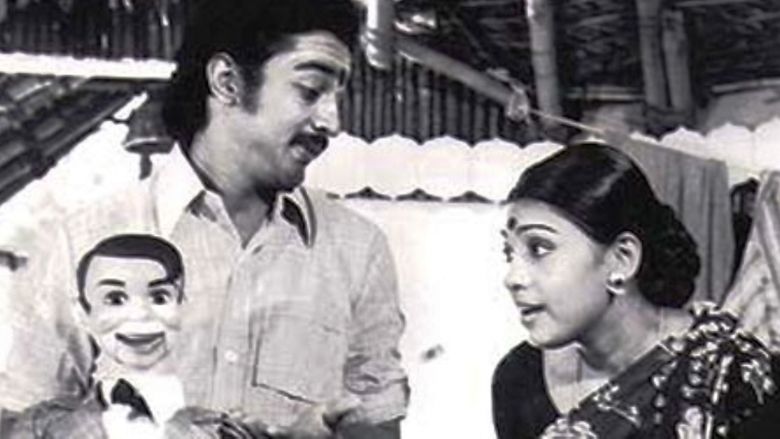 Balachander later remade it into the Telugu as Idi Katha Kaadu (1979) with Jayasudha, Kamal Hassan, Chiranjeevi and Sarath Babu. The film qualified for the Indian Panorama but was a failure.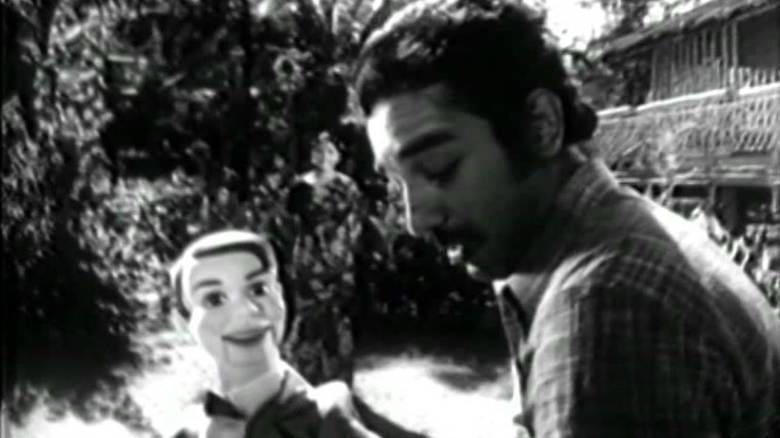 Plot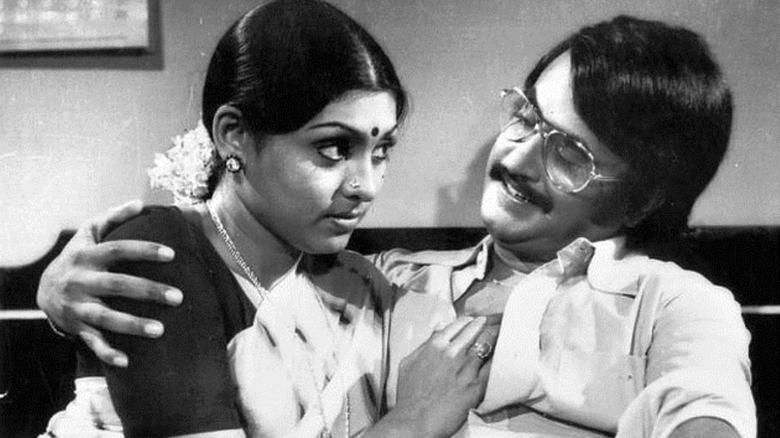 Anu (Sujatha) is a happy-go-lucky girl head-over-heels in love with her boyfriend Bharani (Ravi Kumar). Her life changes when her father gets transferred to Mumbai (then Bombay). Her love life falls apart as Bharani doesn't respond to any of her letters. In addition, her father becomes seriously ill. Her father's office colleague, Ramanathan (Rajinikanth), becomes a great source of strength for her in these tough times. Soon, he asks for her hand in marriage. She accepts gratefully, and confesses that she had a boyfriend, who has seemingly forgotten her.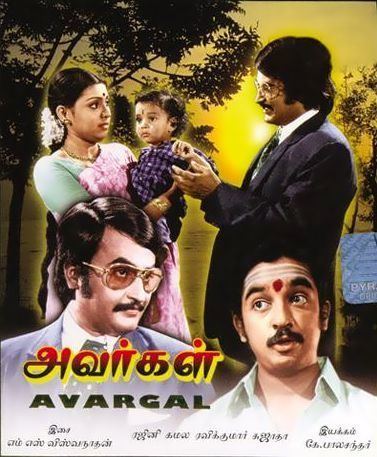 However, Anu soon realizes that Ramanathan is a sadistic and jealous husband, who tortures her no end. She opts for a divorce and, with an infant in her hands, she lands in Chennai (Madras) to take up a new job and start a new life.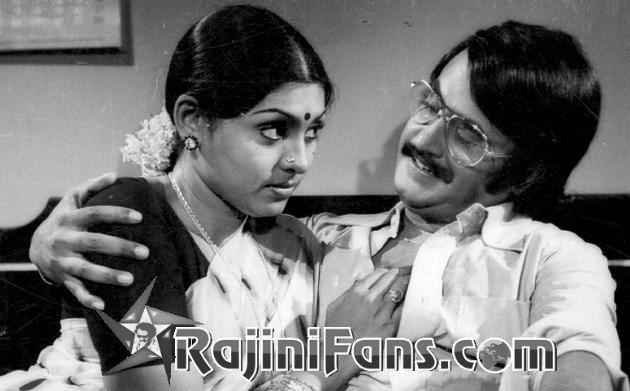 Her life takes a turn for the better in Chennai as she has a very supportive friend-group in her office, particularly a widower, Janardhan (Kamal Hassan). Janardhan, or Johnnie as he is popularly called, is a talented ventriloquist who "talks" through his puppet, Junior. He falls in love with Anu, but is unable to muster up the courage to tell her about it.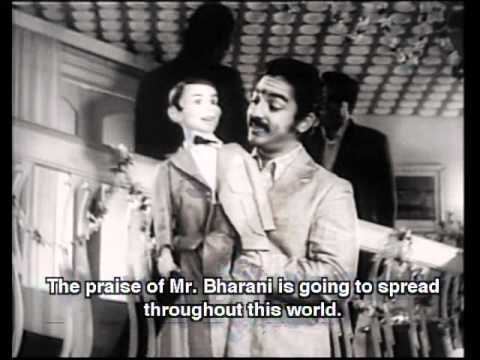 In an interesting cinematic twist, Ramanathan's mother Leelavathi discovers that her son had married and tortured Anu and takes up a job as a maid in Anu's house to make atonement for her son's sins.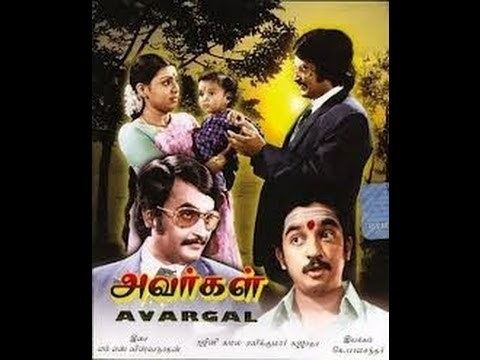 Anu also stumbles upon Bharani in Chennai and discovers that her letters to him never reached as they were intercepted by his mentally-challenged sister. Soon, Anu renews her relationship with Bharani and life seems to be looking up for her. But the ghosts of the past continue to haunt her. Ramanathan comes to Chennai in the role of her boss – a contrite and repentant Ramanathan, who now wants to remarry Anu and redress the wrongs he had done. The situation becomes piquant with 3 men vying for Anu – her ex-love, her ex-husband and a silent lover lurking on the sidelines.
Cast
Sujatha as Anubama (Anu)
Kamal Hassan as Janardhan (Johnny)
Rajinikanth as Ramanathan
Ravi Kumar as Bharani
Leelavathi as Leelavathi
Kumari Padmini as Rajathi
Kutty Padmini as Gayathri
Production
Rajesh was considered for the role of Janardhan. However K. Balachander had doubts whether he would suit the role. He then chose Kamal Haasan for the character. Kamal was said to have learnt the art of ventriloquism in order to portray his character perfectly. On learning that, A. V. M. Murugan was a ventriloquist. Kamal learnt the art from him using his toy in the film. Both Kamal and Raghuram worked as choreographers for the film.
Soundtrack
The soundtrack was composed by M. S. Viswanathan and lyrics were written by Kannadasan. This was Rajinikanth's first Tamil film which had songs sung by S.P. Balasubramaniam (SPB had earlier sung for Anthuleni Katha, a Telugu Rajini-starrer) who continued singing for Rajinikanth's later films for over 3 decades. MS Viswanathan composed the song "Angum Ingum" within 10 minutes. The songs were recorded in a live stage show. Balachander narrated the situation to Vishwanathan and Kannadasan who composed and written the songs in the stage itself. Rediff wrote "K. Balachander once again shows his ability to use music as a narrative technique and the songs tuned by M. S. Viswanathan were all big hits, particularly "Kaatrukkenna Veli", "Junior" and "Angum Ingum". G. Dhananjayan wrote "The songs [..] were superhits and contributed immensely to the film's success".
Critical reception
In 2003, Rediff wrote, "A tad stagey by today's standards, this film still has much to recommend it". Four years later, Rediff wrote, "Avargal was considered a progressive and radical film by the seventies' standard. Rajnikanth gave a classic performance projecting a combination of two contrasting facets of villainy -- both openly sadistic and wily. He actually outdid himself as the wily scheming man". In 2011, after Balachander had been given the Dadasaheb Phalke Award, Rediff named it one of Balachander's best and wrote, "Avargal is yet another film that portrayed a strong female protagonist". A writer from The Hindu in 2011 commented about the film, "I emerged highly impressed. The characterisation was fascinating and the acting underplayed to perfection. There's the sadistic husband played to perfection by Rajnikant, the wife who walks out portrayed by Sujatha whose eloquent eyes mirrored pain even when she smiled and Kamal who mesmerised as a Malayali ventriloquist, silently admires Sujatha". Malathi Rangarajan of Hindu wrote: "Avargal is yet another film in which Sujatha scored a ton, despite the powerful presence of Rajinikanth, Kamal Haasan and Ravikumar" and also praised Rajni's performance as "one of his best till date". Indiaglitz wrote, "The multi dimensional Avargal would have been a super hit had it been made ten years later. Our remake fanatics can think of remaking movies like Avargal today. G. Dhananjayan wrote "Avargal stands out for the most remarkable characterisations of courageous but disillusioned wife and sadistic husband by film maker". Tamil magazine Ananda Vikatan appreciated the film and mentioned that "it is a different attempt [..] Though the film is narrated with many flashbacks with Balachander's touches they are not a burden to follow".
Awards
Filmfare Award for Best Actress – Tamil - Sujatha
Legacy
The film is widely regarded as one of the finest that Balachander had directed. Baradwaj Rangan while analysing the dominance of female characters in Balachander's films included Avargal as one among them. Clips from Avargal were screened along with clips from other films such as Server Sundaram (1964), Iru Kodugal (1969), Arangetram (1973), Aval Oru Thodar Kathai (1974)and Azhagan (1991) at a function held in Balachander's honour at Tiruchirappalli in January 2015, a month after his death.
References
Avargal Wikipedia
(Text) CC BY-SA
Avargal IMDb
Avargal themoviedb.org