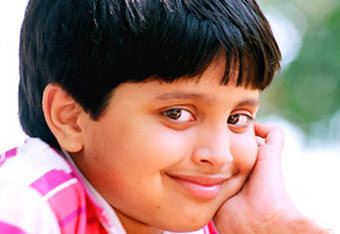 Maya (Kavya Madhavan), a young television reporter, works for New India Television. Radharamanan (Mukesh), the Managing Director of the channel, has a fascinateion for Maya, who was brought up in an orphanage by Father Chanthakkadan (Thilakan). Maya takes up the responsibility of bringing up a few orphans whom she has picked up from the streets. One of these kids is Devan (Master Devadas), who is sort of a child prodigy, with a computer-like mind and very good in studies and extra-curricular activities. R. C. Shekhar (Jackie Shroff), a scientist, lives very near their house, with his servant Damodaran (Harisree Ashokan). He is working on a project, which could help in making human beings invisible. On the very day that he successfully experiments his 'magic' potion on a rabbit, he is urgently called to the U.S as his daughter, who is studying there, meets with an accident.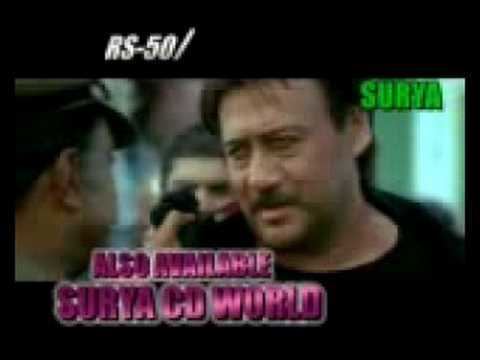 Meanwhile, Maya's friend and lover Roy (Jayasurya), also a journalist, is in jail after having been framed in a murder case by some influential politicians including the State Revenue Minister Divakaran (Rajan P. Dev), another minister Yunus Kunju (Ramu), the Police Commissioner Shanmughan (Bheeman Raghu) and the very influential Kuwait Nazar (Devan). With the help of the newly appointed Collector Anita Williams (Karthika), Maya shoots a video of these baddies accepting millions of rupees as commission from some Arab businessmen, who are there to sign some business deals with the State Government. Maya immediately goes to Radharamanan and shows him the clip. Radharamanan is thrilled and agrees to telecast it, after discussing it with the Board of Directors. Somehow Nazar, Divakaran and others come to know of this and they go after Maya, in order to get from her the memory card containing the clipping. On the very same day that R.C.Shekhar goes to the U.S, Maya is abducted by Nazar and group. The kids are baffled. Anita Williams, Father Chanthakkadan and Radharamanan know who are behind this, but nothing can be done without sufficient evidence. And then Devan, who had seen R.C. Shekhar conducting the experiment on the rabbit, steals into Shekhar's lab and drinks the potion. He becomes invisible and sets out to save Maya.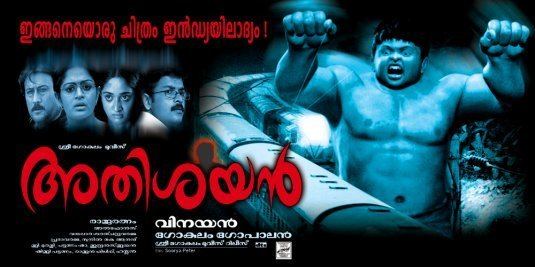 Devan did manage to save Maya, but when yunus tries to shoot Maya, Devan comes in between and gets shot. Due to the potion he gets saved but as side effect of getting shot(which Shekhar warns no metallic objects should make a scratch on him) he turns into a gigantic monster and kills those who has done wrong to him and his family. After killing the baddies, Devan leaves Maya and the children and makes his abode in the deep ocean, with an end note saying that "to fight for the Justice, Devan will come back as Athisayan".
Master Devadas as Devan
Kavya Madhavan as Reporter Maya
Jackie Shroff as Scientist Sekhar
Karthika as District Collector Anitha Williams
Jagadish as News-reader Koshy
Harisree Ashokan as Servant Damodaran
Devan as Kuwait Nazar
Thilakan as Fr. Chanthakkadan
Jayasurya as Journalist Roy
Ramu as Minister Yunus Kunju
Rajan P. Dev as Revenue Minister Divakaran
Mukesh as Managing Director Radharamanan
Baby Nayanthara as Maya's beloved girl in orphanage and also minister's illegal child Kingini
Bheeman Raghu as Inspector Shanmughan
Indrans
T. P. Madhavan
Guinnes Pakru
Mala Aravindan as Justice Rama Moorthi
Lakshmipriya
Encrypter Vrius
The shooting of the film was in Kerala, mainly in locations in Aluva and Ernakulam. The film was high on special effects, visual effects and 2D Animation. These special effects of Athisayan were done at EFX, Chennai.
Release and reception
Athisayan was released in Kerala during the summer vacation, on 17 April 2007, mainly aiming at children. The target audience of the film were school children, whom the makers of the film expected to come in large numbers to the watch the new superhero.
Athisayan was a failure at the box-office, despite the huge promotional activities prior to its release. The evident resemblance to Hulk and the comparison to this proved costly for the film. Also the family audience preferred films like Vinodayathra and Big B which released at the same time. The film received mainly negative reviews. It received a rating from Nowrunning.com. Metromatinee and Sify.com also gave mainly negative reviews to the film. The makers actually planned a sequel for the film, had Athisayan become the new superhero among children. The last scene of the film states that "Athisayan will come back to fight for justice". But with the poor response to the film at the box-office, these plans are dropped.
The music of Athisayan is by Alphonse Joseph. The lyrics are written by Vinayan and Vayalar Sarath Chandra Varma. The film has four songs. The singers are Vineeth Sreenivasan, Rimi Tomy, Vidhu Prathap, Balu, Karthik and Sithara.