Children

4 daughters




Siblings

Akbaruddin Owaisi


Spouse

Farheen Owaisi (m. 1996)





Role

Indian Politician




Name

Asaduddin Owaisi




Nephews

Noor Uddin Owaisi







Preceded by

Sultan Salahuddin Owaisi


Majority

2,02,454 (21.14%) (2014)




Born

13 May 1969 (age 54) Hyderabad, Andhra Pradesh, India(now in Telangana, India) (

1969-05-13

)


Political party

All India Majlis-e Ittihad al-Muslimin.




Relations

Sultan Salahuddin Owaisi (Father)Akbaruddin Owaisi (Brother)Burhanuddin Owaisi (brother)


Residence

36–149, Hyderguda, Hyderabad-500 02934, Ashoka Road, New Delhi-110 001.




Party

All India Majlis-e-Ittehadul Muslimeen


Parents

Sultan Salahuddin Owaisi, Najamunnisa Owaisi






Similar

Akbaruddin Owaisi, Sultan Salahuddin Owaisi, Waris Pathan




Profiles




Facebook
Public face bio sketch of firebrand leader asaduddin owaisi
Asaduddin Owaisi (born 13 May 1969) is an Indian politician, who is the President of the All India Majlis-e-Ittehadul Muslimeen. He is a three-time Member of Parliament (MP), representing the Hyderabad constituency in Lok Sabha, the lower house of the Indian Parliament. He was honoured with Sansad Ratna Award for overall best performance in 15th Lok Sabha in 2014.
Contents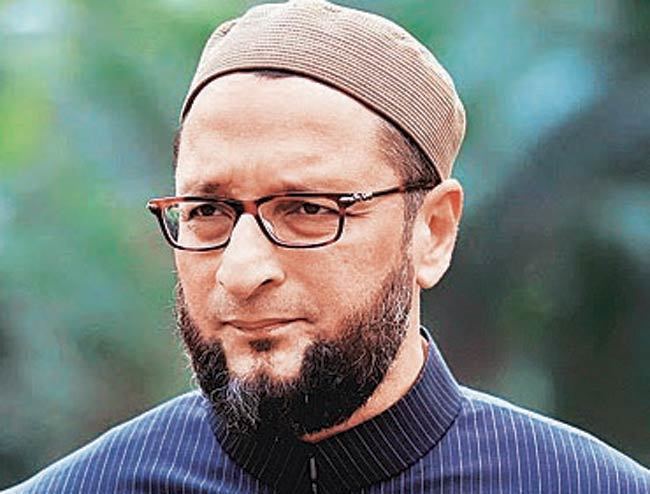 Asaduddin owaisi in aap ki adalat full episode india tv
Early life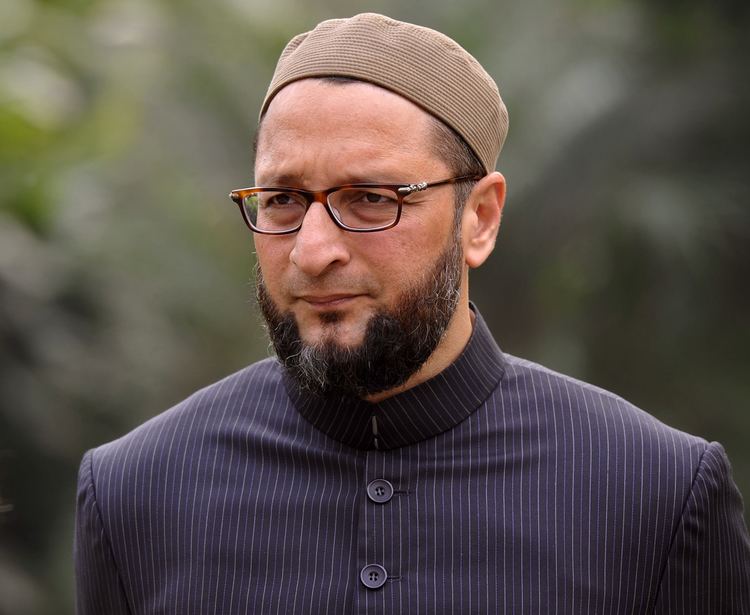 Owaisi was born in Hyderabad, Telangana (former undivided Andhra Pradesh). His father Sultan Salahuddin Owaisi was also a politician from Hyderabad, for six consecutive terms. His mother's name is Najamunnisa. Owaisi studied at the Hyderabad Public School and the St. Mary's Junior College, Hyderabad. He graduated as a Bachelor of Arts from the Nizam College, Osmania University. He later went to London, where he studied L.L.B, and Barrister-at-Law (Lincolns Inn), England. He is often referred as Naqeeb-e-Millat ("Leader of the community") by his supporters. He has two younger brothers, Akbaruddin Owaisi and Burhanuddin Owaisi. Akbar is the member of the Telangana Legislative Assembly from the Chandrayangutta Assembly constituency, while Burhanuddin is the editor of the local Urdu daily "Etemad".
Political career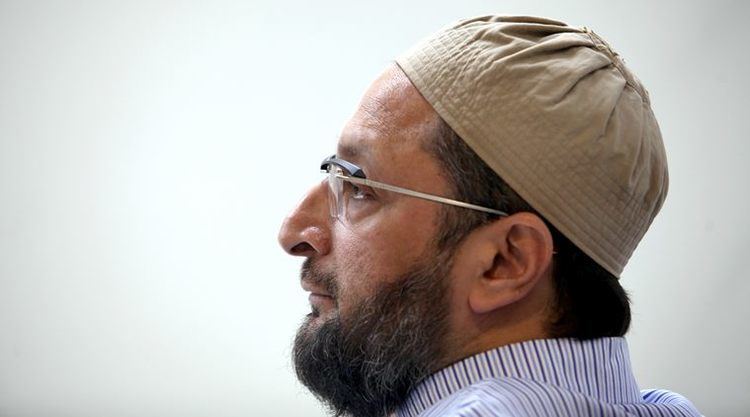 Owaisi belongs to the Hyderabad-based All-India Majlis-e-Ittehadul Muslimeen (AIMIM) party, of which his father and grandfather have been presidents. The party, while opposed to jihadist terrorism, still practises a politics of "competitive chauvinism," according to journalist Kingshuk Nag.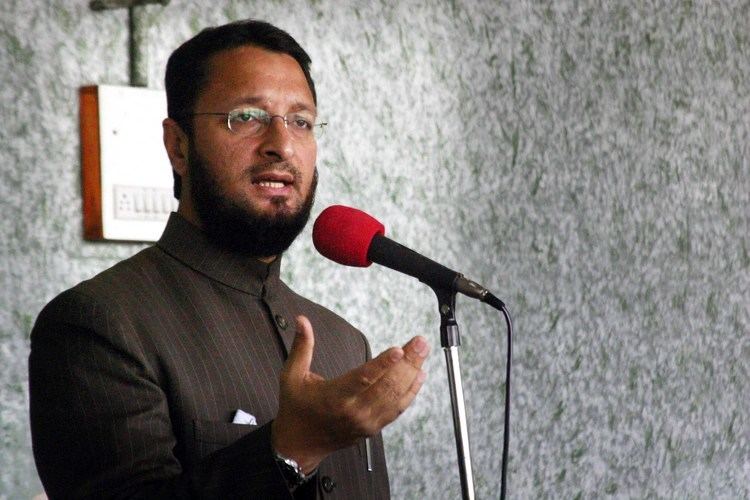 Owaisi was elected as a Member of the Legislative Assembly (MLA) in 1994 and 1999. Subsequently, he has been elected as an MP from the Hyderabad (Lok Sabha constituency) in 2004, 2009 and 2014 in three successive terms.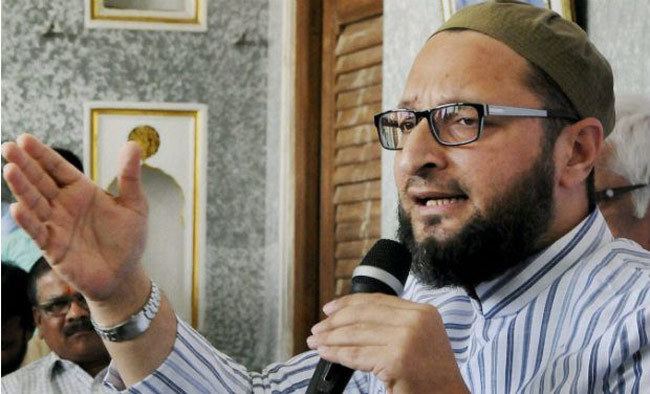 Owaisi was given the 2014 Sansad Ratna award for his distinguished performance in the 15th Lok Sabha.
Political views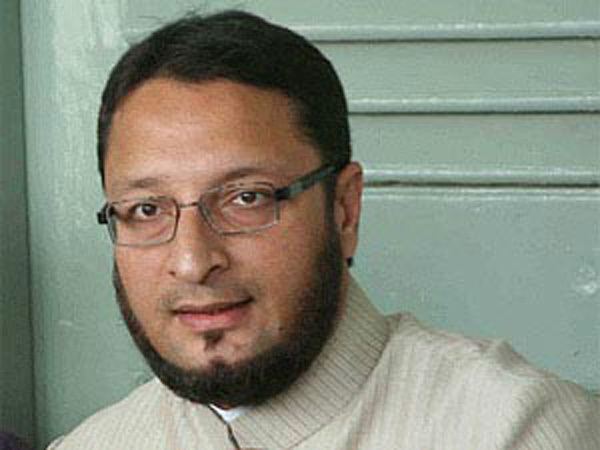 Several commentators liken Owaisi to Jinnah. According to Patrick French, Owaisi appeals to "non-sectarian Muslim identity," though not to the Muslim faith, in a way similar to Jinnah's bid to be the sole spokesman of the Muslim community. His brand of Islamism with nationalism thrives in Hyderabad and Mumbai, the potential areas for radicalisation of Muslim youth.
Owaisi dismisses the comparison with Jinnah citing the fact that his fight is within the framework of the Indian constitution. He says that the secular parties of India have not been able to transfer their votes to Muslim candidates. Of the 23 Muslim MPs elected in 2014, 18 or 19 were from constituencies with 30% Muslim voters. While the parties claim not to discriminate against Muslims, they in practice leave the Muslims in a "ghettoized position." Hence, Muslims must develop their own political force, similar to OBCs, Dalits and Yadavs.
In the aftermath of 2008 Mumbai attacks, Owaisi demanded action against Zakiur Rehman Lakhvi and Hafiz Saeed for killing innocent people. He said that the enemies of the country were enemies of Muslims.
Owaisi supports reservation for backward Muslims in government jobs and education institutes. He also maintains stand that he is against Hindutva ideology but not against Hindus.
Owaisi argues for the abolition of the Haj subsidy given to the Indian Muslims for traveling to Mecca on religious pilgrimage and utilizing the money for the education of Muslim women instead.
In July 2016, Owaisi was praised for his speech for admitting that Islamic State of Iraq and the Levant (ISIS) is a problem among Muslims and called them dogs of hell. Owaisi said in his speech, which was delivered after 2016 Saudi Arabia bombings to monitor what is being said from some mosques, what and who is injecting radical venom.
In August 2016, Asaduddin Owaisi expressed his displeasure at the Centre for inclusion of the Ahmadiyya community as a sect of Islam in 2011 Census of India, in a series of tweets.
In April 2017, on the issue of ban on cow slaughter, Owaisi criticized BJP for being hypocritical in treating cow as holy in Uttar Pradesh and North Indian states, but un-holy in the Northeast, Goa and Kerala."
Owaisi said that Muslim man divorcing his wife through instant triple talaq without reason, must be socially boycotted, but said that the practice still exits.
Controversies
Owaisi has been in controversies and news due to his politics primarily centered around minorities like Muslims and Dalits.
Owaisi, along with his younger brother Akbaruddin was booked for charges related to manhandling the Medak district collector in 2005. On 20 January 2013, he was remanded to judicial custody for 14 days, and later shifted to Sangareddy jail. The case related to an MIM protest against the demolition of a mosque for a road-widening project in Medak district, on 16 April 2005 where police booked him under various charges including criminal intimidation, rioting and promoting enmity between religious groups.
In 2009, a case was registered against Owaisi on the order of Election Commission of India for chasing and beating up Syed Saleemuddin, a polling agent of Telugu Desam Party (TDP) in the Moghalpura area. In March 2013, he was detained for organising rally without permission and carrying gun without license in Bidar, Karnataka. In June 2014, Owaisi is said to have delivered hate speech against Prime Minister Narendra Modi seeking the Muslim community's support to his party.
On 7 February 2016, Owaisi surrendered before Hyderabad police and was later granted bail for an assault by a mob that he allegedly lead, carried out against Telangana Indian National Congress legislators. His close aid Syed Abdahu Kashaf and AIMIM Party social Media head assaulted the congress MLC and leader of opposition Shabbir Ali.
In March 2016, while addressing a public rally in Maharashtra, Owaisi said that he will never say the slogan Bharat Mata Ki Jai (Hail mother India) in response to Rashtriya Swayamsevak Sangh chief Mohan Bhagwat's comment that the new generation needs to be taught to chant slogans hailing mother India referring to 2016 JNU sedition controversy. Owaisi said, "Whom is he(Bhagwat) trying to frighten? He can't force his ideology on others. Nowhere in the Constitution it says that one should say: 'Bharat Mata ki Jai' ". Later he clarified that he has no issues with slogan 'Bharat Mata ki Jai', but he has objection with RSS who forces to chant the slogan as test of patriotism
Other work
Owaisi is the Chairman of Hyderabad-based Owaisi Hospital and Research Centre whose origin dates back to late Alhaj Moulana Abdul Wahed Owaisi. The hospital is equipped with sophisticated ultra modern equipment and functions as centre of excellence in the field of Medical Education, Research and Medical care. Research programs at the hospitals are being carried out in collaboration with reputed National and International research Agencies.
Personal life
Owaisi is married to Farheen Owaisi and has five daughters and one son. His mother is Nazima Begum.
References
Asaduddin Owaisi Wikipedia
(Text) CC BY-SA