5.6

/

10

Alchetron

7.2

Rate This




Release date

10 April 1997 (India)







Produced by

K. S. Nagarajan RajaK. Muraliprasad Rao

Starring

RajinikanthSoundaryaRambha

Cast




Similar

Padaiyappa, Annamalai, Baasha, Narasimha,

Muthu
Arunachalam telugu full length movie rajnikanth soundharya
Arunachalam is a 1997 Indian Tamil-language political drama film directed by Sundar C and written by Crazy Mohan. The film features Rajinikanth, Soundarya and Rambha in the lead roles, with Jaishankar and Ravichandran in other pivotal roles. The soundtrack and background score for the film was composed by Deva, while U. K. Senthil Kumar handled the cinematography.
Contents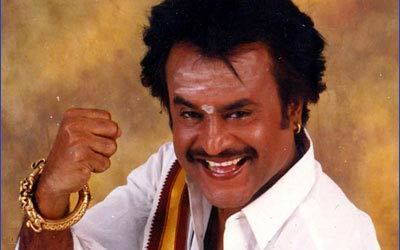 The film opened in April 1997 to positive reviews from film critics and went on to win three Tamil Nadu State Film Awards, including an award for Best Film. The film was dubbed in Telugu with the same title.
Plot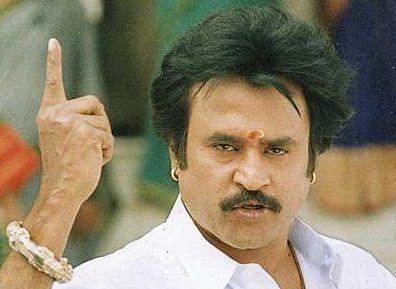 Arunachalam (Rajinikanth) is a simple man who is the son of Ammayan (Ravichandran), one the reputed people from a respectable family in their village. He is well known for his simplicity, honesty and helping tendency. Vedhavalli (Soundarya), a city girl and also cousin of Arunachalam comes to her cousin's (Arunachalam's sister's) wedding. She gets attracted towards Arunachalam and slowly love blossoms between them. Their wedding proposal is happily accepted by the elders in their family except the senior most person of the family, Arunchalam-Vedhavalli's grand mother, Senior Vedhavalli (Vadivukarasi). She never likes Arunachalam and always shows hatred. She says something to Vedhavalli's father Aadhikesavan (Jaishankar) which makes him to reconsider the marriage of Vedhavalli with Arunachalam. The family leaves without informing Arunachalam which shocks him.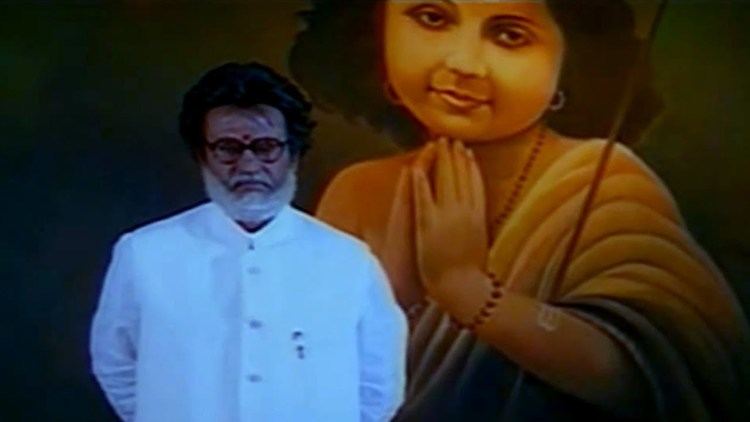 Arunachalam finds that his younger brother is trying to ditch his lover and he comes to her rescue. His brother refuses to marry her stating that she does not match his status and money. Arunachalam owes to bequeath his inheritance to her so that she will become equal to him which angers senior Sr.Vedhavalli. She discloses the truth that he has no right over anything he possess except the rudraksha which he is wearing in his neck as he is an orphan who was found in Arunachaleshwar temple and taken from his mother during her last breath who also named him Arunachalam. She also insults him and indirectly insists him to leave their house. Arunachalam is broken and hurt by the insult of Sr.Vedhavalli and leaves the house without informing anyone.
Arunachalam comes to Chennai and befriends Kathavarayan (Janagaraj), a beeda seller who gives him a job. He meets Vedhavalli one day and goes to her home only to get insulted by Vedhavalli's father. Arunachalam meets a young girl Nandhini (Rambha) when a thief snatches her hand bag. Nandhini thanks him and in return she promises a job in her dad's company. Next day Arunachalam goes to the office to meet Nadhini's father and he misses his rudraksh there. He chases the rolling rudraksh creating trouble to everyone in the office and finally his rudraksh lands in the table of Rangachari (Visu) who was discussing about transferring of some property belonging to some Vedhachalam to trust along with his colleagues. Arunachalam enters the meeting room and Rangachari is shocked to see Arunachalam. He enquire what is his name to which Arunachalam replies. Rangachari tells him that he is actually son of his boss Vedhachalam (also Rajnikanth), the heir of his entire property. Arunachalam and Rangachari's colleagues Kalaiperumal (V. K. Ramasamy), Prathap (Nizhalgal Ravi), Kurain (Kitty) and Vishwanath (Raghuvaran) are shocked.
Rangachari explains that Arunachalam was lost when he was so young and he recognized him with the name mentioned by his father and resemblance of his father Vedhachalam. He tells that Vedhachalam instructed him to play a video tape when Arunachalam is found where Mr.Vedhachalam speaks about how he married Arunachalam's mother Meenakshi against his father's wish, how he got lost in a cruise accident and was misunderstood to be dead, how his mother committed suicide broken by her husband's demise. He got a letter of her which stated that they have a son named Arunachalam. He tells that he has two choices of bequeathing his legacy. Either by accepting a challenge of spending Rs.30 Crore in 30 days and take away 3000 Crore fulfilling the rules or take away just Rs.30 Crore. The reason of this challenge is to make him get allergic to money and the comforts of it, so that he would spend wisely 3,000 Crores for the poor and needy people.The rules for this challenge are no contributions to charities, not to own any assets at the end of the month, and, above all, no one else must know that he would bequeath 30 Crores if he completes the challenge.
Arunachalam initially refuses to take up the challenge and says the videotape is enough for him and decides to return to his village to proudly say about his father. However he overhears Vishwanath, Kurain, Prathap and Kalaiperumal talking about killing Rangachari to take away all the assets. Arunachalam understands their true intention and accepts the challenge to spend Rs.30 Crore in 30 days following the rules much to the foursome's shock. Arunachalam challenges them that he would win the challenge and expose them to the world. Nandhini is appointed as his assistant to take care of expenses.
From Day 1, Arunachalam starts to implement different tactics and spends lavishly, but the foursome group create all obstacles so that he does not win the challenge. Arunachalam invests the money in horse race which is a way to loose money easily in minutes. He deliberately bets on a weakest horse but due to foursome's plan, the weak horse wins earning him lot of money. Next he buys bumper prize lotteries which also gets him to win ample amount of money, He then produces a movie with his friend Arivazhagan hoping it will fail commercially. However his plan backfires due to the foursome who make him to earn more money from the selling rights. Finally he jumps into politics starting a party, nominating his friend Kattavarayan for upcoming election. He vigorously campaigns for him and lavishly spends all the money so fast. During a meeting, Katavaraayan's speech makes people angry on him and Arunachalam declares that he is apologizing them for nominating a wrong person and asks them not to vote for him. However the foursome group make the other nominees of election to withdraw and Katavarayan is elected as MP. Arunachalam is shocked now, as MP post and the party are both assets as per the challenge. But he makes Kathavarayan to resign the post and he dissolves his party destroying both assets.
Finally he is about to win and he spends final left overs in farewell party. Meanwhile, Vedhavalli gets angry on Arunachalam for not helping her and her family during their financial crisis and she doubts that he has affair with Nandhini. She consents to wedding with her father's choice. But Arunachalam does not reveal the truth to Vedhavalli as he wants to keep up his father's words. On the last day of handover, during final minutes, Arunachalam's friend comes to him with Rs.20,000 as per plan of foursome so that he cannot spend it at last minute. Nandhini arrives in nick of moment to inform the foursome plan and Arunachalam spends the money in last 30 seconds by paying the money to her as salary thus winning the challenge. Nandhini and Arunchalam explain Rangachari about the evil doings of foursome. Rangachari gets angry and warns to complaint against them in police but they threaten to kill them. After series of struggles and fights Arunachalam hands them over to police. Rangachari hands over the 30 billion property to him but he refuses to take it and asks him to spend to poor and needy as per his father's wish.
Meanwhile, media gets to know about the happenings and is telecasted across the state. Vedhavalli realizes her mistake. Ammayapan comes to Chennai to take Arunachalam back with him to village and is surprised to see the wedding arrangements with Vedhavalli waiting for him. Senior Vedhavalli also realizes her mistake and consents for their wedding. Arunachalam and Vedhavalli unite finally.
Cast
Tamil Version
Telugu Version
Rajinikanth as Arunachalam and Simhachalam
Soundarya as Vedavathi
Rambha as Nandini
Raghuvaran as Viswanath
Nizhalgal Ravi as Prathap
Kitty as Suryam
V.K. Ramasamy as Chandra Mouli
Visu as Rangachari
Janagaraj as Karthavaraya
Senthil as Gyanam
Vadivukkarasi as Arunachalam's adoptive grandmother
Manorama as Vedavathi's paternal grandmother
Ponnabalam as Ponnambalam
Crazy Mohan as Gyanam's friend
Raja as Arunachlam's adoptive step-brother
Ambika as Meenakshi
Sundar C in a cameo appearance as reporter on Singamla Bayaluderene song
Venniradai Nirmala as vedhavalli's mother
Soundtrack
The music was Composed by Deva. The song "Nagumo" had two versions, Hariharan version was included in soundtrack only, while another version with vocals of Krishnaraj was included in the film only. Audio was released under the music Label "ABCL Music" of Amitabh Bachchan.
Production
After the success of Muthu in 1995, Rajinikanth took a year out dabbling in politics and taking a sabbatical before announcing that his next film would be Arunachalam written by Crazy Mohan. It was announced that the film would be produced to help eight of his struggling film industry colleagues and it was incorrectly earlier reported that the film would be produced under his newly floated Rajini Arts banner. It was indicated that some of the people who the film would go on to cause benefits for included Kalakendra Govindharajan who introduced Rajinikanth in his production Apoorva Raagangal (1975), Kalaignyanam who featured Rajinikanth in the lead role for the first time with his production Bairavi (1978) and brothers Ramji and Babji who produced some of the actor's early hits, Kaali (1980) and Garjanai (1980). Furthermore, collections would also be shared between the family of Sathya Studio Padmanabhan, actress Pandari Bai, actor V. K. Ramasamy and Producer Madurai Nagaraja. Initial reports had also titled the film as Kuberan and Meshtri, but Arunachalam was eventually retained. The plot of the film was inspired by George Barr McCutcheon's novel Brewster's Millions.
The Director Sundar C. has stated in an interview that he didn't like the story of Arunachalam and he did it because he didn't want to miss an opportunity to work with Rajinikanth. He also mentioned Rajinikanth is the one who called Sundar C. And narrated him the story and asked him to direct.
Sundar C. also said if he didn't like the story Rajinikanth would simply change the director. Sundar C. according to what he heard of Rajinkanth from a producer who's close to Rajni, the producer said thus to Sundar C. "Once Rajini takes a decision he doesn't go back, and he'll only work with people who work according to that vision."
So Sundar C. accepted the story even if he didn't like it as he didn't want to miss working with Legend Rajinikanth. As he knew Rajini would not change the story for working with Sundar but he would change the director.
Initially the lead heroine of the film was expected to be either Manisha Koirala, who had appeared in successive blockbusters in Bombay and Indian, or Meena who had featured in Rajinikanth's previous film, Muthu. Simran and Shalini was also linked to the role, before Soundarya and Rambha were signed on as heroines. The initial cast list released to the media also had Jayaram in the cast of the film as well as Vignesh, who was later replaced by Raja. Manorama was also surprisingly added to the cast after causing controversy the previous year by lashing out at Rajinikanth's political motives.
Rajinikanth lost his sentimental Rudraksh bead during the shooting of the film and was shocked and upset to note that his Rudraksh was missing. He ordered a search at the shooting spot at midnight and with the help of the giant lights used for shooting, he later found the divine bead after a while.
Release
Indolink.com gave the film a positive review citing that "the saving grace of the film is Rajini himself. He has the exceptional ability to convincingly portray the same utopian role of anger and love, innocence and impetuousness...and whats more...he does it with remarkable freshness time and again".
The film was declared a commercial success at the box office, although not as big as Rajinikanth's previous blockbusters Baasha and Muthu (both 1995). Arunachalam went on to win three Tamil Nadu State Film Awards, including an award for Best Film. Super Subbarayan and Gopi Kanth also respectively won awards for Best Stunt Coordinator and Best Art Director. The film was later dubbed and released in Telugu under the same name. Rajini's dance with Rambha was a highlight in this movie.
References
Arunachalam (film) Wikipedia
(Text) CC BY-SA