Although the film was based on a riddle featured in one of the Vikram Aur Betaal stories, it has also been widely described as having been inspired by the American film 40 Carats (1973). Apoorva Raagangal was controversial upon release as it examines relationships between people with wide age gaps, which challenged Indian social mores. The film is about Prasanna (Kamal) who falls in love with the older Bhairavi (Srividya) while his father is drawn to Bhairavi's daughter Ranjini (Jayasudha). The rest of the film revolves around the four characters and their problems.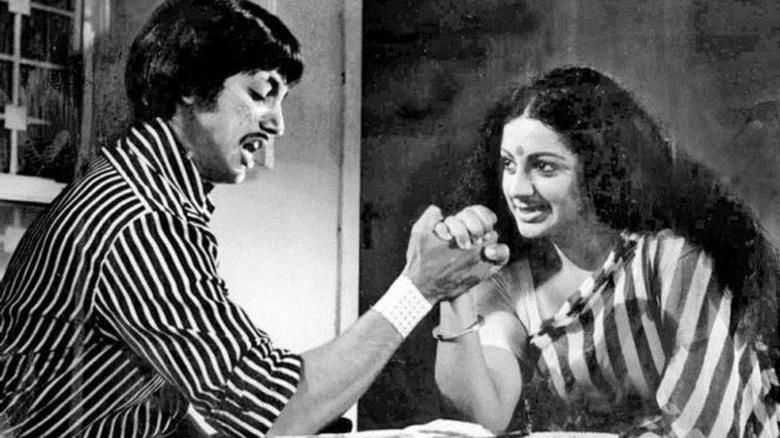 Prasanna (Kamal Haasan) is nursed back to health by a classical singer Bhairavi (Srividya) after a bloody street-side fight. The two are slowly drawn to each other and decide to marry in spite of their age difference and a past relationship that Bhairavi is still inextricably tied to. In the meantime, Prasanna's father, Mahendran (Major Sundararajan) embarks on a relationship with the young Ranjani (Jayasudha). We soon find out that Ranjani is Bhairavi's daughter (born to her out of wedlock). Both relationships arrive at a dilemma with an unexpected twist when Bhairavi's long-lost husband, Pandiyan (Rajinikanth) comes into picture.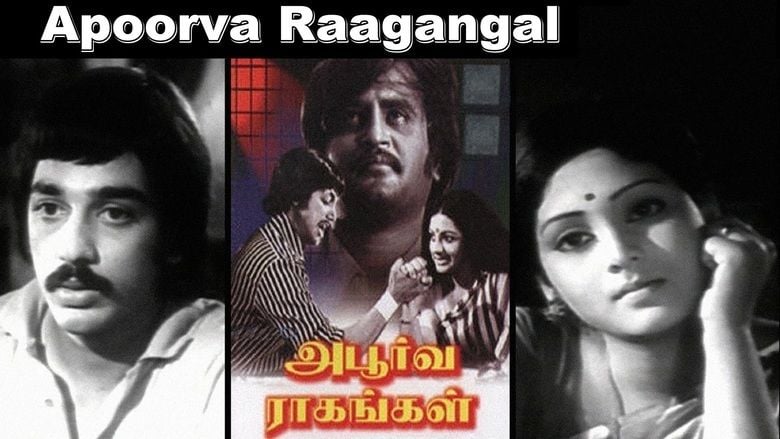 Kamal Haasan as Prasanna
Major Sundarrajan as Mahendran
Srividya as M. R. Bhairavi
Jayasudha as Ranjani
Nagesh as Dr. Soori/Hari (the drunkard)
Rajinikanth as Pandiyan (Abaswaram)
Y. G. Mahendra (Special appearance)
Kannadasan (Special appearance)
Jaishankar (Special appearance)
The Sri Lankan newspaper Daily News stated that K. Balachander adapted the screenplay of 40 Carats – a 1973 American film directed by Milton Katselas, which narrated the story of Ann Stanley (Liv Ullmann), a widow who falls in love with the much younger Peter Latham (Edward Albert) – for his film Apoorva Raagangal. According to Balachander, he was also inspired by a riddle which featured in one of the stories of Vikram and Betal. Writer N. R. Dasan, however, stated that Apoorva Raagangal was his script.
When the matter was taken to the Madras High Court, it did not accept Dasan's contention for the script, hence handing the rights to Balachander. V. Govindarajan and J. Duraisamy produced the film under their production banner, Kalakendra Films. B. S. Lokanath was chosen as the cinematographer and N. R. Kittu as the editor, while Ramasamy was chosen as the art director.
Apoorva Raagangal was Kamal Haasan's first major breakthrough as a lead actor; for portraying the role of Prasanna authentically, Kamal took seven months to learn the mridangam. For the character's looks in the film, Kamal kept his moustache thin and hair long while also sporting bell-bottom pants and polo shirts. Srividya was assigned to play Bhairavi. Jayasudha was recruited to play as Srividya's daughter. Recalling her experience in an interview with Shobha Warrier of Rediff in May 2000, Jayasudha said that it was tough portraying the role of a young girl falling in love with an old man, "[...] and Balachander Sir was a very tough taskmaster. He would not be satisfied unless he got 100 per cent from you. He used to reprimand me and shout at me if I messed up. I used to cry on the sets". Lyric writer Kannadasan and actor Jaishankar made cameo appearances as themselves in the film.
The film became noted for being the onscreen debut of Rajinikanth, who went on to become one of Tamil cinema's most successful actors. During his stay at the Film Chamber Institute in Chennai, Rajinikanth, then known by his real name, Shivaji Rao Gaekwad, was performing in a stage play and attracted the attention of Balachander, who subsequently telephoned Gaekwad and requested him to come for the auditions of his next film. At the auditions, Gaekwad imitated Sivaji Ganesan to prove his mettle to Balachander, but Balachander wanted Gaekwad to have an identity of his own and to perform without imitating the mannerisms of another person. Two days later, when Gaekwad was called again for a second audition, he took a cigar in his hand and threw it stylishly into his mouth, which impressed Balachander as he had not seen such unique mannerisms in any other actor that he came across since then. Balachander advised him to learn to speak Tamil, a recommendation that Gaekwad quickly followed.
When it came to christening Gaekwad with an on-screen name, Balachander came up with three options: Rajinikanth, Chandrakanth and Srikanth. Balachander chose to christen Gaekwad as Rajinikanth, after the name of a character played by A. V. M. Rajan from Balachander's film Major Chandrakanth (1966) on 27 March 1975; the name means "Colour of Night", which refers to Rajinikanth's skin colour. Rajinikanth played a relatively small but pivotal role of Pandiyan, the abusive husband of Bhairavi, in the film. Balachander revealed that Rajinikanth's first shot of opening the gate was deliberate and was representative of the actor making an entry into cinema through the film. Rajinikanth's make-up was done by R. Sundaramoorthy.
In October 2010, Rajinikanth's friend Raja Bahaddur recalled, "When he came to Bangalore, he told me about Balachander's suggestion. Since my mother tongue is Tamil, we decided to speak in Tamil to each other. He picked up the language very fast and returned to Balachander. At that time, Balachander was launching his movie Apoorva Ragangal [sic] and cast him in it. Rajini [sic] hasn't looked back". According to Rajinikanth's brother Satyanarayana Rao, "That first shot of the gate opening was shot five or six times, It was excellent! Even the onlookers remarked that this new find had style. But who was he, they wondered. It created a flutter".
The first day of filming was done in the Cashew farms of VGP Golden Beach with the song "Athisaya Raagam". Instead of implementing a tracking shot, the camera was moved manually by the cameraman while shooting for the song, making Apoorva Raagangal the first Tamil film to do so. Apoorva Raagangal was the first Tamil film to be shot in real houses without the use of any sets. It was also the first Tamil film to have a song ("Kelviyin Nayagane") in the climax sequences. The reason the song, "Kelviyin Nayagane", was included was because it provided the solutions to the problems faced by the film's characters.
Balachander wanted to shoot directly in houses without building sets, to give authenticity to what he wanted to convey in the film. With the help of B. S. Lokanath, the film's cinematographer, he found houses which belonged to A. V. Meiyappan's family members. Rajinikanth's introduction scene was approved only after six takes. The scene was filmed on 27 March 1975, the same day when Balachander christened Rajinikanth. During the initial phases of the principal photography, Rajinikanth found Balachander's directing methods quite difficult to follow. Nagesh, who observed the newcomer's difficulty, called Rajinikanth over and said, "Don't get tensed up. Just imitate whatever Balachander is doing. That's what I'm doing as well!" After listening to Nagesh's advice, it became easier for Rajinikanth to complete his portions in the film.
Themes and influences
The film deals with the concept of relationships between people with wide age gaps, which challenged Indian social mores. It showed a young man who falls in love with a woman who belongs to the age of his mother, while a young woman is attracted to a man of her father's age. The dialogue "Ennudaya Appa Yarukku Maamanaro, Avarudaya Marumaganin Appa En Maganukku Mamanar, Appo Avarukkum Enakkum Enna Uravu" (English: My father is a father-in-law to someone; that person's daughter-in-law's father is my son's father-in-law. What is the relationship between him and me) sums up the theme of the film. According to Naman Ramachandran, the character of Pandiyan is not entirely negative. Pandiyan does not appear as a villain; in fact, he comes across as a saint. Pandiyan commits no villainous act. Rather, he voluntarily agrees to stay away from Bhairavi when he finds out that she is happy with Prasanna. Three things that happen immediately after Pandiyan's death conclusively prove that the film does not see him as a villain. First, mournful music swells on the soundtrack, of a kind usually accorded to the death of a character who elicits sympathy; second, Bhairavi wipes off her sindoor, like a widow would after her husband's death; and third, Pandiyan's dead fingers are found to be clutching a note that says his last wish is to see the raga and taala meet, a clear reference to the proposed joint performance of the singing Bhairavi and the mridangam-playing Prasanna. So, Rajinikanth did not debut as a villain.
Entertainment portal Southdreamz in their review mentioned that Apoorva Raagangal was the suitable title for the film by which Balachander hinted the ragas to each of the characters; Kamal as Prasanna, Srividya as Bairavi, Rajnikanth as Abaswaram and Jeyasudha as Ranjani were all named after ragas. According to G. Dhananjayan in his book Pride of Tamil Cinema: 1931 to 2013, Balachander used the technique of introducing the lead actors and actresses in the film with a title card in the name of a raga, symbolising their characters in the film. For Rajinikanth, the title Sruthi Bedam (English: A variation in the pitch.) was used to denote the twist in the tale with the appearance of his character.
The soundtrack was scored by M. S. Viswanathan and lyrics by Kannadasan. The soundtrack was released under the Label of Saregama. The sound mixing process was supervised by J. J. Manickam and T. S. Ramasamy. The song "Ezhu Swarangalukkul" eventually became a rage provided major breakthrough for its singer Vani Jayaram. It won her the National Film Award for Best Female Playback Singer.
The song "Adhisaya Raagam" is based on Mahathi Raga. The song "Ezhu Swarangalukkul" is based on Panthuvarali raga. The song "Kelviyin Nayagane" was based in Durbarikanada Raga. Singer Balamurali Krishna recalled when the film was released "I ran into M.S. Vishwanathan in AIR who was setting music for the movie. As the story revolved around strange relationships, the music director wanted to introduce new ragas to go with the ambient theme. I offered my `Mahati' scale and the Records created then are history now".
The soundtrack received positive reviews and all the songs well received. Charulatha Mani of The Hindu for the song "Adhisaya Raagam" wrote, "Adisaya Ragam starts off beautifully in Mahati raga and in the stanza that begins with 'Oru Puram Paarthaal', suddenly shifts to Bhairavi. Once again Yesudas breathes life into these lines and the noteworthy phrase in this stanza is 'Maru Puram Paarthaal Kaaviri' – the twisty sangati connecting the dhaivata-nishada-shadja deserves special mention". For the song "Ezhu Swarangalukkul", she wrote "This ragamalika piece begins majestically in Pantuvarali and the highlight of this song is the akara traversal from lower Gandhara to the upper octave Gandhara seamlessly". For the song "Kelviyin Nayagane", she wrote ""Kelviyin Nayagane" [..] is a moving situational song, and the slight hint of pathos that this raga brings out is cleverly used to build up the dramatic quotient in the movie. The bright opening in the upper-octave Gandhara and the subsequent traversal to the Suddha Dhaivata are striking". G. Dhananjayan wrote, "In line with its title, the film had some amazing songs which remains popular even today and are rare gems appreciated for its quality".
The film was released on 18 August 1975 with a final reel length of 3,949 metres (12,956 ft). The film became successful at box office. When the film was released in Bangalore's Kapali cinema, Rajinikanth and his friend Raja Bahadur went to watch the film. "Nobody knew that he had acted in a film, We saw the film. When we came out, he started crying. I asked him, "Why are you crying?" He said, "I'm on the screen finally, I'm so happy. These are tears of joy" said Raja Bahadur. The film duly completed a 100-day run and to mark it, Balachander held a ceremony to reward his cast and crew in Madras.
Apoorva Ragangal received widespread critical acclaim. On 22 August 1975, The Hindu said, "K. Balachander has contributed a unique story, dialogues and superb direction in Kala Kendra's Apoorva Ragangal. A film with a revolutionary offbeat theme it provides poetic experience." On 31 August 1975, Dr. M. S. Udhayamurthy, writing for Ananda Vikatan, appreciated the film overwhelmingly for its quality: "One big musical concert happens before our eyes through this film... The film shows rare struggles of love and we get involved with the characters so much that we forget that they are artistes who are enacting their roles and start living with them and empathize with them at the end."
The Times of India wrote, "This K Balachander film was innovative for the way it brought out the O Henry sort of twist in the plot. [..] It was experimental in bringing out complexities involved in relationships and how certain relationships, no matter what, do not leave you and emerge abruptly to create new equations." The Hindu wrote that it "was bold and unapologetic about love transcending age, caste and all barriers one can think of". Behindwoods wrote, "It was a powerful subject handled with the deft touch of the true auteur".
In 2011, after Balachander had been given the Dadasaheb Phalke Award, Rediff named the film one of Balachander's best and wrote, "Many filmmakers of that time would have hesitated to touch a subject like this, particularly at a time when relationships were still being gingerly tested on celluloid. But not K Balachander". In 2003, Rediff wrote, "In an era where every other moviemaker claims to have come up with a daring, original, premise, this 28-year-old film is worth remembering. A trademark K Balachander film, this was the first to showcase Kamal's histrionic abilities".
National Film Award for Best Feature Film in Tamil — D. Jayalakshmi, G. Vijayalakshmi (Producers) and K. Balachander (Director)
National Film Award for Best Cinematography — B. S. Lokanath
National Film Award for Best Female Playback Singer — Vani Jayaram
Filmfare Awards South
Filmfare Award for Best Film – Tamil — D. Jayalakshmi, G. Vijayalakshmi
Filmfare Award for Best Director – Tamil — K. Balachander
Filmfare Award for Best Actor – Tamil — Kamal Haasan
The film continued a trend of films with different themes that focused on realism. A reality show with the same name produced by Maxima Media was aired on Vijay TV in 2002. In December 2014, Dhriti Sharma of Zee News included the film in her list, "9 best films of K Balachander!", The film is also ranked number one in The New Indian Express's list, "K Balachander's 10 Most Memorable Movies". and number two in Rediff.com's list "Kamal Haasan's 60 years of excellence". The film was released as a novel in 2008 by Vikatan under the same name. On 26 February 2014, Aboorva Nayagan, an exhaustive repository of Kamal's achievements and contributions to Tamil cinema was released, and borrows its title from this film (albeit with a different spelling) and Kamal's Nayakan (1987). An unrelated television serial of the same title was produced by Purple Productions and was broadcast in August 2015 on Sun TV. On Kamal's birthday, 7 November 2015, Latha Srinivasan of Daily News and Analysis considered Apoorva Raagangal to be one of the "films you must watch to grasp the breadth of Kamal Haasan's repertoire". In the film Sandhitha Velai (2000), Manivannan jokingly remarks that Vivek in the disguise of unemployed graduate looked like Rajinikanth from Apoorva Raagangal.
In 1976, Apoorva Raagangal was remade in Telugu as Thoorpu Padamara. The remake was directed by Dasari Narayana Rao and featured Murali Mohan and Narasimharaju in lead roles while Srividya reprised her character and Madhavi did the character of Jayasudha. In 1984, film was remade in Hindi as Ek Nai Paheli Balachander himself. Kamal reprised his role from original while Raaj Kumar, Hema Malini, and Padmini Kolhapure were cast in other prominent roles.