Argenteuil ([aʁʒɑ̃tœj]) is a commune in the northwestern suburbs of Paris, France. It is located 12.3 km (7.6 mi) from the center of Paris. Argenteuil is a sub-prefecture of the Val-d'Oise department, the seat of the arrondissement of Argenteuil.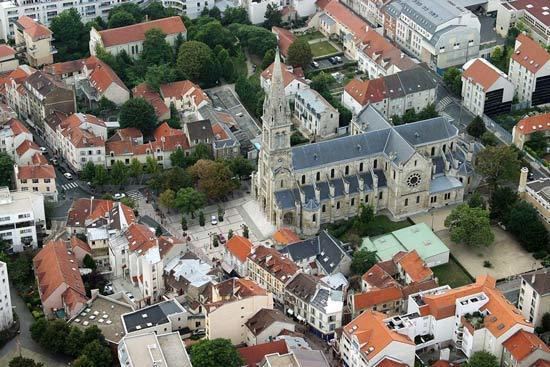 Argenteuil is the second most populous commune in the suburbs of Paris (after Boulogne-Billancourt) and the most populous one in the Val-d'Oise department, although it is not its prefecture, which is shared between the communes of Cergy and Pontoise.
Argenteul share borders with communes in 3 departements others than Val d'Oise : the Yvelines, Hauts-de-Seine and Seine-Saint-Denis departements.
The name Argenteuil is recorded for the first time in a royal charter of 697 as Argentoialum, from a Latin/Gaulish root argento meaning "silver", "silvery", "shiny", perhaps in reference to the gleaming surface of the river Seine, on the banks of which Argenteuil is located, and from a Celtic suffix -ialo meaning "clearing, glade" or "place of".
Argenteuil was founded as a convent in the 7th century (see Pierre Abélard and the Convent of Argenteuil). The monastery that arose from the convent was destroyed during the French Revolution.
A rural escape for Parisians, it is now a suburb of Paris. Painters made Argenteuil famous, including Claude Monet, Jean-Étienne Delacroix, Auguste Renoir, Gustave Caillebotte, Alfred Sisley and Georges Braque.
Fabien Ateba, basketball player
Franck Beria, footballer
Georges Braque, 3 May 1882, Co-founder of cubism and sculptor
Ingrid Chauvin, (b. 3 October 1971), French actress
Chevalier d'Argenteuil, (fl. in Newfoundland, Canada 1709-13), French soldier; he captured Fort William at St. John's, Newfoundland in 1709
Sidney Duteil television host
Ibrahim Gary, karateka
Alexandre Ndoye, basketball player
Argenteuil is served by two stations on the Transilien Paris – Saint-Lazare suburban rail line: Argenteuil and Val d'Argenteuil.
As of 2016 the commune's schools have over 12,000 students. The commune has:
30 public preschools (maternelles) and one private elementary school with a preschool
26 public and 2 private elementary schools
11 junior high schools (collèges) - 10 public and 1 private
6 senior high schools/sixth-form colleges:
Lycée Georges Braque
Lycée Cognacq-Jay
Lycée Julie-Victoire Daubié
Lycée Jean Jaurès
Lycée Fernand et Nadia Léger
Ecole nationale des professions de l'automobile (private)
Paris 13 University serves as the area university.
The Conservatoire à rayonnement départemental de Musique, Danse et Théâtre is located in Argenteuil. André Bon is one of its former students.
By Claude Monet:
Autumn at Argenteuil, Regatta at Argenteuil, Red Boats, Argenteuil, The Bridge at Argenteuil, The Port at Argenteuil, The Seine at Argenteuil, View of Argenteuil-Snow, and Snow at Argenteuil.
By other painters:
Argenteuil and Seine near Argenteuil by Édouard Manet, Regatta at Argenteuil by Pierre-Auguste Renoir, and The Bridge in Argenteuil by Gustave Caillebotte.