7.4

/

10

Alchetron

Rate This





Country

India






Director

Vamsy




Language

Telugu







Release date

February 1, 1991




Writer

Krishna Bhagavan (adaptation), Sriram L.B. (dialogue), Vamshi



April 1 vidudala full length telugu movie dvd rip
April 1 Vidudala (English: Freed on April 1st) is a 1991 Telugu comedy film produced by P.V. Bhaskar Rao on Poorna Teja Creations banner, Presented by Sri Sravanthi Movies and directed by Vamsy. Starring Rajendra Prasad, Shobhana in the lead roles and music composed by Ilayaraja. The film recorded as Super Hit at box office. The film was remade in Tamil as Sathyavan starring Murali and Gautami, in Kannada as Mr. Harishchandra starring Mohan and Anu Prabhakar and in Odia as Jabardast Premika starring Babushan and Jhilik Bhattacharjee.
Contents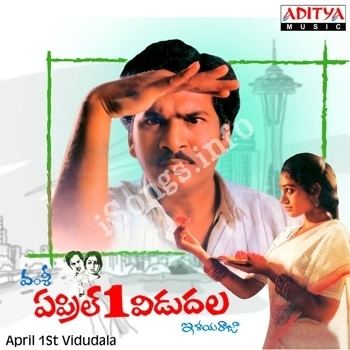 April 1 vidudala full length telugu movie
Plot
The story starts with Divakaram (Rajendra Prasad) coming late to video-shoot a marriage, where he sees Bhuvaneshwari and falls head over heels in love. He then gets a hold of Bhuvaneshwari's maternal uncle VP Jagannatham (Pradeep Shakti) and gets information about Bhuvaneshwari. He gathers that she respects only the people who are self-sufficient and straightforward. He also finds out that she is not married and is about to get transferred to Rajamundry (where he stays) soon. She works as a railway booking clerk. So Divakaram comes back to the Rajamundry and gets permission from the doctor (Shubha), who raises him as her foster child to use the front veranda in her house for his video shop. In order to secure the capital, he uses all kinds of tricks. He blackmails Bhagyam (Jayalalitha), cheats Chinna Rao (Mallikarjuna Rao) and claims a chit which he never was a member of, and so on. Finally starts the video shop. That's when Bhuvaneswari enters the scene. All the while Jagannatham writes him letters in her name making Divakaram assume that she is in love with him. Finally, when she lands in Rajamundy he approaches for marriage. It's then that he realises that he had been cheated by Jagannatham. Meanwhile, she finds out all of Divakaram's mischief through the neighbours. To teach him a lesson, she puts forward a deal that she would marry him only if he stays out of cheating, and does not utter a lie in a month. Divakaram goes for it.
Here we see all the problems of Divakaram gets into because of the deal he had with Bhuvaneshwari. He discloses the murder done by his friend. This enrages his friend who comes out of jail as there is no proof of his murder. In the climax, his friend is killed and Divakaram goes to jail but is acquitted as Dr.Krupa Mani (Shubha) confesses to the murder as an act of self-defense and he comes back to win the hand of Bhuvaneshwari.
Cast
Rajendra Prasad as Divakaram
Shobana as Bhuvaneshwari
Rallapalli as Sarma
Sakshi Ranga Rao as Murthy
Mallikarjuna Rao as Chinna Rao
Pradeep Shakthi as Jaganatham
Bheemaraju
Krishna Bhagavan as Gopichand
Kallu Chdamdaram as Beggar
Shubha as Dr. Krupamani
Jayalalita as Bhagyam
Jaya Vijaya as Bhuvaneswari's mother
Y. Vijaya as Murthy's wife
Divakaram (Rajendra Prasad): Goes to any extent to get his things done. He is sincere in his love and comes what may determine to keep his words to prove his love. In this process, he suffers in the end for his mischiefs in the past. He doesn't have any intentions of harming anyone with his acts. Rajendra Prasad far exceeds the expectations.
Bhuvaneshwari (Shobana): She works as a Railway Booking Clerk. She is very straightforward and doesn't like anyone to go against the rules. This we can see in the introduction scene of her, where she goes against the dowry. Her helping nature also establishes in the first shot. Also her intelligent and other qualities. She makes the deal with Divakaram to get rid of him. But finally falls in love with him seeing his sincerity.
Gopi Chand (Krishna Bhagavan): He is a friend of Divakaram. By the words of colony people and Divakaram we got to know about his business and he kills his friend when he refuses to marry his sister after running an affair with her. Finally, he is killed in the hands of the doctor played by Shubha, for which Divakaram goes to jail.
Chinna Rao (Mallikarjuna Rao): He is in love with Jayalalita, even though he is already married twice and he thinks he is a superstar and wants to marry her. In that process gets cheated by Divakaram and finally when reformed Divakaram comes to give him the money he dies with the heart attack due to the shock.
Neighbour (Y.Vijaya): Runs the chit fund company illegally. She in the greed of money gives the loan to Divakaram and gets cheated and tries to take revenge on him. Sakshi Ranga Rao plays her husband in the film. Divakaram dramatically cheats them with the Dubai TV.
Bhagyam (Jayalalita): She has an affair with the neighbour and has a son, she gets blackmailed because of this from Divakaram along with the neighbour.
V.P. Jagannatham (Pradeep Shakti): He is Bhuvaneswari`s Uncle. He is a bachelor and helps Divakaram to get married to Bhuvaneshwari.
Dr Krupa Mani (Shubha): She is a Doctor by profession and she raises Divakaram as her own son. She kills Gopichand in order to save Divakaram.
And there are other characters like Rallapalli (as Sharma), Sakshi Ranga Rao (as Murthy), Jayavijaya (as Shobana's mother), Kallu Chidambaram and character artist and comedian L.B. Sriram (who is the dialogue writer for the movie) appears in a single scene as the barber.
The film was shot in one location in the space of two weeks.
Crew
Director: Vamsy
Producer: Bhaskar Reddy.P
Cinematography: Raghu M.V.
Music Director: Ilaiyaraja
Playback Singers: S. P. Balasubrahmanyam, K. S. Chitra and Mano</ref>
Dialogues: L.B. Sriram
Soundtrack
Music composed by Maestro Ilaiyaraaja. All songs are blockbusters. Music is released on ECHO Audio Company. The song "Chukkalu Temmanna" was reused from Raja's own song "Chithirai Sevvanam" which was composed for Kaatrinile Varum Geetham.
References
April 1 Vidudala Wikipedia
(Text) CC BY-SA
April 1 Vidudala IMDb
April 1 Vidudala themoviedb.org