Dato' Seri Dr. Ahmad Zahid Hamidi (born 4 January 1953) is a Malaysian politician who has been Deputy Prime Minister of Malaysia since 2015 in the Barisan Nasional coalition government of Prime Minister Najib Razak. He has also been Minister of Home Affairs since 2013, and he previously served as Minister of Defence from 2009 to 2013. He is the Member of the Parliament of Malaysia for the Bagan Datoh constituency in Perak and a member of the United Malays National Organisation (UMNO) political party.
Early in his political career, Zahid was a Senator and chairman of Bank Simpanan Nasional before becoming the head of UMNO's youth wing. In 1998, Zahid spoke out against Prime Minister Mahathir Mohamad, calling for an end to cronyism and nepotism in the Malaysian government. Zahid, seen as an ally of deposed Deputy Prime Minister Anwar Ibrahim, was subsequently arrested and held in prison under the Internal Security Act. However, in 1999, Zahid was welcomed back into the UMNO fold, stating that Anwar had put him up to raising allegations of cronyism and nepotism and alleging that Anwar had used his position as Finance Minister to direct business opportunities to Zahid.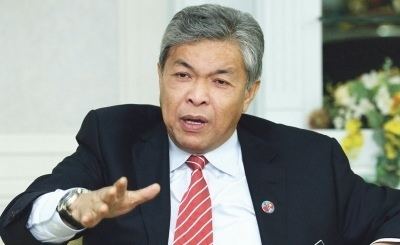 After the 2004 election, Zahid became a Deputy Minister in the government of Abdullah Ahmad Badawi. While a Deputy Minister, Zahid studied for and was conferred the degree of Doctor of Philosophy from Universiti Putra Malaysia.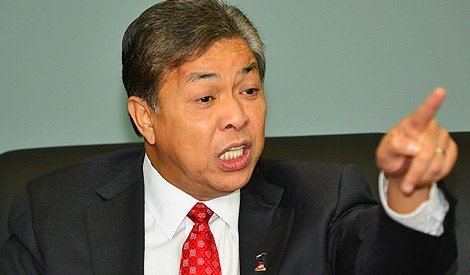 After the 2008 election, Zahid became a Minister in the Prime Minister's Department. He was appointed Minister of Defence in April 2009. Ahmad Zahid Hamidi was appointed as Minister of Home Affairs in 2013, replacing Hishamuddin Hussein. Hishamuddin took Ahmad Zahid Hamidi's previous position at the Ministry of Defence.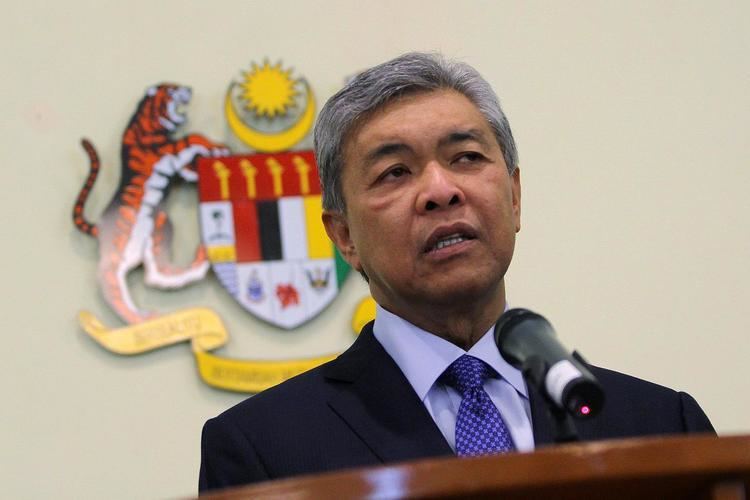 In July 2015, he was appointed as Deputy Prime Minister in a cabinet reshuffle.
Ahmad Zahid was born on 4 January 1953 in Bagan Datoh, Perak, Malaysia, the eldest son of nine children (seven sons and two daughters) in the family. In 2013, Ahmad Zahid revealed to the Indonesian media that he is of Javanese descent, his father, Raden Hamidi Abdul Fatah, being native of Kulon Progo Regency, Yogyakarta, while his maternal grandfather came from Ponorogo in East Java and married his Malaysian Malay grandmother. His father died on 8 August 2014 at Hospital Angkatan Tentera (HAT) in Wangsa Maju Kuala Lumpur. On 1 October 2011, his mother, Tuminah Abdul Jalil died of a stroke and heart complication in her hometown Sungai Nipah Darat, Bagan Datoh. She was hospitalized at the Hospital Angkatan Tentera, Tuanku Mizan, Kuala Lumpur.
His daughter, Nurul Hidayah Ahmad Zahid, hosts the local TV show Inspirasi Ramadhan and is involved with the Rejimen Askar Wataniah as a volunteer.
He was raised by a Malaysian Chinese foster-father, Chen Jin Ting and sold ice cream together for six years with his foster family when he was in elementary school. His father was not highly educated and would cycle from his house at Simpang Tiga, Hilir Perak to about three kilometers away selling ice cream. Chen Jin Ting was married with his foster mother, Guo Jin Luan. His father later died in 1999, more than ten days after the general election. Following accusations that he was anti-Chinese, he stated "Am I anti-Chinese when I have a Chinese foster father?"
Before venturing into politics, Ahmad Zahid was a banker for OCBC. He was also one of the directors of Bank Simpanan Nasional (1995–1998) and also Permodalan Nasional Berhad (PNB). He was also a Marketing Executive for Amanah Saham Nasional Berhad, Executive Director for Scandinavian Motors Sdn Bhd, chief executive officer of Kretam Holding Berhad, Chairman of Tekala Corporation Berhad, Chairman of Seng Hup Berhad and Pengerusi Ramatex Berhad. In 1999 he became the Chairman of Syarikat Perumahan Negara Berhad (SPNB).
In 2007, Ahmad Zahid led a group of bikers for a tour of Malaysian and Indonesia to promote Malaysian tourism.
In 1986, he was appointed political secretary to Datuk Seri Najib Abdul Razak during the latter's term as Youth Minister (1986–1990) and then Defence Minister (1990–1995).
In 1995, Ahmad Zahid Hamidi became a member of parliament after winning the Bagan Datoh parliamentary seat in Perak in the general elections. He was elected UMNO Youth Chief in 1996. During the 53th UMNO General Assembly in 1997, Zahid spoke out against Prime Minister Tun Dr. Mahathir Mohamad, calling for an end to cronyism and nepotism in the Malaysian government. In response, Mahathir publicised the names of those Malay/Bumiputeras who had received shares and high positions in government-linked corporations (GLCs).
In 1999, Ahmad Zahid Hamidi was re-elected Member of Parliament for Bagan Datoh in Perak in the general elections. He was elected to the UMNO Supreme Council the following year. After he won the seat for a 3rd time in the 2004 general elections, Zahid was appointed Deputy Tourism Minister by former Prime Minister Abdullah Ahmad Badawi. While a Deputy Minister, he pursued a Doctor of Philosophy degree from (UPM), thesis entitled "Barisan Nasional Manifesto As Agenda for Malay Language Newspaper During the General Election Campaign."
In the political tsunami of 2008, Ahmad Zahid Hamidi again retained his Bagan Datoh parliamentary seat at a time when many (BN) party heavyweights were trounced. He was then appointed a full Minister in the Prime Minister's Department. In the April 2009 cabinet reshuffle, Zahid was appointed Defence Minister by Prime Minister Najib Tun Razak.
He was once the chief of UMNO youth Bagan Datoh branch, he was also the Vice Chief for the state of Perak UMNO youth, Head of the UMNO Communication for UMNO youth, and UMNO youth leader. Ahmad Zahid has also served as the Political Secretary of Najib Razak during the latter tenure in the Sport and Youth Ministry and also the Ministry of Defence. He is also one of UMNO's High committee members. He was once appointed as a senator in the Upper House of the Malaysian parliament.
He able to retain his parliamentary seat of Bagan Datoh in the 2013 election, although with a decreased majority. On 15 May 2013, it was announced that Ahmad Zahid Hamidi will be taking the helm as the new Home Minister swapped with Hishamuddin Hussein.
In July 2015, he was appointed the country's 11th Deputy Prime Minister in a cabinet reshuffle.
Shortly after the Black 505 rallies following the 13th Malaysian General Election due to claims of electoral fraud and vote manipulation, he said that Malaysians who are unhappy with the country's political system should leave the country. This statement has raised discontentment among the citizens, putting a serious question mark over his political future in a multiracial society. This statement was made after series of street demonstrations led by opposition parties that has refused to accept the results of the 13th Malaysian General election. His first act as Home Minister was to order a crack down against opposition leaders and dissent, landing him in a bigger controversy with sedition laws being used to attempt to suppress the voices of opposition parties. Ahmad Zahid had been sued by businessman Amir Abdullah Bazli for allegedly punching him in the on January 16, 2006 at the Country Heights recreational club in Kajang, Selangor causing the latter to suffer a nasal bone fracture and a swollen left eye.
During a speech in Malacca, Zahid was recorded endorsing the police policy of "shoot to kill" when arresting dangerous criminals, including backing a certain group of gangsters.