Full Name

Antara Biswas




Name

Antara Biswas




Years active

1997–present





Occupation

Actress




Other names

Mona Lisa




Role

Actress







Born

21 October 1982 (age 34), Patna




Spouse

Vikranth Singh Rajput (m. 2017)




Education

Asutosh College, Julien Day School


Movies

Tauba Tauba, Meri Life Mein Uski Wife, Bobby: Love and Lust, Ek Hi Bhool, Blackmail


Similar People

Rinku Ghosh, Pakhi Hegde, Rani Chatterjee, Pawan Singh, Dinesh Lal Yadav
Monalisa hottest boob show never seen clip

Antara Biswas, better known by her stage name Mona Lisa (born 21 November 1982), is an Indian actress. She has done over 50 Bhojpuri films, and has also appeared in Hindi, Bengali, Oriya, Tamil, Kannada and Telugu films. She was a contestant of Indian show Bigg Boss 10 in 2016.
Contents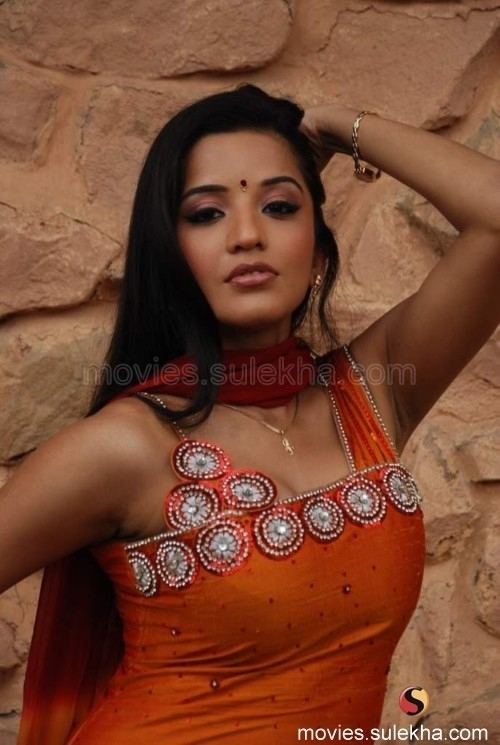 DAY OUT: Nazar actress Monalisa aka Antara Biswas experiences Imagica with her husband and SBS
Biography and Early Life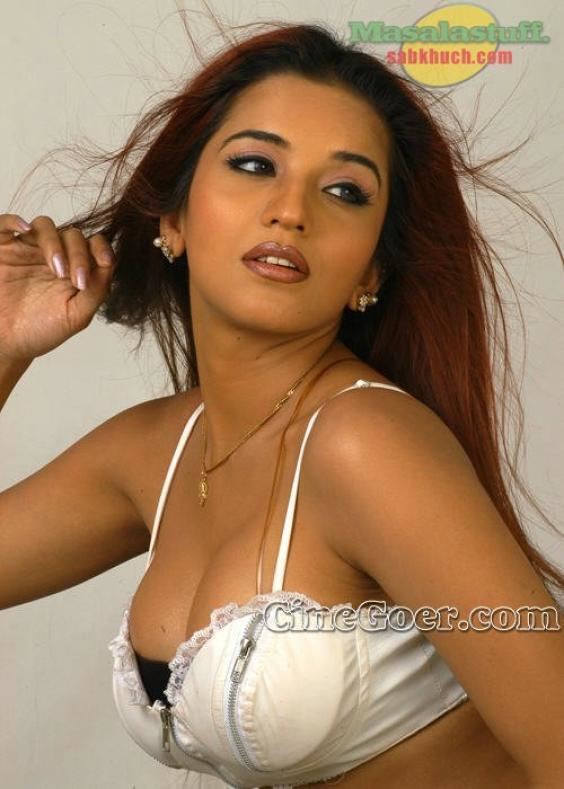 Mona Lisa was born to a Bengali Hindu family. She adopted the stage name of Mona Lisa at the behest of her uncle. She studied at Julien Day School in Elgin Road, south Kolkata, and graduated from Ashutosh College of the University of Calcutta, earning a BA degree in Sanskrit before starting out a few years ago as a small-time TV actress and model in Oriya video albums.
Career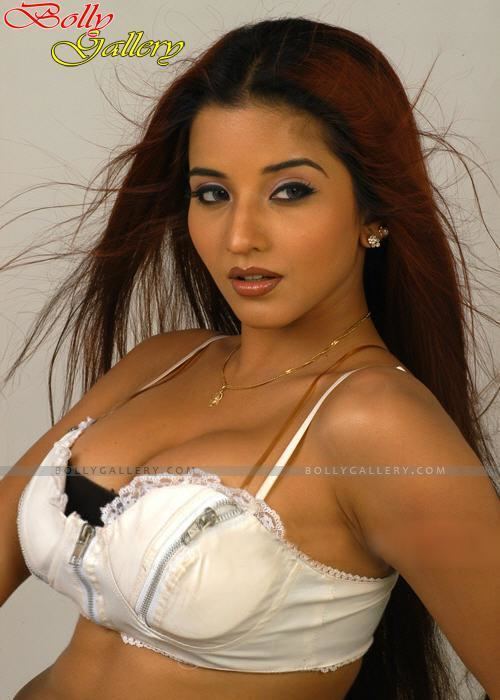 She acted in several low budget films before making her debut in Bollywood with Blackmail, starring Ajay Devgn and Suniel Shetty. She then acted and got rated in South Indian films before coming to notice through her role in Tauba Tauba opposite Amin Gazi. She acted in a Kannada film titled Jackpot. In 2010, The Hindu reported that Mona Lisa (along with Rinku Ghosh) was the most sought after actress in the Bhojpuri film industry.
Bigg Boss 10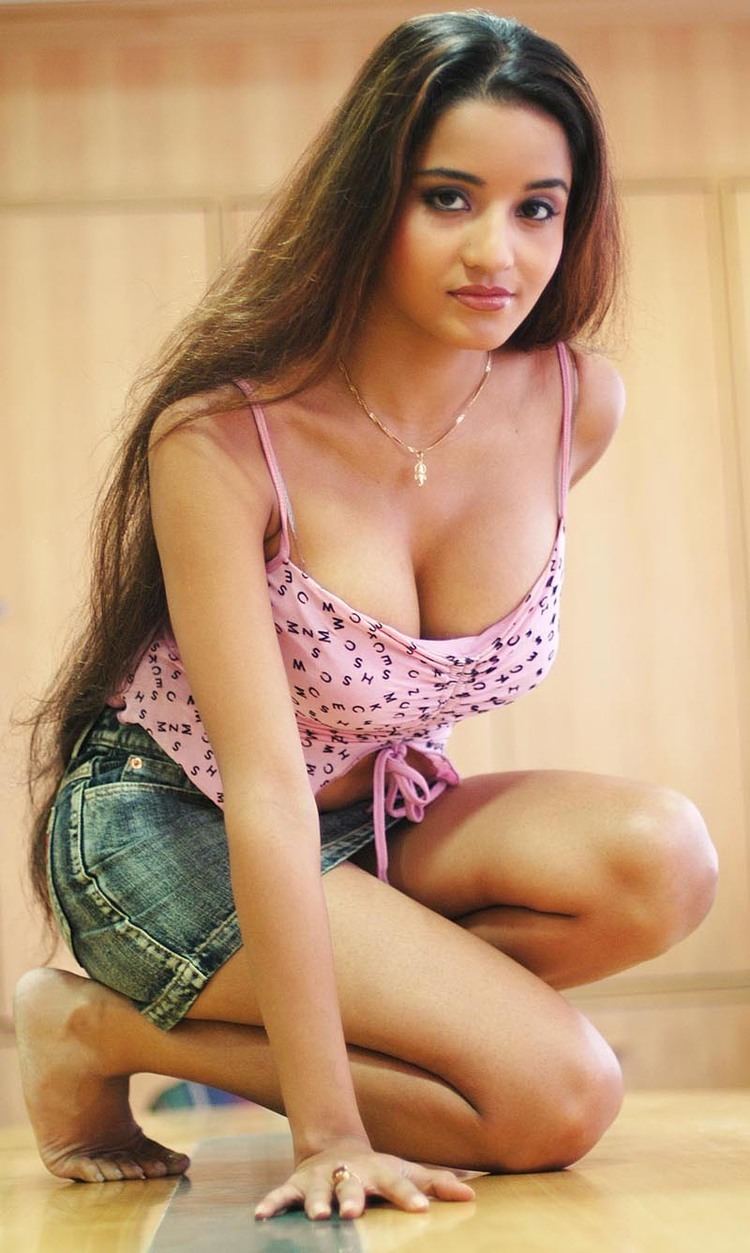 Biswas was a participant in Colors TV reality show Bigg Boss in Season 10 in 2016. She was one of the popular contestants. She got married in the Bigg Boss house.
Personal life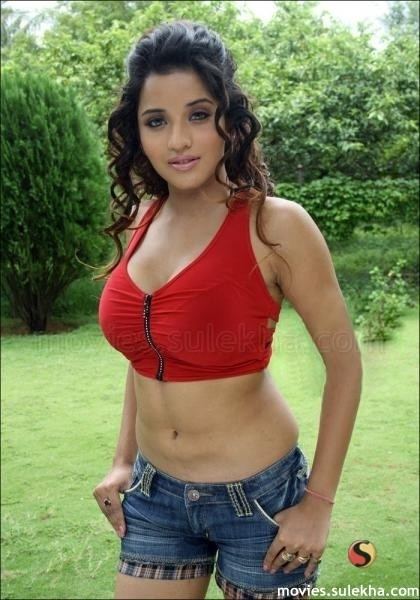 She married her boyfriend Bhojpuri actor Vikrant Singh Rajput in the Bigg Boss house on 17 January 2017.
Filmography
Actress
-
Aakhri Dum Tak (announced)
-
Ankahee Dastaan (TV Series) (completed)
2023
Naagin (TV Series)
as
Yamini
- Mahasangam-Prathna meets Bela (2023) - Yamini
2023
Bekaboo (TV Series)
as
Yamini Raichand
- Episode #1.4 (2023) - Yamini Raichand
- Episode #1.3 (2023) - Yamini Raichand
- Episode #1.1 (2023) - Yamini Raichand
2022
Hasratein (TV Series)
as
Purvi
2022
Favvara Chowk (TV Series)
as
Rama
2022
Ratri Ke Yatri (TV Series)
as
Prostitute
- Dulhe Raja (2022) - Prostitute
2022
Ratri Ke Yatri2 (TV Series)
2022
Dhappa (TV Series)
as
Mira
2020
Namak Issk Ka (TV Series)
as
Iravati Verma / Iravati Ravikant Verma
- Roopa Gets Iravati Killed? (2021) - Iravati Verma
- Ravikant Out Of Coma! (2021) - Iravati Ravikant Verma
- Yug Faces Humiliation (2020) - Iravati Verma
- Chamcham In Trouble? (2020) - Iravati Verma
- Will Chamcham Marry Shailendra Thakur? (2020) - Iravati Verma
- Yug Humiliates Chamcham! (2020) - Iravati Verma
- Yug Meets Chamcham! (2020) - Iravati Verma
- Yug And Kahaani's Story Begins (2020) - Iravati Verma
- Iravati's Plan Is Exposed - Iravati Verma
- Iravati's Devious Plot - Iravati Verma
- Satya To Sabotage Iravati's Plan? - Iravati Verma
- Iravati Pulls A Knife - Iravati Verma
- Yug Discovers Iravati's Truth - Iravati Verma
- Iravati's Devious Plan - Iravati Verma
- Yug Trusts Kahaani - Iravati Verma
- Kahaani Is Pregnant - Iravati Verma
- Yug Grows Suspicious Of Satya - Iravati Verma
- Will Satya Help Kahaani? - Iravati Verma
- Kahaani Feels Helpless - Iravati Verma
- Yug Grows Doubtful - Iravati Verma
- Satya, Kahaani Swap Places! - Iravati Verma
- Kahaani Hatches A Plan - Iravati Verma
- Satya's Smart Act - Iravati Verma
- Satya In A Pickle - Iravati Verma
- Satya Acts On Her Plan - Iravati Verma
- Kahaani Exposes Gunjan - Iravati Verma
- Yug Vows To Help Saroj! - Iravati Verma
- Yug Feels Helpless - Iravati Verma
- Kahaani Files F.I.R. Against Saroj! - Iravati Verma
- Will Kahaani Escape Her Confinement? - Iravati Verma
- Kahaani To Free Herself? - Iravati Verma
- Satya Creates A Scene - Iravati Verma
- Kahaani Learns About Satya - Iravati Verma
- Yug Gets Suspicious - Iravati Verma
- Where Is Kahaani? - Iravati Verma
- Kahaani Shocks Iravati - Iravati Verma
- Raunak Makes An Apology - Iravati Verma
- Will Kahaani Get The Letter? - Iravati Verma
- Yug To Rescue Kahaani? - Iravati Verma
- Kahaani Finds A Riveting Letter - Iravati Verma
- Will Kahaani Unravel The Truth? - Iravati Verma
- Kahaani Gets Accused - Iravati Verma
- Kahaani Saves The Day - Iravati Verma
- Kahaani's Tragic Past! - Iravati Verma
- Iravati Conspires With Saroj - Iravati Verma
- Kahaani Gets Raunak Arrested - Iravati Verma
- Kahaani Refuses To Forgive Ravikant - Iravati Verma
- Kahaani Approaches An Advocate - Iravati Verma
- Kahaani Learns The Truth - Iravati Verma
- Kahaani Receives Shocking News! - Iravati Verma
- Iravati Puts Up An Act - Iravati Verma
- Kahaani In Excruciating Pain - Iravati Verma
- Kahaani Devises A Plan - Iravati Verma
- Kahaani Is Tested - Iravati Verma
- Kahaani Turns The Tables! - Iravati Verma
- Yug Blames Kahaani - Iravati Verma
- Kahaani Suffers A Serious Accident - Iravati Verma
- Kahaani Meets Ravikant - Iravati Verma
- Kahaani Is In A Quandary - Iravati Verma
2018
Nazar (TV Series)
as
Mohana
- Vedashri loses the Baby (2019) - Mohana
- Ansh, Piya Lost In The Jungle (2018) - Mohana
- Piya Meets Vedashree (2018) - Mohana
- Can Ruby Trap Ansh? (2018) - Mohana
- Ansh Takes Care of Piya (2018) - Mohana
- Danger Strikes Piya, Ansh! (2018) - Mohana
- Piya Accompanies Ansh On The Trip (2018) - Mohana
- Piya To Spy On Ansh (2018) - Mohana
- Ruby's Merciless Deed (2018) - Mohana
- Vedashree To Find The Witch (2018) - Mohana
- Piya, Ruby Face Off (2018) - Mohana
- Ruby's Evil Deed (2018) - Mohana
- Vedashree Loses Her Cool (2018) - Mohana
- Ansh To Marry Ruby? (2018) - Mohana
- Ruby Feels Uncomfortable (2018) - Mohana
- Ruby On A Killing Spree (2018) - Mohana
- Vedashree Is Overjoyed (2018) - Mohana
- Ansh Gets Possessed (2018) - Mohana
- Ansh Experiences Horror (2018) - Mohana
- Ansh Talks To The Dead (2018) - Mohana
- Vedashree Tells Mohana's Story (2018) - Mohana
- The Tale Of Mohana (2018) - Mohana
- Enchantress On The Loose (2018) - Mohana
- Meet Mohana (2018) - Mohana
2019
Movie Masti with Maniesh Paul (TV Series)
as
Bhabhi
2019
Divya Drishti (TV Series)
as
Mohana Rathod
- Episode #1.11 (2019) - Mohana Rathod
2018
Badla Hindustani Ka
as
Item Girl
2018
Dupur Thakurpo (TV Series)
as
Jhuma
- Choway eto j aagun (2018) - Jhuma
- I Love Ghora (2018) - Jhuma
- Izzat lutnewali Bhabi (2018) - Jhuma
- Jelladar Goddess (2018) - Jhuma
- Uposhi Munia (2018) - Jhuma
2018
Jeena Marna Tere Sang
as
Sita
2018
Nathuniya Pe Goli Mare 2
2016
Saugandh Che Maa Baap Na
2014
Khoon Bhari Hamaar Maang
2014
Saiyan Ji Dilwa Mangelein
2014
Kare La Kamaal Dharti Ke Laal
2012
Mehraru Bina Ratiya kaise Kati
2011
Mora Balma Chhail Chhabila
2011
The Murderer: Hamilton Palace
as
Neha (Rocky's Dance Partner)
2011
Sheetalbhabi.com
as
Dipal
2010
Saiya Ke Sath Madaiya Mein
2009
Meri Life Mein Uski Wife
as
Dipal
2009
Jaade Mein Balma Pyara Laage
2008
Money Hai Toh Honey Hai
as
Prostitute
2007
Jagadam
as
Special Appearance
2006
Vathiyar
as
Special Appearance
2006
Jackpot
as
Laila (as: Antara Biswas)
2005
Encounter Dayanayak
as
Spurthi D. Nayak (as Anthara Biswas)
2005
Bobby: Love and Lust
as
Bobby D'Costa
2005
Jalwa: Fun in Love
as
Manisha Tripathi / Tanya 'Chinky'
2005
Bunty Aur Babli
as
Guest appearance in title song
2004
Tauba Tauba
as
Rubina (as Antara Biswas)
2004
Resham Ka Rumal (Short)
2001
Daman: A Victim of Marital Violence
as
Dancer (song "Bhagwati")
1997
...Jayate (TV Movie)
as
Aarti Mehta
Self
2017
Nach Baliye (TV Series)
as
Self - Contestant
- Episode #8.1 (2017) - Self - Contestant
2016
Bigg Boss (TV Series)
as
Self - Contestant
- Weekend Ka Vaar: King Khan in the house (2017) - Self - Contestant
- Day 96: Mona's endurance put to the test (2017) - Self - Contestant
- Day 94: Mona and Vikrant tie the knot! (2017) - Self - Contestant
- Day 93: Wedding bells for Mona! (2017) - Self - Contestant
- Day 91 and 92: Dosti ya Finale? (2017) - Self - Contestant
- Day 86: The 'Bigg' ticket to finale (2017) - Self - Contestant
- Weekend Ka Vaar: Bani and Gaurav to part ways? (2017) - Self - Contestant
- Day 70 and 71: Cracks in Manu-Mona Friendship? (2016) - Self - Contestant
- Weekend Ka Vaar: Sonakshi Sinha and Manish Paul spread holiday cheer (2016) - Self - Contestant
- Weekend Ka Vaar: Santa Salman's gift to housemates (2016) - Self - Contestant
- Day 68: Family time in the house! (2016) - Self - Contestant
- Day 67: Priyanka's sweet reunion (2016) - Self - Contestant
- Day 65: Bas Bhi Karo Baba (2016) - Self - Contestant
- Day 63 and 64: Monalisa's Emotional Meltdown (2016) - Self - Contestant
- Day 40: Om Swami exposes his ugliest side! (2016) - Self - Contestant
- Day 39: Rahul finally loses his cool on Om Swami! (2016) - Self - Contestant
- Day 38: Lopa ki 'Bigg' chori (2016) - Self - Contestant
- Sunny and Om Swami recreate the magic of 'Sholay' (2016) - Self - Contestant
- Day 35 and 36: Viral Video War (2016) - Self - Contestant
- Weekend Ka Vaar: Alia Bhatt in the house (2016) - Self - Contestant
- Day 18: Bikini clad Mona-Lopa turn on the heat! (2016) - Self - Contestant
- Day 16: 'Raja aur Rank' task stirs up the Bigg Boss house (2016) - Self - Contestant
- Day 14 & 15: Om Swami breaks down in the house (2016) - Self - Contestant
- Day 1: Celeb sevaks serve the Indiawales (2016) - Self - Contestant
- Bigg Boss 10: Season Premiere (2016) - Self - Contestant
References
Antara Biswas Wikipedia
(Text) CC BY-SA