Nationality

Italian


Role

Actress




Name

Anita Ekberg





Years active

1953–2002




Occupation

Actress, model




TV shows

Casablanca (1955)







Pronunciation

Swedish: [aˈniːta ˈeːkˈbaerj]Italian: [aˈniːta ˈekberɡ]English /əˈniːtə ˈekbərɡ/


Full Name

Kerstin Anita Marianne Ekberg




Born

29 September 1931 (

1931-09-29

) Malmo, Sweden


Died

January 11, 2015, Rocca di Papa, Italy


Spouse

Rik Van Nutter (m. 1963–1975), Anthony Steel (m. 1956–1959)


Parents

Gustav Ekberg, Alva Ekberg




Movies

La Dolce Vita, Boccaccio '70, War and Peace, 4 for Texas, Artists and Models




Similar People

Federico Fellini, Marcello Mastroianni, Jayne Mansfield, Anouk Aimee, Anthony Steel
Anthony Steel Marries Anita Ekberg (1956)
Kerstin Anita Marianne Ekberg (29 September 1931 – 11 January 2015) was a Swedish actress in American and European films. She is best known for her role as Sylvia in the Federico Fellini film La Dolce Vita (1960). Ekberg worked primarily in Italy, where she became a permanent resident in 1964.
Contents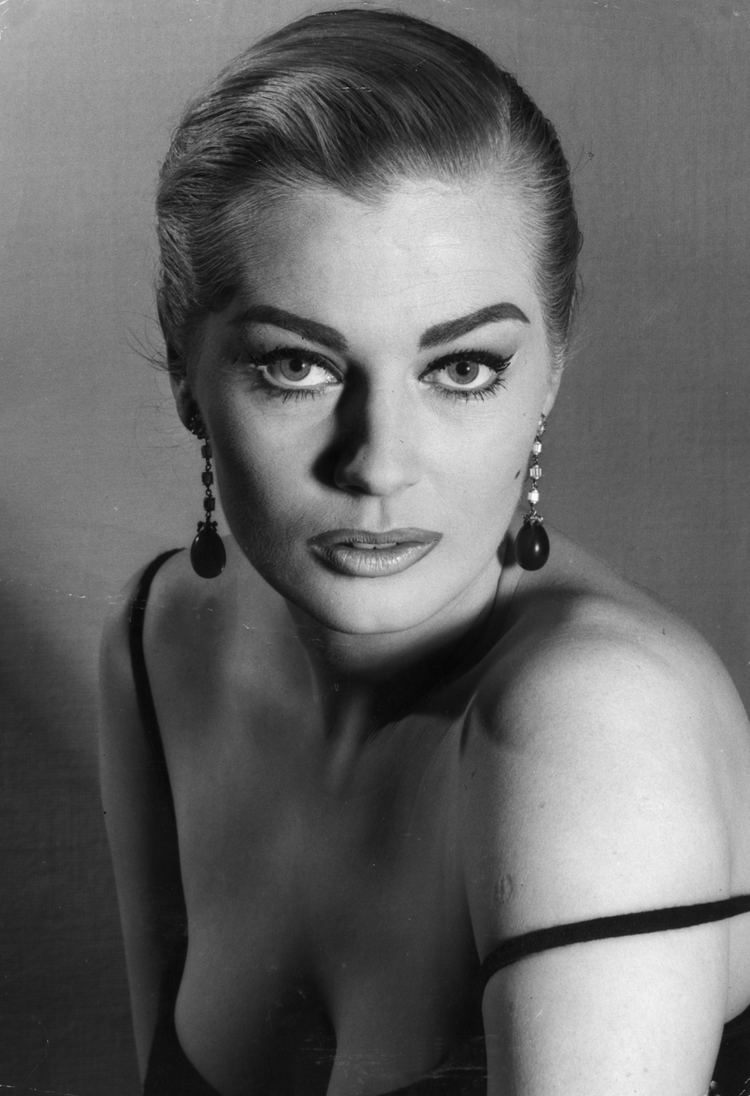 Early life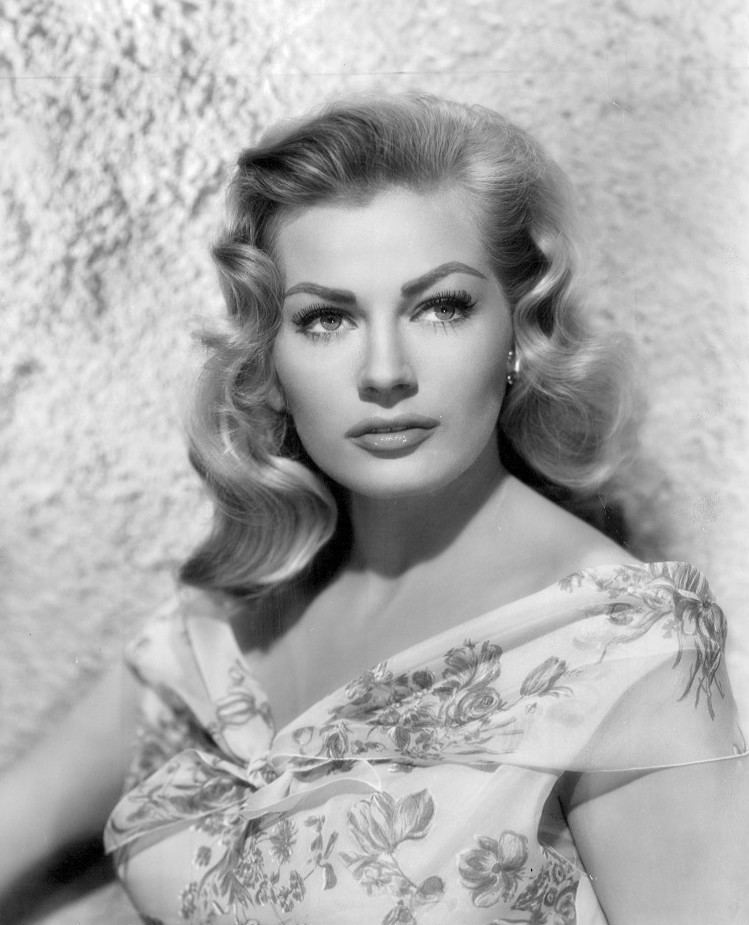 Anita Ekberg was born on 29 September 1931, in Malmö, Skåne, the sixth of eight children of Gustav Fredrik Ekberg by the former Alva Maria Larsson. In her teens, Anita worked as a fashion model. Ekberg entered the Miss Malmö competition in 1950 at her mother's urging. This led to the Miss Sweden contest which she won. She consequently went to the United States to compete for the 1951 Miss Universe title (an unofficial pageant at that time, the pageant became official in 1952), despite speaking very little English.
Early career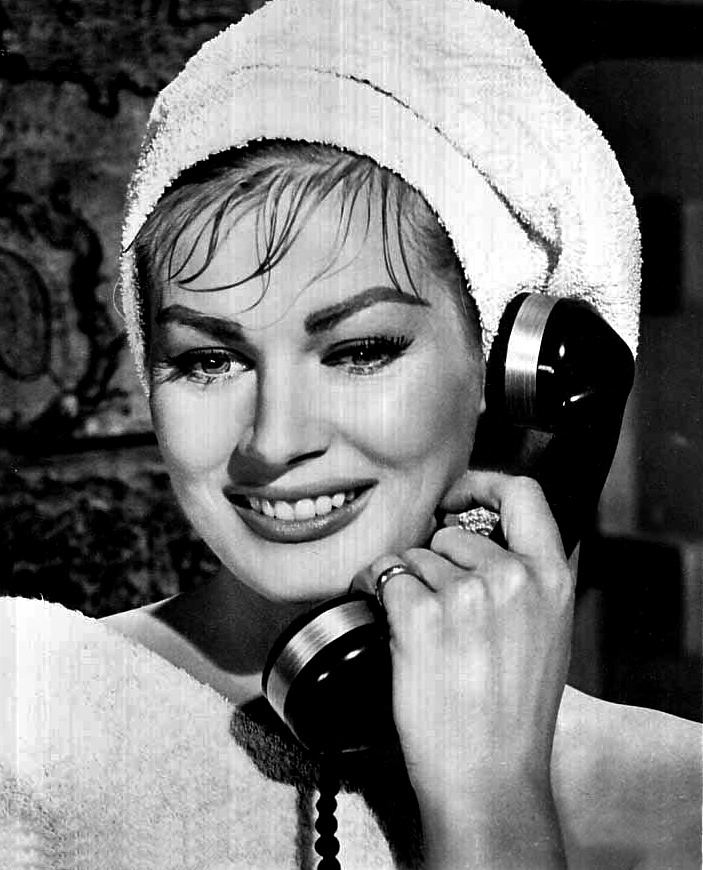 Although Ekberg did not win the Miss Universe pageant, as one of six finalists she did earn a starlet's contract with Universal Studios, as was the practice at the time.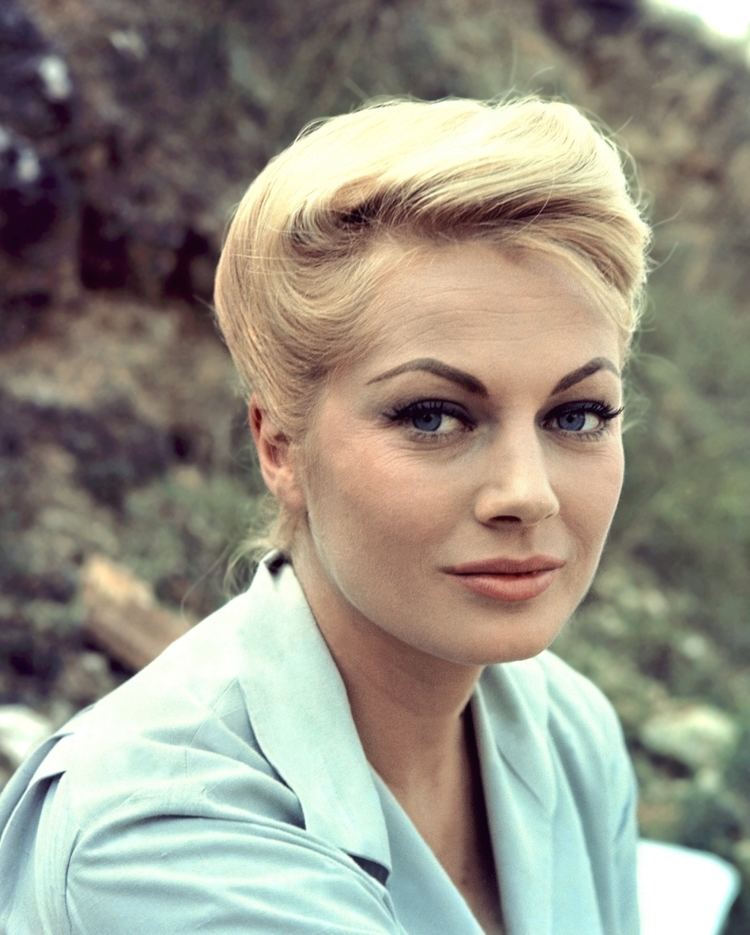 As a starlet at Universal, she received lessons in drama, elocution, dancing, horseback riding, and fencing. She appeared briefly in the 1953 Universal films Abbott and Costello Go to Mars and The Golden Blade. Ekberg skipped many of her drama lessons, restricting herself to riding horses in the Hollywood Hills. Ekberg later admitted she was spoiled by the studio system and played instead of pursuing bigger film roles.
Mainstream career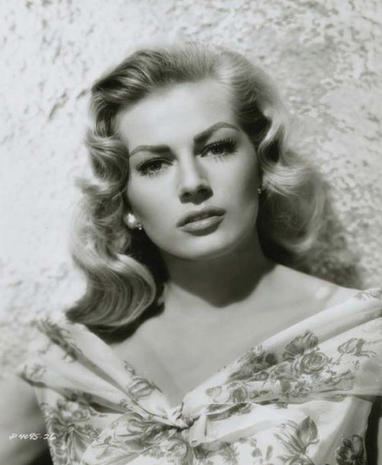 The combination of Ekberg's voluptuous physique and colorful private life (such as her well-publicized romances with Hollywood's leading men like Frank Sinatra, Tyrone Power, Yul Brynner, Rod Taylor, and Errol Flynn) appealed to the gossip magazines, like Confidential, and she soon became a major 1950s pin-up, appearing in men's magazines like Playboy. Additionally, Ekberg participated in publicity stunts. She once admitted that an incident in which her dress burst open in the lobby of London's Berkeley Hotel was prearranged with a photographer.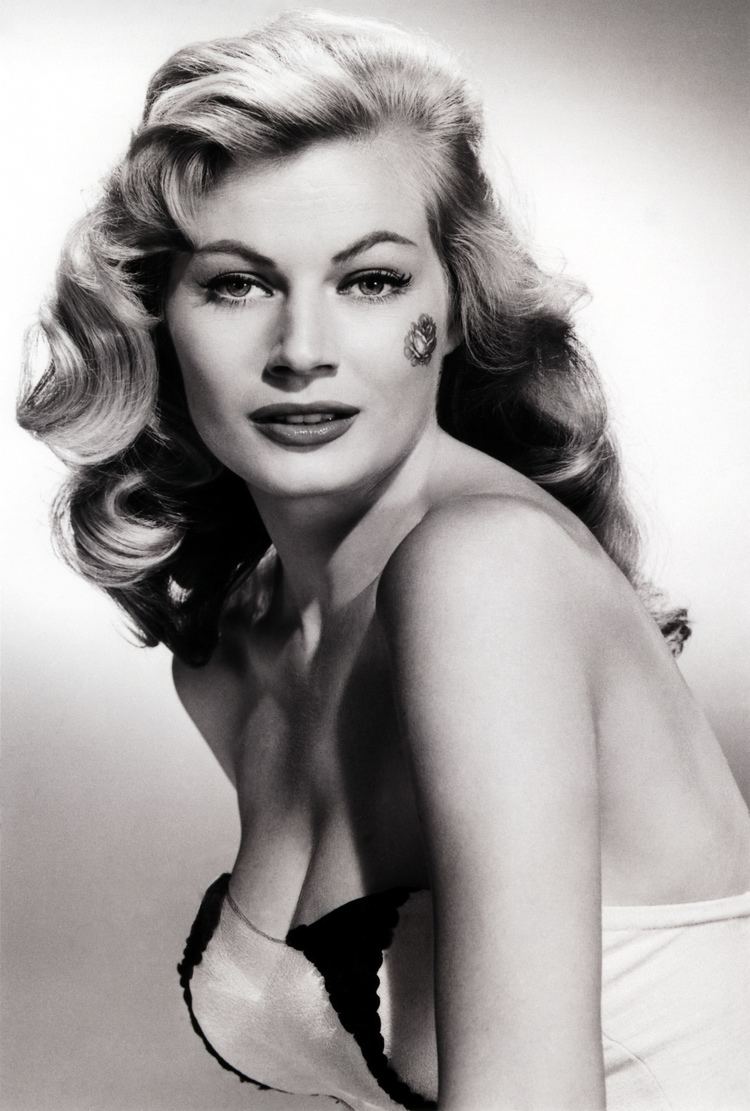 By the mid-1950s, after several modeling jobs, Ekberg finally broke into the film industry. She guest-starred in the short-lived TV series Casablanca (1955) and Private Secretary. She had a small part in the film Blood Alley (1955) starring John Wayne and Lauren Bacall. She appeared alongside the Dean Martin and Jerry Lewis comedy act in Artists and Models (1955) and Hollywood or Bust (1956), both for Paramount Pictures. For a time, she was even publicized as "Paramount's Marilyn Monroe".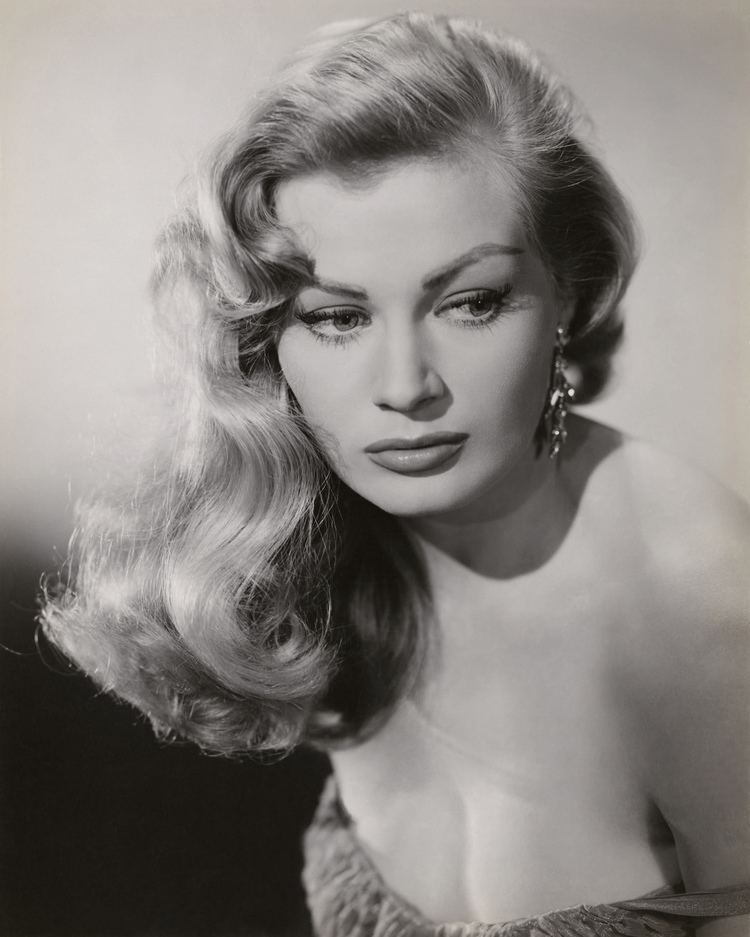 Ekberg was featured in five films released during 1956. Paramount cast her in War and Peace (1956) which was shot in Rome, alongside Mel Ferrer and Audrey Hepburn. Meanwhile, RKO Pictures gave the actress her first leading role in an early disaster film Back from Eternity (also 1956). The last two were Man in the Vault and Zarak, both minor studio productions that had a limited impact on her career.
Ekberg starred in the British drama Interpol with Victor Mature and in Valerie (both 1957) with Sterling Hayden. She then co-starred with Bob Hope in Paris Holiday and with Philip Carey and Gypsy Rose Lee in Screaming Mimi (both 1958). A European film, Sheba and the Gladiator (1959), followed.
Federico Fellini gave Ekberg her best known role in La Dolce Vita (1960), performing as Sylvia Rank, the unattainable "dream woman" of the character played by Marcello Mastroianni. The film features a scene of her cavorting in Rome's Trevi Fountain alongside Mastroianni, which has been called "one of cinema's most iconic scenes".
After this, she accepted a role in The Dam on the Yellow River in 1960. She then appeared in Boccaccio '70 (1962), a film that also featured Sophia Loren and Romy Schneider. Soon thereafter, Ekberg was being considered to play the first Bond girl, Honey Ryder in Dr. No, but the role went to the then-unknown Ursula Andress.
Ekberg co-starred with Andress, Frank Sinatra, and Dean Martin in the western-comedy 4 for Texas (1963). Fellini would call her back for two more films: The Clowns (1972) and Intervista (1987). In the latter, she appeared as herself in a reunion scene with Mastroianni.
Personal life
Both of Ekberg's marriages were to actors, but neither of them succeeded. She was married to Anthony Steel from 1956 until their divorce in 1959 and to Rik Van Nutter from 1963 until their divorce in 1975. In one interview, she said she wished she had a child but stated just the opposite on another occasion.
Ekberg was often outspoken in interviews, e.g., naming famous people she reportedly "couldn't bear." She was also frequently quoted as saying that it was Fellini who owed his success to her, rather than vice versa: "They would like to keep up the story that Fellini made me famous, that Fellini discovered me", she said in a 1999 interview with The New York Times.
Ekberg did not live in Sweden after the early 1950s, and rarely visited the country. However, she welcomed Swedish journalists into her home outside Rome and in 2005 appeared on the popular radio program Sommar, telling about her life. She stated in an interview that she would not move back to Sweden before her death but would be buried there.
On 19 July 2009, she was admitted to the San Giovanni Hospital in Rome after falling ill in her home in Genzano, according to a medical official in the hospital's neurosurgery department. Despite her condition not being serious, Ekberg was put under observation in the facility.
In December 2011, it was reported that the 80-year-old Ekberg was "destitute" following three months in a Rimini hospital with a broken hip, during which time her home was robbed of jewelry and furniture, and her villa was badly damaged by fire. Ekberg applied for help from the Fellini Foundation, which also found itself in difficult financial straits.
Death
Ekberg died on 11 January 2015, at the age of 83, at the clinic San Raffaele in Rocca di Papa in Castelli Romani, Italy from complications of enduring illnesses. Ekberg's funeral service was held on 14 January 2015, at the Lutheran-Evangelical Christuskirche in Rome, after which her body was cremated and her remains were buried at the cemetery of Skanör Church in Sweden.
References
Anita Ekberg Wikipedia
(Text) CC BY-SA