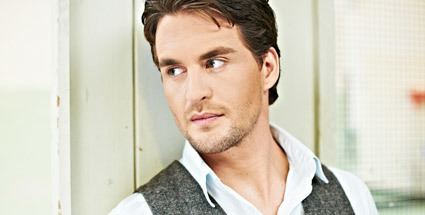 Alexander had a typical childhood growing up in Sendenhorst, Germany with his parents Richard and Hildegard and older sister Melanie (born 1980). He was an avid soccer player, and still plays soccer on charity teams whenever he finds the time. Alexander's musical gifts became apparent when he was still in elementary school. He made his first television appearance at the age of 10, performing Haddaway's "What Is Love" on a national TV show for children. By the time he was 13, Alexander was already taking vocal and piano lessons to strengthen his voice.
In 2002, Klaws was encouraged by his family and friends to audition for the debut season of the reality television series Deutschland sucht den Superstar. Klaws went on to win the competition on 8 March 2003, earning 70.1% of the votes against runner-up Juliette Schoppmann.
Klaws was signed to a record deal with SonyBMG, while jury member Dieter Bohlen was consulted to produce his debut album on the company. On 17 March 2003 his debut single, "Take Me Tonight" was released. The song was performed by Klaws during the season finale of DSDS. The song subsequently debuted at number 1 in Germany and Switzerland. It eventually went on to become the second best-selling single of 2002 behind "We Have a Dream" and was certified quintuple gold by the Bundesverband Musikindustrie (BVMI). In May he followed-up with his debut album Take Your Chance, which saw similar success and spawned a second single "Stay with Me". At the end of a year he entered the top of the charts again with "Free Like the Wind", the soundtrack to the German TV movie Held der Gladiatoren.
In 2004 Klaws returned with his second album Here I Am. Like its predecessor, the album debuted at number 1 on the German charts. In 2005,
After a brief absence from the limelight Alexander returned in early 2006 with the single "Not Like You" and his third album Attention!. His fourth album was released in early April 2008. It is the first album that Klaws has done that is completely in his native language of German. Klaws fifth studio album Auf die Bühne, fertig, los! was released on October 16, 2015.
Klaws studied from 2005 to 2006 song and acting at the "Joop van den Ende Academie" in Hamburg and starded a famose career as a musical star. He played a lot of various characters and work with Roman Polański and Phil Collins.
Tanz der Vampire – Musical – (Alfred) – Theatre des Westens - Berlin - Dezember 2006 bis März 2008
Anna und die Liebe – Telenovela – (Lars Hauschke) - SAT 1 - August 2008 bis Mai 2010
Tarzan – Musical – (Tarzan) – Theatre Neue Flora - Hamburg - Mai 2010 bis Juni 2013
Der Schuh des Manitu – Musical - (Ranger) – Openair Tecklenburg - Juni 2013 bis August 2013
Joseph and the Amazing Technicolor Dreamcoat - Musical - (Joseph) - Openair Tecklenburg - Juni 2014 bis August 2014
Jesus Christ Superstar - Rockopera - (Jesus) - Opera Dortmund - Oktober 2014 - November 2015
Jesus Christ Superstar - Rockopera - (Jesus) - Theater Basel (Schweiz) - Januar 2016 - Juni 2016
Saturday Night Fever - Musical - (Tony Manero) - Freilichtbühne Tecklenburg - Juli 2016 bis September 2016
Tarzan - Musical – (Tarzan) – Metronom Theatre Oberhausen - November 2016 bis April 2017
Karl-May-Spiele Bad Segeberg - Open Air Theatre – (Old Surehand) - Juni 2017 bis September 2017
Ghost - Nachricht von Sam - Musical – (Sam) - Theatre des Westens - Berlin - ab Dezember 2017
Best of Musical-Gala (2012)
Hollywood Nights (2012-2013)
Dir gehört mein Herz–Soloprogramm (2012-2014)
Disney in Concert (2015 + 2016)
Die größten Musical Hits aller Zeiten (2016)
Hollywood Dreams (2017)