Name

Alex Cline




Role

Drummer




Siblings

Nels Cline







Albums

The Lamp and the Star, For People in Sorrow




Similar People

Nels Cline, Vinny Golia, G E Stinson, Mark Dresser, Wayne Peet
Alex cline for people in sorrow
Alex Cline (born January 4, 1956) is an American jazz drummer.
Contents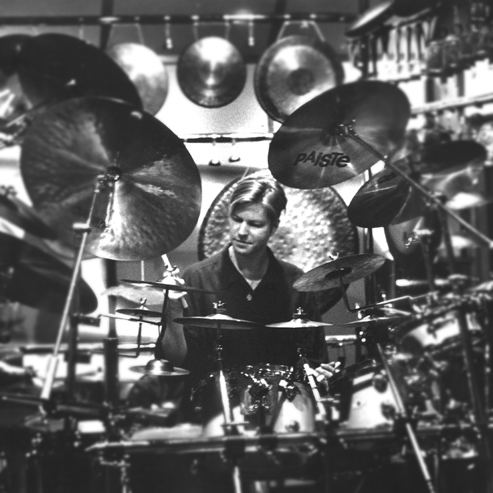 Nels cline guitar and alex cline drums and cymbals
Biography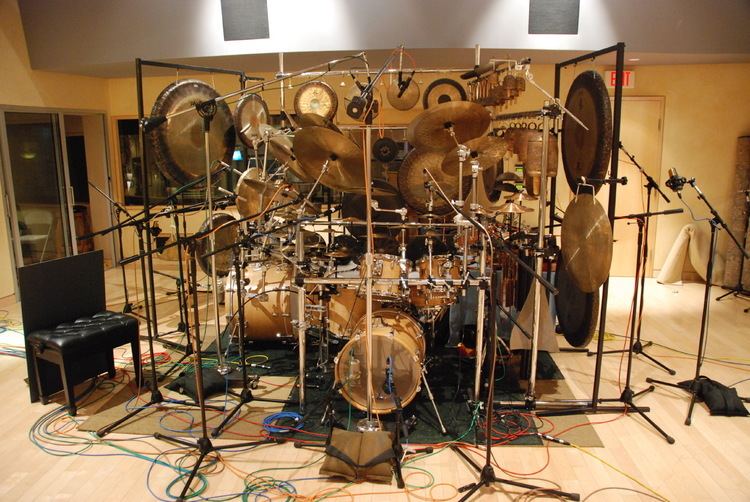 Born in Los Angeles, California, Cline began playing drums with his twin brother, guitarist Nels Cline, at the age of 11. Their first band was called Homogenized Goo and included David Hirschman on guitar. Alex Cline began a musical association with woodwind artist Jamil Shabaka in 1976 as "Duo Infinity". In 1977, he became a member of Vinny Golia's group as well as the Julius Hemphill Trio (along with Baikida Carroll), formed the electric improvisational trio Spiral (with brother Nels and synthesizer player and multi-instrumentalist Brian Horner) and began performing solo percussion concerts.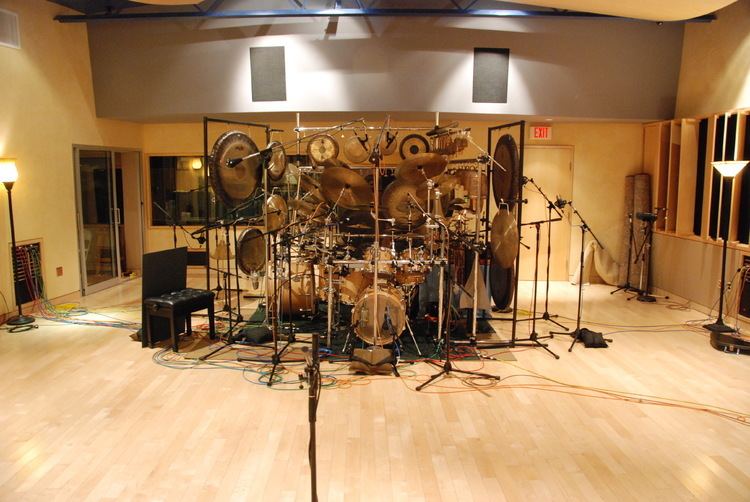 In 1979, Alex and Nels Cline, along with bassist Eric von Essen and violinist Jeff Gauthier, formed "Quartet Music", a group that enjoyed continued success in its performances and four recordings over an eleven-year period and was awarded grants from the National Endowment for the Arts and the California Arts Council.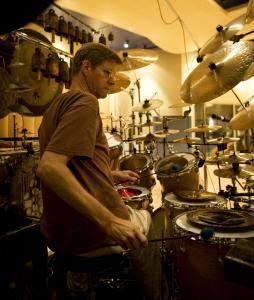 In 1982, Alex Cline made his solo debut with Not Alone (Nine Winds), a double LP of percussion music. In 1987, he recorded The Lamp and The Star (ECM), his first album as a bandleader-composer. As the leader of his own group, The Alex Cline Ensemble, he can be heard on Sparks Fly Upward and The Constant Flame, two releases on Cryptogramophone Records, an LA-based independent creative-jazz label. Cline's other improvisational collaborations include right of violet and The Other Shore, both with Jeff Gauthier and ex-Shadowfax guitarist G.E. Stinson, and Cloud Plate (Cryptogramophone) with Stinson, vocalist Kaoru and koto player Miya Masaoka.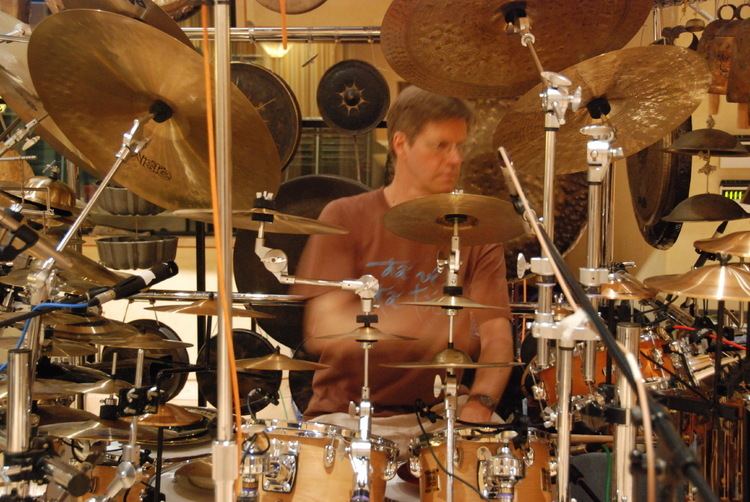 Other groups Cline has led are Alex Cline's Band of the Moment and The Rain Trio (with Eric Barber and Scott Walton). He has also been involved in duo percussion collaborations with Ron George, Peter Erskine, Christopher Garcia, Andrea Centazzo, Gregg Bendian and Dan Morris, as well as involved in performing the works of composers such as Robert Eriksson, Harold Budd and David Means.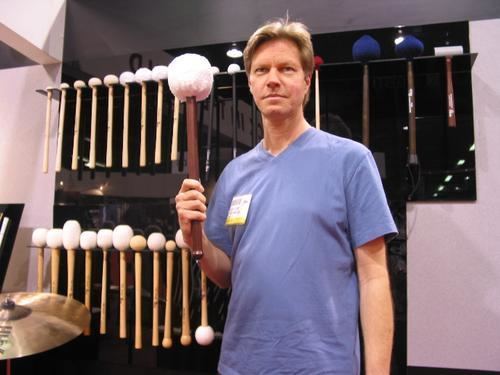 Cline has served as composer and/or performer for numerous modern dancers and dance companies in Los Angeles, including Margaret Schuette, Linda Fowler, the Momentum Company's "Soundspace" concerts, Dance/LA, the UCLA Dance Company and has enjoyed a longstanding involvement with Will Salmon's Open Gate Theatre company.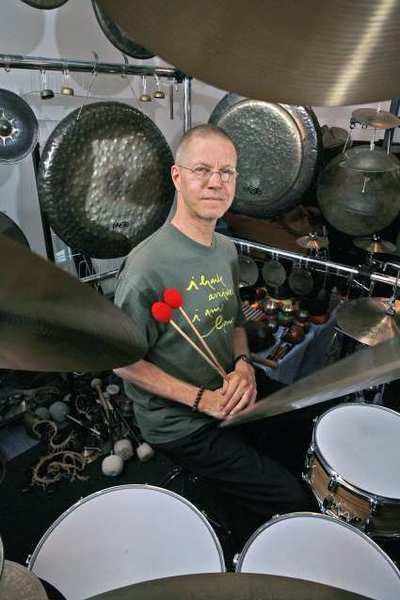 He has participated in performance collaborations with visual artists Yoshio Ikezaki, Norton Wisdom, Kio Griffith and 2-Tu. He has worked on feature and cable television film soundtracks, done numerous sound workshops and percussion clinics, plus lecture-demonstrations on Asian metal percussion instruments. Cline has also been the curator of the Open Gate Theatre's Sunday Evening Concerts series, a new music/creative jazz showcase held monthly in Eagle Rock, California (since 1997).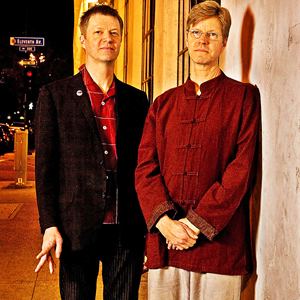 He also works as an interviewer/interview series developer-coordinator at the UCLA Library Center for Oral History Research.
Cline has played on over eighty recordings, and has worked with Gregg Bendian, Tim Berne, Arthur Blythe, Bobby Bradford, John Wolf Brennan, John Carter, Buddy Collette, Mark Dresser, Marty Ehrlich, Vinny Golia, Henry Grimes, Charlie Haden, Joseph Jarman, Henry Kaiser, Yusef Lateef, Charles Lloyd, Myra Melford, Frank Morgan, Don Preston, Elliott Sharp, Wadada Leo Smith, Philip Gelb, Richard Grossman, and others.
Discography
Duo Infinity (Aten, 1977) with Jamil Shabaka
Not Alone (Nine Winds, 1981)
The Lamp and the Star (ECM, 1987 [1989])
Montsalvat (Nine Winds, 1992 [1995])
Right of Violet (Nine Winds, 1996) with Jeff Gauthier and G. E. Stinson
Espiritu (True Media, 1998) with Gregg Bendian
Sparks Fly Upward (Cryptogramophone, 1999)
The Other Shore (Cryptogramophone, 2000) with Jeff Gauthier and G. E. Stinson
The Constant Flame (Cryptogramophone, 2001)
Cloud Plate (Cryptogramophone, 2005) with Kaoru, Miya Masaoka and G. E. Stinson
Continuation (Cryptogramophone, 2009)
For People in Sorrow (Cryptogramophone, 2013)
With John Wolf Brennan
Shooting Stars & Traffic Lights (L+R, 1993 [1995])
I.N.I.T.I.A.L.S. (Creative Works, 2005)
With Nels Cline
Destroy All Nels Cline (Avavistic, 2000)
New Monastery (Cryptogramophone, 2006)
Dirty Baby (Cryptogramophone, 2010)
Lovers (Blue Note, 2016)
With Don Preston
Transformation (Cryptogramophone, 2001)
With Others
Jeff Gauthier Goatette – One and the Same (Cryptogramophone Cg128)
Alex Cline/Kaoru/Miya Masaoka/G.E. Stinton – Cloud Plate (Cryptogramophone Cg121)
Scot Ray Quintet – Active Vapor Recovery (Cryptogramophone Cg117)
Harris Eisenstadt Ahimsa Orchestra (Nine Winds Nwcd0237) (percussion on one track)
William Roper – If I Ran the Circus (Tomato Sage Tcsr–001) (percussion on one track)
Go: Organic Orchestra – Web of Light (Meta 007)
Adam Rudolph/Yusef Lateef/Go: Organic Orchestra – In the Garden (Meta/Yal 008)
Jeff Gauthier Goatette – Mask (Cryptogramophone Cg112)
Gregg Bendian's Interzone – Requiem for Jack Kirby (Atavistic)
Dan Morris – The Soul the Crow Stole
Steuart Liebig – Pomegranate (Cryptogramophone Cg109)
The Music of Eric Von Essen, Vol. III (Cryptogramophone Cg115)
The Music of Eric Von Essen, Vol. II (Cryptogramophone Cg108)
The Music of Eric Von Essen, Vol. I (Cryptogramophone Cg103)
Vinny Golia Large Ensemble – The Other Bridge (Oakland 1999) (Nine Winds 0210/0220)
Vinny Golia/Bobby Bradford/Ken Filiano/Alex Cline – Lineage (Nine Winds 0214)
Lynn Johnston – First We Feel (Win 037)
Gregg Bendian's Interzone – Myriad (Atavistic Alp119)
Jeanette Wrate/Northern Light Ensemble – Echoes of a Northern Sky (Cryptogramophone Cg101)
Gregg Bendian/Alex Cline – Espiritu (True Media D 98715)
Mark Weber – Time Zone Differential (Zerx 007)
Mark Weber – O Shenandoah Be Not Telling Me This (Zerx 001) (One track)
Mark Weber – Bygone Tumbleweeds, Tarnation of Smoke (Zerx 011) (One track)
Gregg Bendian's Interzone – (Eremite Mte03)
Vinny Golia Quintet – Nation of Laws (Nine Winds 0189)
Jeff Gauthier Quartet – The Present (Nine Winds 0196)
James Carney – Offset Rhapsody (Jacaranda 71002) (One track)
Vinny Golia Large Ensemble – Portland 1996 (Nine Winds 0180)
Joel Harrison – 3 + 3 = 7 (Nine Winds 0185)
Vinny Golia Large Ensemble – Tutto Contare (Nine Winds 0170)
John Rapson/Anthony Braxton – Dances & Orations (Music & Arts 923)
Vinny Golia Large Ensemble – Commemoration (Nine Winds 0150/0160)
Jeff Gauthier – Internal Memo (Nine Winds 0164)
Shooting Stars & Traffic Lights (Bellaphon L & R 45090)
Vinny Golia Large Ensemble – Decennium Dans Axlan (Nine Winds 0140)
Richard Grossman Trio – Where the Sky Ended (Hatology 541)
Richard Grossman Trio – Even Your Ears (Hatology 915)
Richard Grossman Trio – Remember (Magnatone 512mgt)
G.e. Stinson Group – The Same Without You (Nine Winds 0154)
Stephen Arroyo – The Psychology of the Sun Signs (Cassette Book W/Original Music by Alex Cline, Crcs Publications
Richard Grossman & Friends – In the Air (Nine Winds 0146)
Blood and Concrete – Original Motion Picture Soundtrack By Vinny Golia (Irs)
Bloc – In the Free Zone (A & M 75021 5343 2) (Additional percussion)
Dennis Gonzalez – The Earth and the Heart (Konnex Kcd 5028, Music & Arts)
Richard Grossman – Trio in Real Time (Nine Winds 0134)
John Rapson – Bing! (Sound Aspects Sas 036)
Vinny Golia Quintet – Out for Blood (Nine Winds 0127)
Quartet Music – Summer Night (Delos De 4010)
Susan Rawcliffe/Alex Cline – Personal Ethnic (Clay Music Cassette)
Charlie Haden Quartet West – In Angel City (Verve 837 031–1) (One track)
Alex Cline – The Lamp and the Star (Ecm 1372)
Wayne Peet's Doppler Funk – Blasto! (Nine Winds 0126)
Nels Cline – Angelica (Enja 5063)
Quartet Music – Window on the Lake (Nine Winds 0122)
Vinny Golia Quintet – Regards from Norma Desmond (Fresh Sound 008)
Tim Berne (W/ Bill Frisell, Hank Roberts) – Fulton Street Maul (Columbia Fc40530; Rereleased on Koch Jazz 3–7826–2)
Richard Grossman – One...Two...Three...Four... (Nine Winds 0119)
John Rapson – Bu-wah (Nine Winds 0118)
Vinny Golia Large Ensemble – Pilgrimage to Obscurity (Nine Winds CD 0130)
Vinny Golia Quintet – Goin' Ahead (Nine Winds 0117)
Julius Hemphill's Jah Band – Georgia Blue (Minor Music 003)
Vinny Golia Large Ensemble – Facts of Their Own Lives (Nine Winds 0120)
Quartet Music – Ocean Park (Nine Winds 0113)
John Rapson – Deeba-dah-bwee (Nine Winds 0112)
Grey Pavilion (12 E.p.) (Pink Shoe Productions P.s.1)
Vinny Golia – Compositions for Large Ensemble (Nine Winds 0110)
Vinny Golia Quintet – The Gift of Fury (Nine Winds 0109)
Vinny Golia Trio – Slice of Life (Nine Winds 0108)
Quartet Music – Quartet Music (Nine Winds 0106)
Tim Berne – Spectres (Empire 48k)
Roberto Miguel Miranda W/ Virgilio Figueroa – Raphael (Nimbus 1024)
Walter Thompson – Stardate (Dane 002)
Tim Berne – 7x (Empire 36k)
Moss/Centazzo/Cline – Percussion Interchanges (Ictus P.s. 0012)
Vinny Golia Trio – ...In the Right Order... (Nine Winds 0103)
Tim Berne – The Five-year Plan (Empire 24k)
Vinny Golia – Openhearted (Nine Winds 0102)
Andrea Centazzo – U.S.A. Concerts (Ictus 018)
Vinny Golia – Spirits in Fellowship (Nine Winds 0101)
Jamil Shabaka/Alex Cline – Duo Infinity (Aten 0010)
References
Alex Cline Wikipedia
(Text) CC BY-SA