Vinny Golia




Composer · vinnygolia.com




11 Reasons To Begin






March 1, 1946 (age 69) (

1946-03-01

)

The Bronx, New York City, New York




Alex Cline, Bobby Bradford, Steve Adams, Michael Vatcher
Vinny Golia (born March 1, 1946 in The Bronx, New York City, New York) is an American composer and multi-instrumentalist specializing in woodwind instruments. He performs in the genres of contemporary music, jazz, free jazz, and free improvisation.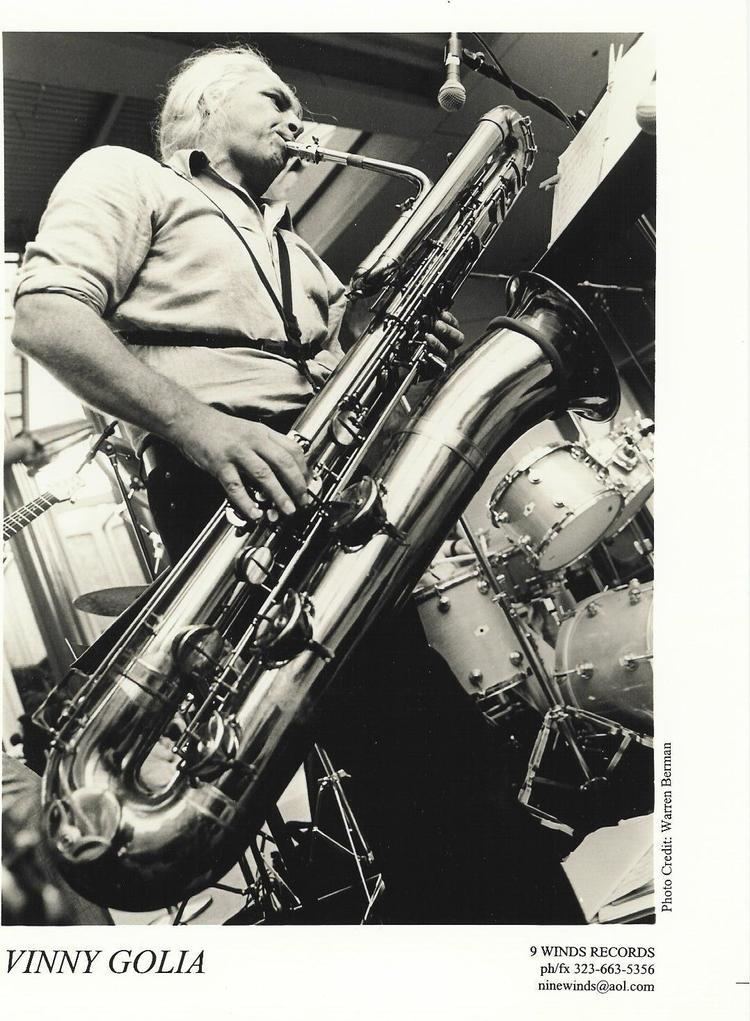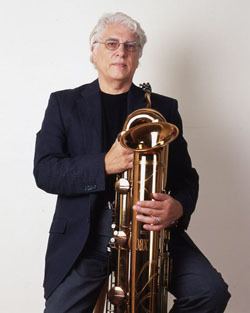 As a composer, Golia fuses the rich heritage of jazz, contemporary classical music and world music. Also a bandleader, he has presented his music to concert audiences in Europe, Canada, Mexico, Japan, Australia, New Zealand and the United States in ensembles varying dramatically in size and instrumentation. Golia has won numerous awards as a composer, including grants from the National Endowment of the Arts, the Lila Wallace Commissioning Program, the California Arts Council, Meet the Composer, Clausen Foundation of the Arts, Funds for U.S. Artists and the American Composers Forum. In 1982 he created the ongoing 50-piece Vinny Golia Large Ensemble to perform his compositions for chamber orchestra and jazz ensembles.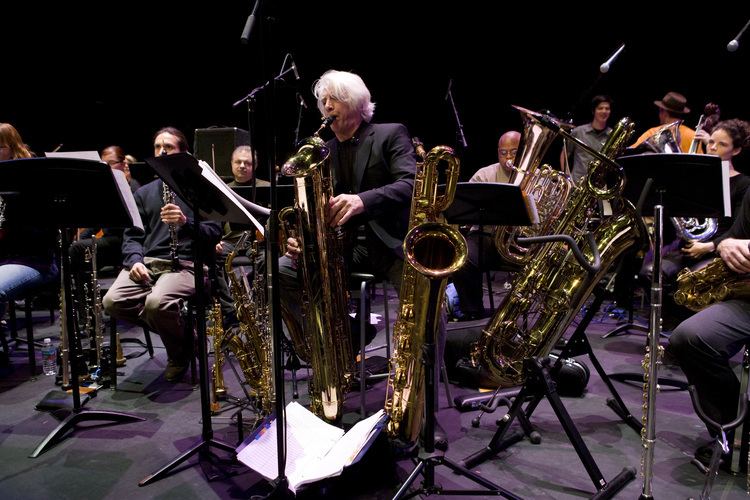 A multi-woodwind performer, Golia's recordings have been consistently picked by critics and readers of music journals for their yearly "ten best" lists. In 1990 he was the co-winner of the JazzTimes TDWR award for Bass Saxophone. In 1998, he ranked 1st in the Cadence Magazine Writers & Readers Poll and has continually placed in the Down Beat Critics Poll for Baritone & Soprano Saxophone. In 1999, he won the LA Weekly award for "Best Jazz Musician". Jazziz magazine has also named him as one of the 100 people who have influenced the course of jazz in the 21st century. In 2006, the Jazz Journalists Association honored him with a Lifetime Achievement Award. In 2013, he won the Down Beat Critics Poll in the "New Star" category for baritone saxophone.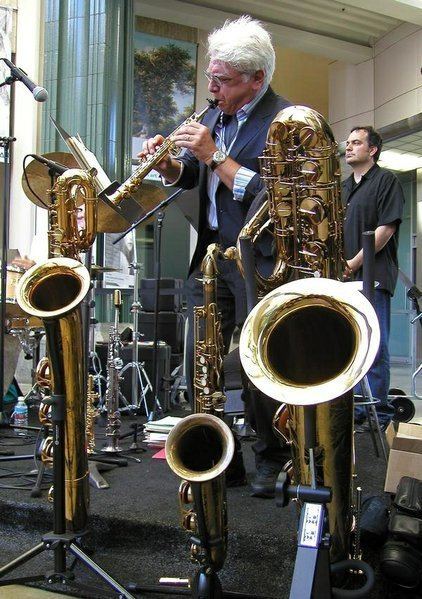 Golia has been a featured performer with Anthony Braxton, Henry Grimes, John Carter, Bobby Bradford, Joëlle Léandre, Wadada Leo Smith, Horace Tapscott, John Zorn, Tim Berne, Bertram Turetzky, George Lewis, Barre Phillips, the Rova Saxophone Quartet, Patti Smith, Harry Gibson, Eugene Chadbourne, Kevin Ayers, Peter Kowald, John Bergamo, George Gruntz Concert Jazz Band, Misha Mengelberg, Han Bennick, Lydia Lunch, Harry Sparrney and the Los Angeles Philharmonic Orchestra.
Golia founded the jazz record label Nine Winds in 1977.
Golia has a formed a number of ensembles that showcase both his style of composition and improvisation. These groups range from the his Large Ensemble to a variety of mixed quintets, saxophone quartets, duos, sextets and arrangements for jazz and classical orchestras. Most recently, Golia has performed and toured with his sextet which features some of the new voices in the Los Angeles free-improv scene. The group, composed of Gavin Templeton (alto sax), Daniel Rosenboom (trumpet), Alexander Noice (guitar), Andrew Lessman (drums) and Jon Armstrong (bass), has given performances at many of the premiere U.S. new music venues and festivals including Angel City Jazz Festival at the John Anson Ford Amphitheatre, the Outsound New Music Summit in San Francisco, and The Stone in New York.
1977 Spirits in Fellowship (Nine Winds)
1979 Openhearted (Nine Winds)
1979 In the Right Order (Nine Winds)
1980 Solo (Nine Winds)
1981 Slice of Life (Nine Winds)
1981 The Gift of Fury (Nine Winds)
1982 Compositions for Large Ensemble (Nine Winds)
1984 Facts of Their Own Lives (Nine Winds)
1986 Goin' Ahead (Nine Winds)
1986 Intersections (Nine Winds)
1988 Out for Blood (Nine Winds)
1991 Pilgrimage to Obscurity (Nine Winds)
1991 Worldwide & Portable (Nine Winds)
1992 Decennium Dans Axlan (Nine Winds)
1992 Haunting the Spirits Inside Them... (Music & Arts)
1992 Commemoration (Nine Winds)
1993 Against the Grain (Nine Winds)
1995 Tutto Contare (Nine Winds)
1996 11 Reasons to Begin (Music & Arts)
1996 Dante No Longer Repents (Music & Arts)
1996 Nation of Laws (Nine Winds)
1996 The Art of Negotiation (CIMP)
1996 Triangulation (Nine Winds)
1996 Razor (Nine Winds)
1997 Portland, 1996 (Nine Winds)
1997 No Train (Cadence Jazz)
1998 Duets (Nine Winds)
1999 The Other Bridge (Nine Winds)
1999 Lineage (Nine Winds)
2001 Clarinet (Meniscus)
2002 Feeding Frenzy (Nine Winds)
2002 Music for Woodwinds & String Quartet (Nine Winds)
2002 Music for Electronics & Woodwinds (Nine Winds)
2003 Sfumato (Clean Feed)
2003 Music for Like Instruments: The Eb Saxophones (Nine Winds)
2004 Birdology (Leo)
2004 Regards From Norma Desmond (Fresh Sound)
2004 A Gift for the Unusual: Music for Contrabass Saxophone (Nine Winds)
2005 Music for Like Instruments: The Flutes (Nine Winds)
2005 Music for Like Instruments: The Clarinets (Nine Winds)
2007 Healing Force: The Songs of Albert Ayler (Cuneiform)
With Anthony Braxton
Creative Orchestra (Köln) 1978 (hatART, 1978 [1995])
With Alex Cline
For People in Sorrow (Cryptogramophone, 2013)
With William Parker
Sunrise in the Tone World (AUM Fidelity, 1997)
Vinny Golia Wikipedia