Preceded by

Nick Lampson




Occupation

attorney




Residence

Alief, Houston, Texas




Role

U.S. Representative




Political party

Democratic




Name

Al Green




Full Name

Al Green




Religion

Southern Baptist








Born

September 1, 1947 (age 68) New Orleans, Louisiana (

1947-09-01

)


Alma mater

Florida A&M University Tuskegee University Texas Southern University




Office

Representative (D-TX 9th District) since 2005




Education

Thurgood Marshall School of Law (1974)




Similar People

Sheila Jackson Lee, Gene Green, Eddie Bernice Johnson, John Culberson, Ruben Hinojosa




Profiles




Twitter




Member of congress start date

January 3, 2005



Rep al green d tx calls for impeachment of president trump c span
Al Green (born September 1, 1947) is an American lawyer, and politician who is currently serving as the U.S. Representative from Texas's 9th congressional district, serving since 2005. The district includes most of southwestern Houston, including most of that city's share of Fort Bend County. It also includes most of Missouri City. Green is a member of the Democratic Party.
Contents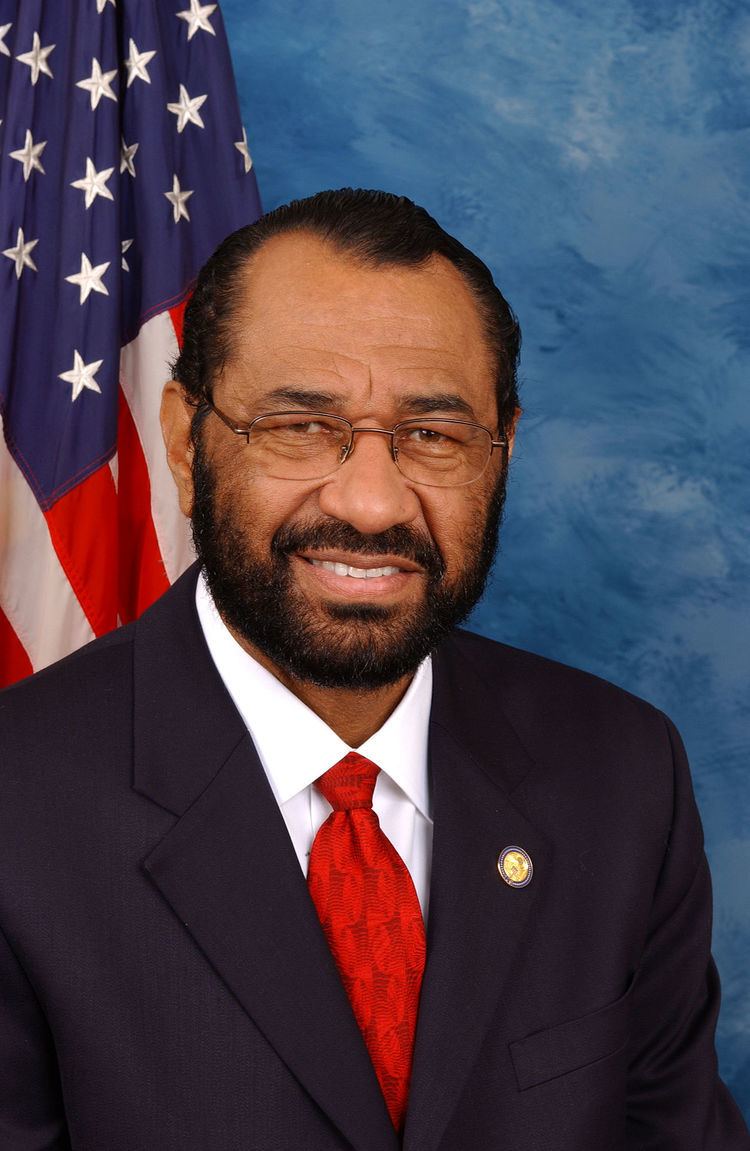 Rep al green calls for president donald trump to be impeached msnbc
Early life and early career
Green was born in New Orleans, Louisiana. He attended Florida A&M University and transferred to Tuskegee University. He subsequently attended the Thurgood Marshall School of Law at Texas Southern University, where he received a J.D. degree, in 1974. After receiving his law degree and being admitted to the Texas Bar, he remained in Houston and currently lives in the Alief community.
In 1978, Green was elected justice of the peace in Harris County, Texas, in the precinct 7, place 2 position. He held this position for 26 years.
A former trial lawyer, Green co-founded the firm of Green, Wilson, Dewberry, and Fitch. He also served as president of the Houston NAACP and, during his term as the organization's leader, membership increased sevenfold. While serving as NAACP leader, he focused on increasing minority hiring in Texas and forming alliances with Hispanic groups.
While still serving as a justice of the peace, Green ran for mayor of Houston in 1981, finishing fifth in the primary.
Green is a member of Alpha Phi Alpha fraternity.
Elections
In 2004, Green entered the Democratic primary for the 9th District. The district had previously been the 25th, represented by Democrat Chris Bell. However, Bell was placed in significant jeopardy as a result of the 2003 Texas redistricting. Although the district was heavily Democratic, it had a significantly larger number of blacks and Latinos than its predecessor. The old 25th had been 65 percent white, while the new 9th was 17 percent white, 37 percent black and 33 percent Latino. This left Bell vulnerable to a primary challenge from a black or Latino Democrat, and prompted him to file an ethics challenge against Tom DeLay.
In the March 9 primary, Green beat Bell with 66 percent of the vote to Bell's 31 percent. He beat the Republican nominee Annette Molina in November.
He was reelected unopposed in 2006 and faced only a Libertarian in 2008. This is not surprising given this district's political tilt; with a Cook Partisan Voting Index of D+29, it is the most Democratic district in Houston. Hillary Clinton carried it in 2016 with 79.3 percent of the vote, her strongest showing in Texas.
Tenure
While in Congress, Green has focused on issues similar to those that he worked for while with the NAACP. Fair housing and hiring practices for the poor and minorities are some of his greatest concerns.
After the 2012 election, in which he was once again reelected in Texas' 9th district, Green spoke at a press conference in Houston. He emphasized the need for the lame duck Congress to work together to reform the budget. He announced his plan to propose infrastructure development across the country, in order to create jobs and unify America.
Green is a supporter of the Federal Reserve's program of quantitative easing and claims that it has led to economic recovery since the financial crisis of 2008.
He was the first congressman to bring the idea of impeaching President Donald Trump to the House of Representatives. On May 17, 2017, during the House's five-minute speech time, Green called for the House to impeach Trump, citing his firing of FBI Director James Comey and Trump's statement in an interview that he did so in consideration of Comey's investigation into Russia's interference in the 2016 U.S. presidential election.
Green stated,
"I rise today, Mr. Speaker, to call for the impeachment of the President of the United States of America for obstruction of justice. I do not do this for political purposes, Mr. Speaker. I do this because I believe in the great ideals that this country stands for — liberty and justice for all, the notion that we should have government of the people, by the people, for the people. I do it because, Mr. Speaker, there is a belief in this country that no one is above the law, and that includes the President of the United States of America."
Committee assignments
Committee on Financial Services
United States House Financial Services Subcommittee on Oversight and Investigations (Ranking Member)
United States House Financial Services Subcommittee on Financial Institutions and Consumer Credit
Caucuses
Congressional Black Caucus
Congressional Asian Pacific American Caucus
Congressional Maritime Caucus
Congressional Urban Caucus
Congressional Azerbaijan Caucus
Congressional Natural Gas Caucus
Congressional Ports Caucus
Congressional Science, Technology, Education and Math (STEM) Caucus
Congressional After School Caucus
Congressional Veterans Jobs Caucus
Congressional Military Family Caucus
Congressional Children's Caucus
Congressional India Caucus
Threats against Green
On May 20, 2017, Al Green posted voicemail messages on YouTube from callers promoting his lynching. This included racial slurs after his call for Trump's impeachment.
Political positions
Green, a Democrat, shows strong liberal tendencies on social issues.
He is pro-choice, and consistently votes accordingly. On October 13, 2011, he voted against an amendment to the Affordable Care Act, which prevented insurance gained through the Act to cover abortions. The bill passed convincingly in the House. Green has voted against eight other bills proposed in the House that would prevent any government spending to cover abortion. Due to this, he has received 100% ratings from Planned Parenthood and NARAL Pro-Choice America, while receiving a 0% rating from the National Right to Life Committee.
Green also supports gun control. He spoke out after the Trayvon Martin shooting, asking members of the African-American community to show faith in the justice system and let the courts do their job and convict George Zimmerman. The National Rifle Association gave him a rating of 0%, and Gun Owners of America rated him 25%, while the Brady Campaign to Prevent Gun Violence gave him a Lifetime Score of 83%.
On budget issues, Congressman Green strongly follows his party's views. He has supported every budget bill proposed during President Obama's term. However, during President Bush's term, he voted against all bills to cut government spending and taxes. Green also voted for President Obama's bailout of the Auto Industry in 2009. On December 10, 2008, he wrote a statement supporting the bailout, saying, "The auto bailout is really about bailing out people, and the people of this country... I think that [how tax dollars are spent] is a legitimate concern for the American people, but I do think, with the proper strings attached, we can bail out the people...who may lose their jobs."
Congressman Green is a member of the Congressional Pakistan Caucus. He is a strong supporter of holding on to Pakistan as an ally in South Asia. After the assassination of former Prime Minister Benazir Bhutto on December 27, 2007, which initially destabilized the country as riots erupted, Green issued a statement condemning the assassination as a "dastardly effort to circumvent the democratic process." He announced the US's continued alliance with Pakistan, and urged Pakistanis to continue pushing towards democracy, "knowing that freedom, justice, and democracy are difficult to achieve."
References
Al Green (politician) Wikipedia
(Text) CC BY-SA