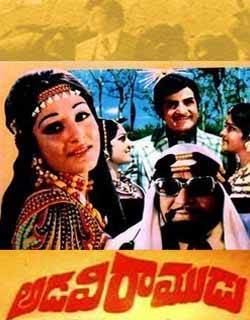 Nagabhushanam and his son Nagaraju (Satyanarayana) run a smuggling and Illegal transport racket of forest produce in the Forest. Ramu (NTR) opposes and raises the villagers to fight against him. Padma (Jayaprada) who is the Daughter of Forest officer (Jaggayya) loves him. One tribal lady Chilakamma (Jayasudha) also loves Ramu as a brother. Nagabhushanam takes the help of one Jaggu (Sridhar) to send Ramu away from the forest. Later half of the film reveals that Ramu is in fact a Forest officer .. in a secret mission to investigate the case of Forest affairs. The story finally leads to the arrest of all criminals..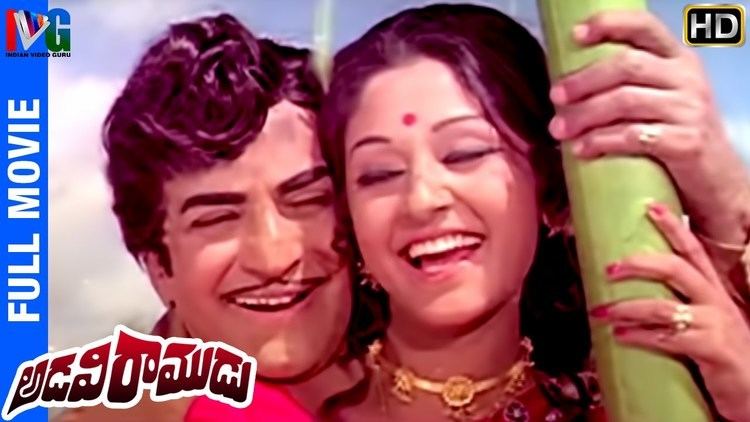 Producer Suryanarayana speaks:"After a disastrous Prema Bandham, we planned Adavi Ramudu with Ramarao gaaru, and a two-films old Raghavendra Rao. His much-celebrated Jyothi didn't start by that time. But Ramarao gaaru knew KRR well enough from the time Raghavendra Rao assisted ' pouraaNika brahma' Kamalakara Kameswara Rao in Pandava Vanavasamu and agreed readily to do the film. After completing the shooting, he just complemented us saying that shooting of this film shall remain as one of the best memories in his life. The film was such a big success that people of that generation speak volumes of it and feel nostalgic even today, wherever I go. I am really happy that I made such a film with my cousin Satyanarayana".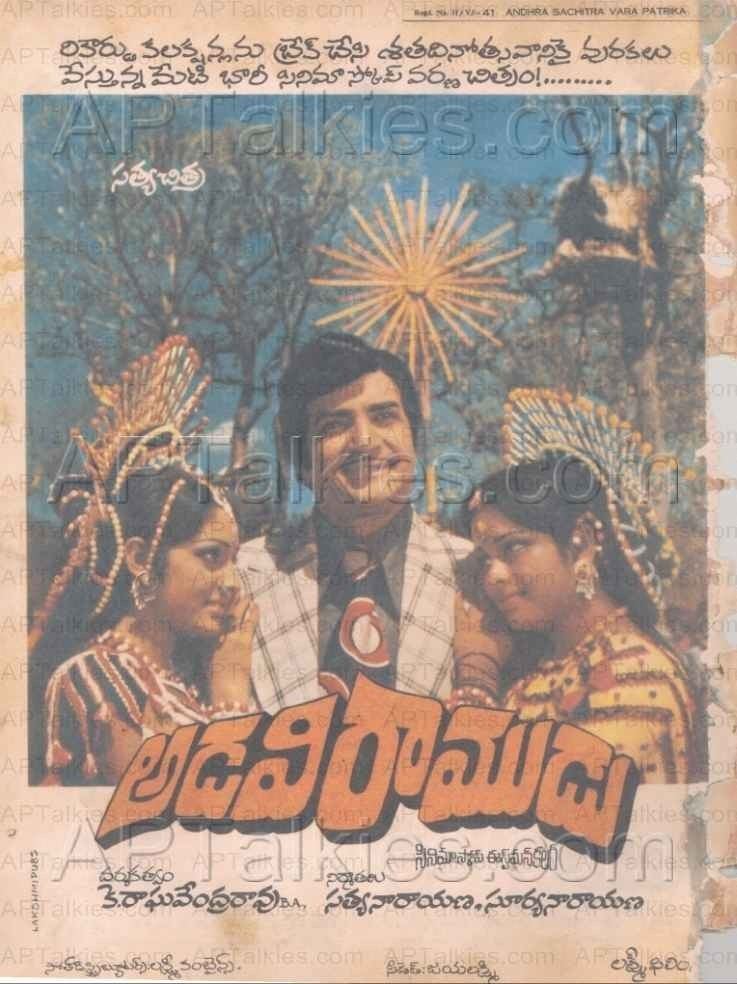 Satya Chitra banner (of producers Nekkanti Veera Venkata Satyanarayana and Arumilli Suryanarayana) started their first film with Sobhan Babu's Tahsildar Gaari Ammaayi (12 November 1971), which was based on a serial by Kavilipati Vijayalakshmi in Andhra Prabha titled Vidhi Vinyaasaalu. The film was directed by K.S. Prakasha Rao, father of K. Raghavendra Rao; Raghavendra Rao was an assistant director for that film. The film was one of the big hits in Sobhan Babu's career in which he played a dual role. After that film, they made Prema Bandham (12 March 1976 - the same day as NTR's Aaradhana) with Sobhan Babu and Vanisree under the direction of K. Viswanath. It garnered good openings, thanks to Sobhan-Vanisree-Viswanath combo movies ( Chelleli Kaapuram, Chinnanaati Snehitulu, etc.), but it was soon declared a flop as it could not sustain the craze. (The film was released on the same day or NTR's Aaradhana.)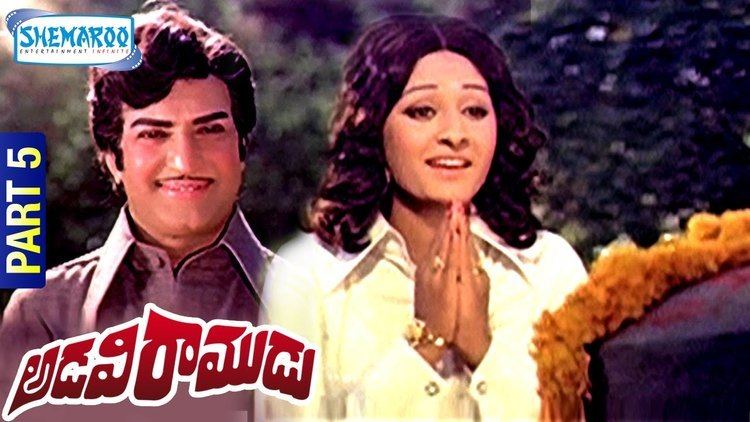 When they were planning their next film, they approached Raghavendra Rao to work for them, whom they already knew as an assistant director as he just started taking up direction independently. NTR had already given them dates in September 1976. At that time, Kannada Rajkumar's movie Gandhada Gudi, made with a forest backdrop, went on to be a super hit in Kannada. This prompted the team to suggest that Jandhyala should work on the script and dialogues based on a forest backdrop.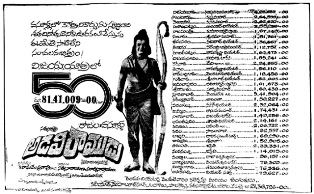 Jayasudha, who already worked with K. Raghavendra Rao for his film Raja, was chosen for an important role. Jayaprada was just a budding artist at that time with her Sirisirimuvva being a super hit. Thus, she was taken for the heroine role. Sridhar was approached to do an important role opposite Jayasudha. Jayasudha was not aware that she was doing the second role until the last minute, but since she already agreed to do the film, she just went ahead keeping faith in Raghavendra Rao. She got a lot of letters after the film's release from her fans requesting her to not do a second lead role again in any of her future films, though she had a good role in the movie(People were not aware that she signed this film before she did Jyothi, as Jyothi hit the screens earlier than Adavi Ramudu and brought Jayasudha a good name.).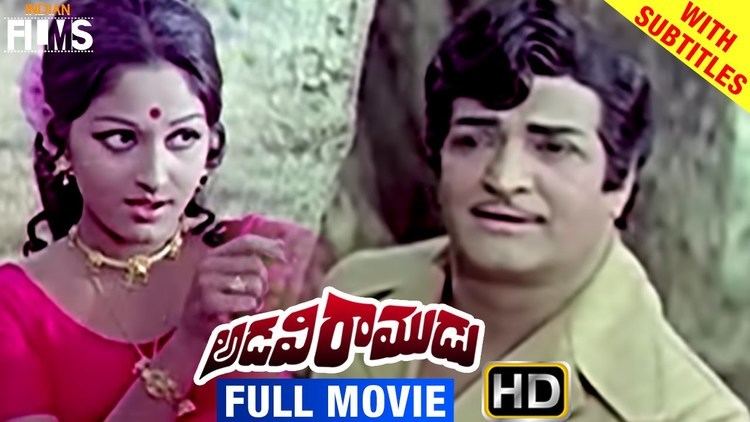 Though he had given the dates for Adavi Ramudu, NTR was doing Daana Veera Soora Karna at the same time, which he planned to complete before January in order to ready it for Sankranthi release. So, he called the producers Satyanarayana and Suryanarayana so as to request and inform them that he'd give bulk dates once he completed the shooting of Daana Veera Soora Karna.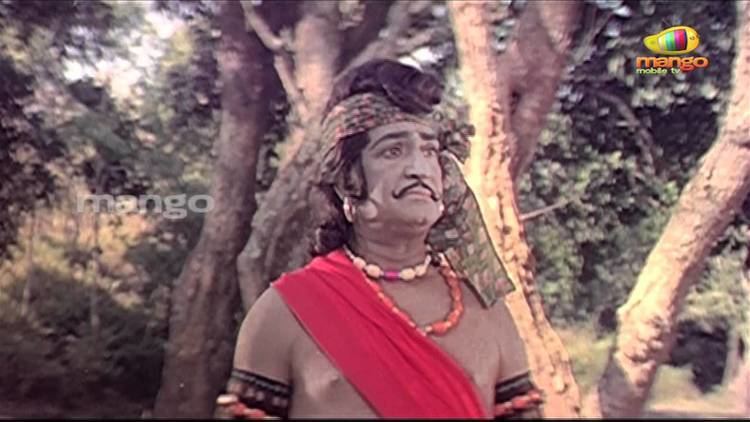 Except for the opening shot,the movie's shooting was done in Madumalai forest. The opening shot was done in Madras in a Studio on 9 January 1977. Adavi Ramudu was the first film for which NTR had given dates for more than a month (35 days) out of Madras! Adavi Ramudu is NTR's first color film shot in Cinemascope. This was also the first film that used a Cinemascope lens imported from Japan by Prasad Labs (Madras). Earlier Cinemascope films Alluri Seetharamaraju and Kurukshetram were done with a lens brought from Mumbai. Cameraman Vincent first worked with NTR much earlier, for the film Sontha Ooru produced by Sree Ghantasala, and this was the second film for him with NTR after a long time.
There were only three Government Guesthouses in Madumalai forest, and the producers could not accommodate the 300 plus cast and crew in that dense forest.So the producers took carpenters, molders, painters, etc. to the forest, worked for fifty days to build new guesthouses and took special permission for electricity in the middle of the forest. The nearest town/ airport was 250 km away from the forest, and for every small thing, they had to go all the way to Mysore. Thus, they used to get all of a day's needs each morning from Mysore.
Jayasudha recollects two accidents during this shooting: one was while doing a scene where she and Jayaprada were sitting on elephants. Junior artistes were practicing a Dappu scene right then, and the elephants got panicked by the noise and threw down both the lead ladies with their trunks! Luckily, they escaped with minor injuries. Another one was a chase scene where she and Jayaprada were chased by villains while they were trying to escape on a horse cart. The cart's axle broke and both of them were injured and were forced to rest for a couple of days!
Adavi Ramudu has many hit songs penned by Veturi Sundararama Murthy. The music score is provided by K. V. Mahadevan.
"Aarasukoboyi Paaresukunnanu" (Singers: S. P. Balasubrahmanyam, S. Janaki and P. Susheela)
"Ammathodu Abbathodu Neethodu Naathodu" (Singers: S. P. Balasubrahmanyam, S. Janaki and P. Susheela)
"Choodara Choodara Oka Choopu" (Singers: S. P. Balasubrahmanyam and S. Janaki
"Ennallakennaallaku Ennellu Thirigoche Maa Kallaku" (Singers: S. P. Balasubrahmanyam, S. Janaki and P. Susheela)
"Kuku Kuku Kokilamma Pelliki Konantha Pandiri" (Singers: S. P. Balasubrahmanyam and P. Susheela)
"Manishai Puttinavadu Kaaradu Matti Bomma..Krushi Vunte Manushulu Rushulautaru" (Singer: S. P. Balasubrahmanyam)
The film was a huge blockbuster.It was the first Telugu film to collect Rs. 4 crore (Rs. 40 million).
It had a 100-day run in 32 centres, 200-day run in 8 centres [2].[3]
The film had run for 202 days in Apsara theatre, Vijayawada.The film had run for 365 days in 4 centers