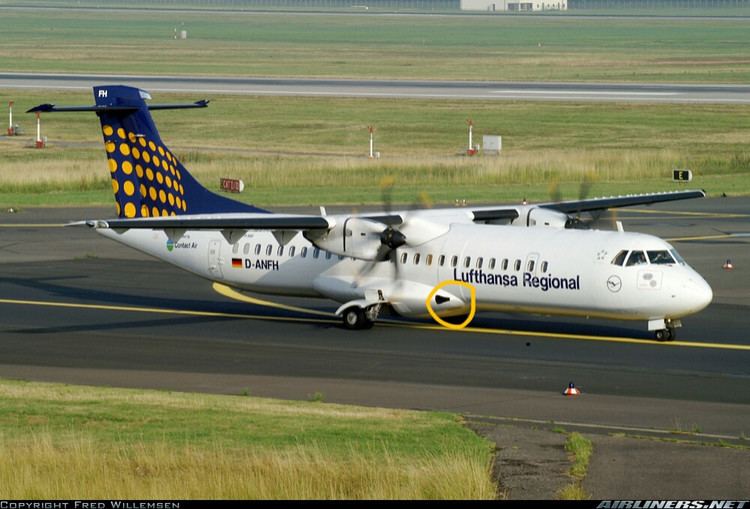 The ATR 72 was developed from the ATR 42 in order to increase the maximum seating capacity (from 48 to 78) by stretching the fuselage by 4.5 metres (15 ft), increasing the wingspan, adding more powerful engines, and increasing fuel capacity by approximately 10 percent. The 72 was announced in 1986, made its maiden flight on 27 October 1988 and Finnair became the first airline to bring the aircraft into service a year later on 27 October 1989.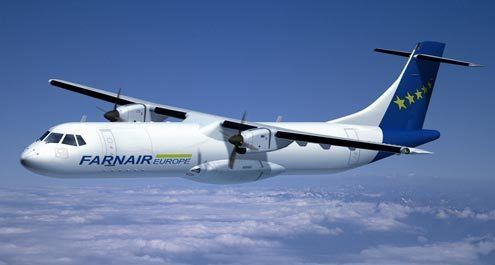 In most configurations, passengers are boarded using the rear door, (which is unusual for a passenger aircraft) as the front door is used to load cargo, although Finnair ordered their ATR 72s with a front passenger door so that they could utilize the jet bridges at Helsinki–Vantaa Airport, and Air New Zealand's standard rear door aircraft can use jet bridges at airports with this equipment. A tail stand must be installed when passengers are boarding or disembarking in case the nose lifts off the ground, which is common if the aircraft is loaded or unloaded incorrectly.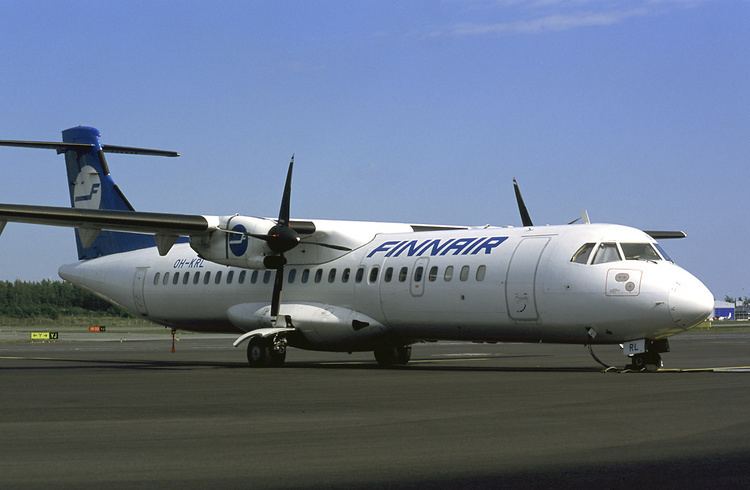 The ATR 72 is powered by two Pratt & Whitney Canada PW100-based turboprop engines with four or six-bladed propellers supplied by Hamilton Standard. Earlier ATR 72s were equipped with the PW124B engine rated at 2400 shp, whilst later aircraft were equipped with the PW127 rated at a maximum of 2750 shp for improved "hot and high" takeoff performance.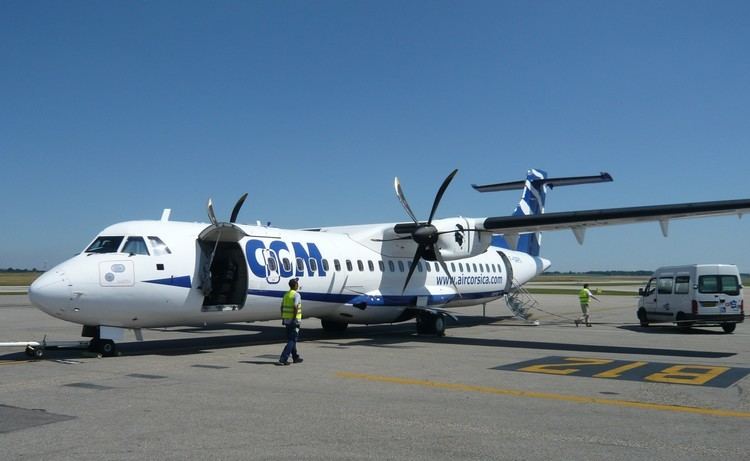 The aircraft does not have an auxiliary power unit (APU) as normally equipped. The APU is an option and would be placed in the C4 cargo section. Most air carriers normally equip the aircraft with a propeller brake (referred to as "Hotel Mode") that stops the propeller on the No. 2 (right) engine, allowing the turbine to run and provide air and power to the aircraft while on the ground without the propeller spinning.
At the end of 2014, ATR had received 1000 orders for the type and delivered 754, leaving a backlog of 246 aircraft. Since 2008, ATR has been a participant in the European Clean Sky Joint Technology Initiative and on 8 July 2015 a "green" ATR 72-600 flying technology demonstrator made its first flight; it is to be used to trial new composite insulating materials, electrical distribution system and energy dispersal modifications, and air conditioning systems to evaluate their effect on overall efficiency.
Speaking at the Farnborough Airshow in July 2016, the CEO of ATR Patrick de Castelbajac suggested that the company was examining the possibility of replacing the current Pratt & Whitney Canada PW127 engine with either a new offer from P&WC, or a GE38 derivative from GE Aviation. Although expressing his satisfaction with the current engine and supplier, Castelbajac noted the design's age and the need to remain competitive with the latest regional jets. To be worthwhile, any re-engine would require a 15% improvement in fuel-burn and 20-25% reduction of direct maintenance costs. Castelbajac sees the potential re-engine as a "bridge" to the eventual development of a larger 100-seat aircraft.
Two sub-types were marketed as the 100 series (−100).
ATR 72–101
Initial production variant with front and rear passenger doors, powered by two PW124B engines and certified in September 1989.
ATR 72–102
Initial production variant with a front cargo door and a rear passenger door, powered by two PW124B engines and certified in December 1989.
Two sub-types were marketed as the 200 series (−200). The −200 was the original production version, powered by Pratt & Whitney Canada PW124B engines rated at 2,400 shp (1,800 kW).
ATR 72–201
Higher maximum take-off weight variant of the −101, a PW124B-powered variant certified in September 1989.
ATR 72–202
Higher maximum take-off weight variant of the −102, a PW124B-powered variant certified in December 1989.
Two sub-types were marketed as the 210 series (−210), the −211, (and with an enlarged cargo door, called the −212), is a −200 with PW127 engines producing 2,750 shp (2,050 kW) each for improved performance in hot and high-altitude conditions. The sub-types differ in the type of doors and emergency exits
ATR 72–211
PW127-powered variant certified in December 1992.
ATR 72–212
PW127-powered variant certified in December 1992.
Certified in January 1997 and fitted with either PW127F or PW127M engines, the −212A is an upgraded version of the −210 using six-bladed propellers on otherwise identical PW127F engines. Other improvements include higher maximum weights and superior performance, as well as greater automation of power management to ease pilot workload.
ATR 72–500
Initial marketing name for the ATR 72-212A.
ATR 72–600
Marketing name for ATR 72-212A with different equipment fit. The −600 series aircraft was announced in October 2007; the first deliveries were planned for the second half of 2010. The prototype ATR 72–600 first flew on 24 July 2009; it had been converted from an ATR 72–500. The ATR 72–600 features several improvements. It is powered by the new PW127M engines, which enable a 5% increase in takeoff power via a "boost function" used only when called for by takeoff conditions. The flight deck features five wide LCD screens (improving on the EFIS of earlier versions). A multi-purpose computer (MPC) aims at increasing flight safety and operational capabilities, and new Thales-made avionics provide Required Navigation Performance (RNP) capabilities. It also features lighter seats and larger overhead baggage bins. In December 2015, the EASA approved a new high-density seating layout, raising the maximum capacity from 74 to 78 seats.
Cargo
Bulk Freighter (tube versions) and ULD Freighter (Large Cargo Door). ATR unveiled a large cargo door modification for all ATR 72 at Farnborough 2002, coupled with a dedicated cargo conversion. FedEx, DHL, and UPS all operate the type.
ATR 72 ASW
The ATR 72 ASW integrates the ATR 42 MP (Maritime Patrol) mission system with the same on-board equipment but with additional ASW capabilities. An anti-submarine warfare (ASW) variant of the −500 (itself a version of the maritime patrol variant of the ATR 42–500) is also in production and has been selected by the Italian Navy for ASW and anti-surface warfare (ASuW) duties. Italy's order of four aircraft will begin to be delivered in 2012. For the ASW and ASuW missions, the aircraft will be armed with a pod-mounted machine gun, lightweight aerial torpedoes, anti-surface missiles, and depth charges. They will be equipped with the Thales AMASCOS (Airborne Maritime Situation and Control System) maritime surveillance system as well as electronic warfare and reconnaissance systems, so that they may also be used for maritime search and rescue operations.
Corporate
A VIP version of the −500 is available with a luxury interior for executive or corporate transport.
ATR 82
During the mid-1980s, the company investigated a 78-seat derivative of the ATR 72. This would have been powered by two Allison AE2100 turboprops (turbofans were also studied for a time) and would have had a cruising speed as high as 330kt. The ATR-82 project (as it was dubbed) was suspended when AI(R) was formed in early 1996.
ATR Quick Change
This proposed version targeted the increasing demand of worldwide cargo and express mail markets, where the aim is to allow operators to supplement their passengers flights with freighter flights.
In Quick Change configuration, the smoke detector is equipped alongside other modifications required in order to meet the certification for full freight operations. The aircraft was equipped with a larger cargo door (1.27 m [50 in] wide and 1.52 m [60 in] high) and low door-sill height of an average 1.2 m (4 ft), facilitating containerized freight loading.
It takes 30 minutes to convert the aircraft on ATR 42, while for ATR 72, it takes 45 minutes. Each optimized container has 2.8 m3 (99 cu ft) of usable volume and maximum payload is 435 kg (960 lb).
Main ATR 72 operator airlines as of January 19, 2017 (with 15 aircraft or more)
Wings Air (Lion Group): 52
Azul Brazilian Airlines: 40
Air New Zealand Link, Mount Cook Airline: 26
Firefly: 21
FedEx Express: 20
Swiftair: 20
Binter Canarias: 19
ASL Airlines Ireland: 16
Malindo Air: 16
Air Algérie: 15
Garuda Indonesia: 15
Stobart Air: 15
UTair Aviation: 15
In February 2016, ATR signed a deal with Iran Air for 20 ATR 72-600 planes with an option for 20 more.
Italian Air Force
Pakistan Navy
Turkish Navy
The Turkish Navy, which initially decided to purchase ten ATR 72–500 MPA, later modified its order to eight ATR 72–600 aircraft: Two 72–600 TMUA (utility) versions, and six 72–600 TMPA (ASW/ASuW) versions. The two ATR 72–600 TMUA aircraft were delivered to the Turkish Navy in 2013.
On 31 October 1994, American Eagle Flight 4184, an ATR 72–212 crashed due to icing in Roselawn, Indiana killing all 68 people on board.
On 30 January 1995, an ATR 72-200 of TransAsia Airways crashed into a hillside during flight from Penghu to Taipei. Four crew members were killed.
On 21 December 2002, TransAsia Airways (TNA) cargo flight 791, an ATR 72–200, crashed due to icing during flight from Taipei to Macau. Both crew members were killed. It encountered severe icing conditions beyond the aircraft's icing certification envelope and crashed into sea 17 km southwest of Makung city. The Aviation Safety Council of Taiwan investigation found that the crash was caused by ice accumulation around major components, resulting in a loss of control. The investigation found that flight crew did not respond to the severe icing conditions with appropriate alert situation awareness and did not take the necessary actions.
On 19 July 2005, TransAsia Airways Flight 028, an ATR72-212A (B-22805), landed at Taipei Songshan Airport. As the aircraft taxied on Taxiway CC after landing, it made an early right turn onto a service road. The aircraft's right wing hit a flood light pole and stopped. Two pilots, 2 cabin attendants and 24 passengers were on board. One cabin crew encountered minor injury. The front spar of the right wing of the aircraft was damaged.
On 6 August 2005, Tuninter Flight 1153, a Tuninter ATR 72–202 en route from Bari, Italy, to Djerba, Tunisia, ditched in the Mediterranean Sea about 18 miles (29 km) from the city of Palermo. 16 of the 39 people on board died. The accident resulted from engine fuel exhaustion due to the installation of fuel quantity indicators designed for the ATR 42 in the larger ATR 72.
On 24 August 2008, an Air Dolomiti ATR 72–500 en route from Munich, Germany, to Bologna, Italy, aborted take off after the pilot announced a smoke alarm. The airline treated the aircraft's evacuation as a mild incident. On 26 August, an amateur video, filmed by a bystander, showed 60 passengers jumping from and fleeing the burning aircraft before fire department workers extinguished the flames.
On 4 August 2009, Bangkok Airways Flight 266, an ATR 72-212A from Bangkok Airways skidded into a disused tower at the airport on Koh Samui. The captain of the aircraft died and 10 passengers were injured.
On 10 November 2009, Kingfisher Airlines Flight 4124, operated by ATR 72-212A VT-KAC skidded off the runway after landing at Chhatrapati Shivaji International Airport, subsequently damaging the nose section severely. The aircraft came to a halt just a few metres away from the fuel tanks of the airport. All 46 passengers and crew escaped unharmed.
On 4 November 2010, Aero Caribbean Flight 883, operated by an ATR 72–212, with 61 passengers and 7 crew members, crashed at Guasimal, Cuba, while en route from Santiago de Cuba to Havana. It had reported an emergency before losing contact with air traffic control at 5:42 PM. All 68 people on board were killed. The accident was due to the prevailing meteorological conditions and to wrong decisions made by the crew.
On 17 July 2011, Aer Arann ATR 72–212 EI-SLM was damaged beyond economical repair when the nose gear collapsed on landing at Shannon Airport, Ireland. The aircraft was operating an international scheduled passenger flight from Manchester Airport, United Kingdom. There were no injuries amongst the 4 crew and 21 passengers on board.
On 2 April 2012, UTair Flight 120, a ATR 72–201 crashed soon after takeoff from Roshchino International Airport in western Siberia. 33 of the 43 passengers and crew on board were killed. the crash cause was wrong de-icing procedures. The flight was from Tyumen to Surgut with 39 passenger and four crew members.
On 2 February 2013, a Carpatair ATR 72–212A flying on behalf of Alitalia crashed at Leonardo da Vinci–Fiumicino Airport in Rome while landing after a flight from Pisa. 16 people were injured, 2 seriously, including the co-pilot.
On 16 October 2013, Lao Airlines Flight 301, an ATR 72–600 crashed into the Mekong River whilst on approach to Pakse International Airport, Laos, killing all 49 people on board.
On 23 July 2014, TransAsia Airways Flight 222, an ATR 72-500 crashed while landing on at Magong Airport in Taiwan's Penghu county in the Taiwan Strait, killing 48 people on board, 10 survived the crash.
On 4 February 2015, TransAsia Airways Flight 235 crashed into the Keelung River shortly after takeoff from Taipei Songshan Airport. The flight, operated with a ten-month-old ATR 72-600, carried 53 passengers and 5 crew members, Of the 58 people on board, only 15 survived. The cause of the accident was the pilots misdiagnosis of engine failure; shutting down the still-functional engine 1, as engine 2 failed. The plane descended, rolled 90° to the left as the pilot attempted to avoid nearby apartment buildings before the left wingtip struck a taxi traveling on the Huandong Viaduct, and the outward section of the wing was torn off when it struck the concrete guardrail of the viaduct. The plane continued to roll until it impacted the river inverted and breaking into two.
Data from ATR,
General characteristics
Crew: 2
Capacity: 68-78 Passengers (with club 2 seating). A 70-passenger configuration is the most used.
Length: 27.17 m (89 ft 2 in)
Wingspan: 27.05 m (88 ft 9 in)
Width: 2.57 m (8 ft 5 in) (maximum cabin width)
Height: 7.65 m (25 ft 1 in)
Wing area: 61.00 m2 (656.6 sq ft)
Aspect ratio: 12.0:1
Empty weight: 13,010 kg (28,682 lb)
Max takeoff weight: 23,000 kg (50,706 lb) (-500 still limited to 22,800KG)
Fuel capacity: 5,000 kg (11,000 lb)
Typical payload: 7,500 kg (16,500 lb)
Powerplant: 2 × Pratt & Whitney Canada PW127 M or N certified for a 2750 SHP maximum take-off rating.
Propellers: 568F-bladed Hamilton Standard, 3.93 m (12 ft 11 in) diameter
Performance
Cruise speed: 509 km/h; 316 mph (275 kn)
Range: 1,528 km; 949 mi (825 nmi)
Service ceiling: 7,620 m (25,000 ft)
Rate of climb: 6.88 m/s (1,355 ft/min)
Takeoff Run at MTOW: 1,333 m (4,373 ft)