The ATR 42 is a twin-turboprop, short-haul regional airliner built in France and Italy by ATR (Aerei da Trasporto Regionale or Avions de transport régional). ATR models have their final assembly in Toulouse, and share resources and technology with Airbus. The name "42" comes from the aircraft's standard seating, which varies from 40 to 52. The aircraft serves as the basis for the larger ATR 72.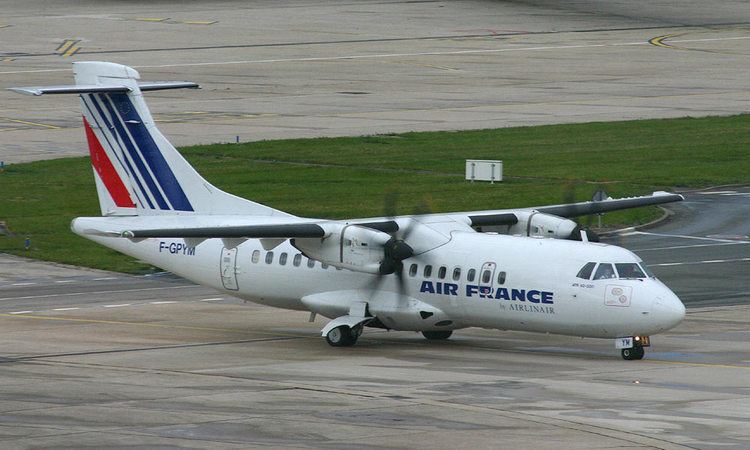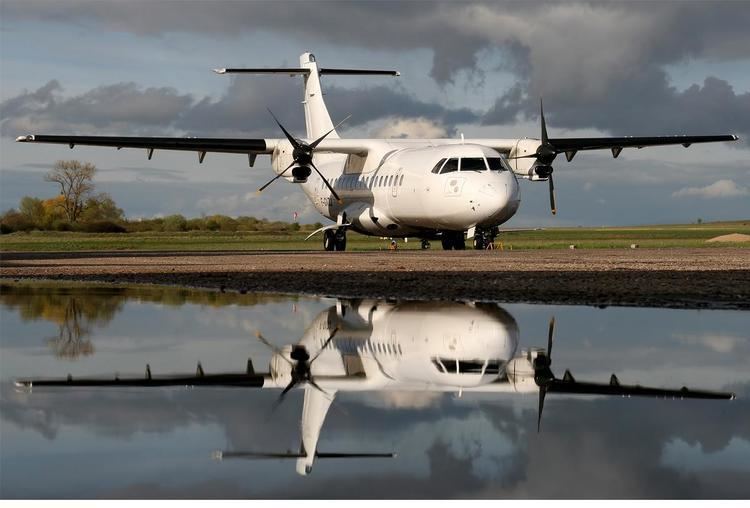 The ATR 42–300 was announced in 1981, making its maiden flight on 16 August 1984; French and Italian certification followed in September 1985 and its first revenue flight was in December with Air Littoral of France. This initial version of the ATR 42 was in production until 1996. The next upgrade for the product was the ATR 42-320 (also produced until 1996); this variant differed in that it was equipped with the more-powerful PW-121 engines for improved performance. The ATR 42-300QC is a quick-change (convertible) freight/passenger version of the standard −300 series.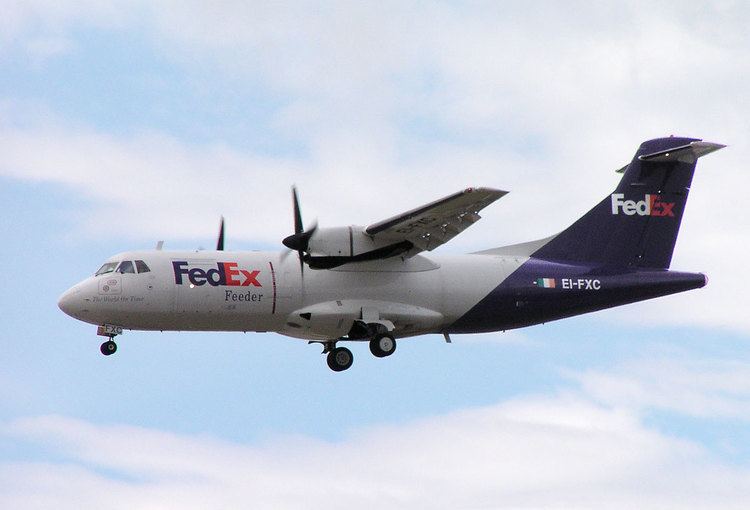 The next production version is the −500 series. It was an upgraded aircraft with new PW127 engines, new six blade propellers, improved hot and high performance, increased weight capacity and an improved passenger cabin. The 50-seat ATR 42–500 was first certificated in July 1995. The current production version is the -600 series. Announced in 2007 with deliveries starting in 2012, it is similar to the -500 but features PW127M engines, a new glass cockpit, and a variety of other minor improvements. As of December 2014, 436 ATR 42 aircraft had been delivered worldwide.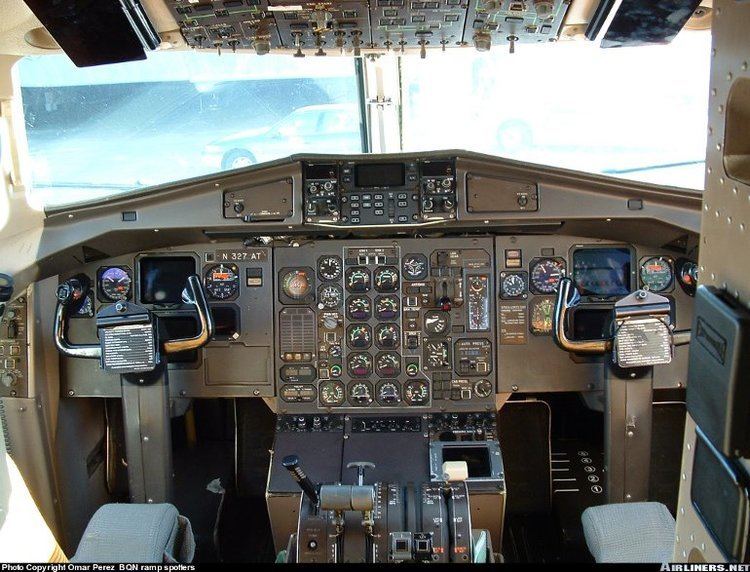 The −200 was the original ATR 42 prototype and only a few were built for testing purposes. It was powered by Pratt & Whitney Canada PW120 engines rated at 1,800 shp (1,300 kW).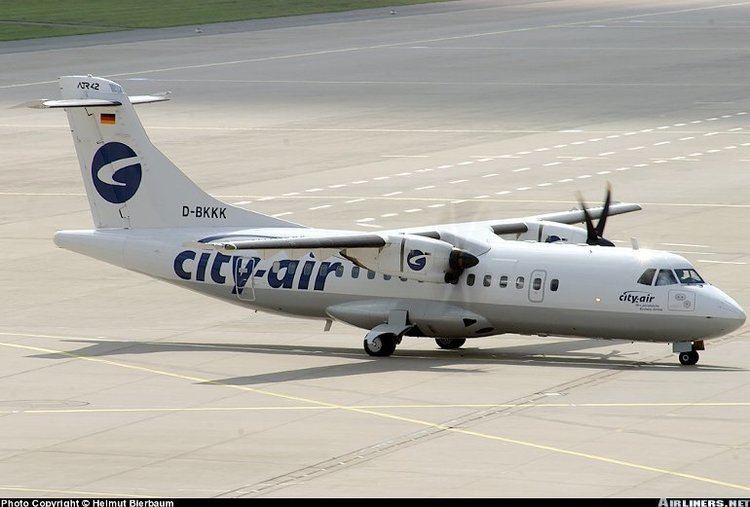 The −300 was the standard production version. This model was manufactured until 1996. It was powered by Pratt & Whitney Canada PW120 engines rated at 2,000 shp (1,500 kW).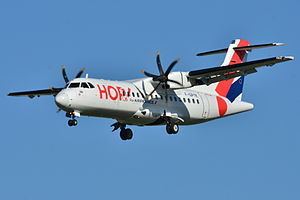 The −320 was an improved version of the −300 powered by PW121 engines (2100 shp). It was designed to have better performance especially in hot and high conditions.
The ATR 42−400 is an upgraded version of the −320 using six-bladed propellers on otherwise identical PW121 engines. Three ATR 42−400 were delivered to the Government of Italy as the ATR 42 "Surveyor" version. The only two civilian ATR 42-400 produced (msn 487 & 491) were delivered to CSA Czech Airlines in 1995/1996 as an interim upgrade prior to delivery of -500s. In 2006 these two aircraft were sold to Conviasa.
The ATR 42-500 is the current production version with the first delivery in October 1995. It has many improvements for performance and passenger comfort including new engines, new propellers, a newly designed cabin, and increased weight. It has six-bladed propellers powered by PW127E engines rated at 2,400 shp (1,800 kW) for improved hot and high performance and increased cruise speed. The engines are flat rated for +45C. Propellers are electrically controlled and are made from composite. It has an increased maximum takeoff weight, allowing for more cargo and greater range. Due to the six-bladed propellers and better insulation, it has reduced noise levels. The newest version have CATII capability and dual Honeywell HT1000 FMS installation.
On 2 October 2007, ATR CEO Stéphane Mayer announced the launch of the −600 series aircraft. The ATR 42–600 and ATR 72–600 featured various improvements to increase efficiency, dispatch reliability, lower fuel burn and operating costs. The PW127M is the standard engine (providing 5% additional thrust, thus improving performance on short runways, in hot weather and on high altitude; the "boost function" activates this additional power as needed), a Glass Cockpit flight deck featuring five wide LCD screens replaced the previous EFIS (Electronic Flight Instrument System). In addition, a Multi-Purpose Computer (MPC) enhances flight safety and operational capabilities. Avionics supplied by Thales provides CAT III and RNP capabilities. It also includes lighter, more comfortable seats and larger overhead baggage bins.
Using the test registration F-WWLY, the prototype ATR 42–600 first flew on 4 March 2010. The first aircraft was delivered to Tanzanian airline Precision Air in November 2012. According to the ATR42 & 72 EASA Type Certificate Data Sheet TCDS A.084, Iss 3, 17-10-2012 ), "ATR 42-600" is the manufacturer's marketing designation of ATR 42-500 aircraft model with the NAS (New Avionic Suite, or 'Glass Cockpit') modification installed. The "ATR 42-600" marketing designation is not recognised by EASA as any new certified aircraft model or variant, and must not be used on ATR certified/approved documentation, where only "Mod 5948", "ATR 42-500 with Mod 5948", "ATR 42-500 fitted with NAS", or ATR 42-500 "600 version" must be indicated.
Cargo variant
Bulk (tube versions) and ULD freighter (large cargo door). An STC exists to convert all ATR-42 variants to all-cargo transport aircraft. FedEx, Aviavilsa, UPS, and DHL are major operators of the type.
ATR Surveyor
The ATR-42 "Surveyor" is a maritime patrol version of the −400,
VIP transport and in-flight inspection versions of the −500 also exist.
Included in this list are civil operators with 10 airframes or more on 19 January, 2017.
FedEx Express: 25
Aeromar: 16
First Air: 13
HOP!: 11
Colombia
Colombian Air Force
Colombian National Police
Colombian Navy
Gabon
Gabonese Air Force
Italy
Italian Coast Guard (3 ATR 42 MPs)
Guardia di Finanza (5 ATR 42 MPs)
Libya
Libyan Government (one ATR42 MP)
Nigeria
Nigerian Air Force (two ATR 42 MPs
Poland
Polish Air Force leased a single ATR 42-300 for six months in 2002.
There have been a total of 32 hull losses of ATR 42s, as of December 2016.
On 15 October 1987, an Aero Trasporti Italiani (ATI) ATR 42–300 crashed on Conca di Crezzo, Italy during flight from Milan-Linate to Cologne Bonn Airport, Germany. All 37 on board died. Icing conditions existed.
On 21 August 1994, Royal Air Maroc Flight 630 crashed into the Atlas Mountains, killing all 44 people on board. It was claimed the pilot deliberately disengaged the autopilot and crashed the aircraft.
On 30 July 1997, Air Littoral Flight 701, an ATR 42–500, overran runway 23 at Peretola Airport in Italy after a flight from Nice Côte d'Azur Airport in France. One of the crew was killed out of the 3 crew and 14 passengers. The aircraft was written off in the accident.
On 11 October 1999, an Air Botswana captain boarded an ATR 42–320 aircraft at Gaborone Airport and took off. Once in the air, he asked by radio to speak to President Festus Mogae (who was outside the country at the time), Air Botswana's general manager and others. In spite of all attempts to persuade him to land and discuss his grievances, he stated he was going to crash into aircraft parked on the airport apron. After a flying time of about two hours, he performed two loops and then crashed at 200 knots (230 mph) into Air Botswana's two other ATR 42s parked on the apron. The captain was killed, but there were no other casualties. He had been grounded on medical reasons, refused reinstatement, and regrounded until February 2000.
On 12 November 1999, Si Fly Flight 3275, an ATR 42-312 registration F-OHFV, was on a flight from Rome Ciampino Airport in Italy to Pristina International Airport Adem Jashari in Kosovo, operating on behalf of the UN. The aircraft crashed into a hill near Mitrovica in Serbia as it was making a turn to the left. The accident killed all 24 passengers and crew on board.
On 11 October 2000, an ACES Colombia ATR 42-500 registered as VP-BOF was destroyed when it collided with a Boeing 727 of the same airline while taxiing at El Dorado International Airport in Bogotá, Colombia. There were no fatalities.
On September 14, 2002, a Total Linhas Aéreas ATR 42-312 registration PT-MTS on a cargo flight between São Paulo-Guarulhos and Londrina crashed while en route near Paranapanema. The crew of two died.
On 21 February 2008, Santa Barbara Airlines Flight 518 crashed in the Andes near Mérida, Venezuela, during a flight from Mérida to Simon Bolivar International Airport in Caracas. The aircraft was carrying 43 passengers and 3 crew. All died.
May 8, 2008 – N904FX and N905FX, two parked ATR 42-320s, were written off after they suffered substantial damage at Piedmont Triad International Airport when the airport was hit by an EF2 tornado.
On 27 January 2009, an Empire Airlines ATR 42 freighter under contract to FedEx Express crashed on landing at Lubbock Preston Smith International Airport at 04:37 CT. The aircraft, which had been traveling from Fort Worth Alliance Airport, landed short of the touchdown zone and skidded off the runway amid light freezing rain. There was a small fire and two crew members were taken to the hospital with minor injuries.
On 11 February 2010, Trigana Air Service Flight 168 made a forced landing in a paddy field near Bone, Indonesia. Two people were seriously injured.
On 13 September 2010, Conviasa Flight 2350 crashed 10 kilometres (6.2 mi) west of Manuel Carlos Piar Guayana Airport, Ciudad Guayana, Venezuela, on a domestic scheduled passenger flight from Del Caribe "Santiago Mariño" International Airport, Porlamar, Isla Margarita. Of 51 passengers and crew on board, 34 survived the accident while 17 died.
On 9 June 2012, ATR 42 OK-KFM named "Benešov", operated by Czech Airlines, burned in a hangar at Prague Ruzyně Airport following an explosion. The machine was a total hull loss.
On 19 October 2013, ATR 42-300 P2-PXY of Air Niugini suffered an engine fire on take-off from Madang Airport, Papua New Guinea. The take-off was rejected but the aircraft overran the runway and ended up in a creek. All three crew were injured and the aircraft was substantially damaged by the fire, which spread to the starboard wing.
On 16 August 2015, ATR 42-300 PK-YRN Trigana Air Service Flight 267 from Jayapura's Sentani Airport to Oksibil lost contact with air traffic control over the mountains in Irian Jaya (West Papua). The aircraft's wreckage was found by villagers in the Bintang highlands region of Oksibil. Local residents reported that they saw the plane crash into the mountain side. Stormy weather was cited as a possible cause of the crash. All 54 passengers and crew on board the flight died, making this crash the deadliest involving an ATR 42.
On 4 April 2016, a Batik Air Flight 7703 Boeing 737-800 was in the takeoff roll in Halim Perdanakusuma Airport, Jakarta, Indonesia when its left wing tip entangled with the vertical tail and left wing of a TransNusa Air Services ATR 42-600 crossing the runway under tow and separated the most of the vertical tail plane as well as the left wing from the ATR, with the left wing tank ruptured open. Both aircraft caught fire, and the Boeing was evacuated via slides. There were no injuries. However, both aircraft received substantial damage.
On 7 December 2016, PIA Flight 661 ATR 42-500 with registration AP-BHO crashed in Havelian in Pakistan's Khyber Pakhtunkhwa province, killing all 47 on board. PIA Flight 661 was en route from the town of Chitral to Pakistani capital of Islamabad when it crashed into a mountain.