8.2

/

10

1

Votes

Alchetron

Rate This




Robert Markowitz




Brian May





English Tagalog






Crime, Drama, History




David Williamson




Philippines Australia






27 November 1988




Gary Busey

(Tony O'Neil),

Ruben Rustia

(Ferdinand Marcos (1988)),

Tessie Tomas

(Imelda Marcos (1988)),

Roy Alvarez

(Col. 'Tiger' Tecson),

Ray Ventura

(Gen. 'Eddie' Ramos),

Johnny Delgado

(Lt. Col. 'Red' Kapunan)


David Williamson wrote the screenplay for A Dangerous Life and Balibo



A Dangerous Life is a 1988 English-language Australian film about the final years of the Philippines under Ferdinand Marcos' rule, from the assassination of Benigno Aquino, Jr. in 1983 to the People Power EDSA Revolution in 1986 that ousted Marcos.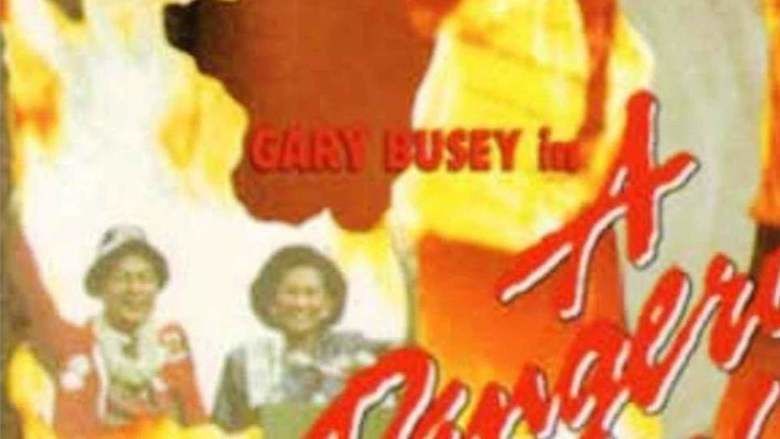 The film focuses on American TV journalist Tony O'Neil (Gary Busey), who finds himself in the middle of key events that lead to the downfall of the Marcos regime. Originally airing on television as a mini-series that ran for a total of six hours, the film was edited to 162 minutes for the home video release.
Filming of the movie took place in Manila, Philippines, Colombo, Sri Lanka and Sydney, Brisbane, and Melbourne in Australia.
Gary Busey - Tony O'Neil, an American television journalist and news correspondent who is sent to Manila to cover Ninoy Aquino's return and chooses to stay longer after finding himself in the midst of a revolution against Marcos and decides to cover it for the news.
Rebecca Gilling - Angie Fox, the estranged wife of Tony O'Neill. Prior to the ending, during the Malacañang Palace riot scene, she and Tony reconcile and later return to the United States.
James Handy - Mike Heseltine
Roy Alvarez - Col. "Tiger" Tecson, a fictional colonel who is the colleague of Lt. Col. Kapunan and Col. Honasan. In real life, Alvarez has a physical resemblance to Col. Gringo Honasan and due to this, he was supposed to play Honasan in the film but the producers felt he was better suited as Angie's love interest.
Guy Stone - Peter
Alexander Cortez - Raoul
Jaime Fabregas - Ben Balamo, a Manila newspaper company owner who makes articles on what is going on after the Aquino assassination. He befriends Tony in the film after their meeting during a press conference with Marcos on Aquino's assassination in Malacanang. With the help of one of Marcos' men, he and his family flees for the United States.
Dina Bonnevie - Celie Balamo, the niece of Ben Balamo whom Tony becomes attracted to and falls in love with. She later joins the New People's Army but later leaves. She is then abducted from Tony's home and killed by one of Marcos' henchmen; her corpse is then dumped in Tondo's Smokey Mountain site. After Tony finds her body, he works to find ways to reconcile with his wife Rebecca. Though uncredited in the film, her performance was highly praised by Philippine media.
Spanky Manikan - Ramon, Tony's Filipino cameraman, assistant, and friend
Grace Parr - New York Times secretary
Arthur Sherman - Alex, the president and chief broadcaster of the news company Tony works for.
Betty Mae Piccio as a computer operator
Ruben Rustia - President Ferdinand Marcos, the sitting Philippine president in the film's setting. Though his attitudes in the film are similar to his real-life counterpart, his healthy living is the only inaccuracy in his portrayal than he has deteriorating health in real life although he is shown in his early stages of ailing health.
Laurice Guillen - Corazon Aquino, the widow of Benigno Aquino Jr. who later becomes the president in the film's few minutes to ending. Despite Guillen's portrayal of Aquino being praised by Philippine media, it was also heavily criticized due to the inaccurate design of her prosthetic nose makeup.
Tessie Tomas - First Lady Imelda Marcos
Cris Vertido - Salvador "Doy" Laurel
Robert Talabis - Joker Arroyo
Mervyn Samson - Gen. Fabian Ver, AFP Chief of Staff
Joonee Gamboa - Defense Minister Juan Ponce Enrile
Ray Ventura - Gen. Fidel "Eddie" Ramos, AFP Vice Chief of Staff
Johnny Delgado - Lt. Col. Eduardo "Red" Kapunan
Rez Cortez - Col. Gregorio "Gringo" Honasan
Rolando Tinio - Manila Archbishop Jaime Cardinal Sin
Noel Trinidad - Jimmy Ongpin
Tony Carreon - Ramon Mitra, Jr.
Vic Diaz - Maj. Gen. Prospero Olivas, Chief of the Metropolitan Command (METROCOM)
Amiel Leonardia - Peping Cojuangco, the younger brother of the Cory Aquino
Lea Cabusi - Kris Aquino, the youngest of the Aquino's
Freddie Santos - Butz Aquino, Ninoy's younger brother
Michael Pate - Ambassador Stephen W. Bosworth, US ambassador to the Philippines
Pen Medina - Maj. Eduardo Doromal
Felindo Obach - Brig. Gen. Artemio Tadiar
Junix Inocian - Evelio Javier
Odette Khan - June Keithley
Mona Lisa - Francisca Monzon
Joe Gruta - Col. Antonio Sotelo,
Benigno Aquino, Jr. as himself (interviewed before his assassination). An uncredited actor plays him during the assassination scene
Robert Markowitz - director
Brian May - composer (music score)
James Bartle - cinematographer
Although the film was shot on location in the Philippines, some scenes were shot in Sri Lanka, mostly due to political and legal pressures from Juan Ponce Enrile who also appreciated the film but did not like the way he was represented (albeit as a fictional version as portrayed by Joonee Gamboa). Other reasons were that the producers had experienced similar conflicts when filming a similar film, The Year of Living Dangerously in 1981 in Manila.
Some scenes were shot in Australia. The scene of the late Butz Aquino calling from Camp Crame was shot in Sydney.
Australia - ABC, one of the companies who helped in producing the film, broadcast the film in 1989 under the title, The Four-Day Revolution. The film was released on home video in the country though CIC-Taft Home Video.
Canada - the movie was released on home video in Canada in 1989 through Nova Home Video.
Finland - the film was once shown in Finland under the title, Vaarallista elämää.
Philippines - GMA Network (then known as GMA Radio Television Arts) broadcast the film in 1989. The movie was the first major Australian production to air in the network. ABS-CBN broadcast the film on the 25th and 30th death anniversaries of Ninoy Aquino and also during the 25th and 30th anniversaries of EDSA 1986. GMA did the same on those occasions.
United States - HBO broadcast the film on November 27, 1988. The film was released on home video in the country via J2 Communications.
West Germany - the film was once shown in Germany under the title, Ein gefährliches Leben.
A Dangerous Life Wikipedia
A Dangerous Life IMDb
A Dangerous Life themoviedb.org