2+1 road is a specific category of three-lane road, consisting of two lanes in one direction and one lane in the other, alternating every few kilometres, and separated usually with a steel cable barrier. Traditional roads of at least 13 metres (43 ft) width can be converted to 2+1 roads and reach near-motorway safety levels at a much lower cost than an actual conversion to motorway or dual carriageway. Denmark and Sweden have been building 2+1 roads since the 1990s.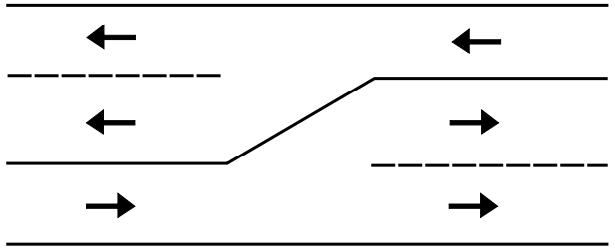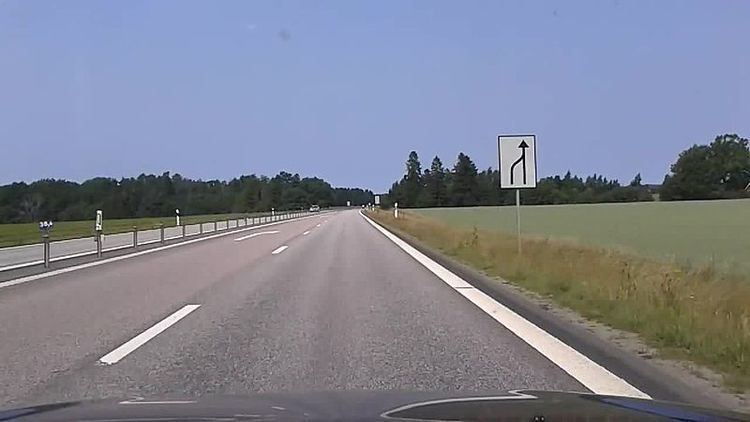 In Ireland, a 2+1 road was trialled on a short section of the N20 near Mallow, County Cork and the N2 near Castleblayney, County Monaghan. Following the pilot the National Roads Authority announced in July 2007 that 2+1 roads were unsuitable and that new lower capacity trunk routes would instead be built as 2+2 roads (officially known as Type 2 Dual Carriageways [1] ) - at grade dual-carriageways with a narrow median and no hard shoulder.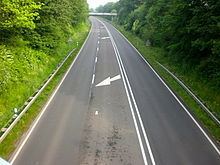 In Sweden, many 13-metre-wide (43 ft) roads have been built, especially in the period 1955–1980. These have two 3.5 metres (11 ft) wide lanes, and two 3 metres (9.8 ft) wide shoulders, in the beginning planned as emergency strip, due to the relative unreliability of autos of that period.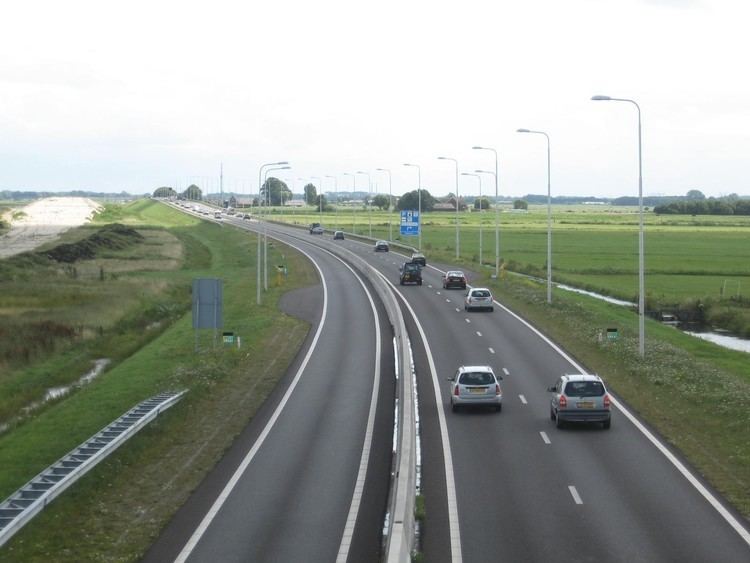 Around 1990, the idea emerged to build fences in the middle of them and to have 2+1 lane. This would be a cheap way of increasing traffic safety, since these roads have had a bad safety record. The width invites high speeds. Some people were, for example, overtaking against meeting traffic assuming meeting cars would go to the side. The roads are a little narrow for 3 lanes, but trials were carried on a few roads. It turned out that not only did safety improve, but it was also easier to overtake than before as the 2-lane sections provide safe overtaking opportunities. After the year 2000, more than 1,000 km (620 mi) of roads in Sweden have been converted from wide ordinary roads into 2+1-road, all with barriers.
Until recently, the roads had the original 90 km/h (55 mph) speed limit in use on most highways. As a result of this, many people drove at 90 km/h at 1-lane parts but 110 km/h (70 mph) at 2-lane parts, this being the speed limit on motorways. The speed limit has now been changed to 100 km/h (60 mph) with a notably smoother traffic flow.
In New Zealand, there are few 2+1 roads, although regular isolated 'passing lanes' exist frequently throughout the country, mainly in heavy trafficked areas and on hills. A trial of a 2+1 road with wire-rope median barrier was undertaken on SH1 between Longswamp and Rangiriri south of Auckland, and there are plans to introduce more 2+1 roads. NZ research also investigated design and operational effects of 2+1 roads to establish the most appropriate configurations for the country.
The "2+1-System" refers to expressways with three lanes on a single carriageway where bypassing on the lane of the opposite direction is prohibited so that speed restriction is not required to increase safety. These expressways are grade-separated with a design speed of 100 to 120 km/h (60 to 75 mph) and the side of two lanes (allowing to bypass lower speed vehicles) alternates about every 1.5 to 2 kilometres (0.93 to 1.24 mi). In hilly country the uphill direction is usually the one with two lanes to allow overtaking of heavy, slow vehicles. In many cases there is no median barrier or it consists of concrete blocks - additional safety measures are mostly needed near the end of the two lane section where some motorists tend to pull in very late so that a longer no-traffic section needs to be inserted on the middle lane.
After some good experiences with test roads the system has been used often in places where the amount of traffic does not justify construction of a dual carriageway expressway but remote rural areas should be connected to major towns with a high speed road. Existing examples are B 1, B 4 near Uelzen, B 16, B 20, B 31n near Stockach (120 km/h (75 mph)), B 33, B 54, B 56n, B 67 between Bocholt and Rhede, B 72, B 210, B 300, B 482.
Divided 2+1 roads are rare outside of Europe, though they are seen in a few places, such as Ontario, Quebec, New Hampshire and Australia. The most prominent example is Interstate 93 in Franconia Notch State Park (before dropping down to a single lane in each direction, plus steel divider). In Australia the Pacific Highway features sections of 2+1 along its length between Brisbane and Sydney. The mode is not unknown in the United States off the Interstate roads, including for example Arizona State Route 77 north of Oracle. In Japan, a 2+1 road was implemented in the northern island of Hokkaido.
Sometimes, during freeway reconstruction, a barrier transfer machine will be used on one half of the freeway while the other is being reconstructed.
A similar concept is utilized with 3-lane setups where 2 lanes have right of way, and the opposing side has to yield to the oncoming side on major highways that are mostly 2 lanes, of which those are more common.
These roads also exist in Texas, which calls them "Super 2", as that term has more than one definition.