Örebro [œrɛˈbruː] is a city with 107,038 inhabitants, the seat of Örebro Municipality and the capital of Örebro County in Sweden. It is the seventh largest city in Sweden and one of the largest inland hubs of the country. It is located near the lake of Hjälmaren, although a few kilometres inland along small river Svartån.
Örebro is home to Örebro University, a major university hospital, a medieval castle, the water park Gustavsvik as well as several large shopping malls and the Oset-Rynningeviken nature reserve at the lakefront.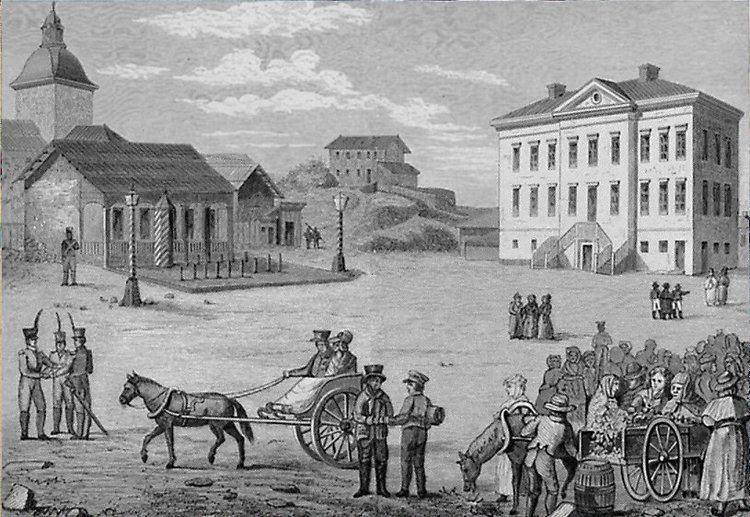 Örebro received its Royal Charter and city privileges not later than 1404.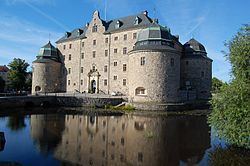 Örebro literally means penny bridge. The geography looks, with a stream Svartån draining into the lake Hjälmaren. The location became a natural seat of commerce in the Scandinavian Middle Ages and is mentioned in print in the 13th century. Old buildings from the early days include the foundations of the city church, a building which has undergone several modifications. The natural center of the city is otherwise the magnificent Örebro Castle, situated on an islet in the Svartån, and dividing the town into a northern and a southern part. This castle was constructed during the stewardship of Birger Jarl during the early 13th century and then modified and enlarged during the reign of King Gustav Vasa in the 1560s.
Notable events in Örebro's history include the national diet meeting at Örebro in 1810, where Jean-Baptiste Bernadotte was elected crown prince of Sweden.
Although a trade town, Örebro remained small until the second half of the 19th century, when it grew rapidly as a center of the national shoe-manufacturing industry (see: History of Närke).
Örebro, like the rest of the area close to Mälardalen, has a climate near the transition between humid continental and oceanic (Köppen Dfb/Cfb) that is made milder by the proximity to water and the Gulf Stream which makes it interchangeable with oceanic climates. Summer temperatures occasionally exceed 30 °C (86 °F) albeit not yearly, and temperatures above 5 °C (41 °F) are rare in winter, although frost-free nights sometimes occur. July high temperatures range from 20 °C (68 °F) to 26 °C (79 °F) depending on weather patterns, with a 2002–2014 mean high of around 23.4 °C (74.1 °F). During cold winters, Örebro receives plenty of snowfall. Örebro is far more prone than coastal areas to really harsh frosts with temperatures approaching or below −20 °C (−4 °F) happening almost every winter according to SMHI statistics. The station's setting in a rural location might skew temperatures somewhat compared to the urban area which is also at a slightly lower elevation and nearer Hjälmaren. Especially when considering overnight lows this could render a small urban heat island effect in the city centre.
However, the climate is very variable from year to year. For example, December 2010 was record cold with a daily mean of −9 °C (16 °F), whilst December 2006 only a few years before had a mean of 4.3 °C (39.7 °F). The warmest month on record is 21.7 °C (71.1 °F) in July 1914 and the coldest on record is −12.8 °C (9.0 °F) in January 1987. Örebro is often without snow cover for large parts of the winter months when daytime temperatures hover just above freezing – an exceptional feature for an inland area north of the 59th parallel.
The highest ever recorded temperature was set on 7 August 1975 during an intense heatwave with 36 °C (97 °F), which is a very high temperature for such northerly parallels. During the 21st century, the record heat is 33.7 °C (92.7 °F) set on 3 August 2014 during a long summer heat wave. The lowest recorded temperature in recorded history was set in February 1966 with −30 °C (−22 °F). Several monthly records have been set in the 2010s according to official SMHI statistics, namely the record highs of March, May, July, October, November, December as well as the coldest December temperature and month on record, that was set in 2010. The November record high of 2014 was associated with extremely unseasonal thunderstorms. Humidity is high for most parts of the year, but adequately lower during summer months. In spite of this summer is generally the time that gets the most precipitation due to clashes between hot and cool continental air systems causing heavy thunderstorm rainfall. In 2015, a 13.1 °C (55.6 °F) reading was recorded around the winter solstice, another record and a very warm reading for an inland area.
Örebro's old town, Wadköping, is located on the banks of the Svartån (black stream). It contains many 18th and 19th century wooden houses, along with museums and exhibitions. The water tower of Örebro, named Svampen (The Mushroom), is a popular destination as an outlook tower. In 1971, a replica of the tower was built in Riyadh, Saudi Arabia.
Swedish Chamber Orchestra
Örebro is the hometown of the punk-rock band Millencolin. They named one of their albums Pennybridge Pioneers, where Pennybridge stands for Örebro as a colloquial translation into English.
Örebro is the hometown of Swedish rock band Smash Into Pieces.
The influential and highly popular grind band Nasum were formed in Örebro.
Örebro is one of the public broadcaster SVT's 12 local news districts and has television premises located in the city.
Örebro has hosted a contemporary art exhibition called Open Art on four occasions: in 2008, 2009, 2011 and 2013. In 2013, the exhibition featured works by 90 artists from Sweden and many other countries throughout the world. The fifth edition of the exhibition is planned for the summer of 2015.
Örebro University is one of Sweden's most recent, being upgraded from högskola (university college) in 1999. It currently has around 16,000 students and a staff of 1,100. Gustavsvik, the largest water park in the Nordic countries, is located just a kilometer south of central Örebro. With more than 700,000 visitors per year, it is one of the most popular tourist and leisure establishments in Sweden. Only Liseberg, Gröna Lund and Skansen are more popular. In the summer the manor of Karlslund is a very popular place to visit.
Örebro SK currently playing in Allsvenskan.
BK Forward currently playing in Division 2 Norra Svealand.
Karlslunds IF currently play in Division 2 Norra Svealand.
Rynninge IK currently play in Division 2 Södra Svealand.
Örebro Syrianska IF currently play in Division 2 Södra Svealand.
FK Bosna 92 currently play in Division 3 Västra Svealand.
Adolfsbergs IK currently play in Division 4 Örebro.
IFK Örebro currently play in Division 4 Örebro.
IK Sturehov currently play in Division 4 Örebro.
Axbergs IF currently play in Swedish football Division 6 Norra.
Lillån IBK
IBF Örebro
Örebro Volley play in the highest level of women's volleyball leagues in Sweden. They have won the league ten times.
Örebro HK currently play in Swedish Hockey League (the highest level) since the 2013–14 season, having been promoted in the 2012–13 season.
Örebro Black Knights are an American football Club that played in the Swedish Championship Finals in 1998, 1999, 2013, 2014, and 2015.
Örebro Universitets IF Rugby
Karlslunds IF is a multi-sports club specialising in American Football, Bandy, Baseball/Softball, Bowling, Football, Gymnastics, Skiing and Swimming.
Örebro is twinned with