Chinese name

黃家駒 (traditional)




Name

Wong Kui




Chinese name

黄家驹 (simplified)




Role

Singer





Pinyin




Music group

Beyond (1983 – 1993)


Origin

Hong Kong




Siblings

Wong Ka Keung





Jyutping

wong4 gaa1 keoi1 (Cantonese)




Ancestry

Taishan, Guangdong, China




Movies

Cageman, Happy Ghost IV, The Fun - the Luck & the Tycoon, The Banquet, Sworn Brothers


Died

30 June 1993 (aged 31) Shinjuku, Tokyo, Japan


Born

10 June 1962 (age 31), British Hong Kong


Similar

Paul Wong (musician), Yip Sai Wing, Danny Chan
Wong Ka-kui (10 June 1962 – 30 June 1993), was a Hong Kong musician, singer, cancer and songwriter, best known as the leader and co-founder of the Rock band Beyond, for which he was the lead vocalist, rhythm guitarist and main songwriter. He won a lot of awards from 1988 onward. The band's hit songs include "Loving You" (1988), "Truly Love You" (1989), "Amani" (1991), "Boundless Oceans, Vast Skies" (1993) etc.
Contents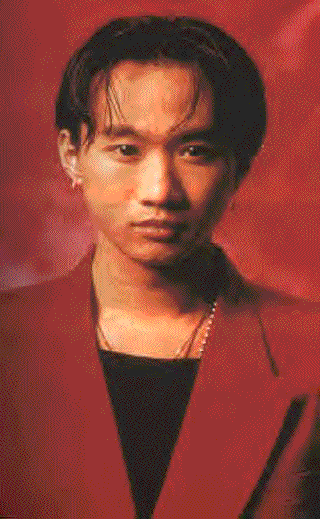 During the rehearsal of a game show for Fuji Television in Tokyo, Japan on 24 June 1993, Wong fell off a three-metre platform head first, and died six days later from head injuries.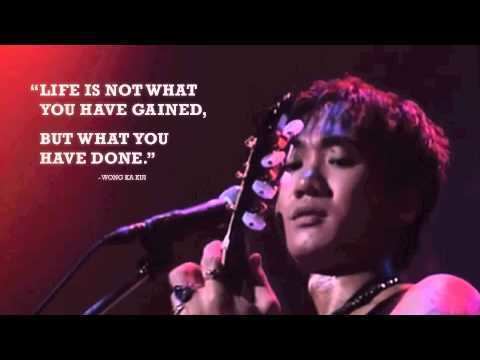 Beyond Wong Ka Kui - 高溫派對 (1991生命接觸演唱會live) 高清 HD
Youku Talent: "Wong Ka Kui June" Band 优酷牛人 《海阔天空》
Early life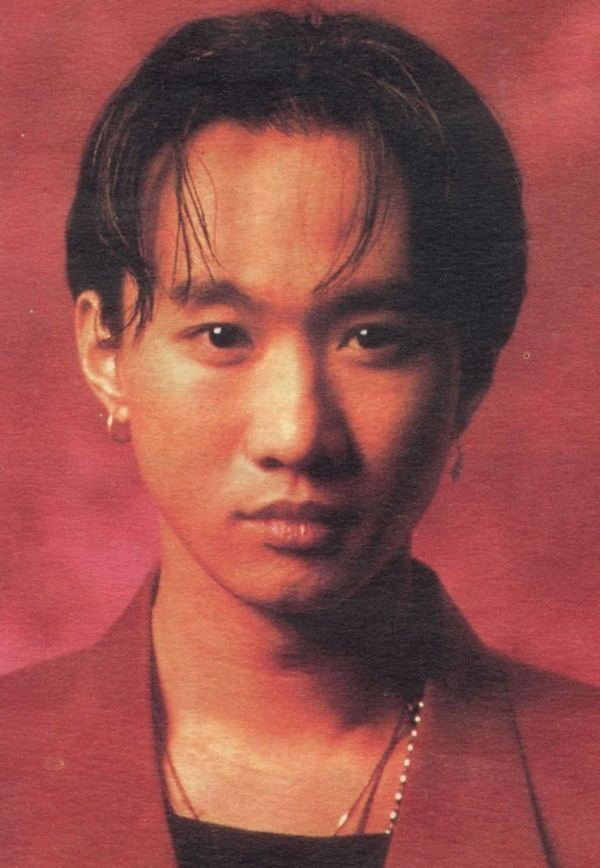 When Wong was a teenager, he was greatly interested in European and American music. At the age of fifteen, his neighbour gave him a shabby acoustic guitar and Wong taught himself to play it. From that moment on, he spent most of his time learning music on his own while still working other jobs.
The formation of Beyond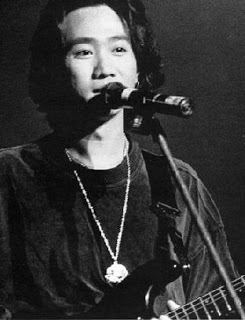 In 1983, Wong Ka Kui met Yip Sai Wing and formed the band Beyond. Yip played drums and Wong sang and played rhythm guitar. In the same year they won an award for "Best Band" in a competition sponsored by Guitar Magazine. Paul Wong, who initially designed posters and record covers for Beyond, joined the band later on as a guitarist. In 1984, Wong Ka Kui's brother, Wong Ka Keung joined the band on bass. Thereafter, Beyond remained an independent band, playing shows at nightclubs and schools. In 1986, Beyond self-published Goodbye Ideals on cassette tape. Their early styles were mostly hard rock, new wave, post-punk, experimental, and avant-garde. Leslie Chan, who later became their manager, attended one of their live performances and was impressed by their style. As a result, Chan invited Beyond to sign with Kinn's music. However, their musical style was not widely accepted by listeners in Hong Kong. Disappointing album sales presented Beyond with a dilemma. In 1987, Beyond recorded and release released their first album Arabian Dancing Girls. Their sound was softened with keyboards, but their album sales still did not meet expectations. At the same time, they were constantly criticised by other rock bands about commercializing their original hard rock. In 1988, Beyond released the pop album Modern Stage. For the first time, they included some slow-paced, love songs as well as songs with satirical lyrics about society. Again, their album sales were poor; their management company threatened that no more opportunities would be provided to them if they failed again.
First success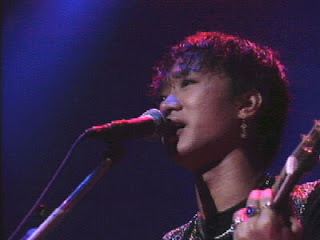 Realizing the situation they were in, Beyond recorded and released their next album Secret Police with songs that were more within the popular genre. Songs such as "The Land" and "Loving You" from the recording "Secret Police" gained tremendous popularity, followed by Beyond's increased recognition and public appearances. After that, several of their compositions also proved to be incredibly successful. They received awards for "Truly Love You" and "Social Party". "Truly Love You" is a tribute song to mothers, which is one of the best-known songs from Beyond. "Social Party" is a satirical song about the Hong Kong entertainment industry, in which musicians are often asked to appear in unrelated TV game shows.
Social concerns
Gradually Beyond became the most popular band in Hong Kong. This at the same time marked the turning point for their musical career. They paid more attention to social issues and the ongoing events around the world. Wong Ka Kui won the Best Lyrics award for his touching, inspiring lyrics in "The Glorious Days", which is a tribute to Nelson Rolihlahla Mandela. In 1991, Beyond visited Kenya and witnessed the grinding poverty and misery there. Upon their return, a number of songs were written addressing the serious problems of Africa. The Beyond Third World Foundation was created in the same year with profits from the redistribution of an early album.
Career in Japan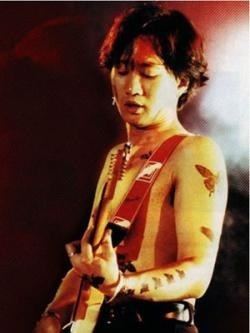 Realizing the restriction on original music in Hong Kong, Beyond decided to redirect their career to Japan. In January 1992, Beyond signed a worldwide management contract with Japanese record label Amuse. During the year, they released an album called "The Revolution" Continues. In May 1993, Beyond returned to Hong Kong with a new album Rock and Roll. Wong Ka Kui's signature work "Under a Vast Sky" won the Best Original Song award in Hong Kong. Before they went back to Japan, Beyond held unplugged live concerts in Hong Kong and Malaysia, which were Beyond's last concert with Wong Ka Kui.
Death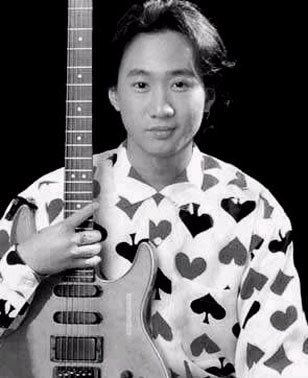 Beyond migrated to Japan in 1992 to continue their music industry business. On 24 June 1993, to promote their new record, Beyond participated in the filming of a popular Japanese game show "Ucchan-nanchan no yarunara yaraneba" (ウッチャンナンチャンのやるならやらねば!) in the Fuji Television studio. An accident occurred 15 minutes after the show commenced. The stage floor was very narrow and slippery, and Wong Ka Kui fell off the platform with one of the hosts Teruyoshi Uchimura, while the show was on air. Wong Ka Kui fell 2.7 metres to the ground, where he landed head first and fell into coma immediately. Wong Ka Kui was rushed to the hospital, but due to the traumatic head injuries, the hospital operated cautiously.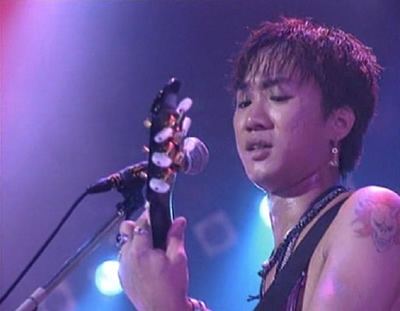 On 26 June, several music fans of Wong Ka Kui gathered at the carpark lot of the Commercial Radio Hong Kong Station to pray for him. While Wong Ka Kui remained in the hospital, the band's Japanese management company hired a Qigong Master to cure his injury, but ended without any progression. Six days later, at 16:15, in Tokyo Women's Medical University, on 30 June 1993, a Japanese representative announced Wong Ka Kui's death in a press conference. Wong's funeral procession caused traffic in various major streets in Hong Kong to grind to a standstill, and almost every famous Hong Kong Cantopop singer was in attendance to pay their respects. He was buried in Tseung Kwan O Chinese Permanent Cemetery in section 15/ row 6/ No. 25. His tombstone is made of white marble and bears the image of a guitar.
Legacy
The song "Boundless Oceans, Vast Skies" was written by Wong Ka Kui and has been an anthem of Cantonese rock music and one of Beyond's signature songs.
Beginning in December 2007, Radio Television Hong Kong (RTHK) released a documentary series called "A Legend Never Dies", featuring Roman Tam, Anita Mui, Leslie Cheung, Teresa Teng, Wong Ka Kui and Danny Chan. The episode of Wong Ka Kui was aired on TVB on 26 January 2008. The episode labelled Wong Ka Kui "The Spring Water of Hong Kong Music Industry."
On 8 November 2005, Hong Kong post office released a stamp collection called "Hong Kong Pop Singers". Wong Ka Kui was one of the five singers who had their images printed on stamps.
In a vote conducted by Sina China in 2007, Wong Ka Kui was one of the Most Missed Celebrity along with Leslie Cheung and Anita Mui There are many tribute songs dedicated to Wong Ka Kui, including "The Champion of Love" by the rock band Bakufu-Slump, "Him" by the rock band Soler, "Wish You Well" by his brother Wong Ka Keung, "Paradise" by Beyond, "Combat for twenty years" by Beyond and "The Story" by Paul Wong.
In the last concert of Beyond in 2003, Wong Ka Kui was resurrected in the form of a life-size video projection, alongside the remaining band members while they sang the song "Combat for twenty years" in memory of him.
Discography
Goodbye Ideals (cassette) (1986)
Forever Waiting (E.P.) (1987)
A New World (E.P.) (1987)
Arabian Dancing Girls (L.P.) (1987)
A Lonely Kiss (E.P.) (1987)
Modern Stage (L.P.) (1988)
Secret Police (L.P.) (1988)
The Best of Beyond Yesterday's Footprints (L.P.) (1988)
The Real Testimony (L.P.) (1989)
A Moment of Romance Movie Soundtrack (E.P.) (1990)
Win Against Your Own Demon (E.P.) (1990)
The Fate Party (L.P.) (1990)
Hesitate (L.P.) (1991)
BEYOND LIVE (Concert) (L.P.) (1991)
The Revolution Continues (L.P.) (1992)
The Ultimate Emptiness (E.P.) (1992)
Beyond Belief (Mandarin)(1992)
Rock and Roll (1993)
Wong Ka Kui's Everlasting Spirit-Special Collection (L.P.) (1993)
Filmography
Sworn Brothers (1987)
No Regret (1987)
The Black Wall (1989)
The Fun, the Luck & the Tycoon (1989)
Happy Ghost IV (1990)
Beyond's Diary (1991)
The Banquet (1991)
Cageman (1992)
Selected awards
1989 – won "Song of the Year" award for the song "Truly Love You" at Hong Kong's Jade Solid Gold Awards
References
Wong Ka Kui Wikipedia
(Text) CC BY-SA