Chinese name

鄧麗君




Birth name

Teng Li-yun (鄧麗筠)




Chinese name

邓丽君 (simplified)




Ancestry

Daming County, Hebei



Pinyin




Name

Teresa Teng




Pe̍h-oe-ji

Teng Le-kun (Hokkien)




Role

Singer







Born

29 January 1953, Baozhong, Yunlin, Taiwan


Died

May 8, 1995, Chiang Mai, Thailand


Movies

Everybody Is Laughing, Where the Seagull Flies




Albums

Dandan youqing, Super Selection, GOLDEN★BEST, Ye Lai Xiang, Goodbye My Love
Teresa teng museum kaohsiung taiwan
Teresa Teng (29 January 1953 – 8 May 1995) was a Taiwanese singer. She was known for her folk songs and romantic ballads, such as "When Will You Return?" and "The Moon Represents My Heart". She recorded songs not only in her native Mandarin but also in Taiwanese Hokkien, Cantonese, Japanese, Indonesian and English.
Contents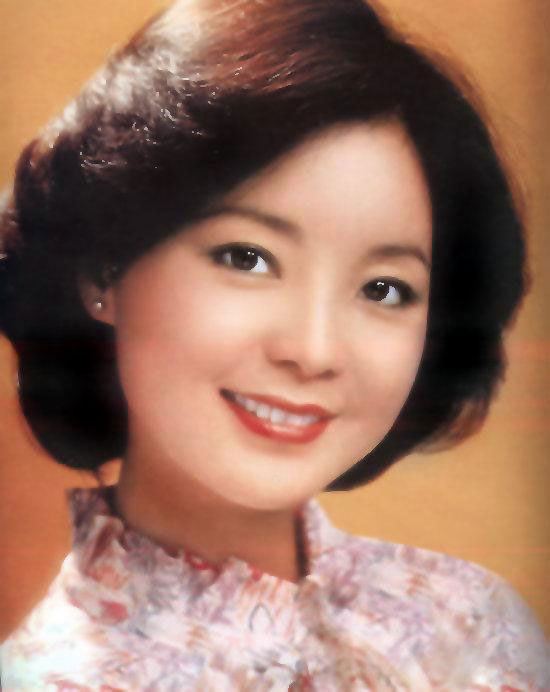 Teng, a longtime sufferer of asthma, died from a severe respiratory attack while on vacation in Thailand in 1995, at the age of 42.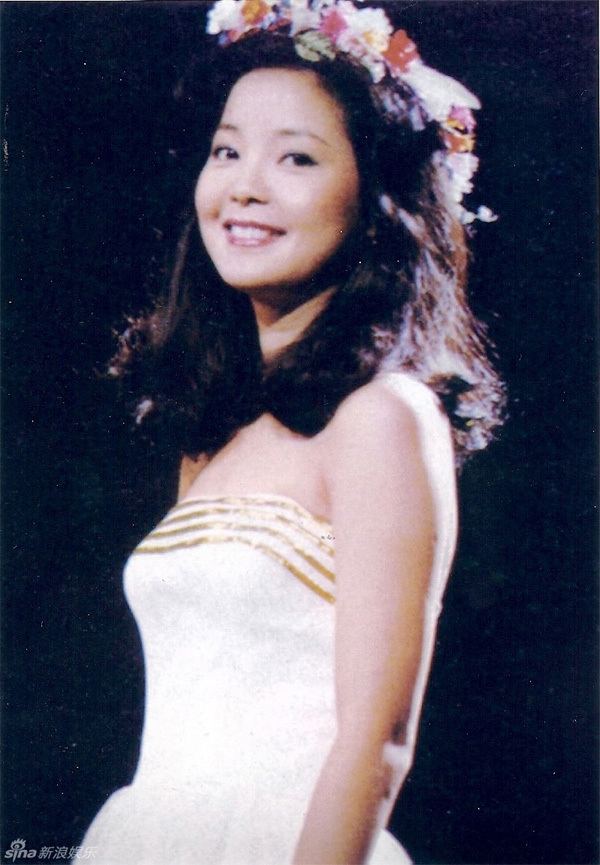 The Moon Represents My Heart - Teresa Teng
Early life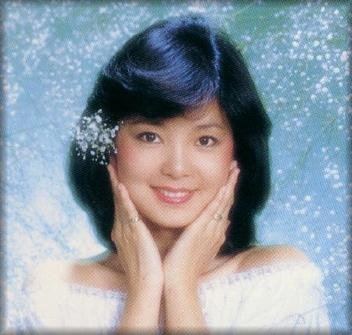 Teresa Teng was born in Tianyang Village (田洋村), Baozhong Township, Yunlin County, Taiwan on 29 January 1953, to mainland Chinese parents. Her father was a soldier in the Republic of China Armed Forces from Daming, Hebei and her mother was from Dongping, Shandong. She was the only girl, with three older brothers and a younger brother. She was educated at Ginling Girls High School (私立金陵女中) in Sanchong Township, Taipei County.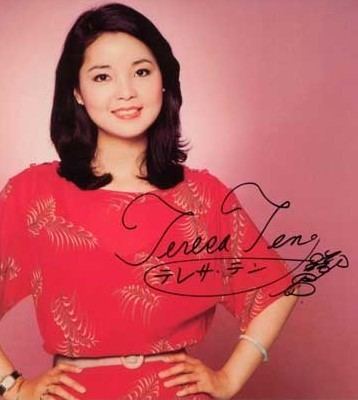 As a young child, Teng won awards for her singing at talent competitions. Her first major prize was in 1964 when she sang "Visiting Yingtai" from Shaw Brothers' Huangmei opera movie, The Love Eterne, at an event hosted by Broadcasting Corporation of China. She was soon able to support her family with her singing. Taiwan's rising manufacturing economy in the 1960s made the purchase of records easier for more families. With her father's approval, she quit high school to pursue singing professionally.
Career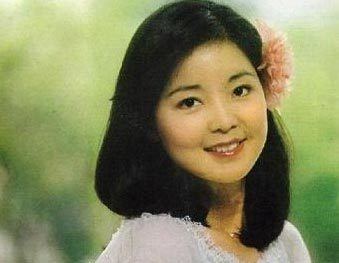 Teng's singing style conveyed simplicity and sincerity. Yeh Yueh-Yu, a professor of Cultural Theory at the University of Southern California said, "It was the sweetness in her voice that made her famous. She had a perfect voice for folk songs and ballads, and she added traditional folk song stylings into Western-style compositions." Her voice was also described as being "like weeping and pleading, but with strength, capable of drawing in and hypnotizing listeners." Songwriter Tsuo Hung-yun said Teng's voice was "seven parts sweetness, three parts tears."
Teng gained her first taste of fame in 1968 when a performance on a popular Taiwanese music program led to a record contract. She released several albums within the next few years under the Life Records label. In 1973 she attempted to crack the Japanese market by signing with the Polydor Japan label and taking part in Japan's Kōhaku Uta Gassen, a year-round singing match of the most successful artists. She was named "Best New Singing Star". Following her success in Japan, Teng recorded several Japanese songs, including original hits such as "Give yourself to the flow of Time" (時の流れに身をまかせ, Toki no Nagare ni Mi wo Makase) which was later covered in Mandarin as "I Only Care About You".
In 1974 the song "Airport" (空港, Kūkō), which was covered in Mandarin as "Lover's Care" (情人的关怀) in 1976, became a hit in Japan. Teng's popularity in Japan continued despite being briefly barred from the country in 1979 for having a fake Indonesian passport she purchased for US$20,000. The subterfuge had seemed necessary due to the official break in relations between Taiwan and Japan that occurred shortly after the People's Republic of China replaced the ROC in the United Nations.
Teng's popularity boomed in the 1970s after her success in Japan. Singing by now in Mandarin, Cantonese, Japanese and English, Teng's influence spread to Malaysia and Indonesia. In Taiwan she was known not only as the island's most popular export, but as "the soldier's sweetheart" because of her frequent performances for servicemen. Teng was herself the child of a military family. Her concerts for troops featured Taiwanese folk songs that appealed to natives of the island as well as Chinese folk songs that appealed to homesick refugees of the civil war.
In the early 1980s, continuing political tension between China and Taiwan led to her music, along with that of other singers from Taiwan and Hong Kong, being banned for several years in China as too "bourgeois". Her popularity in China continued to grow nonetheless thanks to the black market. As Teng songs continued to be played everywhere, from nightclubs to government buildings, the ban on her music was soon lifted. Her fans nicknamed her "Little Deng" because she had the same family name as Deng Xiaoping; there was a saying that "Deng the Communist leader ruled by day, but Deng the singer ruled by night.
Teng's contract with Polydor ended in 1981. She signed a contract with Taurus Records in 1983 and made a successful comeback appearance in Japan. In 1983 Taurus released her album, Dandan youqing. This album consisted of settings of 12 poems from the Tang and Song dynasties. The music, written by composers of her earlier hits, blended modern and traditional styles of East and West. The most popular single from the album today is "Wishing We Last Forever". The number of hits released in the years from 1984–1989 make them "Teresa Teng's Golden Years" to many of her fans. During this time, she won the All-Japan Record Awards for four consecutive years (1984–1988). Teng was also named one of the top female singers in the world by TIME magazine. However, there is no article in the TIME magazine website so the reliability of such report is questionable.
Gunther Mende, Mary Susan Applegate and Candy de Rouge wrote the song "The Power of Love" for Jennifer Rush. Teng covered it and made it notable in Asian regions. She originally sang it in her Last Concert in Tokyo - eight years before being sung and released by Celine Dion.
Teng performed in Paris during the 1989 Tiananmen student protests on behalf of the students and expressed her support. On 27 May 1989, over 300,000 people attended the concert called "Democratic songs dedicated to China" (民主歌聲獻中華) at the Happy Valley Racecourse in Hong Kong. One of the highlights was her rendition of "My Home Is on the Other Side of the Mountain."
Though Teng performed in many countries around the world, she never performed in China. The Communist Party of China eventually invited her to do so in the 1990s, but she never did.
Death and commemorations
Teng died from a severe asthma attack, though doctors and her partner Paul Quilery had speculated that she died from a heart attack due to a side effect of an overdose of unspecified amphetamines while on holiday in Chiang Mai, Thailand, at the age of 42 on 8 May 1995. Quilery was buying groceries when the attack occurred. He was also aware that Teng relied on the same medication in the two months before her death with minor attacks. Teng was an asthmatic throughout her adult life. She was given state honors at her funeral in Taiwan. President Lee Teng-hui was in attendance among thousands.
Teng was buried in a mountainside tomb at Chin Pao San, a cemetery in Jinshan, New Taipei City (then Taipei County) overlooking the north coast of Taiwan. The grave site features a statue of Teng and a large electronic piano keyboard set in the ground that can be played by visitors who step on the keys. The memorial is often visited by her fans.
In May 2002, a wax figure of Teng was unveiled at Madame Tussauds Hong Kong.
A house she bought in 1986 in Hong Kong at No. 18 Carmel Street, Stanley also became a popular fan site soon after her death. Plans to sell the home to finance a museum in Shanghai were made known in 2002, and subsequently sold for HK$32 million. It closed on what would have been her 51st birthday on January 29, 2004.
To commemorate the 10th anniversary of her death, the Teresa Teng Culture and Education Foundation launched a campaign entitled "Feel Teresa Teng". In addition to organizing an anniversary concert in Hong Kong and Taiwan, fans paid homage at her shrine at Chin Pao San Cemetery. Additionally, some of her dresses, jewelry and personal items were placed on exhibition at Yuzi Paradise, an art park outside Guilin, China. The foundation also served as her wishes to set up a school or educational institute.
In April 2015, a set of four stamps featuring Teng were released by the Chunghwa Post.
Influence on popular culture
Teresa Teng was billed as one of the "Five Great Asian Divas" during the 1970s and 1980s (along with Judy Ongg, Agnes Chan, Ouyang Feifei (1949-) and Yu Yar (1953–)), due to their huge cross-cultural popularity. Her songs have been covered by a number of singers, including Faye Wong who released a tribute album (Decadent Sound of Faye, 菲靡靡之音, 1995) of Teng's popular hits. In 2015, Chinese singer and actor Luhan recorded a cover of Teng's 1979 song "Tian Mi Mi" for the 2015 release of "Comrades: Almost a Love Story." Her songs are featured in various films, e.g. Rush Hour 2, The Game, Prison On Fire, Formosa Betrayed, Gomorrah.
The 1996 Hong Kong film Comrades: Almost a Love Story directed by Peter Chan features the tragedy and legacy of Teng in a subplot to the main story. The movie won best picture in Hong Kong, Taiwan, and at the Seattle Film Festival in the United States. In 2007, TV Asahi produced a TV movie entitled Teresa Teng Monogatari (テレサ・テン物語) to commemorate the 13th anniversary of her death. Actress Yoshino Kimura starred as Teng.
In 2013, Teng was "revived" briefly in a Jay Chou concert in 2013 where she appeared as a 3D virtual hologram singing three songs with Chou.
Personal life
Teng had guarded her personal life from the public since 1987, fearing that it would jeopardize her career. She had a failed relationship with the son of a Malaysian gambling tycoon that ended with his death when she was about 19.
In 1982, Teng was engaged to Beau Kuok, a Malaysian businessman and son of multi-billionaire Robert Kuok. They met in 1978, but Teng called off the engagement due to prenuptial agreements which stipulated that she had to quit and sever all ties with the entertainment industry, as well as fully disclose her biography and all her past relationships in writing.
Teng also had a high-profile relationship with Jackie Chan, which resulted in failed farewell performances on Enjoy Yourself Tonight in her attempts to fade out of the entertainment business.
In 1998, Paul Quilery revealed that Teng is engaged to him, and was due to get married in August, 1995.
Awards
Teng received the following awards in Japan:
The New Singer Award for "Kūkō" in 1974.
The Gold Award in 1986 for "Toki no Nagare ni Mi o Makase" (

時の流れに身をまかせ

).
The Grand Prix for "Tsugunai" (

つぐない

) in 1984: "Aijin" (

愛人

) in 1985; and "Toki no Nagare ni Mi o Makase" in 1986. This was the first time anyone had won the Grand Prix three years in a row.
The Outstanding Star Award for "Wakare no Yokan" (

別れの予感

) in 1987.
The Cable Radio Music Award for "Wakare no Yokan" in 1987 and 1988.
The Cable Radio Special Merit Award (

有線功労賞

) in 1995 for three consecutive Grand Prix wins.
References
Teresa Teng Wikipedia
(Text) CC BY-SA