Nickname(s)

"Lakeitel"




Years of service

1901–1945




Name

Wilhelm Keitel




Service/branch

Wehrmacht


Rank

Generalfeldmarschall




Birth name

Wilhelm Bodewin Gustav Keitel




Born

22 September 1882Helmscherode, Duchy of Brunswick, German Empire (

1882-09-22

)


Allegiance

German Empire (to 1918) Weimar Republic (to 1933) Nazi Germany (to 1945)


Died

October 16, 1946, Nuremberg, Germany


Spouse

Lisa Fontaine (m. 1909–1946)




Children

Karl-Heinz Keitel, Nona Keitel, Hans-Georg Keitel, Ernst-Wilhelm Keitel, Erika Keitel




Books

Generalfeldmarschall Keitel




Parents

Apollonia Vissering, Carl Keitel




Similar People

Alfred Jodl, Karl Donitz, Joachim von Ribbentrop, Hermann Goring, Ernst Kaltenbrunner
Nazi General Keitel surrender / Soviet Marshal Zhukov (White Tiger) HD
Adolf Hitler, Wilhelm Keitel and Benito Mussolini discussing a map in Europe. HD Stock Footage
Wilhelm Bodewin Johann Gustav Keitel (22 September 1882 – 16 October 1946) was a German field marshal who served as chief of the Oberkommando der Wehrmacht (Supreme Commander of the Armed Forces) for most of World War II, making him the Chief of Defense for Germany. At the Allied court at Nuremberg, he was tried, sentenced to death, and hanged as a war criminal. He was the third highest-ranking German officer to be tried at Nuremberg.
Contents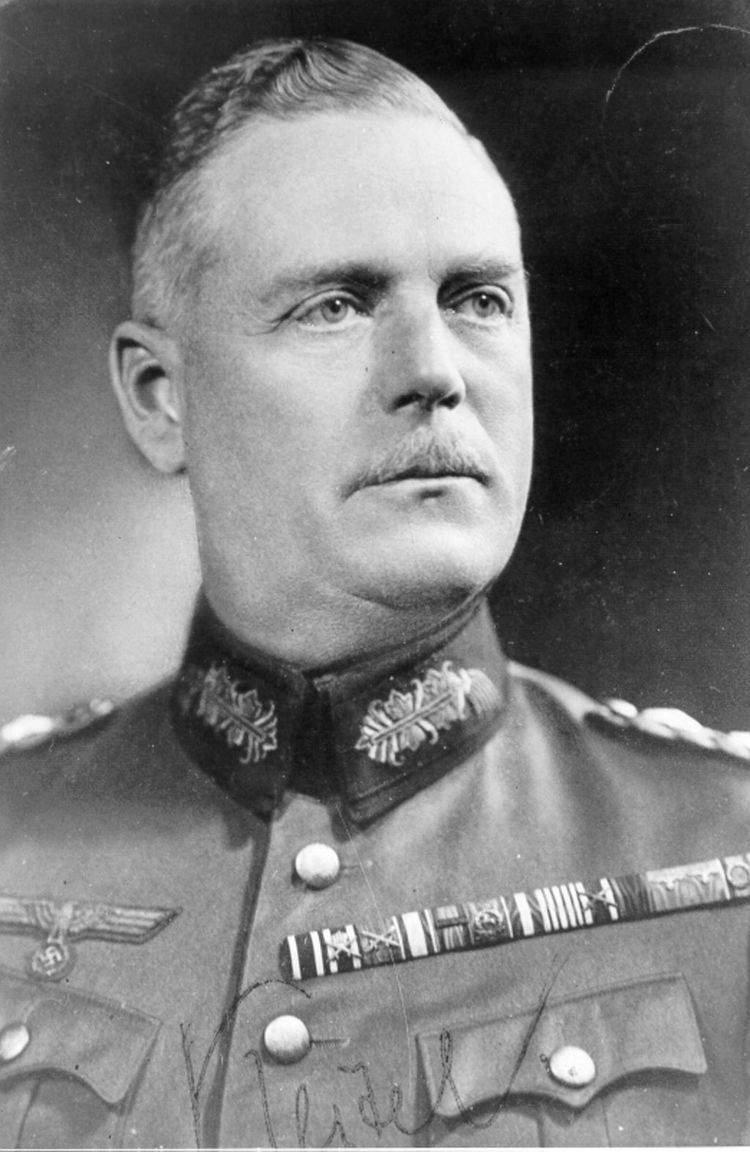 Early life and career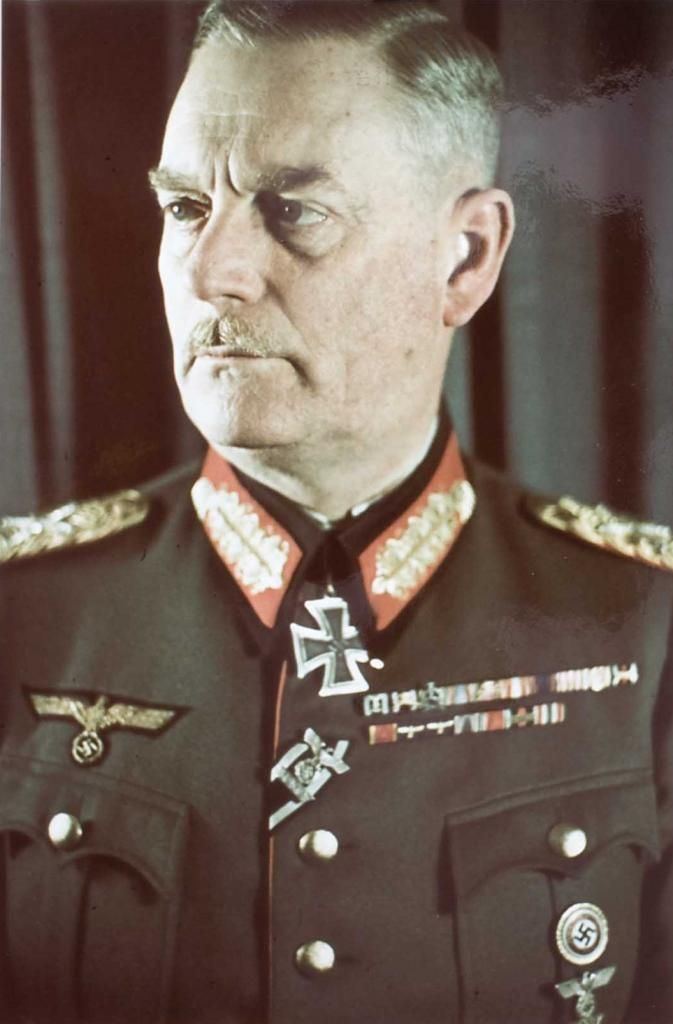 Keitel was born in the village of Helmscherode near Gandersheim in the Duchy of Brunswick, the eldest son of Carl Keitel (1854–1934), a middle class landowner, and his wife Apollonia Vissering (1855–1888). After he completed his education at gymnasium in Gottingen, his plan to take over his family's estates foundered on his father's resistance. Instead, he embarked on a military career in 1901, becoming an officer cadet of the Prussian Army. As a commoner he did not join the cavalry, but the mounted 46th Lower-Saxon Field Artillery Regiment in Wolfenbuttel, serving as adjutant from 1908.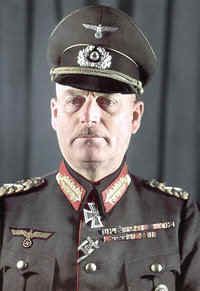 On 18 April 1909, Keitel married Lisa Fontaine, a wealthy landowner's daughter at Wulfel near Hanover. Together they had six children, one of whom died in infancy. His eldest son, Karl-Heinz Keitel went on to serve as a divisional commander in the Waffen-SS. During World War I, Keitel served on the Western Front with his artillery regiment and took part in the fighting in Flanders, where he was severely wounded in his right forearm by a shell fragment. Elevated to the rank of a captain, Keitel quickly recovered, and in 1915 posted to the General Staff of the 19th Reserve Infantry Division. He later went on to fight in the First Battle of the Marne, the Battle of Verdun, and in the Battle of Passchendaele, being awarded the Iron Cross 2nd and 1st Class.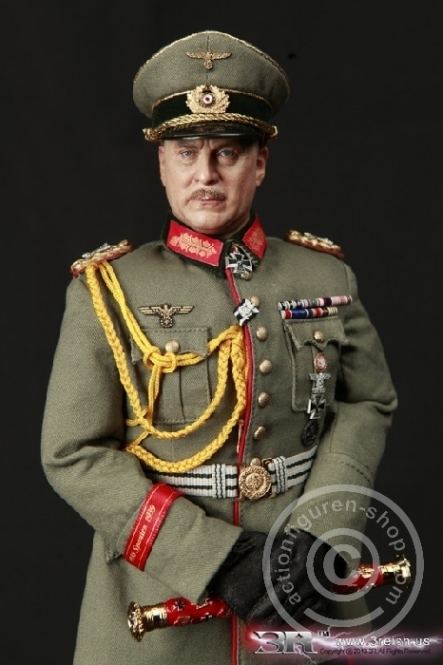 After the war, Keitel stayed in the newly created Reichswehr of the Weimar Republic, an army limited to only 100,000 soldiers, and played a part in organizing the paramilitary Freikorps frontier guard units on the Polish border. He also served as a divisional General Staff officer of the 6th Prussian Artillery Regiment, and later taught at the Hanover Cavalry School for two years, from 1923 with the rank of major. In late 1924, Keitel was transferred to the German Ministry of War in Berlin, serving with the "Troop Office", the post-Versailles disguised German General Staff. Three years later, he returned to the 6th Prussian Artillery Regiment as commander of the 2nd Department.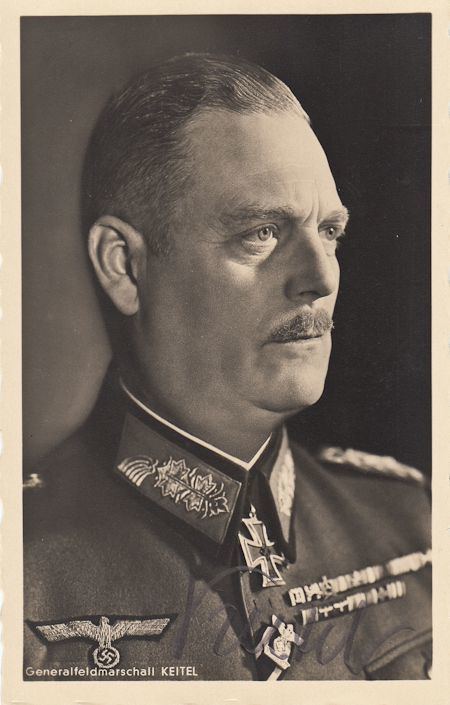 As Lieutenant Colonel, he was again assigned to the Ministry of War in 1929 and soon promoted to Head of the Organizational Department ("T-2"), a post he would hold until the Nazi Party took power in Germany, in 1933. Playing a vital role in the German re-armament, he at least once travelled to the Soviet Union to inspect secret Reichswehr training camps. Shortly after this, in the autumn of 1932, he suffered from a heart attack, and double pneumonia, followed by a longer stay at a Czechoslovak Sanatorium. In 1935, based on a recommendation by the Commander-in-Chief Werner von Fritsch, Keitel was promoted to Major General and appointed to the Armed Forces Office (Oberkommando der Wehrmacht), which had the responsibility over the army, navy, and air force. Meanwhile, Nazi notable Hermann Goring still retained relative control over the Luftwaffe through the Reich Air Ministry, but Admiral Erich Raeder was unable to convince Hitler to give him autonomy over the Navy. Despite being Chief of the OKW, Keitel lacked independent command authority, merely acting as Hitler's agent and issuing orders on his behalf.
OKW and World War II
In 1937, Keitel was promoted to the rank of full general (Generaloberst). In the following year, after the Blomberg-Fritsch Affair, the War Ministry was replaced by the Supreme Command of the Armed Forces (Oberkommando der Wehrmacht), and Keitel was appointed as its chief. This effectively made him Germany's War Minister, and accordingly, he was appointed to the Hitler Cabinet. However, the cabinet never held a formal meeting after the Blomberg-Fritsch Affair. Soon after his appointment, he convinced Hitler to appoint his close friend, Walther von Brauchitsch, as Commander-in-Chief of the Army.
For a brief period in October 1938, Keitel was Military Governor of the Sudetenland. In February 1939 Keitel again became chief of OKW, a post he held until the end of the war.
During World War II, Keitel was one of the primary planners of the Wehrmacht campaigns and operations on the Western and the Eastern fronts. He advised Hitler against invading France and opposed Operation Barbarossa. Both times he backed down in the face of Hitler and tendered his resignation, which Hitler refused to accept.
In 1940, after the French campaign, he was promoted to field marshal during the 1940 Field Marshal Ceremony along with several other generals.
Unusually for a non-field commander, Keitel was awarded the Knight's Cross for arranging the armistice with France. Keitel realized the Germans would be unable to win the Battle of Britain, as the British had the backing of the almost unlimited resources of the United States.
He had advised Hitler not to attack the Soviet Union in 1941 as he was convinced that "Operation Barbarossa" would be a failure. The overwhelming success of Barbarossa in its initial phase did a great deal to undermine Keitel's authority in the face of Hitler. He was the author of the infamous Barbarossa decree, which condemned captured prisoners and ensured a high level of brutality by German soldiers against Soviet civilians.
In 1942, he confronted Hitler in defense of field marshal Wilhelm List, whose Army Group A was stalled in the Battle of the Caucasus. Hitler spurned Keitel's pleading and fired List. Keitel's defense of List was his last act of defiance to Hitler; he never again challenged Hitler's orders. For example, during a strategy briefing late in the war, Luftwaffe intelligence discovered that 80,000 Soviet fighter aircraft were ready to be deployed to the front. Reichsmarschall Hermann Goring, Commander-in-Chief of the Luftwaffe, told Hitler that they were simply dummies; the Red Air Force could not possibly have that many aircraft. Count Johann von Kielmansegg later described it:
"There was a disagreement around Hitler's map table and Keitel got wind of it, he was in the same room at the back, but somehow he got wind of it and I heard him say, without knowing what the issue was: "You're quite right, My Fuhrer." I can hear him now."
He signed numerous orders of dubious legality under the laws of war. The most infamous were the Commissar Order (which stipulated that Soviet political commissars were to be shot on sight) and the Night and Fog Decree (which called for the forced disappearance of resistance fighters and other political prisoners in Germany's occupied territories). Another was the order that French pilots of the Normandie-Niemen squadron be executed rather than be made prisoners of war.
According to Albert Speer's memoirs, nearly all of the field marshals and generals viewed him with scorn and disdain for succumbing to Hitler's influence and transforming himself from an "honorable, solidly respectable general" into a powerless yes-man with all the wrong instincts, whose only job was to allow Hitler to take control of the Army. General Ludwig Beck complained that he was incapable of giving Hitler the reality of the situations and was an extremely poor tactician whose decisions were motivated more by ensuring his own survival rather than that of the troops. Marshal Paul Ludwig Ewald von Kleist labeled him as nothing more than a "stupid follower of Hitler", and most commanders went out of their way to ignore his orders, although von Kleist did admit that, had Hitler chosen a more competent commander (such as himself), he would have lasted only two weeks. His sycophancy was well known in the army, and he acquired the nickname 'Lakeitel', a pun on his name (in German, the word 'Lakai' means 'lackey'). Keitel accepted Hitler's directive for Operation Citadel in 1943, despite strong opposition from several field officers who argued that neither the troops nor the new tanks on which Hitler staked his hopes for victory were ready.
Keitel played an important role in foiling the 20 July plot in 1944. Keitel then sat on the Army "Court of honour" that handed over many officers who were involved, including field marshal Erwin von Witzleben, to Roland Freisler's notorious People's Court.
Soon, Keitel was named by Hitler to be his deputy supreme commander of the German Armed Forces, with broad powers in terms of arming, equipping and disciplining soldiers. The Volkssturm, the civilian combat force of Germany, was also attached to the military; thus Keitel had jurisdiction over it even though its commander was Joseph Goebbels, then the Minister of Propaganda. Keitel, during this time, visited German troops and auxiliary civilian forces on front lines throughout Germany, mingling with them to boost their morale, and he conducted regular meetings with field commanders to coordinate their respective military operations.
In April and May 1945, during the Battle of Berlin, Keitel called for counterattacks to drive back the Soviet forces and relieve Berlin. However, there were insufficient German forces to carry out such attacks.
After Hitler's suicide on 30 April, Keitel stayed on as a member of the short-lived Flensburg government under Grand Admiral Karl Donitz. Upon arriving in Flensburg, Albert Speer found Keitel to be grovelling to Donitz in the same way he had grovelled to Hitler.
On 8 May 1945, Donitz authorised Keitel to sign an unconditional surrender in Berlin. Although Germany had surrendered to the Allies a day earlier, Stalin had insisted on a second surrender ceremony in Berlin.
Nazi connections
As a military officer, Keitel was prohibited by law from joining the NSDAP (Nazi Party). However, after the Wehrmacht's rapid early successes on the Russian Front, he was given a "Golden" (Honorary) NSDAP membership badge by Adolf Hitler, who was seeking to link military successes to political successes. In 1944, German laws were changed and military officers were encouraged to seek NSDAP membership. At the Nuremberg Trials, Keitel claimed he did so as a formality but never received formal party membership. He was one of only two people to receive honorary party membership status.
Before his execution, Keitel published Mein Leben: Pflichterfullung bis zum Untergang: Hitlers Feldmarschall und Chef des Oberkommandos der Wehrmacht in Selbstzeugnissen, otherwise known in English as In the Service of the Reich, and was later re-edited as The Memoirs of Field-Marshal Keitel by Walter Gorlitz from a translation by David Irving as the author in 1965. Another work by Keitel later published in English was Questionnaire on the Ardennes offensive.
Trial and execution
After the surrender, Keitel was arrested along with the rest of the Flensburg government. He soon faced the International Military Tribunal (IMT), which indicted him on all four counts before it: conspiracy to commit crimes against peace, planning, initiating and waging wars of aggression, war crimes and crimes against humanity. Most of the case against him was based on his signature being present on dozens of orders that called for soldiers and political prisoners to be killed or disappeared.
Keitel admitted that he knew many of Hitler's orders were illegal. For instance, he described the Night and Fog Decree, which ordered the disappearance of resistance fighters in the occupied territories, as "the worst of all" the orders he had been given. Not only did Keitel approve the Night and Fog Decree, he also presided over the Nazi "Court of Honour" (which condemned the July Plotters), signed the Commissar Order, encouraged the lynching of downed Allied aircrews by civilians, and sanctioned extreme measures against partisan fighters in the East. His defence relied almost entirely on the argument that he was merely following orders in conformity to "the leader principle" (Fuhrerprinzip) and his personal oath of loyalty to Hitler.
The IMT rejected this defence and convicted him on all charges. Although the tribunal's charter allowed "superior orders" to be considered a mitigating factor, it found that Keitel's crimes were so egregious that there were no mitigating factors. In its judgment against him, the IMT wrote, "Superior orders, even to a soldier, cannot be considered in mitigation where crimes as shocking and extensive have been committed consciously, ruthlessly and without military excuse or justification." It was also pointed out that while he claimed the Commando Order, which ordered Allied commandos to be shot without trial, was illegal, he had reaffirmed it and extended its application. It also noted several instances where he issued illegal orders on his own authority. On 2 October 1945, Keitel wrote a letter to Associate Trial Counsel for the United States, Colonel John Harlan Amen, in which he penned:
Before the court he openly admitted his guilt in an "awful war," saying, "I made mistakes and was not able to stop what should have been stopped. That, is my guilt!" He then went on to wish the Germans hope and a new future in the community of nations. Describing the situation further, Keitel also remarked, "As these atrocities developed, one from the other, step by step, and without any foreknowledge of the consequences, destiny took its tragic course, with its fateful consequences."
To underscore the criminal rather than military nature of Keitel's acts, the Allies denied his request to be shot by firing squad. Instead, he was executed by hanging. Keitel's last words were: "I call on God Almighty to have mercy on the German people. More than 2 million German soldiers went to their death for the Fatherland before me. I follow now my sons – all for Germany."
The execution was performed by the American Army hangman, Sgt. John C. Woods. Afterwards, Keitel's corpse was cremated and his ashes dumped in a river somewhere in Germany.
The facial blood stains seen in the photo of Keitel's corpse were due to the trapdoor being too small, causing him and several others of the condemned to suffer head injuries through hitting the trapdoor during the drop. Donald E. Wilkes Jr., a professor of law at the University of Georgia Law School, noted that many of the executed Nazis fell from the gallows with insufficient force to snap their necks, resulting in a macabre, suffocating death struggle that in some cases lasted several minutes.
Personal life
Keitel's youngest son, Hans-Georg Keitel, was badly wounded in the thigh during the 1940 campaign in France. He died on 18 July 1941 in a field hospital after being mortally wounded the day before by a Soviet aircraft attack. Hans was buried in the family plot in Bad Gandersheim. His father's ashes (supposedly scattered after being hanged) were purchased from the Americans and are buried with him and his uncle Bodewin Keitel.
Another son, Major Ernst-Wilhelm Keitel, was captured by the Soviets at the end of World War II. He was released in January 1956, and returned home to Germany.
After defeat outside Moscow in December 1941, Keitel, like so many other generals, had to act as a scapegoat. In the following days he contemplated suicide, but his close friend General Alfred Jodl stopped him in time.
When asked about his leadership, Count Johann von Kielmansegg said:
"Good leadership can be judged by the size of the losses. The idea and aim of good leadership at the front, is to do everything with a mind to keeping the losses as small as possible. He didn't care about that."
Dates of rank
Fahnrich – 14 October 1901
Leutnant – 18 August 1902
Oberleutnant – 18 August 1910
Hauptmann – 8 August 1914
Major – 1 June 1923
Oberstleutnant – 1 February 1929
Oberst – 1 October 1931
Generalmajor – 1 April 1934
Generalleutnant – 1 January 1936
General der Artillerie – 1 August 1937
Generaloberst – 1 November 1938
Generalfeldmarschall – 19 July 1940
Awards and decorations
Knight's Cross on 30 September 1939 as Generaloberst and Chief of the Oberkommando der Wehrmacht
Wound Badge
Prussian Iron Cross, 1st and 2nd Class (1914)
Clasp to the Iron Cross, 1st and 2nd Class (1939)
Prussian Royal House Order of Hohenzollern, Knight's Cross with Swords
Brunswick War Merit Cross, 1st Class and 2nd Class with "Bewahrung" (Reliability) Clasp
Ducal Saxe-Ernestine House Order, Knight 2nd Class with Swords
Hesse General Honor Decoration, "for Bravery"
Oldenburg Friedrich August Cross, 1st Class and 2nd Class with "Vor Dem Feinde" (In the Face of the Enemy) Clasp
Hamburg Hanseatic Cross
Bremen Hanseatic Cross
Honour Cross of the World War 1914/1918
Brunswick Ducal Order of Henry the Lion, 4th Class
Wehrmacht Long Service Award, 1st Class (25-year Service Cross) and 3rd Class (12-year Service Medal)
Austrian Military Merit Cross, 3rd Class with War Decoration
Anschluss Medal of 13 March 1938
Sudetenland Medal with Prague Castle Bar
Memel Medal
Legacy
Wilhelm Keitel wrote his memoirs in the six weeks before he was hanged; they have been published later in few editions, for example "The Memoirs of Field-Marshal Wilhelm Keitel: Chief of the German High Command, 1938–1945" edited by Walter Gorlitz, ISBN 978-0-8154-1072-0.
When moving to the United States and Australia after World War II, some of Keitel's family changed their surname to Kihtel, Keetle, Kaidel, Keidel, Keidle, and Feitel so as to not be associated with his legacy.
Film portrayals
Wilhelm Keitel has been portrayed by the following actors in film and television productions:
John Hoyt (uncredited) in the 1951 film The Desert Fox: The Story of Rommel.
Frank Fontaine in the 2000 TV miniseries Nuremberg.
Dieter Mann in the 2004 German film Downfall (Der Untergang).
Kenneth Cranham in the 2008 film Valkyrie.
References
Wilhelm Keitel Wikipedia
(Text) CC BY-SA