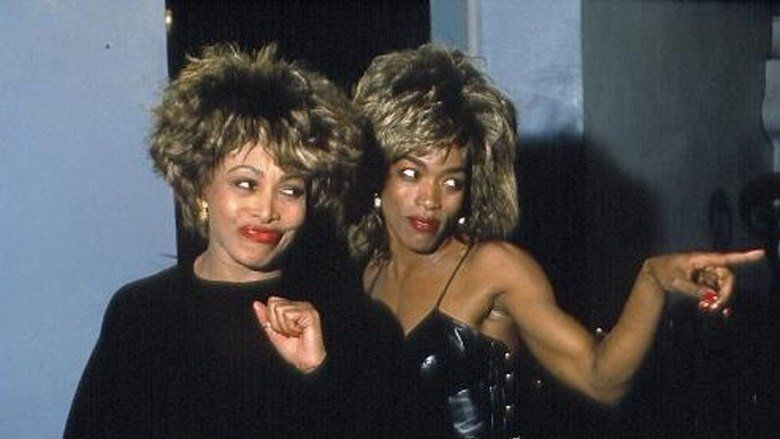 Born and raised in the small Tennessee town of Nutbush, Anna Mae Bullock (Tina's birth name) grows up in an unhappy family, with her parents later leaving and abandoning her and taking only her sister. Following her grandmother's death, she relocates to St. Louis, reuniting with her mother and close sister Alline. Anna Mae pursues a chance to be a professional singer after seeing charismatic bandleader Ike Turner perform one night. Later she wins her spot in Turner's band after singing onstage and he begins mentoring her. In time, an unexpected romance develops between the two after she moves into Ike's home. Shortly afterwards, they marry and begin having musical success together as Ike and Tina Turner.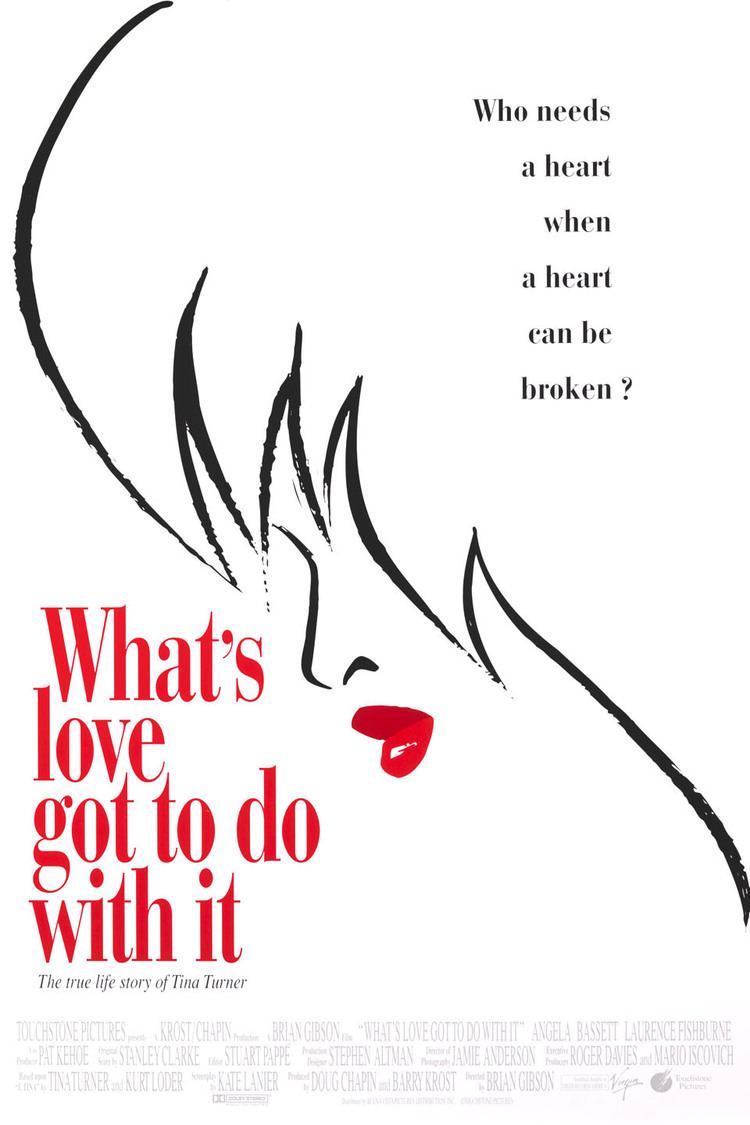 The marriage quickly turns violent when Ike starts physically dominating her, leaving her no chance to escape. In public, Tina rises from local St. Louis phenomenon into an rhythm and blues superstar with Ike growing increasingly jealous of the attention given to her. Ike turns to drugs and his abusive behavior worsens. As Tina seeks solace in her chaotic life, a friend turns her on to Buddhism, eventually convincing her that reciting the Lotus Sutra and chanting Nam Myoho Renge Kyo will help "change her life." Tina grows increasingly confident afterwards and in a final fight with Ike finally musters the courage to defend herself, eventually leaving Ike after they arrive at a hotel.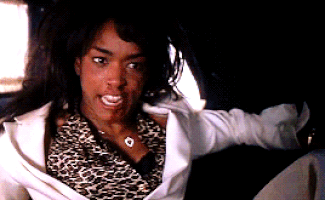 Winning the right to retain her stage name after their divorce, Tina continues working to pay bills. She gets a break after meeting Roger Davies, who eventually helps her realize her dreams of rock stardom. Despite Ike's attempts to win her back, Tina eventually prevails and finds solo success, accomplishing her dreams without Ike.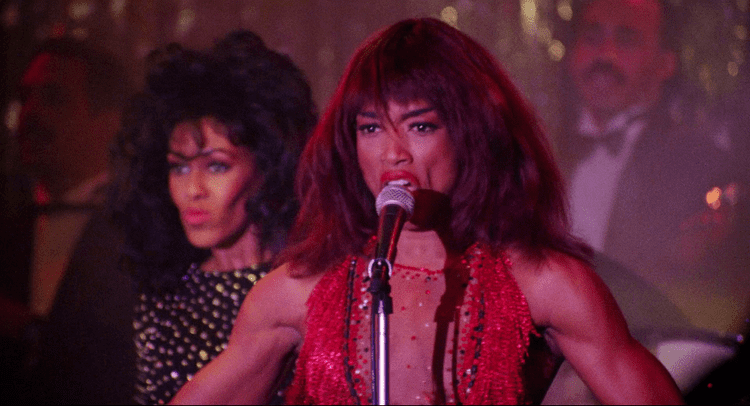 Halle Berry, Robin Givens, Pam Grier, Whitney Houston, Janet Jackson, and Vanessa L. Williams and were all considered for the role of Tina Turner. Whitney Houston was actually offered the role, but had to decline due to imminent maternity. Jenifer Lewis, who plays Tina's mother in this film, originally auditioned to play Tina Turner, as well; Lewis is only one year older than Angela Bassett .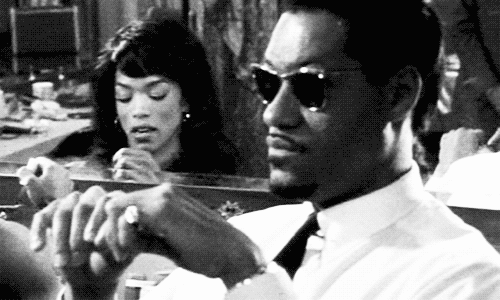 Laurence Fishburne was offered the role of Ike Turner five times and turned it down each time. When he found out that Angela Bassett had been cast as Tina Turner, he changed his mind.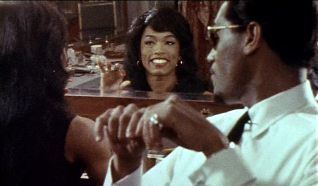 All the Ike and Tina Turner songs used in the film were newly re-recorded versions featuring Tina Turner covering her own songs. On "Proud Mary," Laurence Fishburne sings Ike Turner's parts. For Tina Turner's solo recordings, the original masters were used, including the Phil Spector-produced "River Deep - Mountain High".
In his autobiography Taking Back My Name, Ike Turner claims the movie damaged his reputation immensely and attacks many of the scenes for being either not strictly accurate or completely fabricated.
Bassett was injured while filming the first spousal abuse sequence. She fell off the back of a high-rise sofa, put her hands out to reduce the impact, and suffered a hairline fracture of her right hand. She only tried the stunt fall once, and footage leading up to the mishap appears in the film.
Actress Vanessa Bell Calloway, who plays the fictional character Jackie, was leery of chanting the Buddhist words because of her strong Christian faith. Director Brian Gibson allowed her to form the words with her lips silently during filming and added the words with a voice double in post-production. She also appeared alongside Tina in the music video of "What's Love Got to Do with It".
Though the film took its story from Tina Turner's autobiography, I, Tina, it was determined to be only loosely based on the book, meaning certain events in the film were "fictionalized for dramatic purposes". Examples of the fictionalized scenes include:
In the film, Tina's constant friend, "Jackie" (played by Vanessa Bell Calloway), was a member of The Ikettes who left the Ike and Tina Turner Revue after a violent blowup with Ike in a roadside restaurant. In actuality, this character was fabricated for dramatic purposes. This fictionalized character also visits Tina in the hospital after her attempted suicide and later introduces Tina to Buddhism, chanting "Nam Myoho Renge Kyo" in front of the Gohonzon. Turner never mentioned a friend named Jackie in her autobiography; this single character apparently represents an amalgamation of friends from Turner's past, including members of the Ikettes and friends from the band's entourage.
When Anna Mae Bullock sees Ike Turner and his Kings of Rhythm perform, Ike is shown as the front man. The real-life Ike Turner had stage fright, and though he was a band leader and organizer, he often had other performers, particularly male singers, fronting the band.
The original vocalist behind "Rocket 88", sung by Laurence Fishburne as Ike in the movie, was Jackie Brenston.
During Anna Mae's first performance with Ike and the Kings of Rhythm, Ike is shown playing guitar. But both Tina and Ike have stated Tina sang after being given a microphone by the band's drummer, while Ike played piano during an intermission, rather than during a live performance as illustrated in the film, though she did later front the band the night she began singing with them.
A reenactment shows Tina recording her first song, called "Tina's Wish," on the film's soundtrack. However, this song is actually a re-recording Tina made of an old Ike and Tina song, "Make Me Over," from the Ike & Tina album, Nutbush City Limits (1973). Tina's first recording (as "Little Ann") was actually singing background on one of Ike's songs, "Box Top".
During the scene where Ike and Tina are scheduled to perform at the Apollo Theater in 1960, the bill lists Martha and the Vandellas and Otis Redding as fellow headliners. In reality, Martha and the Vandellas hadn't formed yet, several of them were performing in another different vocal group called the Del-Phis, while Redding had yet to record his first single and was fronting several bands.
The film shows Tina giving birth to Ike's son, named Craig, but in reality, Craig Turner was Tina's child with another man, Raymond Hill. Ike and Tina did not have a child until 1960, when their only child, Ronnie Turner, was born.
While Tina mentions that there were accounts of Ike's abusing her, Ike never pushed cake in Tina's face leading to a food fight in a diner. That scene in the film dramatizes an incident Tina Turner accounted in her autobiography, which describes that while waiting for food, a waitress gave her cake. Though Tina said she hadn't ordered it, Ike told her to eat it.
When Tina performs at the Ritz, the film has the timeline at 1983, and the host announces her arrival as her "debut solo performance". However, Tina had first performed at that theater in 1981. Also inaccurate was the film's portrayal of Ike's visit to the theater, where he failed at silencing Tina with his gun. In truth, Ike was never at the Ritz; he had not been seen in public for years following his and Tina's divorce in 1978. Ike had remained in Los Angeles, estranged from Tina for quite some time by 1981. The last time the two ever encountered each other was at the wedding of their son Craig in the late 1970s. The film's loose depictions do, however, capture the reality that Ike made multiple dangerous attempts to get Tina back following her divorce suit, in which he did threaten bodily harm, and Tina bought a gun to protect herself from Ike and his friends at the time.
Bassett won a Golden Globe for Best Performance by an Actress in a Motion Picture - Comedy/Musical and an NAACP Image Award for Outstanding Lead Actress in a Motion Picture. Laurence Fishburne was nominated for the Academy Award for Best Actor in a Leading Role and Bassett was nominated for Best Actress in a Leading Role. The film won an American Choreography Award for one of its dance sequences.
Nominated — Academy Award for Best Actor (Laurence Fishburne)
Nominated — Academy Award for Best Actress (Angela Bassett)
Golden Globes
Won — Golden Globe Award for Best Actress – Motion Picture Musical or Comedy (Angela Bassett)
The film is recognized by American Film Institute in these lists:
2004: AFI's 100 Years...100 Songs:
"What's Love Got to Do with It" – Nominated
2006: AFI's 100 Years...100 Cheers – #85
The movie received critical acclaim. It currently holds a 96% "fresh" rating on Rotten Tomatoes, based on 49 reviews with the consensus: "With a fascinating real-life story and powerhouse performances from Angela Bassett and Laurence Fishburne, What's Love Got to Do with It is a can't miss biopic."
Ike Turner complained that Fishburne's portrayal of him was inaccurate.
Phil Spector slammed the movie (and the book) as a "piece of trash", which "demonized and vilified Ike".