Occupation

Actress, model




Height

1.66 m




Role

Actress




Name

Halle Berry




Years active

1989–present








Full Name

Maria Halle Berry




Born

August 14, 1966 (age 57) (

1966-08-14

)

Cleveland, Ohio, U.S.




Residence

Los Angeles, California




Alma mater

Cuyahoga Community College




Partner(s)

Gabriel Aubry (2005–10)




Spouse

Olivier Martinez (m. 2013), Eric Benet (m. 2001–2005), David Justice (m. 1992–1997)




Children

Maceo Robert Martinez, Nahla Ariela Aubry




Parents

Judith Ann Hawkins, Jerome Jesse Berry




Movies and TV shows

Extant, Monster's Ball, X‑Men: Days of Future Past, X‑Men, X2




Similar People

Olivier Martinez, Maceo Robert Martinez, Gabriel Aubry, David Justice, Eric Benet
Halle Berry accepts her RAZZIE® Award
Halle Maria Berry (born Maria Halle Berry; August 14, 1966) is an American actress. Berry won the 2002 Academy Award for Best Actress for her performance in the romantic drama Monster's Ball (2001). As of 2017, she is the only black woman to have won a Best Actress Academy Award.
Contents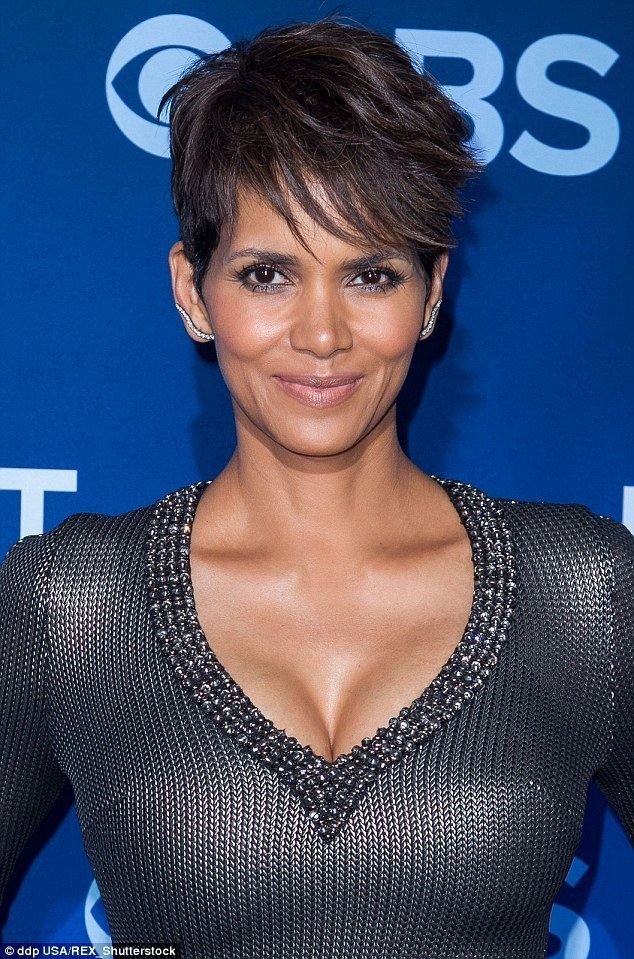 Berry was one of the highest paid actresses in Hollywood during the 2000s and has been involved in the production of several of the films in which she performed. Berry is also a Revlon spokesmodel. Before becoming an actress, she started modeling and entered several beauty contests, finishing as the 1st runner-up in the Miss USA Pageant and coming in 6th place in the Miss World Pageant in 1986. Her breakthrough film role was in the romantic comedy Boomerang (1992), alongside Eddie Murphy, which led to roles in films such as the comedy The Flintstones (1994), the political comedy-drama Bulworth (1998) and the television film Introducing Dorothy Dandridge (1999), for which she won the Primetime Emmy Award and Golden Globe Award for Best Actress in a Miniseries or Movie, among many other awards.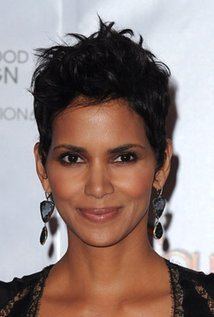 In addition to her Academy Award win, Berry garnered high-profile roles in the 2000s such as Storm in the X-Men film series (beginning in 2000), the action crime thriller Swordfish (2001), and the spy film Die Another Day (2002), where she played Bond Girl Jinx. She then appeared in the X-Men sequels, X2 (2003) and X-Men: The Last Stand (2006). In the 2010s, she appeared in movies such as the science fiction film Cloud Atlas (2012), the crime thriller The Call (2013) and X-Men: Days of Future Past (2014). Berry was formerly married to baseball player David Justice, and singer-songwriter Eric Benét. She has a daughter by model Gabriel Aubry, and a son by actor Olivier Martinez.
Early life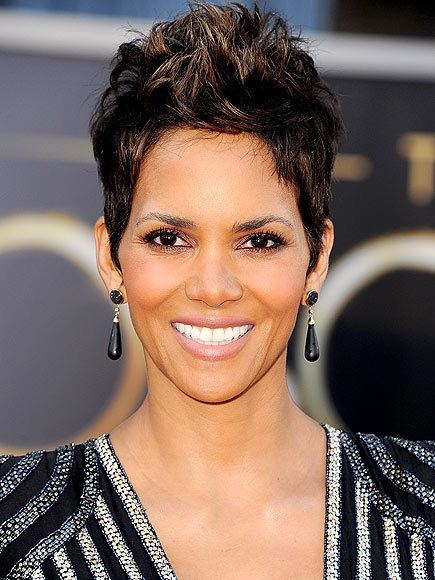 Berry was born Maria Halle Berry; her name was legally changed to Halle Maria Berry at age five. Her parents selected her middle name from Halle's Department Store, which was then a local landmark in her birthplace of Cleveland, Ohio. Her mother, Judith Ann (née Hawkins), who is of English and German ancestry, was a psychiatric nurse. Her father, Jerome Jesse Berry, was an African-American hospital attendant in the psychiatric ward where her mother worked; he later became a bus driver. Berry's maternal grandmother, Nellie Dicken, was born in Sawley, Derbyshire, England, while her maternal grandfather, Earl Ellsworth Hawkins, was born in Ohio. Berry's parents divorced when she was four years old; she and her older sister, Heidi Berry-Henderson, were raised exclusively by their mother.
Berry has said in published reports that she has been estranged from her father since her childhood, noting in 1992, "I haven't heard from him since [he left]. Maybe he's not alive." Her father was very abusive to her mother. Berry has recalled witnessing her mother being beaten daily, kicked down stairs and hit in the head with a wine bottle.
Berry graduated from Bedford High School where she was a cheerleader, honor student, editor of the school newspaper and prom queen. She worked in the children's department at Higbee's Department store. She then studied at Cuyahoga Community College. In the 1980s, she entered several beauty contests, winning Miss Teen All American in 1985 and Miss Ohio USA in 1986. She was the 1986 Miss USA first runner-up to Christy Fichtner of Texas. In the Miss USA 1986 pageant interview competition, she said she hoped to become an entertainer or to have something to do with the media. Her interview was awarded the highest score by the judges. She was the first African-American Miss World entrant in 1986, where she finished sixth and Trinidad and Tobago's Giselle Laronde was crowned Miss World. According to the Current Biography Yearbook, Berry "...pursued a modeling career in Chicago.... Berry's first weeks in New York were less than auspicious: She slept in a homeless shelter and then in a YMCA".
Early career
In 1989, Berry moved to New York City to pursue her acting ambitions. During her early time there, she ran out of money and had to live briefly in a homeless shelter.
Later in 1989, her situation improved and she was cast in the role of model Emily Franklin in the short-lived ABC television series Living Dolls, which was shot in New York and was a spin-off of the hit series Who's the Boss?. During the taping of Living Dolls, she lapsed into a coma and was diagnosed with Type 1 diabetes. After the cancellation of Living Dolls, she moved to Los Angeles. She went on to have a recurring role on the long-running primetime serial Knots Landing.
Her film debut was in a small role for Spike Lee's Jungle Fever (1991), in which she played Vivian, a drug addict. That same year, Berry had her first co-starring role in Strictly Business. In 1992, Berry portrayed a career woman who falls for the lead character played by Eddie Murphy in the romantic comedy Boomerang. The following year, she caught the public's attention as a headstrong biracial slave in the TV adaptation of Queen: The Story of an American Family, based on the book by Alex Haley. Berry was in the live-action Flintstones movie playing the part of "Sharon Stone", a sultry secretary who seduced Fred Flintstone.
Berry tackled a more serious role, playing a former drug addict struggling to regain custody of her son in Losing Isaiah (1995), starring opposite Jessica Lange. She portrayed Sandra Beecher in Race the Sun (1996), which was based on a true story, shot in Australia, and co-starred alongside Kurt Russell in Executive Decision. Beginning in 1996, she was a Revlon spokeswoman for seven years and renewed her contract in 2004.
Late 1990s–2000s
She starred alongside Natalie Deselle Reid in the 1997 comedy film B*A*P*S. In 1998, Berry received praise for her role in Bulworth as an intelligent woman raised by activists who gives a politician (Warren Beatty) a new lease on life. The same year, she played the singer Zola Taylor, one of the three wives of pop singer Frankie Lymon, in the biopic Why Do Fools Fall in Love. In the 1999 HBO biopic Introducing Dorothy Dandridge, she portrayed the first black woman to be nominated for the Academy Award for Best Actress, and it was to Berry a heart-felt project that she introduced, co-produced and fought intensely for it to come through. Berry's performance was recognized with several awards, including a Primetime Emmy Award and Golden Globe Award.
Berry portrayed the mutant superhero Storm in the film adaptation of the comic book series X-Men (2000) and its sequels, X2 (2003), X-Men: The Last Stand (2006) and X-Men: Days of Future Past (2014). In 2001, Berry appeared in the film Swordfish, which featured her first topless scene. At first, she refused to be filmed topless in a sunbathing scene, but she changed her mind when Warner Brothers raised her fee substantially. The brief flash of her breasts added $500,000 to her fee. Berry considered these stories to be rumors and was quick to deny them. After turning down numerous roles that required nudity, she said she decided to make Swordfish because her then-husband, Eric Benét, supported her and encouraged her to take risks.
She appeared as Leticia Musgrove, the troubled wife of an executed murderer (Sean Combs), in the 2001 feature film Monster's Ball. Her performance was awarded the National Board of Review and the Screen Actors Guild Award for Best Actress; in an interesting coincidence she became the first woman of color to win the Academy Award for Best Actress (earlier in her career, she portrayed Dorothy Dandridge, the first African American to be nominated for Best Actress, and who was born at the same hospital as Berry, in Cleveland, Ohio). The NAACP issued the statement: "Congratulations to Halle Berry and Denzel Washington for giving us hope and making us proud. If this is a sign that Hollywood is finally ready to give opportunity and judge performance based on skill and not on skin color then it is a good thing." This role generated controversy. Her graphic nude love scene with a racist character played by co-star Billy Bob Thornton was the subject of much media chatter and discussion among African Americans. Many in the African-American community were critical of Berry for taking the part. Berry responded: "I don't really see a reason to ever go that far again. That was a unique movie. That scene was special and pivotal and needed to be there, and it would be a really special script that would require something like that again."
Berry asked for a higher fee for Revlon advertisements after winning the Academy Award. Ron Perelman, the cosmetics firm's chief, congratulated her, saying how happy he was that she modeled for his company. She replied, "Of course, you'll have to pay me more." Perelman stalked off in a rage. In accepting her award, she gave an acceptance speech honoring previous black actresses who had never had the opportunity. She said, "This moment is so much bigger than me. This is for every nameless, faceless woman of colour who now has a chance tonight because this door has been opened."
As Bond girl Giacinta 'Jinx' Johnson in the 2002 blockbuster Die Another Day, Berry recreated a scene from Dr. No, emerging from the surf to be greeted by James Bond as Ursula Andress had 40 years earlier. Lindy Hemming, costume designer on Die Another Day, had insisted that Berry wear a bikini and knife as a homage. Berry has said of the scene: "It's splashy", "exciting", "sexy", "provocative" and "it will keep me still out there after winning an Oscar". The bikini scene was shot in Cadiz; the location was reportedly cold and windy, and footage has been released of Berry wrapped in thick towels in between takes to try to stay warm. According to an ITV news poll, Jinx was voted the fourth toughest girl on screen of all time. Berry was hurt during filming when debris from a smoke grenade flew into her eye. It was removed in a 30-minute operation. After Berry won the Academy Award, rewrites were commissioned to give her more screentime for X2.
She starred in the psychological thriller Gothika opposite Robert Downey, Jr. in November 2003, during which she broke her arm in a scene with Downey, who twisted her arm too hard. Production was halted for eight weeks. It was a moderate hit at the United States box office, taking in $60 million; it earned another $80 million abroad. Berry appeared in the nu metal band Limp Bizkit's music video for "Behind Blue Eyes" for the motion picture soundtrack for the film. The same year, she was named #1 in FHM's 100 Sexiest Women in the World poll.
Recent work
Berry received $12.5 million for the title role in the film Catwoman, a $100 million movie; it grossed $17 million on its first weekend. She was awarded a Worst Actress Razzie Award in 2005 for this role. She appeared at the ceremony to accept the award in person (making her the third person, and second actor, ever to do so) with a sense of humor, considering it an experience of the "rock bottom" in order to be "at the top". Holding the Academy Award in one hand and the Razzie in the other she said, "I never in my life thought that I would be here, winning a Razzie. It's not like I ever aspired to be here, but thank you. When I was a kid, my mother told me that if you could not be a good loser, then there's no way you could be a good winner." The Fund for Animals praised Berry's compassion towards cats and for squelching rumors that she was keeping a Bengal tiger from the sets of Catwoman as a "pet."
Her next film appearance was in the Oprah Winfrey-produced ABC television movie Their Eyes Were Watching God (2005), an adaptation of Zora Neale Hurston's novel, in which Berry portrayed Janie Crawford, a free-spirited woman whose unconventional sexual mores upset her 1920s contemporaries in a small community. She was nominated for another Primetime Emmy Award for this TV film. Meanwhile, she voiced the character of Cappy, one of the many mechanical beings in the animated feature Robots (2005).
Berry is involved in production of films and television. She served as executive producer on Introducing Dorothy Dandridge in 1999, and Lackawanna Blues in 2005. In 2007, Berry both produced and starred in the thriller Perfect Stranger with Bruce Willis, and starred in Things We Lost in the Fire with Benicio del Toro, the first film in which she worked with a female director, Danish Susanne Bier, giving her a new feeling of "thinking the same way", which she appreciated. Berry then starred in the film Frankie and Alice, in which she plays Frankie Murdoch, a young multiracial American women with dissociative identity disorder struggling against her alter personality to retain her true self. She was awarded the African-American Film Critics Association Award for Best Actress and was nominated for the Golden Globe Award for Best Actress – Motion Picture Drama. Berry was one of the highest-paid actresses in Hollywood during the 2000s, earning an estimated $10 million per film. On April 3, 2007, she was awarded a star on the Hollywood Walk of Fame in front of the Kodak Theatre at 6801 Hollywood Boulevard for her contributions to the film industry.
As of 2013, Berry's worldwide box office gross has been more than USD$3.3 billion. In 2011, she appeared in New Year's Eve. She played one of the leads in the film Cloud Atlas, which was released in October 2012.
On October 4, 2013, Berry signed on to star in the CBS drama series Extant. Berry played Molly Woods, an astronaut who struggles to reconnect with her husband and android son after spending 13 months in space. The show premiered on July 9, 2014. She served as a co-executive producer on the series. Berry has served for many years as the face of Revlon cosmetics and as the face of Versace. The Coty Inc. fragrance company signed Berry to market her debut fragrance in March 2008. Berry was delighted, saying that she had created her own fragrances at home by mixing scents.
In March 2014 Berry launched a new production company, 606 Films, with producing partner Elaine Goldsmith-Thomas. It is named after the Anti-Paparazzi Bill, SB 606, that the actress pushed for and which was signed into law by California Governor Jerry Brown in the fall of 2013. The new company emerged as part of a deal for Berry to star in the CBS sci-fi drama series Extant. 606 Films is housed within CBS.
Personal life
In February 2000, Berry was involved in a traffic collision and left the scene. She pleaded no contest to misdemeanor leaving the scene of an accident.
Relationships and marriages
Berry dated Chicago dentist John Ronan from March 1989 to October 1991. In November 1993, Ronan sued Berry for $80,000 in what he claimed were unpaid loans to help launch her career. Berry contended that the money was a gift, and a judge dismissed the case because Ronan did not list Berry as a debtor when he filed for bankruptcy in 1992. According to Berry, a beating from a former abusive boyfriend during the filming of The Last Boy Scout punctured her eardrum and caused her to lose eighty percent of her hearing in her left ear. Berry has never named the abuser but has said that he is someone well known in Hollywood.
Berry first saw baseball player David Justice on TV playing in an MTV celebrity baseball game in February 1992. When a reporter from Justice's hometown of Cincinnati told her that Justice was a fan, Berry gave her phone number to the reporter to give to Justice. Berry married Justice shortly after midnight on January 1, 1993. Following their separation in February 1996, Berry stated publicly that she was so depressed that she considered taking her own life. Berry and Justice were officially divorced on June 24, 1997.
Berry married her second husband, singer-songwriter Eric Benét, on January 24, 2001, following a two-year courtship, but by early October 2003 they had separated, with the divorce finalized on January 3, 2005. Benét underwent treatment for sex addiction in 2002. In November 2005, Berry began dating French Canadian model Gabriel Aubry, whom she met at a Versace photoshoot. Berry gave birth to their daughter in March 2008. On April 30, 2010, Berry and Aubry announced their separation.
After their 2010 separation, Berry and Aubry became involved in a highly publicized custody battle, centered primarily on Berry's desire to move with their daughter from Los Angeles, where Berry and Aubry resided, to France, the home of French actor Olivier Martinez, whom Berry had started dating in 2010 after they met while filming Dark Tide in South Africa. Aubry objected to the move on the grounds that it would interfere with their joint custody arrangement. In November 2012, a judge denied Berry's request to move the couple's daughter to France in light of Aubry's objections. Less than two weeks later, on November 22, 2012, Aubry and Martinez were both treated at a hospital for injuries after engaging in a physical altercation at Berry's residence. Martinez performed a citizen's arrest on Aubry, and because it was considered a domestic violence incident, was granted a temporary emergency protective order preventing Aubry from coming within 100 yards of Berry, Martinez, the child with whom he shares custody with Berry, until November 29, 2012. In turn, Aubry obtained a temporary restraining order against Martinez on November 26, 2012, asserting that the fight began when Martinez threatened to kill Aubry if he did not allow the couple to move to France. Leaked court documents included photos showing significant injuries to Aubry's face, which were widely displayed in the media.
On November 29, 2012, Berry's lawyer announced that Berry and Aubry had reached an amicable custody agreement in court. In June 2014, a Superior Court ruling called for Berry to pay Aubry $16,000 a month in child support (around 200k/year) as well as a retroactive payment of $115,000 and a sum of $300,000 for Aubry's attorney fees. Berry and Martinez confirmed their engagement in March 2012, and married in France on July 13, 2013. In October 2013, Berry gave birth to their son. After two years of marriage, in 2015 the couple announced they were divorcing. The divorce became final in December 2016.
Activism
Along with Pierce Brosnan, Cindy Crawford, Jane Seymour, Dick Van Dyke, Téa Leoni, and Daryl Hannah, Berry successfully fought in 2006 against the Cabrillo Port Liquefied Natural Gas facility that was proposed off the coast of Malibu. Berry said, "I care about the air we breathe, I care about the marine life and the ecosystem of the ocean." In May 2007, Governor Arnold Schwarzenegger vetoed the facility. Hasty Pudding Theatricals gave her its 2006 Woman of The Year award. Berry took part in a nearly 2,000-house cell-phone bank campaign for Barack Obama in February 2008. In April 2013, she appeared in a video clip for Gucci's "Chime for Change" campaign that aims to raise funds and awareness of women's issues in terms of education, health, and justice. In August 2013, Berry testified alongside Jennifer Garner before the California State Assembly's Judiciary Committee in support of a bill that would protect celebrities' children from harassment by photographers. The bill passed in September.
Public image
Berry was ranked No. 1 on People's "50 Most Beautiful People in the World" list in 2003 after making the top ten seven times and appeared No. 1 on FHM's "100 Sexiest Women in the World" the same year. She was named Esquire magazine's "Sexiest Woman Alive" in October 2008, about which she stated: "I don't know exactly what it means, but being 42 and having just had a baby, I think I'll take it." Men's Health ranked her at No. 35 on their "100 Hottest Women of All-Time" list. In 2009, she was voted #23 on Empire's 100 Sexiest Film Stars. The same year, rapper Hurricane Chris released a song entitled "Halle Berry (She's Fine)", extolling Berry's beauty and sex appeal. At the age of 42 (in 2008), she was named the "Sexiest Black Woman" by Access Hollywood's TV One Access survey. Born to an African-American father and a white mother, Berry has stated that her biracial background was "painful and confusing" when she was a young woman, and she made the decision early on to identify as a black woman because she knew that was how she would be perceived.
Filmography
Actress
-
Our Man from Jersey (post-production)
2023
The Mothership (post-production)
as
Sara Morse
2022
Moonfall
as
Jocinda Fowler
2020
Bruised
as
Jackie Justice
2020
Boss Bitch Fight Challenge (Video short)
as
Halle
2019
John Wick: Chapter 3 - Parabellum
as
Sofia
2017
Kingsman: The Golden Circle
as
Ginger
2016
Kevin Hart: What Now? (Documentary)
as
Halle Berry
2014
Extant (TV Series)
as
Molly Woods / Humanich Molly
- The Greater Good (2015) - Molly Woods / Humanich Molly
- Double Vision (2015) - Molly Woods / Humanich Molly
- Zugzwang (2015) - Molly Woods
- Don't Shoot the Messenger (2015) - Molly Woods
- The Other Side (2015) - Molly Woods
- Arms and the Humanich (2015) - Molly Woods
- The Other (2015) - Molly Woods
- You Say You Want an Evolution (2015) - Molly Woods
- The New Frontier (2015) - Molly Woods
- Cracking the Code (2015) - Molly Woods
- Empathy for the Devil (2015) - Molly Woods
- Morphoses (2015) - Molly Woods
- Change Scenario (2015) - Molly Woods
- Ascension (2014) - Molly Woods
- Before the Blood (2014) - Molly Woods
- A New World (2014) - Molly Woods
- A Pack of Cards (2014) - Molly Woods
- Care and Feeding (2014) - Molly Woods
- Incursion (2014) - Molly Woods
- More in Heaven and Earth (2014) - Molly Woods
- Nightmares (2014) - Molly Woods
- What on Earth Is Wrong? (2014) - Molly Woods
- Shelter (2014) - Molly Woods
- Wish You Were Here (2014) - Molly Woods
- Extinct (2014) - Molly Woods
- Re-Entry (2014) - Molly Woods
2014
X-Men: Days of Future Past
as
Storm
2013
The Call
as
Jordan Turner
2013
Movie 43
as
Emily (segment "Truth or Dare")
2012
Cloud Atlas
as
Native Woman / Jocasta Ayrs / Luisa Rey / ...
2011
New Year's Eve
as
Nurse Aimee (segment "Hospital Story")
2011
The Simpsons (TV Series)
as
Halle Berry
- Angry Dad: The Movie (2011) - Halle Berry (voice)
2010
Frankie & Alice
as
Frankie
2007
Things We Lost in the Fire
as
Audrey Burke
2007
Perfect Stranger
as
Rowena Price
2006
X-Men: The Last Stand
as
Ororo Munroe / Storm
2005
Their Eyes Were Watching God (TV Movie)
as
Janie Starks
2004
Catwoman: The Game (Video Game)
as
Patience Phillips (voice)
2004
Catwoman
as
Patience Phillips / Catwoman
2003
Limp Bizkit: Behind Blue Eyes (Music Video)
as
Halle Berry
2003
X2: X-Men United
as
Ororo Munroe / Storm
2002
Die Another Day
as
Jinx Johnson
2002
The Bernie Mac Show (TV Series)
as
Halle Berry
- Handle Your Business (2002) - Halle Berry (uncredited)
2001
Monster's Ball
as
Leticia Musgrove
2000
X-Men
as
Ororo Munroe / Storm
1999
Introducing Dorothy Dandridge (TV Movie)
as
Dorothy Dandridge
1998
Welcome to Hollywood
as
Halle Berry
1998
Why Do Fools Fall in Love
as
Zola Taylor
1998
Pras Feat. Ol' Dirty Bastard & Mya: Ghetto Supastar (That Is What You Are) (Music Video)
as
Nina
1998
Frasier (TV Series)
as
Betsy
- Room Service (1998) - Betsy (voice)
1998
The Wedding (TV Movie)
as
Shelby Coles
1996
The Rich Man's Wife
as
Josie Potenza
1996
Race the Sun
as
Sandra Beecher
1996
Executive Decision
as
Jean
1996
Martin (TV Series)
as
Halle Berry
- Where the Party At (1996) - Halle Berry
1995
Solomon & Sheba (TV Movie)
as
Nikhaule / Queen Sheba
1994
The B-52's: (Meet) The Flintstones (Music Video)
as
Miss Stone
1994
The Flintstones
as
Miss Stone
1993
Losing Isaiah
as
Khaila Richards
1993
The Program
as
Autumn Haley
1993
Father Hood
as
Kathleen Mercer
1993
Queen (TV Mini Series)
as
Queen
- Episode #1.3 (1993) - Queen
- Episode #1.2 (1993) - Queen
- Episode #1.1 (1993) - Queen
1991
Knots Landing (TV Series)
as
Debbie Porter
- Lost at Sea (1991) - Debbie Porter
- Victoria's Secret (1991) - Debbie Porter
- 1001 Nights of Anne Matheson (1991) - Debbie Porter
- Home Again, Home Again (1991) - Debbie Porter
- I, Claudia (1991) - Debbie Porter
- Eye of the Beholder (1991) - Debbie Porter
1991
The Last Boy Scout
as
Cory
1991
Strictly Business
as
Natalie
1991
They Came from Outer Space (TV Series)
as
Rene
- Hair Today, Gone Tomorrow (1991) - Rene
1991
A Different World (TV Series)
as
Jaclyn
- Love, Hillman-Style (1991) - Jaclyn
1991
Amen (TV Series)
as
Claire
- Unforgettable (1991) - Claire
1989
Living Dolls (TV Series)
as
Emily Franklin
- Beauty and the Beat (1989) - Emily Franklin
- And I Thought Modeling Was Hard (1989) - Emily Franklin
- C Is for Model (1989) - Emily Franklin
- He's Ba-aack! (1989) - Emily Franklin
- The Flash Is Always Greener (1989) - Emily Franklin
- The Not So Sweet Smell of Success (1989) - Emily Franklin
- Rick's Model Girlfriend (1989) - Emily Franklin
- Guess Who's Not Coming to Dinner (1989) - Emily Franklin
- Seeing Is Believing (1989) - Emily Franklin
- Martha Means Well (1989) - Emily Franklin
- It's My Party (1989) - Emily Franklin
- It's All Done with Mirrors (1989) - Emily Franklin
Producer
-
Never Let Go (executive producer) (filming)
2023
The Mothership (executive producer) (post-production)
2022
Behind Bruised (Documentary) (producer)
2020
Bruised (producer - produced by)
2019
Boomerang (TV Series) (executive producer - 18 episodes)
- End of the Road (2020) - (executive producer)
- Feels Like Heaven (2020) - (executive producer)
- Hot Sex (2020) - (executive producer)
- 7 Day Weekend (2020) - (executive producer)
- Reversal of a Dog (2020) - (executive producer)
- Don't Wanna Love You (2020) - (executive producer)
- Love Shoulda Brought You Home (2020) - (executive producer)
- There U Go (2020) - (executive producer)
- Trust (2019) - (executive producer)
- Us Too (2019) - (executive producer)
- Housekeeping (2019) - (executive producer)
- Family (2019) - (executive producer)
- Back in the Day (2019) - (executive producer)
- The Let Out (2019) - (executive producer)
- Call a Spade (2019) - (executive producer)
- Power (2019) - (executive producer)
- Game Night (2019) - (executive producer)
- Pilot (2019) - (executive producer)
2017
Kidnap (producer - produced by)
-
Extant (TV Series) (executive producer - 13 episodes, 2015) (co-executive producer - 13 episodes, 2014)
- The Greater Good (2015) - (executive producer)
- Double Vision (2015) - (executive producer)
- Zugzwang (2015) - (executive producer)
- Don't Shoot the Messenger (2015) - (executive producer)
- The Other Side (2015) - (executive producer)
- Arms and the Humanich (2015) - (executive producer)
- The Other (2015) - (executive producer)
- You Say You Want an Evolution (2015) - (executive producer)
- The New Frontier (2015) - (executive producer)
- Cracking the Code (2015) - (executive producer)
- Empathy for the Devil (2015) - (executive producer)
- Morphoses (2015) - (executive producer)
- Change Scenario (2015) - (executive producer)
- Ascension (2014) - (co-executive producer)
- Before the Blood (2014) - (co-executive producer)
- A New World (2014) - (co-executive producer)
- A Pack of Cards (2014) - (co-executive producer)
- Care and Feeding (2014) - (co-executive producer)
- Incursion (2014) - (co-executive producer)
- More in Heaven and Earth (2014) - (co-executive producer)
- Nightmares (2014) - (co-executive producer)
- What on Earth Is Wrong? (2014) - (co-executive producer)
- Shelter (2014) - (co-executive producer)
- Wish You Were Here (2014) - (co-executive producer)
- Extinct (2014) - (co-executive producer)
- Re-Entry (2014) - (co-executive producer)
2010
Frankie & Alice (producer)
2005
Lackawanna Blues (TV Movie) (executive producer)
1999
Introducing Dorothy Dandridge (TV Movie) (executive producer)
Director
2020
Bruised (directed by)
Thanks
2022
Shattered (the director wishes to thank)
2021
DC Villains - Catwoman: The Feline Femme Fatale (Video documentary short) (special thanks)
2018
X-Men Mondays (TV Mini Series short) (special thanks - 1 episode)
- X-Men (2018) - (special thanks)
2015
Desire (Short) (special thanks)
2008
A Discussion About 'Things We Lost in the Fire' (Video documentary short) (special thanks)
2003
The Second Uncanny Issue of X-Men! Making 'X2' (Video documentary) (special thanks)
2003
Dorothy Dandridge: An American Beauty (TV Movie documentary) (thanks)
2003
Inside 'Die Another Day' (Video documentary short) (special thanks)
1998
Welcome to Hollywood (special thanks)
Self
-
2nd Unit: Invisible Action Stars (Documentary)
as
Self
2023
The Craig Caddell Show (TV Series)
as
Self
- Exercising with Halle berry IV (2023) - Self
- Exercising with Halle berry 3 (2023)
- Exercising with Halle berry 2 (2023) - Self
- Exercising with halle berry (2023) - Self
2017
Dish Nation (TV Series)
as
Self
- Episode #11.163 (2023) - Self
- Episode #10.109 (2022) - Self
- Episode #10.60 (2021) - Self
- Episode #10.55 (2021) - Self
- Episode #9.80 (2020) - Self
- Episode #8.259 (2020) - Self
- Episode #8.225 (2020) - Self
- Episode #7.185 (2019) - Self
- Episode #6.17 (2017) - Self
- Episode #5.240 (2017) - Self
2006
Entertainment Tonight (TV Series)
as
Self
- ET Movie Star Monday! (2021) - Self
- New Year, New You! (2020) - Self
- Jada Pinkett Smith and the COVID-19 Crisis (2020) - Self
- ET's Nashville Week! (2019) - Self
- Oprah's Big Honor! (2019) - Self
- Celebrity Pets Unleased! (2019) - Self
- ET's Golden Globe Awards Blowout in Beverly Hills (2019) - Self
- Born (2017) - Self
2005
Good Morning America (TV Series)
as
Self - Guest / Self
- Episode dated 13 March 2023 (2023) - Self - Guest
- Episode dated 27 January 2022 (2022) - Self - Guest
- Episode dated 22 November 2021 (2021) - Self - Guest
- Episode dated 3 August 2017 (2017) - Self
- Episode dated 9 February 2015 (2015) - Self - Guest
- Episode dated 22 October 2012 (2012) - Self - Guest
- Episode dated 4 March 2005 (2005) - Self - Guest
2005
Live with Kelly and Mark (TV Series)
as
Self - Guest / Self
- Live's After Oscar Show - 2023 (2023) - Self
- Halle Berry/Eve/Joanne Molinaro (2022) - Self
- Live's Family Cooking Week (2021) - Day 1 (2021) - Self - Guest
- Guest Co-Hostess Jenna Dewan-Tatum/Halle Berry/George Thorogood (2017) - Self
- Halle Berry/Lizzy Caplan/Florida Georgia Line (2014) - Self - Guest
- Episode dated 23 October 2007 (2007) - Self - Guest
- Episode dated 10 April 2007 (2007) - Self - Guest
- Episode dated 4 March 2005 (2005) - Self - Guest
2023
The Oscars (TV Special)
as
Self - Presenter
2023
Hollywood's Hard Hitters: Women in Action (Documentary)
as
Self
2022
UFC 281: Adesanya vs. Pereira (TV Special)
as
Self - Audience Member
2022
Thug Rose: Mixed Martial Artist (Documentary)
as
Self
2012
Jimmy Kimmel Live! (TV Series)
as
Self - Guest / Self / Self (segment "Mean Tweets")
- George Clooney/Julia Roberts/Omar Apollo (2022) - Self
- Halle Berry/Elle Fanning/Little Simz (2021) - Self - Guest
- Naomi Watts/Leslie Odom Jr. (2021) - Self
- Ben Affleck/Huey Lewis (2017) - Self (segment "Mean Tweets")
- Halle Berry/Al Franken (2017) - Self
- Mike Birbiglia/Lady Antebellum & Bell Biv DeVoe (2017) - Self - Guest (uncredited)
- Halle Berry/Josh Groban (2015) - Self - Guest
- Kathy Griffin/Rob Corddry/Everclear (2015) - Self - Guest
- Episode #10.353 (2013) - Self - Guest
- Episode #10.274 (2012) - Self - Guest
2022
Power of Women: The Changemakers (TV Special)
as
Self
2017
Access Hollywood (TV Series)
as
Self
- Episode #27.1 (2022) - Self
- Episode #26.57 (2021) - Self
- Episode #26.55 (2021) - Self
- Episode #23.236 (2019) - Self
- Episode #23.235 (2019) - Self
- Episode #21.283 (2017) - Self
- Episode #21.275 (2017) - Self
2022
Sidney (Documentary)
as
Self
2003
Extra (TV Series)
as
Self
2022
Celebrity IOU (TV Series)
as
Self
- Halle Berry's Beautiful Gift (2022) - Self
2022
The 26th Satellite Awards (TV Special)
as
Self - Best First Feature Award Recipient
2022
The 27th Annual Critics' Choice Awards (TV Special)
as
Self - Honoree
2022
Behind Bruised (Documentary)
as
Self
2019
Hollywood Insider (TV Series)
as
Self
- Halle Berry on 'Moonfall' Red Carpet Revelations and Reactions - Making Of - Premiere (2022) - Self
- 'Moonfall' Full Commentary, Reactions, Behind the Scenes - Halle Berry, Patrick Wilson, John Bradley (2022) - Self
- BTS 'Moonfall' Behind the Scenes - Halle Berry, Patrick Wilson, John Bradley - Making of (2022) - Self
- 'Moonfall' Rendezvous at the Premiere & Reactions - Halle Berry, Patrick Wilson, John Bradley (2022) - Self
- 10 Female Winners Who Made History At Award Shows in Hollywood (2021) - Self
- EVOLUTION: Every Tom Hanks Role From 1980 to 2021, All Performances Exceptionally Poignant (2020) - Self
- STAN LEE'S MARVEL-OUS LEGACY: Thor, Doctor Strange, Iron Man, Spider-Man (2019) - Self
2022
Hollywood First Look (TV Series)
as
Self
- Episode #4.11 (2022) - Self
2022
Fan Questions (TV Series)
as
Self
- Halle Berry and Patrick Wilson Answer Your Fan Questions (2022) - Self
2022
Soul of a Nation (TV Mini Series)
as
Self
- Screen Queens Rising (2022) - Self
2004
The Ellen DeGeneres Show (TV Series)
as
Self - Guest / Self
- Halle Berry/Sylvan Esso (2022) - Self
- Season 15 Premiere Week - Day 4 (2017) - Self
- Halle Berry/Hilary Duff/Tori Kelly/Stephen Boss (2015) - Self - Guest
- Halle Berry/Tim McGraw (2014) - Self - Guest
2014
The Tonight Show Starring Jimmy Fallon (TV Series)
as
Self / Self - Guest
- Halle Berry/Dave Franco/Henrik Lundqvist/Dijon (2022) - Self
- At Home Edition: Halle Berry/Russell Westbrook/Meghan Trainor (2020) - Self
- Halle Berry/Chris Kattan/Luke Combs (2019) - Self
- Halle Berry/Michael Che/George Ezra (2017) - Self
- Halle Berry/Chris Colfer/Florida Georgia Line (2014) - Self - Guest
2022
Critics Choice 4th Annual Celebration of Black Cinema & Television (TV Special)
as
Self - Honoree
2021
DC Villains - Catwoman: The Feline Femme Fatale (Video documentary short)
as
Self
2021
WTF with Marc Maron (Podcast Series)
as
Self - Guest
- Halle Berry (2021) - Self - Guest
2021
UFC 269: Oliveira vs. Poirier (TV Special)
as
Self - Spectator
2021
CBS Mornings (TV Series)
as
Self
- Episode dated 10 December 2021 (2021) - Self
2021
Late Night with Seth Meyers (TV Series)
as
Self - Guest
- Halle Berry/Chris Kattan/Rutger Bregman/Nikki Glaspie (2021) - Self - Guest
2021
The 47th Annual People's Choice Awards (TV Special)
as
Self - Honoree
2021
Tamron Hall (TV Series)
as
Self
- Halle Berry/Alan Cumming/Pau Gasol (2021) - Self
2021
The 2021 Rock & Roll Hall of Fame Induction Ceremony (TV Special)
as
Self
2021
The Arts Hour (Podcast Series)
as
Self - Guest
- Andrew Garfield/Halle Berry/Emily Ratajkowski/Mike Leigh/Liam Murray Scott/Dimetri Goritsas/Timothy Ogene/Mona Arshi/Amitav Ghosh/Nina Mingya Powles (2021) - Self - Guest
2000
The Daily Show (TV Series)
as
Self - Guest / Self
- Halle Berry (2021) - Self
- Halle Berry (2007) - Self - Guest
- Halle Berry (2000) - Self - Guest
2021
SmartLess (Podcast Series)
as
Self - Guest
- Halle Berry (2021) - Self - Guest
2021
CBS News Sunday Morning (TV Series)
as
Self
- Episode #43.46 (2021) - Self
2021
UFC 268 (TV Special)
as
Self - Spectator
2021
The Graham Norton Show (TV Series)
as
Self - Guest
- Miriam Margolyes/Paul Rudd/Ron Howard/Halle Berry/Stephen Fry/Gregory Porter (2021) - Self - Guest
2021
Tudum (TV Special)
as
Self - Host
2021
The Oscars (TV Special)
as
Self - Presenter
2021
Premios Goya 35 edición (TV Special)
as
Self - Greeter
2021
American Masters (TV Series documentary)
as
Self
- How It Feels to Be Free (2021) - Self
2020
Global Goal: Unite for Our Future (TV Special)
as
Self
2020
The 2020 ESPY Awards (TV Special)
as
Self
2020
SportsCenter (TV Series)
as
Self
- Episode #42.120 (2020) - Self
2020
Saving OurSelves: BET COVID-19 Relief Effort (TV Special)
as
Self
2020
AFI Movie Club (TV Series documentary)
as
Self
- Halle Berry announces ET the Extraterrestrial (2020) - Self
2020
The Best of the Kids' Choice Awards (TV Special)
as
Self
2019
Hot Ones (TV Series)
as
Self - Guest
- Halle Berry Refuses to Lose to Spicy Wings (2019) - Self - Guest
2013
Made in Hollywood (TV Series)
as
Self
- John Wick: Chapter 3 - Parabellum/A Dog's Journey/All is True (2019) - Self
- Kingsman: The Golden Circle/The LEGO Ninjago Movie/Battle of the Sexes/Victoria & Abdul (2017) - Self
- Kidnap/Detroit/Wind River/Naked (2017) - Self
- Episode #8.21 (2013) - Self
2015
The Late Late Show with James Corden (TV Series)
as
Self / Self - Guest
- Halle Berry/Anjelica Huston/Allison Williams/Carly Rae Jepsen (2019) - Self
- Halle Berry & Jeffrey Dean Morgan (2015) - Self - Guest
2017
WGN Morning News (TV Series)
as
Self
- Episode dated 15 May 2019 (2019) - Self
- Episode dated 27 September 2017 (2017) - Self
- Episode dated 26 July 2017 (2017) - Self
2019
Today (TV Series)
as
Self - Guest
- Episode dated 8 May 2019 (2019) - Self - Guest
2019
John Wick: Chapter 3 - Parabellum: HBO First Look (Documentary short)
as
Self
2017
Ok! TV (TV Series)
as
Self
- Episode #4.161 (2019) - Self
- Episode #4.134 (2019) - Self
- Episode #4.125 (2019) - Self
- Episode #4.123 (2019) - Self
- Episode #2.245 (2017) - Self
- Episode #2.240 (2017) - Self
2019
2019 Golden Globe Awards (TV Special)
as
Self - Presenter
2018
HBO Boxing After Dark (TV Series)
as
Self - Attendee
- Episode dated 8 December 2018 (2018) - Self - Attendee
2018
Lost in America (Documentary)
as
Self
2018
29th Annual GLAAD Media Awards (TV Special)
as
Self
2018
24th Annual Screen Actors Guild Awards (TV Special)
as
Self - Presenter
2018
49th NAACP Image Awards (TV Special)
as
Self
2018
49th NAACP Image Awards Red Carpet (TV Special)
as
Self
2018
75th Golden Globe Awards (TV Special)
as
Self - Presenter
2017
Kingsman: Inside the Golden Circle (Video documentary)
as
Self - Actress
2017
Drop the Mic (TV Series)
as
Self
- Halle Berry vs. James Corden & Usher vs. Anthony Anderson (2017) - Self
2017
Rencontres de cinéma (TV Series)
as
Self
- Episode dated 7 October 2017 (2017) - Self
2017
Watch What Happens Live with Andy Cohen (TV Series)
as
Self - Guest
- Halle Berry and Toni Collette (2017) - Self - Guest
2013
Conan (TV Series)
as
Self - Guest
- The Cast of 'Kingsman: The Golden Circle' (2017) - Self - Guest
- Angels in Poorly-Made Devil Costumes (2013) - Self - Guest
2017
Dear Mama: An Event to Honor Moms (TV Special)
as
Self
2017
Good Morning Britain (TV Series)
as
Self
- Episode dated 27 February 2017 (2017) - Self (uncredited)
2017
The Oscars (TV Special)
as
Self - Presenter
2006
The Insider (TV Series)
as
Self
- Episode #12.289 (2016) - Self
- Episode #12.46 (2015) - Self
- Episode dated 9 July 2014 (2014) - Self
- Episode dated 30 June 2014 (2014) - Self
- Episode dated 29 May 2014 (2014) - Self
- Episode dated 12 May 2014 (2014) - Self
- Episode dated 1 April 2014 (2014) - Self
- Episode dated 15 November 2006 (2006) - Self
2016
Birthday Stories with Lynn Hirschberg (TV Series short)
as
Self
- Halle Berry's Favorite Birthday (2016) - Self
2016
2016 MTV Movie Awards (TV Special)
as
Self - Presenter
2015
The 2015 ESPY Awards (TV Special)
as
Self - Presenter
2015
Mutant vs. Machine: The Making of 'X-Men: Days of Future Past' (Video documentary)
as
Self
2015
X-Men: Unguarded (Video short)
as
Self
2014
CBS This Morning (TV Series)
as
Self
- Episode #4.156 (2015) - Self
- Episode #3.162 (2014) - Self
2015
The Talk (TV Series)
as
Self - Guest
- Guest Co-Hostess Pat Harvey/Halle Berry & Jeffrey Dean Morgan/Moran Atias/Chef Alejandra Schrader (2015) - Self - Guest
2015
CBS Summer Preview (TV Short)
as
Self
2014
X-Men: Reunited (Video documentary short)
as
Self
2014
Stand Up to Cancer (TV Special)
as
Self
2014
The 66th Primetime Emmy Awards (TV Special)
as
Self - Presenter
1994
Late Show with David Letterman (TV Series)
as
Self - Guest / Self
- Halle Berry/Writer Steve Young/The War on Drugs (2014) - Self - Guest
- Halle Berry, Don Rickles (2003) - Self - Guest
- Halle Berry, Jonny Moseley (2002) - Self - Guest
2014
The Huading Awards (TV Special)
as
Self - Winner
2014
The Queen Latifah Show (TV Series)
as
Self - Guest
- Halle Berry! (2014) - Self - Guest
2014
E! News (TV Series)
as
Self
- Episode dated 31 March 2014 (2014) - Self
2013
The Call: Emergency Procedures: Making the Film 'the Call' (Video short)
as
Self
2013
The Call: Inside the Stunts (Video short)
as
Self
2013
The Call: Set Tour of the Call Center (Video short)
as
Self
2013
The Call: Set Tour of the Lair (Video short)
as
Self
2013
Bruce Weber's Hollywood for Vanity Fair (Video documentary short)
2013
ES.TV HD (TV Series)
as
Self - Guest
- Episode dated 21 March 2013 (2013) - Self - Guest
2013
Entertainers with Byron Allen (TV Series documentary)
as
Self - Guest
- Episode dated 11 March 2013 (2013) - Self - Guest
1993
The Tonight Show with Jay Leno (TV Series)
as
Self - Guest
2013
The Oscars (TV Special)
as
Self - Presenter
2013
The Oscars Red Carpet Live (TV Special)
as
Self - Interviewee
2013
Vanity Fair's Hollywood (TV Movie documentary)
as
Self
2013
Vivir de cine (TV Series)
as
Self
- Episode #1.18 (2013) - Self
2013
The BET Honors (TV Special)
as
Self
2013
44th NAACP Image Awards (TV Special)
as
Self
2013
70th Golden Globe Awards (TV Special)
as
Self - Presenter
2012
Project Runway Spotlight: Marchesa (TV Movie documentary)
as
Self - Actor
2012
taff (TV Series)
as
Self
- Episode dated 18 December 2012 (2012) - Self
- Episode dated 15 November 2012 (2012) - Self
2012
Van der Vorst ziet sterren (TV Series)
as
Self
- Episode #7.11 (2012) - Self
2012
Janela Indiscreta (TV Series)
as
Self
- Episode #1.144 (2012) - Self
2012
We Will Always Love You: A Grammy Salute to Whitney Houston (TV Movie documentary)
as
Self
2012
Evening Urgant (TV Series)
as
Self - Guest
- Alexander Tsekalo/Pavel Derevyanko/Halle Berry/Serebro (2012) - Self - Guest
2012
Wetten, dass..? (TV Series)
as
Self
- Wetten, dass..? aus Bremen (2012) - Self
2012
The Wendy Williams Show (TV Series)
as
Self - Guest
- The Eleventh Victim (2012) - Self - Guest
2012
Chelsea Lately (TV Series)
as
Self - Guest
- Episode #6.162 (2012) - Self - Guest
2012
Sesame Street (TV Series)
as
Self - Guest
- Get Lost, Mr. Chips (2012) - Self - Guest
2012
Stand Up to Cancer (TV Special)
as
Self
2012
Nickelodeon Kids' Choice Awards 2012 (TV Special)
as
Self - Presenter
2002
The Oprah Winfrey Show (TV Series)
as
Self - Guest
- Oprah's Farewell Spectacular, Part 2 (2011) - Self - Guest
- Oprah's Farewell Spectacular: Part 1 (2011) - Self - Guest
- Episode dated 2 March 2005 (2005) - Self - Guest
- Oprah's After Oscar Party 2005 (2005) - Self - Guest
- Episode dated 25 May 2004 (2004) - Self - Guest
- Oprah's 50th Birthday Bash! (2004) - Self - Guest
- Episode dated 1 February 2002 (2002) - Self - Guest
2011
42nd NAACP Image Awards (TV Special)
as
Self
2011
The 83rd Annual Academy Awards (TV Special)
as
Self - Presenter
2011
The 68th Annual Golden Globe Awards (TV Special)
as
Self - Nominee & Presenter
2005
Tavis Smiley (TV Series)
as
Self - Guest
- Episode dated 12 January 2011 (2011) - Self - Guest
- Episode dated 28 July 2005 (2005) - Self - Guest
2011
Close Up (TV Series documentary)
as
Self - Interviewee
- Halle Berry (2011) - Self - Interviewee
2010
In the House with Peter Bart & Peter Guber (TV Series)
as
Self
- Hally Berry/Mark Wahlberg/Danny Boyle (2010) - Self
2010
The 4th Annual CNN Heroes: An All-Star Tribute (TV Special)
as
Self - Presenter
2010
Scream Awards 2010 (TV Special)
as
Self
2010
The Oprah Winfrey Oscar Special (TV Special)
as
Self
2010
For Love of Liberty: The Story of America's Black Patriots (TV Movie documentary)
as
On-Camera Host
2010
Hope for Haiti Now: A Global Benefit for Earthquake Relief (TV Special documentary)
as
Self
2010
The 67th Annual Golden Globe Awards (TV Special)
as
Self - Presenter
2009
The Tyra Banks Show (TV Series)
as
Self - Guest
- Episode dated 11 November 2009 (2009) - Self - Guest
2009
The Jay Leno Show (TV Series)
as
Self
- Episode #1.4 (2009) - Self
2009
Spike's Guys Choice (TV Special)
as
Self
2009
The 81st Annual Academy Awards (TV Special)
as
Self - Presenter
2009
The 40th NAACP Image Awards (TV Special)
as
Self - Hostess
2008
Stand Up to Cancer (TV Special)
as
Self
2008
AFI Life Achievement Award (TV Series)
as
Self
- AFI Life Achievement Award: A Tribute to Warren Beatty (2008) - Self
2008
A Discussion About 'Things We Lost in the Fire' (Video documentary short)
as
Self / Audrey Burke
1999
Biography (TV Series documentary)
as
Self
- Halle Berry (2008) - Self
- John Travolta (2003) - Self
- Peter Boyle (2003) - Self
- Dorothy Dandridge: Little Girl Lost (1999) - Self
2008
16th Annual Trumpet Awards (TV Special)
as
Self
2007
Happy Birthday BAFTA (TV Special)
as
Self
2007
Inside the Actors Studio (TV Series)
as
Self - Guest
- Halle Berry (2007) - Self - Guest
2007
Virtual Lives: The Making of 'Perfect Stranger' (Video documentary short)
as
Self
2007
AFI's 100 Years... 100 Movies: 10th Anniversary Edition (TV Movie documentary)
as
Self
2007
The View (TV Series)
as
Self - Guest
- Episode dated 13 April 2007 (2007) - Self - Guest
2007
iVillage Live (TV Series)
as
Self - Guest
- Episode dated 12 April 2007 (2007) - Self - Guest
- Episode dated 12 March 2007 (2007) - Self - Guest
2007
Up Close with Carrie Keagan (TV Series)
as
Self - Guest
- Episode dated 12 April 2007 (2007) - Self - Guest
2006
Le grand journal de Canal+ (TV Series documentary)
as
Self
- Episode dated 4 April 2007 (2007) - Self
- Episode dated 20 May 2006 (2006) - Self
2007
Las mañanas de Cuatro (TV Series)
as
Self
- Episode #1.112 (2007) - Self
2007
Miradas 2 (TV Series documentary)
as
Self
- Episode dated 28 March 2007 (2007) - Self
2007
The 33rd Annual People's Choice Awards (TV Special)
as
Self - Winner & Nominee
2006
Året der gik (TV Special documentary)
as
Self
2006
2006 BAFTA/LA Cunard Britannia Awards (TV Special)
as
Self
2005
Corazón de... (TV Series)
as
Self
- Episode dated 6 November 2006 (2006) - Self
- Episode dated 24 May 2006 (2006) - Self
- Episode dated 25 October 2005 (2005) - Self
2006
X-Men: Evolution of a Trilogy (Video documentary short)
as
Self
2006
X-Men: The Excitement Continues (Video documentary short)
as
Self
2006
X Men: The Last Stand - Production Diaries (Video documentary short)
as
Self
2006
Forbes Celebrity 100: Who Made Bank? (TV Movie)
as
Self
2006
Friday Night with Jonathan Ross (TV Series)
as
Self - Guest
- Episode #10.9 (2006) - Self - Guest
1993
Late Night with Conan O'Brien (TV Series)
as
Self - Guest
- Halle Berry/Anderson Cooper/Peeping Tom (2006) - Self - Guest
- Halle Berry/Christopher Meloni/Erinn Smart (2004) - Self - Guest
- Halle Berry/Ryan Phillippe/Jud Hale (2002) - Self - Guest
- Halle Berry/Shawn Wayans/Papa Roach (2000) - Self - Guest
- Halle Berry/Robert Urich/Todd Snider (1998) - Self - Guest
- Barbara Walters/Halle Berry/Morcheeba (1997) - Self - Guest
- Halle Berry/Les Paul (1993) - Self - Guest
2006
La méthode Cauet (TV Series)
as
Self
- Episode dated 25 May 2006 (2006) - Self
2006
Legends Ball (TV Movie documentary)
as
Self
2006
The 78th Annual Academy Awards (TV Special)
as
Self - Opening Segment (uncredited)
2006
Bl!tz (TV Series documentary)
as
Self
- Episode dated 9 January 2006 (2006) - Self
2005
2005 BAFTA/LA Cunard Britannia Awards (TV Special)
as
Self
2005
Young Hollywood Awards (TV Special)
as
Self
2005
The WIN Awards (TV Special)
as
Self
2005
The 57th Annual Primetime Emmy Awards (TV Special)
as
Self - Nominee & Presenter
2005
The Teen Choice Awards 2005 (TV Special)
as
Self - Attendee
2005
BET Awards 2005 (TV Special)
as
Self
2005
Nickelodeon Kids' Choice Awards '05 (TV Special)
as
Self
2005
Assembling 'Robots': The Magic, the Music, & the Comedy (TV Short documentary)
as
Self
2000
HBO First Look (TV Series documentary short)
as
Self
- Robots (2005) - Self
- The Making of 'Catwoman' (2004) - Self
- X2: X-Men United (2003) - Self
- The Making of 'Swordfish' (2001) - Self
- 'X-Men': The Mutant Watch (2000) - Self
2005
The Making of 'Robots' (Video documentary short)
as
Self
2005
The 77th Annual Academy Awards (TV Special)
as
Self - Presenter
2005
Good Day Live (TV Series)
as
Self
- Episode dated 22 February 2005 (2005) - Self
2005
The Making of 'Catwoman' (Video documentary short)
as
Self (uncredited)
2005
The Many Faces of Catwoman (Video documentary short)
as
Self
2005
The 62nd Annual Golden Globe Awards 2005 (TV Special)
as
Self - Presenter
2005
Tsunami Aid: A Concert of Hope (TV Special)
as
Self
2004
Catwoman: Deleted Scenes (Video short)
as
Self - Patience Phillips
2004
4Pop (TV Series documentary)
as
Self
- Pärstäkerroin voittaa aina (2004) - Self
2004
On the Set of 'Gothika' (Video short)
as
Self
2004
A Dr. Phil Primetime Special: Family First (TV Special)
as
Self
2004
52 Most Irresistible Women (TV Movie documentary)
as
Self
2004
The Teen Choice Awards 2004 (TV Special)
as
Self
2004
4th Annual BET Awards (TV Special)
as
Self
2004
2004 MTV Movie Awards (TV Special)
as
Self - Presenter
2004
Getaway (TV Series documentary)
as
Self
- Getaway Goes to Hollywood (2004) - Self
2004
John Travolta: The Inside Story (TV Movie documentary)
as
Self
2004
Rove Live (TV Series)
as
Self
- Episode #5.9 (2004) - Self
2004
T4 (TV Series)
as
Self
- Episode dated 4 April 2004 (2004) - Self
2004
GMTV (TV Series)
as
Self
- Episode dated 2 April 2004 (2004) - Self
2002
This Morning (TV Series)
as
Self - Guest / Self / Jinx
- Episode dated 29 March 2004 (2004) - Self - Guest
- Episode dated 19 November 2002 (2002) - Self / Jinx
2004
Richard & Judy (TV Series)
as
Self - Guest
- Episode dated 25 March 2004 (2004) - Self - Guest
2004
Pulse (TV Series documentary)
as
Self
- Episode #1.18 (2004) - Self
2003
Making the Video (TV Series documentary)
as
Self
- Limp Bizkit: Behind Blue Eyes (2003) - Self
2003
Tinseltown TV (TV Series)
as
Self
- Episode dated 27 December 2003 (2003) - Self
2003
Punk'd (TV Series)
as
Self
- Episode #2.5 (2003) - Self
2003
Movie House (TV Series)
as
Self
- Gothika (2003) - Self
2003
Saturday Night Live (TV Series)
as
Self - Host / Naomi Campbell / Bernadette Cooper
- Halle Berry/Britney Spears (2003) - Self - Host / Naomi Campbell / Bernadette Cooper
2003
Spike Lee's '25th Hour': The Evolution of an American Filmmaker (Video documentary short)
as
Self
2003
Women on Top: Hollywood and Power (TV Movie documentary)
as
Self
2003
Inside 'Die Another Day' (Video documentary short)
as
Self
2003
The 75th Annual Academy Awards (TV Special)
as
Self - Presenter & Past Winner
2003
The 2003 IFP Independent Spirit Awards (TV Special documentary)
as
Self
2003
Style Star (TV Series documentary)
as
Self
- Halle Berry (2003) - Self
2003
TV Land Awards: A Celebration of Classic TV (TV Special)
as
Self
2003
9th Annual Screen Actors Guild Awards (TV Special)
as
Self
2003
34th NAACP Image Awards (TV Special)
as
Self
2003
Hollywood Celebrates Denzel Washington: An American Cinematheque Tribute (TV Special documentary)
as
Self
2003
Ant & Dec's Saturday Night Takeaway (TV Series)
as
Self
- Episode #2.8 (2003) - Self
2003
The Uncanny Suspects (Video documentary short)
as
Self
2003
X-Factor: The Look of 'X-Men' (Video documentary short)
as
Self
2003
X-Men: Ellis Island Premiere (Video short)
as
Self
2003
X-Men: Premieres Around the World (Video documentary short)
as
Self
2003
X-Men Production Scrapbook (Video documentary)
as
Self
2003
The 60th Annual Golden Globe Awards (TV Special)
as
Self - Presenter
2002
Die Another Day: Just Another Day (TV Movie documentary)
as
Self
2002
The Bond Essentials (TV Movie documentary)
as
Self / Jinx
2002
James Bond: A BAFTA Tribute (TV Special)
as
Self
2002
Happy Anniversary Mr. Bond (TV Movie documentary)
as
Self / Jinx
2002
Movie Television (TV Series documentary)
as
Self
- Forever Bond (2002) - Self
2002
The Late Late Show with Craig Kilborn (TV Series)
as
Self - Guest
- Episode dated 26 November 2002 (2002) - Self - Guest
2002
Die Another Day: Shaken and Stirred on Ice (Video documentary short)
as
Self
1998
Mad TV (TV Series)
as
Self / Self - Host
- Episode #8.7 (2002) - Self
- Halle Berry (1998) - Self - Host
2002
Die Another Day: From Script to Screen (Video)
as
Self
2002
Premiere Bond: Die Another Day (TV Movie documentary)
as
Self
2002
Revealed with Jules Asner (TV Series)
as
Self
- Halle Berry (2002) - Self
2002
E! True Hollywood Story (TV Series documentary)
as
Self
- The Bond Girls (2002) - Self
2002
Parkinson (TV Series)
as
Self - Guest
- Episode dated 16 November 2002 (2002) - Self - Guest
2002
Bond Girls Are Forever (TV Movie documentary)
as
Self
2002
Revlon James Bond 007 Color Collection 'Die Another Day' Television Commercial (Video short)
as
Self / Jinx
2002
The 54th Annual Primetime Emmy Awards (TV Special)
as
Self
2002
Der Kabel 1 Kinotipp (TV Series documentary)
as
Leticia Musgrove
- Monsters Ball (2002) - Leticia Musgrove
2002
Essence Awards (TV Special documentary)
as
Self
2002
2002 ABC World Stunt Awards (TV Special)
as
Self
2002
Leute heute (TV Series documentary)
as
Self
- Episode dated 17 April 2002 (2002) - Self
- Oscar Special (2002) - Self
2002
Seitenblicke (TV Series documentary)
as
Self
- Oscars 2002 (2002) - Self
2002
The 74th Annual Academy Awards (TV Special)
as
Self - Winner & Presenter
2002
8th Annual Screen Actors Guild Awards (TV Special)
as
Self - Winner
2002
The Orange British Academy Film Awards (TV Special documentary)
as
Self
2002
The 59th Annual Golden Globe Awards (TV Special documentary)
as
Self - Nominee & Presenter
2002
Die Another Day: Bond 20 Press Conference (Video documentary short)
as
Self
1996
The Rosie O'Donnell Show (TV Series)
as
Self - Guest
- Episode dated 5 December 2001 (2001) - Self - Guest
- Episode dated 1 June 2000 (2000) - Self - Guest
- Episode #1.170 (1997) - Self - Guest
- Episode #1.55 (1996) - Self - Guest
2001
Lifetime Presents: Disney's American Teachers Awards (TV Special)
as
Self
2001
Swordfish: In Conversation (Video documentary short)
as
Self
2001
The Concert for New York City (TV Special documentary)
as
Self
2001
Mundo VIP (TV Series)
as
Self
- Show nº275 (2001) - Self
2001
America: A Tribute to Heroes (TV Special documentary)
as
Self
2001
2001 MTV Movie Awards (TV Special)
as
Self - Presenter
2001
Nickelodeon Kids' Choice Awards (TV Special)
as
Self
2001
The 73rd Annual Academy Awards (TV Special)
as
Self - Presenter
2001
7th Annual Screen Actors Guild Awards (TV Special)
as
Self
2001
32nd NAACP Image Awards (TV Special)
as
Self
2001
Great Streets (TV Series documentary)
as
Self
- The Champs Elysees (2001) - Self
2000
The Eighth Annual Diversity Awards (TV Special)
as
Self
2000
The 52nd Annual Primetime Emmy Awards (TV Special)
as
Self - Winner & Presenter
2000
6th Annual Soul Train Lady of Soul Awards (TV Special)
as
Self
2000
2000 MTV Movie Awards (TV Special)
as
Self - Presenter
2000
Showbiz Today (TV Series)
as
Self
- Episode dated 18 July 2000 (2000) - Self
2000
2000 Blockbuster Entertainment Awards (TV Special documentary)
as
Self (uncredited)
2000
31st NAACP Image Awards (TV Special)
as
Self - Honoree
2000
The 57th Annual Golden Globe Awards (TV Special)
as
Self - Winner
1999
The Kennedy Center Honors: A Celebration of the Performing Arts (TV Special)
as
Self
1999
The 51st Annual Primetime Emmy Awards (TV Special)
as
Self - Presenter
1999
30th NAACP Image Awards (TV Special)
as
Self
1998
Intimate Portrait (TV Series documentary)
as
Self
- Halle Berry (1998) - Self
1998
The 50th Annual Primetime Emmy Awards (TV Special)
as
Self - Presenter
1998
Behind the Music (TV Series documentary)
as
Self
- Lionel Richie (1998) - Self
1998
Women of the Net (TV Movie documentary)
as
Self
1998
AFI's 100 Years... 100 Movies: America's Greatest Movies (TV Movie documentary)
as
Self
1998
Quincy Jones... The First 50 Years (TV Movie documentary)
as
Self
1998
The 70th Annual Academy Awards (TV Special)
as
Self
1998
1998 Blockbuster Entertainment Awards (TV Special)
as
Self
1997
Christmas Miracles (TV Special)
as
Self
1997
The 1997 World Music Awards (TV Special)
as
Self - Hostess
1997
10th Anniversary Essence Awards (TV Special)
as
Self - Co-Host
1997
Women on the Move (TV Movie documentary)
as
Self
1997
28th NAACP Image Awards (TV Special)
as
Self
1997
54th Golden Globe Awards (TV Special)
as
Self - Presenter
1996
Celebrate the Dream: 50 Years of Ebony Magazine (TV Special)
as
Self
1996
1996 Essence Awards (TV Special)
as
Self - Co-Hostess
1996
1996 MTV Movie Awards (TV Special)
as
Self
1996
27th NAACP Image Awards (TV Special)
as
Self
1996
The 68th Annual Academy Awards (TV Special)
as
Self
1996
1996 Blockbuster Entertainment Awards (TV Special)
as
Self - Presenter
1995
The Annual 1995 ShoWest Awards (TV Special)
as
Self - Presenter
1995
Dennis Miller Live (TV Series)
as
Self
- Race Issues in America (1995) - Self
1995
MTV US Top 20 Countdown (TV Series)
as
Self
- Episode dated 18 March 1995 (1995) - Self
1993
CBS This Morning (TV Series)
as
Self
- Episode dated 16 March 1995 (1995) - Self
- Episode dated 15 February 1993 (1993) - Self
1995
The 9th Annual Soul Train Music Awards (TV Special)
as
Self
1995
The 21st Annual People's Choice Awards (TV Special)
as
Self - Presenter
1995
1st Annual Screen Actors Guild Awards (TV Special)
as
Self
1994
A Century of Women (TV Mini Series documentary)
- Episode #1.2 (1994)
- Episode #1.1 (1994)
1994
1994 MTV Movie Awards (TV Special)
as
Self
1994
The 16th Annual CableACE Awards (TV Special)
as
Self
1993
Hollywood Women (TV Mini Series documentary)
as
Self
1993
1993 Essence Awards (TV Special)
as
Self - Presenter
1993
The Word (TV Series)
as
Self
- Episode #3.19 (1993) - Self
1993
The 19th Annual People's Choice Awards (TV Special)
as
Self - Presenter
1993
25th NAACP Image Awards (TV Special)
as
Self - Co-Host
1992
1992 MTV Video Music Awards (TV Special)
as
Self
1992
Ebony/Jet Showcase (TV Series)
as
Self
- Episode dated 13 March 1992 (1992) - Self
1992
The 57th Annual New York Film Critics Circle Awards (TV Special)
as
Self
1992
The 8th Annual Soap Opera Digest Awards (TV Special)
as
Self - Presenter
1991
The Tonight Show Starring Johnny Carson (TV Series)
as
Self - Guest
- Jay Leno (guest host), William Shatner, Ted Wass, Halle Berry, Marc Cohn (1991) - Self - Guest
Archive Footage
-
Hollywood Celebrity (Documentary) (post-production)
as
Self
2020
Dish Nation (TV Series)
as
Self
- Episode #11.116 (2023) - Self
- Episode #10.183 (2022) - Self
- Episode #9.177 (2021) - Self
- Episode #8.253 (2020) - Self
2009
Entertainment Tonight (TV Series)
as
Self
- ET Oscar Blowout! (2021) - Self
- Exclusive! The Ladies of Knots Landing Reunion! (2020) - Self
- Stars (2019) - Self
- ET's Cooking Up the Comedy with Tiffany Haddish, Melissa McCarthy, and Elisabeth Moss (2019) - Self
- Blue Bloods Friday! (2019) - Self
- Avengers Week with Iron Man! (2019) - Self
- Captain Marvel Premiere! (2019) - Self
- Screen Actors Guild Award Secrets! (2019) - Self
- Oscar Nominations Are Out! (2019) - Self
- Actress (2018) - Self
2022
The Sound of 007: Live from the Royal Albert Hall (Video documentary)
as
Self
2022
Countdown to UFC (TV Series)
as
Self - Actress
- UFC 274: Oliveira vs Gaethje (2022) - Self - Actress
2014
Live with Kelly and Mark (TV Series)
as
Self / Self - Guest
- Live's Pre-Oscar Show (2022) - Self
- Halle Berry/Kesha/Keri Russell (2014) - Self - Guest
2021
The Curse of Von Dutch: A Brand to Die For (TV Mini Series documentary)
as
Self - Actress
- The Art of War (2021) - Self - Actress
2021
Double Toasted (Podcast Series)
as
Self
- CATWOMAN - BAD MOVIE ROAST (2021) - Self
2014
Inside Edition (TV Series documentary)
as
Self
- Summer Camp From Hell? (2021) - Self
- Episode #28.241 (2016) - Self
- Episode dated 14 August 2015 (2015) - Self
- Episode #25.219 (2014) - Self
2021
Paul Murray Live (TV Series)
as
Self
- Episode #12.68 (2021) - Self
- Episode #12.67 (2021) - Self
2021
The Real James Bond: Birds, Fleming and Caribbean Conservation (Video documentary)
as
Jinx (uncredited)
2018
Ok! TV (TV Series)
as
Self
- Episode #7.150 (2020) - Self
- Episode #4.122 (2019) - Self
- Episode #3.233 (2018) - Self
2020
Casting Calls (TV Series documentary short)
as
Self
- Halle Berry (2020) - Self
2016
Access Hollywood (TV Series)
as
Self
- Episode #24.96 (2019) - Self
- Episode #23.222 (2019) - Self
- Episode #21.156 (2017) - Self
- Episode dated 7 July 2016 (2016) - Self
2015
Extra (TV Series)
as
Self
- January (2018) - Self
2012
The Insider (TV Series)
as
Self
- Episode #13.150 (2017) - Self
- Episode #12.260 (2016) - Self
- Episode dated 10 February 2012 (2012) - Self
2017
Cortá por Lozano (TV Series)
as
Self
- Episode dated 27 February 2017 (2017) - Self
2017
Lorraine (TV Series)
as
Self
- Episode dated 27 February 2017 (2017) - Self (uncredited)
2016
The Naked Babes of Batman (Video short)
as
#15 - Monster's Ball (2001)
2016
Superheroes Who Have Been Nude (Video short)
as
#11 - Monster's Ball (2001)
2015
Timeshift (TV Series documentary)
as
Self
- Looking for Mr Bond: 007 at the BBC (2015) - Self (uncredited)
2015
Framelines (TV Series)
as
Self
- Actors and Acting, Micky Fisher, Joe Buscemi (2015) - Self
2014
The View (TV Series)
as
Self
- Goldie Hawn/Jimmy Kimmel (2014) - Self
2014
And the Oscar Goes to... (TV Movie documentary)
as
Self
2013
taff (TV Series)
as
Self
- Episode dated 22 May 2013 (2013) - Self
2012
Chelsea Lately (TV Series)
as
Self
- Episode #7.39 (2013) - Self
- Episode #6.184 (2012) - Self
2013
CBS News Sunday Morning (TV Series)
as
Self
- Episode dated 24 February 2013 (2013) - Self (uncredited)
2013
The First Annual 'on Cinema' Oscar Special (TV Special)
as
Self (uncredited)
2012
Top Priority: The Terror Within (Documentary)
as
Self - Academy Award Winning Actress
2011
Special Collector's Edition (TV Series)
as
Ginger Knowles
- Especial Navidad: Huevos de Pascua (2011) - Ginger Knowles
2011
Celebrity Naked Ambition (TV Movie documentary)
as
Self
2009
Live from Studio Five (TV Series)
as
Self
- Episode #1.106 (2010) - Self
- Episode #1.90 (2010) - Self
- Episode #1.50 (2009) - Self
2009
Hollywood Lives (TV Series documentary)
as
Self
- Sex & Success (2009) - Self
2008
The Factor (TV Series)
as
Self - 'Pinhead' (segment "Pinheads & Patriots")
- Episode dated 28 February 2008 (2008) - Self - 'Pinhead' (segment "Pinheads & Patriots")
2008
Oscar, que empiece el espectáculo (TV Movie documentary)
as
Self / Leticia Musgrove (uncredited)
2007
Quelli che... il calcio (TV Series)
as
Self
- Episode #15.13 (2007) - Self
2007
Manufacturing Dissent (Documentary)
as
Self (uncredited)
2006
Corazón de... (TV Series)
as
Self
- Episode dated 10 January 2007 (2007) - Self
- Episode dated 16 January 2006 (2006) - Self
2006
OO-Heaven (Video)
as
Self
2006
Rodney Carrington: Show Them to Me Fan Music Video (Music Video short)
as
Self
2006
20 to 1 (TV Series documentary)
as
Self
- Sexiest People (2006) - Self
2006
E! True Hollywood Story (TV Series documentary)
as
Self
- Sports Stars, Private Lives (2006) - Self (uncredited)
2006
Cosmetic Surgery Nightmares (TV Movie documentary)
as
Self (uncredited)
2006
007: The Car Chases (Video short)
as
Self
2006
Premiere Bond: Opening Nights (Video documentary short)
as
Self
2006
Cannes 2006: Crónica de Carlos Boyero (TV Movie)
as
Self
2006
Boffo! Tinseltown's Bombs and Blockbusters (Documentary)
as
Jinx (uncredited)
2006
Celebrity Debut (TV Movie)
as
Self
2005
101 Sexiest Celebrity Bodies (TV Movie documentary)
as
Self - Place #9
2005
Limp Bizkit: Greatest Videoz (Video)
as
Halle Berry
2004
The Greatest Canadian (TV Mini Series documentary)
as
Self
2004
Coming Attractions (TV Series)
as
Self
- Episode dated 20 May 2004 (2004) - Self
2004
101 Biggest Celebrity Oops (TV Special documentary)
as
Self - #83: Halle Berry: Accidents Will Happen
2004
Victoria Wood's Big Fat Documentary (TV Mini Series documentary)
as
Self
- Part Two (2004) - Self (uncredited)
2003
Love Chain (TV Series)
as
Self
- Halle Berry - Self
2003
The Screen Savers (TV Series)
as
Self
- Episode dated 31 December 2003 (2003) - Self
2003
Celebrities Uncensored (TV Series)
as
Self
- Episode #1.15 (2003) - Self
2003
Christmas from Hollywood (Video documentary)
as
Self
2003
MTV Europe Music Awards Edinburgh 03 (TV Special)
as
Jinx
2003
Celebrity Naked Ambition (TV Movie documentary)
2003
101 Most Shocking Moments in Entertainment (TV Movie documentary)
as
Self
2003
The Greatest (TV Series documentary)
as
Self
- 200 Greatest Pop Culture Icons (2003) - Self
2003
Dorothy Dandridge: An American Beauty (TV Movie documentary)
as
Self
2003
Have I Got News for You (TV Series)
as
Self
- Episode #25.8 (2003) - Self (uncredited)
2003
Die Another Day: Inter-Action Sequences (Video short)
2002
40 Years of Bond, James Bond (Video)
as
Self
2002
Ford Limited Edition 007 Thunderbird 'Die Another Day' Television Commercial (Video short)
as
Jinx
2001
E! Behind the Scenes (TV Series)
- Monster's Ball (2001)
2001
De Superman à Spider-Man: L'aventure des super-héros (TV Movie documentary)
as
Storm
2001
Headliners & Legends with Matt Lauer (TV Series documentary)
as
Self
- Halle Berry (2001) - Self
2000
Bond Special (Video documentary)
as
Self
1994
Monte Video (TV Series)
as
Miss Stone
- Urlaub (1994) - Miss Stone (uncredited)
References
Halle Berry Wikipedia
(Text) CC BY-SA