Length

13 m




First flight

August 1953




Number of seats

2




Introduced

1954




Manufacturer

Westland Aircraft






The Westland Whirlwind helicopter was a British licence-built version of the U.S. Sikorsky S-55/H-19 Chickasaw. It primarily served with the Royal Navy's Fleet Air Arm in anti-submarine and search and rescue roles.
Contents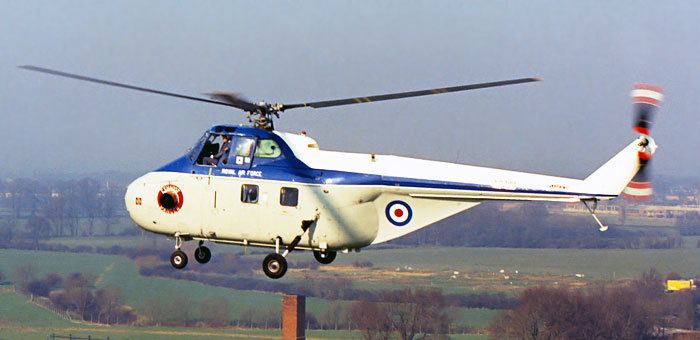 Design and development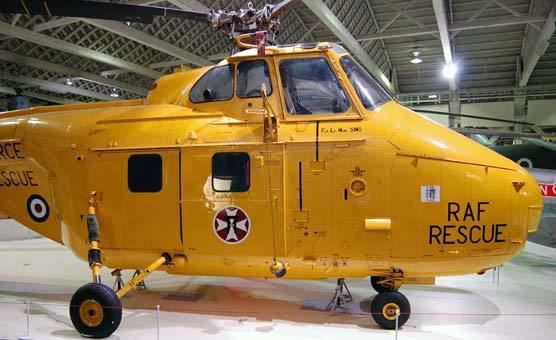 In 1950, Westland Aircraft, already building the American Sikorsky S-51 under license as the Westland Dragonfly, purchased the rights to manufacture and sell Sikorsky's larger Sikorsky S-55 helicopter. While a Sikorsky-built pattern aircraft was flown by Westland in June 1951, converting the design to meet British standards (including the provision of a revised main-rotor gearbox), was time consuming, and the first prototype British aircraft, registered G-AMJT, powered by the 600 hp Pratt & Whitney R-1340-40 Wasp did not fly until August 1953. This was followed by ten Whirlwind HAR.1s, which entered service shortly afterwards. They served in non-combat roles, including search and rescue and communications functions. The HAR.3 had a larger 700 hp Wright R-1300-3 Cyclone 7 engine.
The performance of early versions was limited by the power of the American Wasp or Cyclone engines, and in 1955, the HAR.5, powered by an uprated engine, the Alvis Leonides Major, flew for the first time. This was followed by the similarly powered HAS.7, which became the first British helicopter designed for anti-submarine warfare in the front-line when it entered service in 1957. It could either be equipped with a dipping Sonar for submarine detection or carry a torpedo, but could not carry both simultaneously, so sonar equipped "Hunters" were used to direct torpedo armed "Killers". The HAS.7 was powered by a 750 hp (560 kW) Alvis Leonides Major 755/1 radial engine. It had a hovering ceiling at 9,400 ft (2,900 m) and a range of 334 miles at 86 mph. In 1960 Westland introduced a Whirlwind powered by the 1,000 hp Bristol Siddeley Gnome turboshaft, the greater power giving much improved performance over the earlier piston-engined variants. The Gnome featured an early computer controlled fuel system that removed variations in engine power and made for much easier handling by the pilot.
Later in their service lives, some HAS.7s were converted to use the Gnome turboshaft engine, as the HAR.9.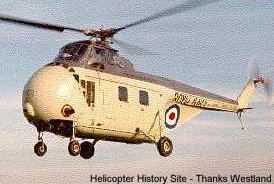 After entering service with the Royal Navy, the Whirlwind came to be used by the British Army and Royal Air Force. More than 400 Whirlwinds were built, of which nearly 100 were exported to foreign customers. The French Navy received 37 Whirlwind HAR.2 between 1954 and 1957.

Whirlwinds, painted in overall yellow, were used by the RAF Search and Rescue Force for rescuing people in distress around the coast of the UK, before later being replaced/supplemented by first the Westland Wessex and later, the Westland Sea King.
Operational service
848 Naval Air Squadron of the Royal Navy's Fleet Air Arm was the first squadron to HAR.1's which replaced the Sikorsky built HAR.21's for utility and Search and Rescue from July 1954.
Variants
WS-55 Series 1
44 built; American engines (Pratt & Whitney R-1340-40 Wasp), transport helicopters for military and civilian use
WS-55 Series 2
19 built; Alvis engines (Alvis Leonides Major 755), civilian use
WS-55 Series 3
5 built; Gnome turboshaft (Bristol Siddeley Gnome 101), civilian use
HAR.1
10 built; RN service; Search and rescue
HAR.2
33 built; RAF service from 1955
HC.2
RAF service
HAR.3
25 built; RN service; Wright R-1300 Cyclone 7 engine
HAR.4
24 built; Improved HAR.2 for hot and high conditions, RAF service
HAR.5
3 built; Alvis Leonides Major engine and a 3 degree droop of the tail boom for increased main rotor clearance; RN service
HAR.7
40 built; RN duties - 6 converted to HAR.9's
HAS.7
89 built; RN anti-submarine duties - 1 torpedo; 12 used as Royal Marine transports, 6 converted to HAR.9's
HCC.8
2 built; Royal Flight transport, VVIP later converted to HAR.10's
HAR.9
12 conversions of HAS.7 and HAR.7 with a Bristol Siddeley Gnome gas turbine replacing the Leonides Major engine, RN service
HC.10
RAF service
HAR.10
68 built; powered by a Bristol Siddeley Gnome turboshaft, RAF service, transport and air-sea rescue
HCC.12
2 built; Royal Flight,
The model numbers for the US-built evaluation models were
HAR.21
10 built by Sikorsky ; rescue. Equivalent to US Marine HRS-2.
HAS.22
15 built by Sikorsky ; anti-submarine. Equivalent to HO4S-3.
Military operators
Austria
Austrian Air Force
Brazil
Brazilian Air Force
Brazilian Navy
Brunei
Brunei Air Force
France
French Navy
Ghana
Ghana Air Force
Iran
Imperial Iranian Air Force
Italy
Italian Air Force
Kuwait
Kuwait Air Force
Nigeria
Nigerian Air Force
Qatar
Qatar Air Force - Received two Whirlwind Series 3 on its foundation in 1968.
United Kingdom
Royal Air Force
Royal Navy
Yugoslavia
SFR Yugoslav Air Force
Civil Operators
United Kingdom
Bristow Helicopters
British European Airways
Survivors
Over 69 aircraft remain in private ownership, dumped or in museums including the RAF Museum and the Fleet Air Arm Museum as well as being the current gate guardian at RAF Odiham.
Whirlwind HAR.10 XJ729/G-BVGE.
Whirlwind Series 3 G-APWN, Midland Air Museum, Coventry, England. Sometimes open for viewing.
Whirlwind HAR.9 XL875 at Scone Airfield, Perth, Scotland. Air Service Training (Engineering and Pilot Training)
Whirlwind HAR.9 XN258 At the North East Aircraft Museum.
Whirlwind HAR.10 XD163 at The Helicopter Museum, Weston-super-Mare, England.
Whirlwind HAR.10 XP345 At Aeroventure, South Yorkshire Aircraft Museum, Doncaster England. Owned by the Yorkshire Helicopter Preservation Group.
Whirlwind HAR.10 XP355 At the City of Norwich Aviation Museum, Norwich Airport, England.
Whirlwind XG576 / CU-590 (cn WA71) Named "Princess Olivia". Ex Bristow Helicopters G-AYNP. Originally delivered to the Royal Navy as XG576 in 1955. At Alten (Buseck), Germany.
Whirlwind Srs3 XG588 / VR-BEP on static display at East Midlands Aeropark
Specifications (Whirlwind HAS.7)
Data from Westland Aircraft since 1915
General characteristics
Crew: Two pilots
Length: 41 ft 8½ in (12.72 m)
Rotor diameter: 53 ft 0 in (16.15 m)
Height: 15 ft 7½ in (4.76 m)
Disc area: 2,205 ft2 (205 m2)
Empty weight: 5,993 lb (2,724 kg)
Max. takeoff weight: 7,800 lb (3,538 kg)
Powerplant: 1 × Alvis Leonides Major 755 14-cylinder two-row radial, 750 hp (559 kW)
Performance
Maximum speed: 109 mph (95 knots, 175 km/h)
Range: 334 miles (290 NM, 534 km)
Service ceiling: 13,000 ft (3,960 m)
Rate of climb: 910 ft/min (4.6 m/s)
Disc loading: 3.5 lb/ft2 (17.3 kg/m2)
Power/mass: 0.10 hp/lb (0.16 kW/kg)
Armament

1x Mark 30 or Mark 44 torpedo or Depth charges (carried in place of dipping sonar)
References
Westland Whirlwind (helicopter) Wikipedia
(Text) CC BY-SA