The film opened on July 15, 2005 through New Line Cinema to critical and massive commercial success, grossing $285 million worldwide on a $40 million budget, and is credited with helping to revive the popularity of adult-oriented, R-rated comedies.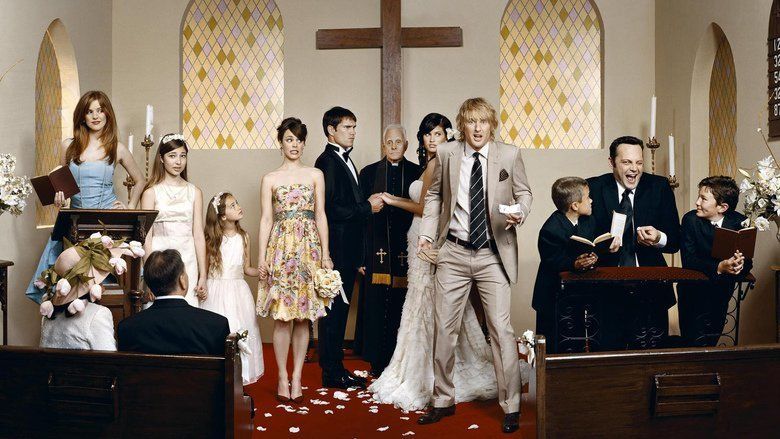 John Beckwith (Owen Wilson) and Jeremy Grey (Vince Vaughn) are divorce mediators in Washington D.C. who "crash" wedding parties to meet and bed women. At the end of a season of successful crashes, Jeremy takes John to a wedding for the daughter of the U.S. Secretary of the Treasury, William Cleary (Christopher Walken). Once inside, the pair set their sights on Cleary's other daughters, Gloria (Isla Fisher) and Claire (Rachel McAdams). Jeremy ends up having sex with Gloria on a nearby beach during the reception. Gloria is possessive and quickly becomes obsessed with Jeremy, and Jeremy urges John to escape the reception with him.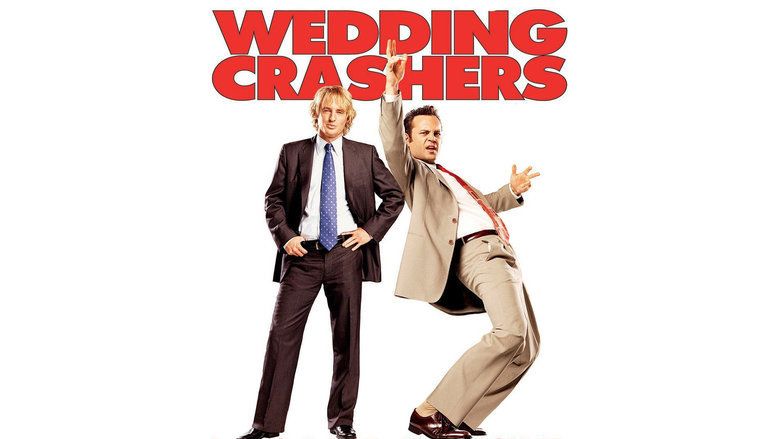 Meanwhile, John attempts to court Claire, the maid of honor, but is interrupted by her hotheaded boyfriend, Sack Lodge (Bradley Cooper), who is unfaithful and disrespectful behind her back. When Gloria invites Jeremy and John to an extended weekend party at their family compound, John overrules Jeremy to accept and get closer to Claire.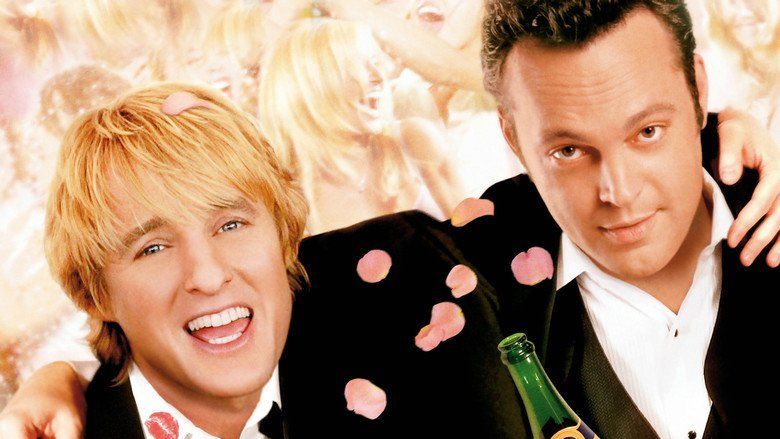 John and Jeremy become acquainted with the Clearys at their home: the Secretary's wife (Jane Seymour) sexually harasses John; Gloria's brother Todd (Keir O'Donnell) tries to seduce Jeremy during the night; Gloria continues to lavish unwanted sexual attention on Jeremy; and Sack repeatedly injures Jeremy during a game of touch football. At dinner, John spikes Sack's wine with eye-drops to make him sick and get more time to connect with Claire.
John and Claire continue to bond the next day on a sailing trip. The suspicious Sack takes the men on a hunting trip, where Jeremy is shot in the buttocks. While he recovers, John and Claire go on a bike ride to a secluded beach. Claire finally admits she isn't sure how she feels about Sack and ends up kissing John passionately. Meanwhile, Gloria tends to Jeremy's wounds and reveals to him that she is not as innocent or inexperienced as she initially let on. Jeremy realizes that he himself has been played and that he may be in love with Gloria.
Ready to confess everything to Claire to convince her not to marry Sack, John is interrupted by Jeremy being chased out of the house: Sack has investigated and revealed John and Jeremy's identities to the family. Betrayed, Claire turns away from John and the Secretary tells them to leave.
Over the following months, John attempts to reach Claire but she refuses to see him. He attempts to crash Claire and Sack's engagement party but is caught and beaten by Sack. Confronting Jeremy about abandoning him, he learns that Jeremy has secretly continued his relationship with Gloria. Betrayed, John spirals into depression, crashing weddings alone and becoming nihilistic and suicidal. Meanwhile, as Claire and Sack plan their wedding, Claire's doubts grow. Jeremy proposes to Gloria and tries to ask John to be his best man, but a depressed John refuses.
John visits Jeremy's former wedding crashing mentor, Chazz Reinhold (an uncredited Will Ferrell), who convinces him to crash a funeral. While there, he reconsiders his belief in love and marriage and rushes to Jeremy's wedding. John joins the wedding mid-ceremony to Jeremy's delight, but Claire is upset by his appearance, prompting John to profess his love to her and his regret for his past behavior in front of the congregation. Sack interrupts, but Claire finally tells him that she can't marry him. Sack tries to attack John, but Jeremy intervenes to knock him out, and John and Claire kiss.
After the wedding, the two couples drive away from the ceremony together, discussing crashing another wedding together, apparently skipping Jeremy's own wedding reception.
Owen Wilson as John Beckwith, one half of the wedding crasher duo; a bachelor attorney riding high on his success with Jeremy.
Vince Vaughn as Jeremy Grey, the other half of the wedding crasher duo; an arrogant lothario. He remains a loyal friend to John.
Christopher Walken as United States Secretary of the Treasury William Cleary, a big sailing fan and oblivious head of the dysfunctional but loving Cleary household; a generally friendly man, but punishes anyone who insults his wife or four children.
Rachel McAdams as Claire Cleary, middle daughter of William Cleary; sweet girl and full-time environmental activist.
Isla Fisher as Gloria Cleary, youngest daughter of William Cleary; an emotionally unstable nymphomaniac who is obsessed with Jeremy.
Jane Seymour as Kathleen "Kitty Kat" Cleary, the "social alcoholic" wife of Secretary Cleary and daughter-in-law of "Grandma" Mary Cleary; she appears to try and hit on younger men, including John and an ex-boyfriend of Claire (this last one revealed by Todd).
Ellen Albertini Dow as "Grandma" Mary Cleary, William's mother, Kathleen's mother-in-law, and the siblings' grandmother who lives in the compound; she is kind but obscene.
Keir O'Donnell as Todd Cleary, William and Kathleen's reclusive, hyper-sensitive son; a homosexual artist and family black sheep.
Bradley Cooper as Sack Lodge, Claire's testosterone-fueled, manly, and violent boyfriend who is obsessed with winning at any cost.
Henry Gibson as Father O'Neil, the priest officiating at several weddings.
Ron Canada as Randolph, the Clearys' Jamaican butler; he seems completely aware of Gloria's obsessive behaviors and does not approve of Sack's hotheadedness.
Jenny Alden as Christina Cleary, the eldest daughter of William Cleary.
Will Ferrell (uncredited) as Chazz Reinhold, the sage who passed on the wedding crashing rules to his protege Jeremy in 1993. When John actually meets him, Chazz is revealed to be a lazy man-child who still lives with his mother.
Diora Baird as Vivian
Dwight Yoakam and Rebecca De Mornay in the beginning mediation scene as Mr. and Mrs. Kroger
Kathryn Joosten as Mrs. Reinhold
Richard Riehle (uncredited) as Funeral guest
Arizona Senator and 2008 Republican presidential nominee John McCain and Democratic strategist and CNN contributor James Carville both have a brief cameo appearance in the film towards the beginning, where both are seen congratulating the secretary and his wife on their daughter's wedding.
The film was written by Steve Faber and Bob Fisher and produced through New Line Cinema, with shooting taking place on location in Washington, D.C. and Maryland's Eastern Shore. Principal photography began on March 22, 2004 and the movie had a 52-day shooting schedule. The main Cleary wedding reception scene was filmed at the Inn at Perry Cabin in Saint Michaels, Maryland.
Dobkin has said that the script originally set the film around Cape Cod, but a need to film in spring made this impractical. He suggested moving the shoot to Washington, his home town, feeling that his knowledge of the area would make choosing locations easier, and that using the city as the setting for a comedy would be an unexpected choice.
Wedding Crashers received generally positive reviews. On Rotten Tomatoes, the film has a rating of 75%, based on 182 reviews, with an average rating of 7/10. The site's critical consensus reads, "Wedding Crashers is both raunchy and sweet, and features top-notch comic performances from Vince Vaughn and Owen Wilson." On Metacritic the film has a score of 64 out of 100, based on 39 critics, indicating "generally favorable reviews".
Carina Chocano of the Los Angeles Times wrote a favorable review and said "underneath the diarrhea gags, the long lens at close range of Vaughn's pants and the handcuffs, it's really just a love story about a couple of buddies who live happily ever after. And it couldn't have happened to a nicer, more charming couple". Manohla Dargis of the New York Times said "It's crude, yes, but also funny; too bad these lost boys can't stay lost. Like clockwork, the film soon mutates from a guy-oriented sex comedy into a wish-fulfillment chick flick".
Roger Ebert of the Chicago Sun-Times gave the film two stars out of four; although he wrote that "there are individual moments that are very funny" he added that the director, David Dobkin, "has too much else on his mind". British Movie magazine Empire awarded it three out of five stars and were complimentary to Vaughn and Wilson, saying "Sharing an easy chemistry and free of the usual joker/straight-guy dynamic, Wilson and Vaughn quip, riff and banter to hilarious effect. And both get their fair share of money moments, the latter's muggings are particularly hysterical in a raunchy dinner-party sequence, The laidback stars are funny and sweet, but they're let down by a patchy script which squanders some potentially priceless set-ups."
The film was released in North America on July 15, 2005, and became an immediate hit, grossing $33,900,720 in its first weekend, hitting #2 in the box office, behind Charlie and the Chocolate Factory. Fairly well received by critics, the film eventually grossed over $209,255,921 domestically, narrowly outgrossing Charlie. Considering its modest budget ($40 million) and competition with heavily advertised blockbusters during the summer season, the studio did not expect the movie's astounding level of success. It grossed $75,920,820 overseas, totaling $285,176,741 worldwide.
On April 24, 2006, Wedding Crashers topped the nominations for the year's MTV Movie Awards with five including Best Movie. It won Best Movie, On-Screen Team (Vaughn and Wilson), and Breakthrough Performance (Isla Fisher). The financial and award success of the film has been credited along with The 40-Year-Old Virgin for reviving the popularity of adult-aimed R-rated comedies.
Bradley Cooper was mentioned in the August 2006 issue of GQ as one of "The Top Twelve Movie Dicks".
The DVD was released in the United States on January 3, 2006, and a Blu-ray was released on December 30, 2008. It is available in an unrated version ("Uncorked Edition") and in an R-rated version (the Blu-ray has both versions on one disc). It features eight new minutes integrated into the film and DVD-ROM bonuses. Also included are two audio commentaries (one by the stars, one by the director), four deleted scenes, two featurettes, a "Rules of Wedding Crashing" text gallery, trailers, Budweiser Wedding Crashers commercials, a track listing for the official soundtrack on 20th Century Fox Records, a music video by The Sights, and a jump-to-a-song sample feature.
The creators of the film made a reality TV version, called The Real Wedding Crashers and shown on NBC in April and May 2007. NBC only showed four episodes.
In a 2014 post on the website Quora, Wedding Crashers director David Dobkin said that he, Vaughn and Wilson once came up with an idea for a sequel in which John and Jeremy find themselves competing with a superior wedding crasher, played by Daniel Craig; but that this idea never went beyond the discussion phase.
The 2013 film The Internship, which also starred Vaughn and Wilson, was sometimes described by critics as an unofficial sequel to Wedding Crashers.
In November 2016, Fisher was a guest on The Today Show and while talking about Nocturnal Animals, she revealed from her Wedding Crashers co-star Vaughn that a sequel is in the works.