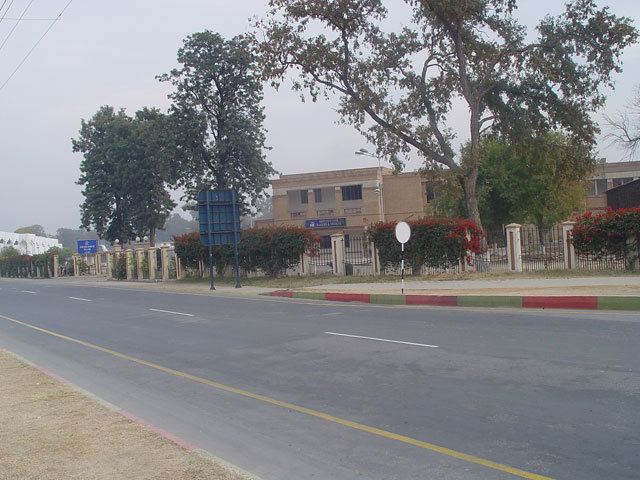 Wah Cantt is adjacent to Taxila, a small town enriched with one of the most important archaeological sites of the world.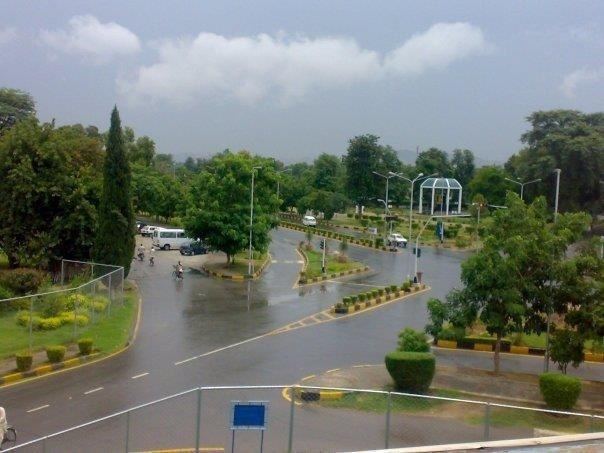 The name 'Wah' has its roots in the Mughal era with the Mughal emperor Jehangir reported to have coined the name when he was camped at Wah village, originally called 'Jalal Sar' nearby here, en route from a visit to Kashmir. Emperor Jehangir was impressed by the scenery of that place, so he said "Wah" ('wow') and so that village was named 'Wah' after that exclamation The Mughal advent had a strong influence on the architecture of the village and whole area which is still visible to date with prominent Mughal sites like the Wah Gardens.
After gaining Independence, Pakistan had no facilities capable of producing armaments and ammunition so urgent plans were made for an ordnance factory near Wah village, Punjab. Thus, the Wah Cantonment (or Cantt) came into being in 1951, when Prime Minister Khawaja Nazimuddin unveiled the foundation stone of Pakistan Ordnance Factories Wah Cantt.
POF is not one ammunition factory but it is in fact a complex of 14 factories manufacturing arms and ammunition ranging from bullets, shells, assault rifles, missiles and bombs. Heavy Industries in neighboring Taxila produces tanks and other heavy arms. The nearby town of Kamra is the site of Pakistan Aeronautical Complex where aircraft are manufactured, assembled, repaired and overhauled for the Air Force.
Wah Cantt is located 50 km (appx. 30 miles) north west of Islamabad. It is a valley which is surrounded by hills in all directions. Wah Cantt is located in an area suitable for growing every sort of crops, especially fruits. This area was not much developed before the construction of the POF, but now it is one of the most advanced and developed places in Asia.
The Pakistan Ordnance Factories (POF), is responsible for conventional weapons production and is located in Wah Cantonment. POF is a government organisation operating under the defence Production Division in Pakistan's Ministry of defence. POF is a complex of arms and ammunition manufacturing factories employing more than 40,000 personnel. POF has provided weapons and ammunition to the Pakistan Army and all their foreign clients. However, since POF can not produce the complete inventory of the Pakistani Army's armament needs, a high content of the Armed Force requirements are imported. POF produces approximately 70 major products for supply to Army, Navy and Air Force. The main products include automatic rifle; light medium and heavy machine guns, complete range of mortar and artillery ammunition, aircraft ammunition and anti-aircraft ammunition, tank ammunition and anti-tank ammunition, bombs, grenades, land mines, pyrotechnics and signal stores etc. It also has a clothing factory which supplies uniforms to the armed personnel.
Wah has the highest literacy rate in South Asia. This small city has two chartered universities, one medical college, one engineering college and a large number of schools. Students from Wah Cantt can be found studying at all the institutes of Pakistan and most major universities of the world. Wah Cantt also has the largest number of bicycles than any city in Pakistan. This links the city with its past as, historically, the neighbouring town of Taxila had been a seat of learning for thousands of years.
Apart from a large number of private and government schools/colleges, foundations of professional universities have been laid down in past 5 years. F.G science Degree College For Men, F.G Degree College For Men, Apex Institute of Skills Wah Cantt Sir Syed College Wah Cantt Wah Medical College, University of Wah – which includes Wah Engineering College & Mishal College for Women, COMSATS Institute of Information and Technology, POF WCC are among the big institutes in Wah Cantt. In the private sector, Zarghoona College for Women, Wah Swedish Institute of Technology, The Scholar Science College, Rawalpindi College of Commerce and Rawalpindi Institute of Technology are popular technical education institutes.The City Model Secondary School located in New City Phase-1 is one of the emerging institute in Wah Cantt having a beautiful purpose built building. Zarghoona College Wah Cantt and F.G Post Graduate College For Women are some prominent women's colleges. Government sector schools include the Technical Training Institute (TTI), a center of technical training. People qualified from this college serve not only in the POFs but also work in the Middle East and send valuable foreign exchange.
Some important Institutes: The Scholar Science College
F.G Science Degree College For Men
Quality School and College for Girls
Base College of science and commerce Wah Cantt
Al-Hudha Islamic School Lala Rukh
Aptech Computer Education, Wah Cantt
Apex Institute of Skills
Beacon House School Systems, The Mall, Wah Cantt
Fatima Jinnah Degree College for women
Islamabad College of Management and Commerce(ICMC), Wah Cantt
F.G Degree College For Men
COMSATS Institute of Information Technology, Wah Campus
Kenshu Institute of Virtual University
MASHAL Post Graduate College
Nasheman School for Special Education.
Wah Medical College
F.G. Post Graduate Girls College
F.G. Post Graduate Boys College
F.G. Science Degree College
Organon Schooling Concepts
POF Institute of Technology (POFIT)
Sir Syed College
The Scholars Science College
Swedish Institute of Engineering & Technology
Wah Engineering College
Wah Polytechnic College
University of Wah
Zarghoona College for Women
The 1st POF WISPA Squash Tournament was hosted at Jahangir Khan Squash Complex Wah Cantt from 28 August to 2 September 2005. The tournament carried a prize purse of US$7,000/- and players from Pakistan, England, Korea, Denmark and Malaysia took part in it. Top seeded Carla Khan of Pakistan won the championship beating No 2 seeded Sharon Wee of Malaysia in the final. President World Squash Federation, Mr Jahangir Khan graced the concluding ceremony as the chief guest.
Wah Cantt offers a unique type of transport network commonly known as the POF Welfare Transport (POFWT). POFWT operates over two hundred buses and vans on seven routes Throughout Wah Cantt. POFWT also became the First Transport network in Pakistan to employ female conductors for Female passengers.
Notable people from Wah Cantonment include:
Lt General Umar Farooq Durrani HI(M), Chairman POFs Board, Wah Cantt
Breg. Khurram Shehzad, Station Commander / President Cantonment Board, Wah Cantt
Omer Siddique Chaudhry, Cantonment Executive Officer, Wah Cantt
AMJAD Mehmood Kashmiri, Cantonmemt Vice President, Wah Cantt