Name

Vishnudevananda Saraswati





Role

Author







Born

December 31, 1927 (

1927-12-31

) Kerala, India


Books

The Complete Illustrated, yoga Mind and Body, meditation and Mantras


Died

9 November 1993 (aged 65) Uttarakhand, India




Similar

Sivananda Saraswati, B K S Iyengar, Paramahansa Yogananda
Rare footage of guruji swami vishnudevananda saraswati of allahabad
Vishnudevananda Saraswati (31 December 1927 – 9 November 1993) was a disciple of Sivananda Saraswati, and founder of the International Sivananda Yoga Vedanta Centres and Ashrams. He established the Sivananda Yoga Teachers' Training Course, one of the first yoga teacher training programs in the West. His books The Complete Illustrated Book of Yoga (1959) and Meditation and Mantras (1978) established him as an authority on Hatha and Raja yoga. Vishnudevananda was a tireless peace activist who rode in several "peace flights" over places of conflict, including the Berlin Wall prior to German reunification.
Contents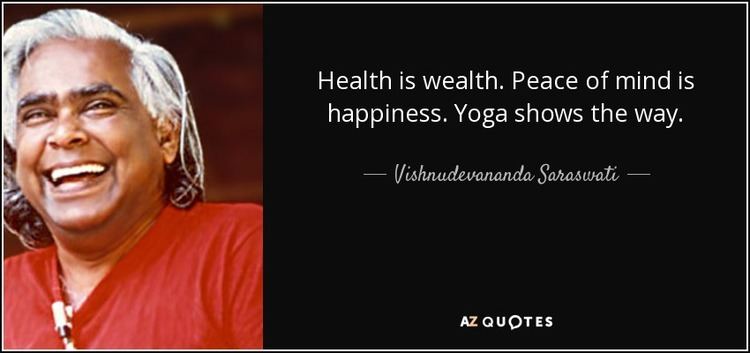 Early life
Vishnudevananda was born in Kerala, a state in South India, on 31 December 1927. His family were members of a Nair caste.His father was a Brahmin named Panchanatham.
During his short career in the Indian Army, he happened to see a pamphlet written by Sivananda Saraswati, called Sadhana Tattwa (Spiritual Instructions). He was particularly inspired by these words: "An ounce of practice is worth tons of theory. Practice yoga, religion and philosophy in daily life and attain Self-realization." Impressed by the simplicity and directness of this message, Vishnudevananda soon took advantage of a 36-hour leave to travel to Rishikesh to meet Sivananda. The visit moved him, and he returned for a second visit.
At his second visit, he and others waited as Sivananda ascended the stairs from the bank of the Ganges to the Ashram. When Vishnudevananda declined to prostrate, Sivananda surprised him by prostrating before him. This lesson in humility was the first given to Vishnudevananda by his guru.
Training
Vishnudevananda entered the Sivananda Ashram in Rishikesh in 1947 at the age of twenty. He took sannyas (became a monk) and was appointed the first professor of hatha yoga at the Sivananda Yoga Vedanta Forest Academy. In this capacity, he trained scores of Indian and Western students. At the same time he continued his own practice, mastering advanced hatha yoga techniques. When asked how he perfected these ancient practices, some of which had become obscure in modern times, Vishnudevananda answered, "My master touched me and opened my eye of intuition. All this knowledge returned to me from past lives". For ten years, he lived and worked under the direct guidance of his master.
According to stories, one day in 1957 Sivananda placed a symbolic 10 rupees in Vishnudevananda's palm and instructed him to bring the ancient teachings of yoga (Vedanta) to the West. "People are waiting," he said.
Centers and ashrams
Vishnudevananda travelled throughout North America, teaching yoga and observing the western life style. He founded the first Sivananda Yoga Vedanta Centre in Montreal, Canada, in 1959. Shortly thereafter, in 1961, he called into life the first yoga vacation, which has since become a tradition in the Sivananda Yoga Vedanta Centres and Ashrams.
In February 1962, Vishnudevananda saw the present site of the Yoga Camp in Val Morin, Quebec, and intuitively chose to settle in the dense forest area near the Laurentian Mountains. By summer the Sivananda Ashram Yoga Camp had opened. From the modest beginning of a few small cottages and tents, there has been considerable expansion. It consists of several temples, a yoga hall, guest lodges and offices, swimming pool and sauna.
In 1967, Vishnudevananda founded the Sivananda Ashram Yoga Retreat on the Bahamas. It is situated on four tropical acres on Paradise Island, a short boat ride away from Nassau.
In August 1971, Sivananda Ashram Yoga Farm was established on land in Grass Valley, California.
Vishnudevananda inaugurated a fourth ashram, located in Woodbourne, New York, near the Catskill Mountains. He named it the Sivananda Yoga Ranch Colony. As with the other Ashrams, Vishnudevananda chose that land because of its strong spiritual vibrations.
In February 1978, Vishnudevananda inaugurated the Sivananda Yoga Vedanta Dhawanthari Ashram in Neyyar Dam, near Thiruvananthapuram in Kerala. The ashram is set on 10 acres (40,000 m2) in the foothills of the Sahyadri Mountains.
A small Himalayan ashram, known as Sivananda Kutir, was established in Netala, just outside Uttar Kashi. It is situated on the banks of the Ganges and was to become the site of Vishnudevananda's jala-samadhi (sacred drowning).
Today the organization founded by Vishnudevananda has nine ashrams and 19 centers at locations around the world. In addition, it has many affiliated centers and has trained thousands of teachers who continue to disseminate the ancient wisdom of yoga.
Peace missions
In reaction to a vision of a world engulfed by flames and people running hither and thither, oblivious of borders, Vishnudevananda began his peace mission, calling it the True World Order, aimed at promoting world peace and understanding. The first act was to create the Sivananda Yoga Teacher Training Course in 1969, as he felt the need to train future leaders and responsible citizens of the world in the yogic disciplines. Later he conducted peace flights over the world's trouble spots, earning himself the name "The Flying Swami".
On 30 August 1971, Vishnudevananda flew from Boston to Northern Ireland in his Peace Plane, a twin-engine Piper Apache plane painted by artist Peter Max. His Vedantic message, "Man is free as a bird", challenged all man-made borders and mentally constructed boundaries. Upon landing, he was joined by actor Peter Sellers and they walked through the streets of Belfast chanting a song called "Love Thy Neighbor as Thyself." Later that same year, on 6 October, he took off with his co-pilot Bren Jacobson, who had been with him during the entire trip, from Tel Aviv to fly over the war-ridden Suez Canal and was buzzed by Israeli jets. The same thing happened with the Egyptian Air Force on the other side of the Canal. He continued eastward, "bombing" Pakistan and India with flowers and peace leaflets.
On 15 September 1983 Vishnudevananda flew over the Berlin Wall, from West to East Berlin, in a highly publicized and particularly dangerous mission to promote peace. In a press interview given several weeks beforehand, he said, "Symbolically we want to show we cannot cross borders with guns, only with flowers. If they shoot me over the Berlin Wall what difference is it? Many people have died for war; I shall die for peace." He safely landed his ultralight glider in an East Berlin field and, after several hours of questioning by East German authorities, was released to West Berlin, where he immediately held the Global Village Peace Festival alongside the Wall. The festival featured a walk across hot coals to demonstrate that the mind is stronger than matter, and figuratively that the human spirit can overcome "fire" of all kinds. Vishnudevananda returned to Berlin when the Wall fell in 1989, staging a peace festival and a brief meeting with then-East German leader Egon Krenz to thank him for allowing the events to unfold peacefully.
In 1984, Vishnudevananda and his students toured India in a double-decker bus, conducting programs aimed at awakening the Indian people to their ancient tradition of yoga. In February he tried to mediate between the Hindu and Sikh factions in Amritsar, entering the Golden Temple to speak to the Sikh leaders who had sought refuge there.
Over the years, Vishnudevananda met regularly with other spiritual and religious leaders to promote interfaith dialogue and understanding. He organized yearly symposia on such topics as yoga and science, the possibilities of the mind, sustainable living and nuclear disarmament.
Vishnudevananda died on 9 November 1993. His body was then placed into the Ganges at the Sivananda Kutir, and the rite named jalasamadhi was performed, merging the abandoned body with the water.
Legacy
Vishnudevananda condensed the teachings of classical yoga into five principles: proper exercise, proper breathing, proper relaxation, proper diet (vegetarian), and meditation and positive thinking. The Sivananda Yoga Vedanta Organization founded by Vishnudevananda has centers and ashrams around the world. It is one of the largest training bodies of yoga teachers in the world, having produced over 38,000 graduates since the Sivananda Yoga Teachers' Training Course was first inaugurated in 1969. His motto was, "Health is Wealth. Peace of Mind is Happiness. Yoga Shows the Way."
References
Vishnudevananda Saraswati Wikipedia
(Text) CC BY-SA