Raghavan telugu full movie kamal haasan jyothika vettaiyaadu vilaiyaadu tamil dubbed
Vettaiyaadu Vilaiyaadu (English: Hunt and Play) is a 2006 Tamil-language crime-thriller film written and directed by Gautham Menon. Starring Kamal Haasan, Jyothika and Daniel Balaji in prominent roles,while Kamalinee Mukherjee and Prakash Raj played supporting roles.The film features music composed by Harris Jayaraj. It was one of the first Indian films to be made using Super 35. Jyothika was nominated for the Best Actress category at the Filmfare Awards for her bold character Aradhana.
Contents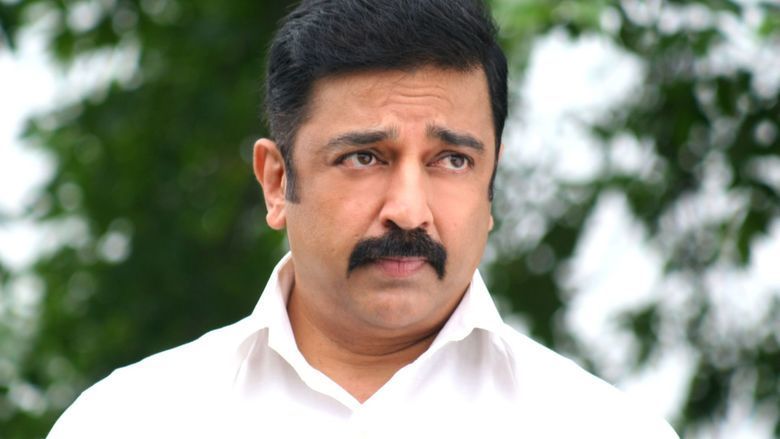 The film was released on 25 August 2006 to positive reviews. It also released in Telugu as Raghavan and in Hindi as The Smart Hunt, despite Menon's idea to remake the film in Bollywood which never materialized.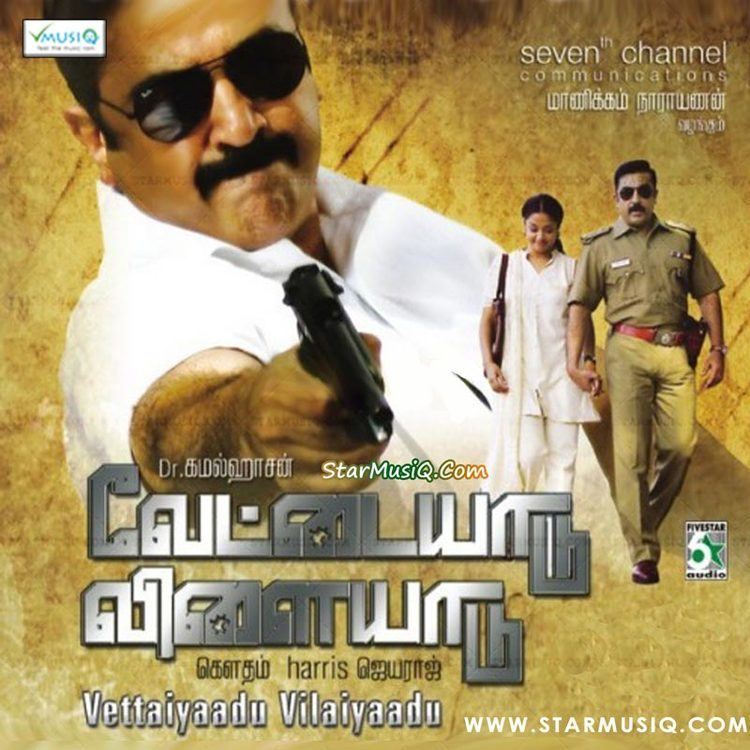 Plot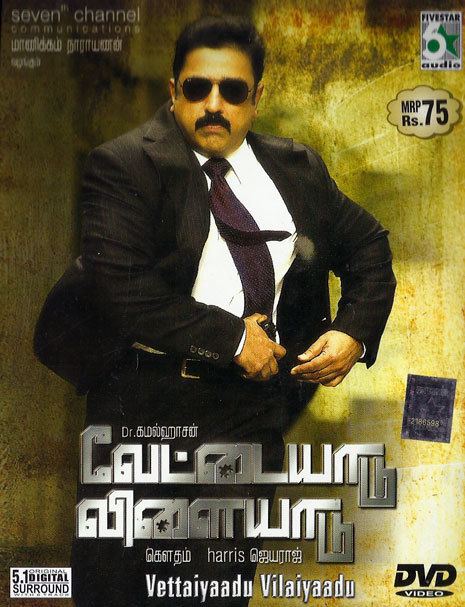 Rani (Bidushi Dash Barde), the daughter of former Chennai police officer Arokiya Raj (Prakash Raj), tells her father over the phone that she will be back home in Madurai in three hours. As she leaves the telephone booth, she is approached by someone she knows. Rani does not come home. The following morning, Arokiya Raj finds Rani's finger hanging at his door.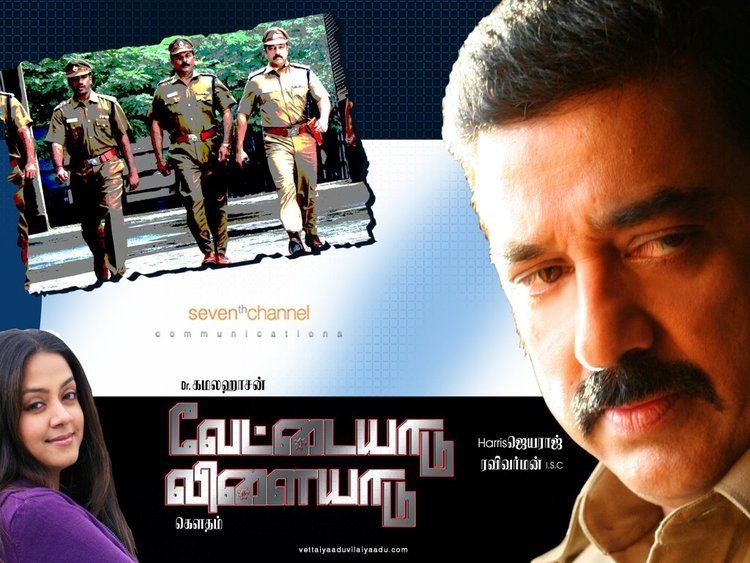 Arokiya Raj calls Raghavan (Kamal Haasan), his old friend and fellow police detective from Chennai, to help in the investigation of Rani's disappearance. With Raghavan's assistance, the police eventually find Rani's body in the outskirts of the city. The coroner's report states that the killer bisected Rani's body with a surgical knife, proving that the murderer has a strong medical background, and that he also savagely raped her. Following the trauma of losing their only daughter, Arokiya Raj and his wife (Rajashree) move to New York to get away from the pain of losing Rani and Rani's wish was to do M.S there .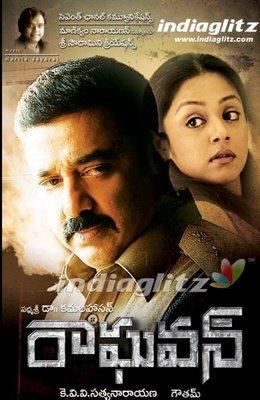 Nine months later, Raghavan learns that Arokiya Raj and his wife have been brutally murdered in New York. This creates a link between the Chennai police and the New York Police Department. Raghavan leaves for New York to represent the Indian police. On the flight, he reminisces about his late wife Kayalvizhi (Kamalini Mukherjee), who was murdered by a local gang because he was a threat to them. Raghavan still blames himself for his wife's murder and has remained single ever since. Once in New York, he begins his investigation with NYPD detective Anderson (Lev Gorn).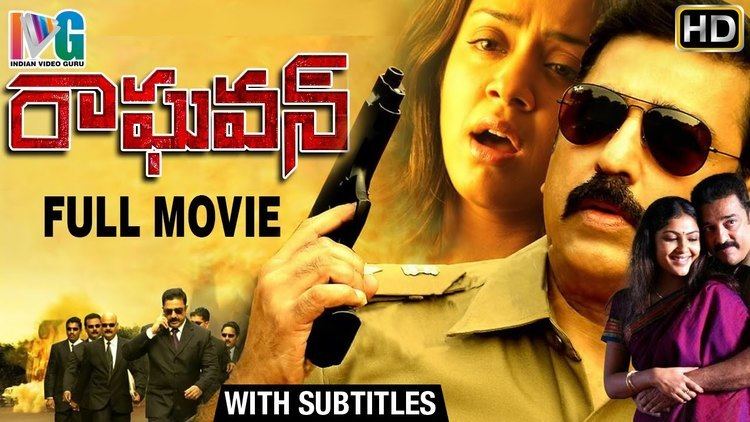 Raghavan stays in a hotel in downtown New York where he constantly keeps his superiors in Chennai updated on the investigation. Staying next to his room is Aradhana (Jyothika), an NRI. He immediately notices that she is going through a rough time in her life. One night, he gets suspicious about what she is up to and breaks into her room, only to find her attempting suicide by strangling herself. Raghavan saves her life and the two strike a friendship. Aradhana reveals that her violent husband is filing for divorce after cheating on her.
At the same time, Raghavan and Anderson find a connection between Rani's murder in Madurai and an Indian-American girl, Chandana, whose finger was also found hung in her boyfriend's car. Using Raghavan's instincts, they find the body of Chandana and three more American girls raped and murdered in similar ways hidden in a restricted area in the suburbs. After narrowing down on their suspects based on flight records, their suspicion falls on two Indian medical students studying in New York — Amudhan (Daniel Balaji) and Ilamaaran (Salim Baigg).
Raghavan and Anderson visit Amudhan and Ilamaaran's apartment to question them. Since they are not home, Raghavan and Anderson break into their apartment and find photos and details of the murdered girls. Before they can call for backup, Amudan and Ilamaaran come home. A violent fight breaks out and Anderson is shot dead while Raghavan is injured and Ilamaaran falls unconscious. In order to buy time, Raghavan asks Amudhan why such intelligent young men like them would succumb to such psychopathic acts.
Amudhan explains that ever since they were children, they had developed a habit of killing. He claims that he managed to keep his violent urges under control for three years. However, the animal inside him was revived on the night he and Ilamaaran were arrested by Arokiya Raj for assaulting Rani. The inspector on duty had them locked up at a local station for a night with a eunuch who molested them. Thirsty for revenge, both of them left for New York City to pursue their higher studies in medicine and went on to kill many local young women. During their summer break in India, they killed Rani and then returned to the States. After finding out that Arokiya Raj had moved to New York, they killed him and his wife. Thinking Raghavan will be dead in minutes due to the stabbings, they set their apartment on fire and take the next flight to Mumbai to escape the NYPD.
Raghavan makes it out alive by jumping out the window and is hospitalised. Aradhana takes care of him and their bond grows stronger. Raghavan and Aradhana return to Chennai together. During their flight, Aradhana explains that she has a daughter who is living with her parents in Chennai and she feels guilty for wanting to commit suicide so selfishly. As they wait in line for customs, Raghavan proposes to Aradhana, but she refuses, saying that she is not ready for another relationship, having just finalised her divorce, as she wishes to focus on being a good mother to her daughter first.
Amudhan and Illamaran, who have evaded Mumbai police at Chatrapati Shivaji International Airport, reach Chennai through Goa and Kozhikode. Amudhan, after seeing Aradhana with Raghavan, kidnaps her while Ilamaaran tries to get into Raghavan's house to kill him but flees after the cops charges. He is chased and caught by Raghavan. After murdering many, in a duel between them, Raghavan eventually kills both Amudhan and Illamaran and rescues Aradhana, who accepts his love and they marry.
Cast
Kamal Haasan as Raghavan IPS, DCP, Chennai city crime
Jyothika as Aaradhana, Arun's ex-wife and raghavan's later love interest.
Kamalinee Mukherjee as Kayalvizhi, Late-Wife of Raghavan
Prakash Raj as Arokiya Raj IPS, Commissioner of Tirunelveli
Rajashree as Chithra, Arokiya Raj's wife
Bidushi Dash Barde as Dr. Rani, Arokiya Raj's daughter
Daniel Balaji as Dr. Amudhan Sukumaran, one of psychos killer duo
Salim Baig as Dr. Ilamaran Anandan,the other in that duo
Lev Gorn as Anderson, Detective with FBI
Yog Japee as Arun, Aaradhana's Ex-husband
Ahuti Prasad as Commissioner of Chennai
Janaki Sabesh as Aradhana's mother
VTV Ganesh as Dharma
Mumaith Khan (item number in Neruppe Sikki Mukki Song)
Sunny Veer Singh (item number in Neruppe Sikki Mukki Song)
Stun Siva as "Royapuram" Mani (special appearance)
Rajeevan in a special appearance
Gautham Menon in a special appearance
Production
Gautham Menon approached Mohanlal in 2005, after finishing the script. The project was supposed to be Gautham's directorial debut in Malayalam. However, Mohanlal opted out due to scheduling conflicts. Gautham Menon was then signed on to direct a venture starring Kamal Haasan and produced by Kaja Mohideen, and initially suggested a one-line story which went on to become Pachaikili Muthucharam for the collaboration. Kamal Haasan wanted a different story and thus the investigative thriller film, Vettaiyaadu Vilaiyaadu, was re-written with Jyothika, Kamalinee Mukerji, Prakash Raj, Daniel Balaji and Saleem Baig added to the cast. As per Menon's usual method for picking a title, he asked his associates for suggestions, which included the title of Thadayaara Thaaka, which was later used for another film. The film told another episode from a police officer's life, with an Indian cop who moved to America to investigate the case of psychotic serial killers before returning to pursue the chase in India. During the shooting, the unit ran into problems after the Producer attempted suicide and as a result, Kamal Haasan wanted to quit the project. Menon subsequently convinced him to stay on as they had taken advance payments. He has revealed that unlike Kamal Haasan's other films, he did not take particular control of the script or production of the film. The film however had gone through changes from the original script, with less emphasis on the antagonists than Menon had hoped, and he also revealed that scenes for songs were forced him and shot without him. Actresses Rohini and Andrea Jeremiah dubbed for the voices of female leads Jyothika and Kamalinee Mukherjee respectively. 50% of the film was shot in New York City, where shooting lasted for a month.
Soundtrack
The Soundtrack of the film consists of five songs composed by Harris Jayaraj, and written by Thamarai.
Telugu track list
Like other Tamil movies, this film was also dubbed in Telugu and titled Raghavan. All lyrics were written by Veturi Sundararama Murthy.
Critical response
Behindwoods wrote a positive review, stating: "The album has not let down expectations. It is the usual mix by Harris. However, Bombay Jeyashree's contribution and the beautiful lyrics by poetess Thamarai are the greatest assets to the album. Harris once again proves his mastery in orchestration and the audio will surely be a hit like Minnale or Kaakha Kaakha." Rediff said, "The most disappointing part is the music. Mr Harris Jayaraj, what has happened to you? The music, which could have taken the movie to a different level, is so loud that it seriously hinders the story flow."
Reception
The film garnered largely positive reviews from critics. National Award winning crtic Baradwaj Rangan summarised it in his review: "The story of a police investigation is detailed in a smart, grown-up movie that gets most things right." He praised the film for "giving us a sense of a day in the life of a cop, as if an invisible crew followed him around as he went about his job." He lavished heavy praise on Gautham Menon for mature handling of the relationship between the lead pair, saying, "Gautham continues to dream up for Jyotika parts that no one's imagined her in before, and she contributes to the kind of mature romantic angle we've rarely seen before. It's not just about boy meeting girl and falling in love; it's about boy with baggage meeting girl with bigger baggage and tentatively exploring the practicality of a new relationship after their respective old ones have faded away." Behindwoods said, "It is definitely a triumph of sorts for Gautham and Manickam Narayanan, who have gone through innumerable hitches in getting the movie released. Enjoy!!" Rediff gave it 3.5/5, saying "In his best performance in recent times, Kamal portrays the character with believable honesty and charm." Sify stated that "what gives you goose flesh is the finely calibrated performance of Kamal as DCP Raghavan. You just can't take your eyes off him as he laces his portrayal with dignity, grace and dry wit."
Box office
Vettaiyaadu Vilaiyaadu, collected a total of ₹500 million worldwide. This was the first Tamil film to be released in 16 theatres in Chennai city alone and changed the trend of film release.
References
Vettaiyaadu Vilaiyaadu (2006 film) Wikipedia
(Text) CC BY-SA
Vettaiyaadu Vilaiyaadu (2006 film) IMDb
Vettaiyaadu Vilaiyaadu (2006 film) themoviedb.org