The vasyl lomachenko experience highlights hd
Vasyl Anatoliyovich Lomachenko (Ukrainian: Василь Анатолійович Ломаченко, [βɐˈsɪlʲ lomɐˈt͡ʃɛnko]; born 17 February, 1988) is a Ukrainian professional boxer. He has held the WBO Super featherweight title since 2016, and previously the WBO featherweight title from 2014 to 2016; he won the latter title in his third professional fight.
Contents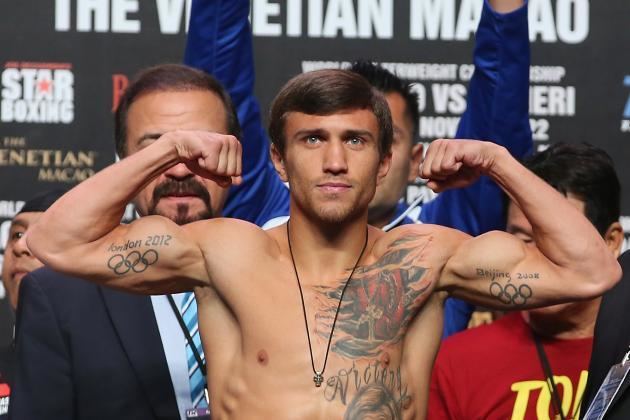 Known for his excellent hand speed, timing, accuracy, creativity, athleticism and foot movement, Lomachenko is currently one of the most highly-rated boxers in the sport, as well as arguably the greatest amateur of all time. Competing in the featherweight and lightweight divisions as an amateur, he won a silver medal at the 2007 World Championships, consecutive gold at the 2008 and 2012 Olympics, and consecutive gold at the 2009 and 2011 World Championships.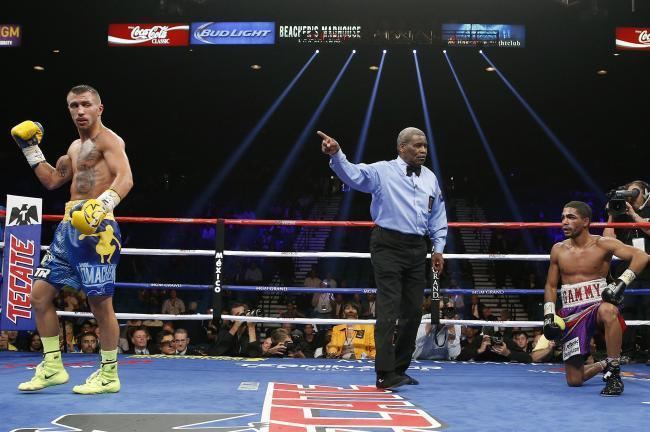 As of August 2017, Lomachenko is ranked, pound for pound, third worldwide by ESPN; fourth by BoxRec and the Transnational Boxing Rankings Board; and fifth by The Ring; He is also ranked by all four as the world's best super featherweight. The Ring named Lomachenko as their Prospect of the Year in 2013. CBS Sports and HBO Sports named him Boxer of the Year in 2016.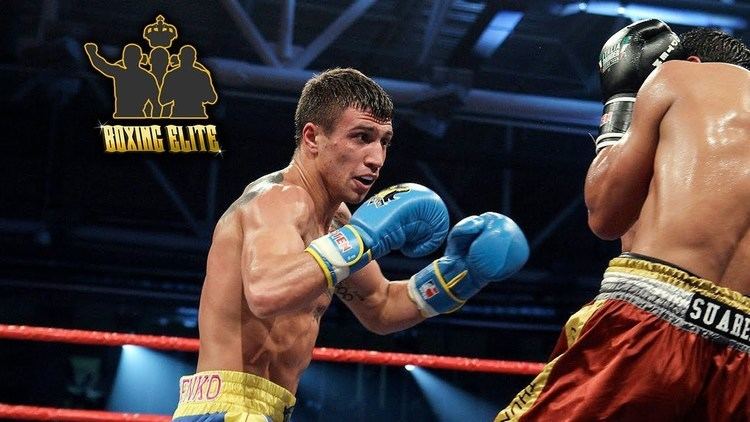 Vasyl lomachenko vs romulo koasicha hbo world championship boxing highlights
Early life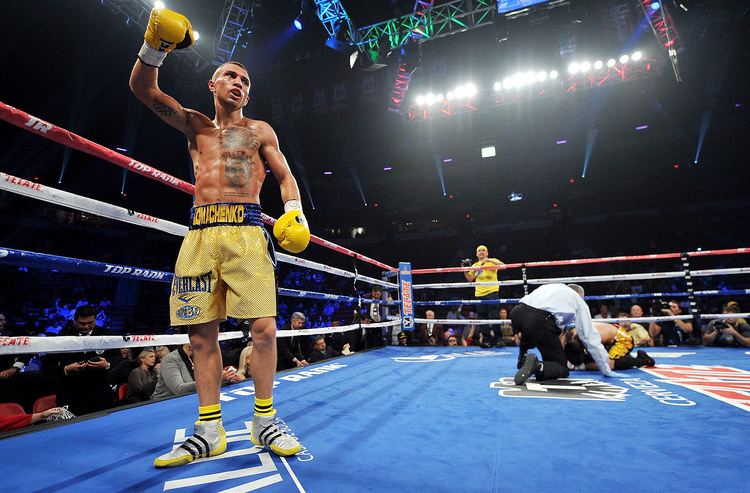 Lomachenko was coached by his father Anatoly from a young age. He claims that if his father had not been a boxing coach he probably would have chosen to play ice hockey professionally.
Amateur career
At the World Championships 2007 in Chicago he beat Abner Cotto in the first round, Theodoros Papazov, Arturo Santos Reyes, and Li Yang in the semifinal to reach a fight against Russian favorite Albert Selimov, another southpaw, to whom he lost, 11:16.
Lomachenko won gold at the 2008 Olympic Games in Beijing, China. He avenged his 2007 World Championship defeat by Selimov in the first round. Lomachenko beat his five opponents by an astonishing 58-13 on the way to his first gold medal, and was subsequently named the outstanding boxer for the tournament and awarded the Val Barker Trophy.
In 2012 London Olympics he won his second consecutive Gold Medal. He defeated Han Soon-Chul of South Korea in the final by 19-9.
Lomachenko finished his amateur career with an impressive career record of 396 wins and only one loss, to Albert Selimov, which was avenged twice.
World Amateur Championships results
2007
Defeated Abner Cotto (Puerto Rico) 26-9
Defeated Theodoros Papazov (Greece) 19-5
Defeated Mikhail Bernadski (Belarus) 21-6
Defeated Arturo Santos Reyes (Mexico) RSCO 3
Defeated Li Yang (China) 14-13
Lost to Albert Selimov (Azerbaijan) 16-11
2009
Defeated Mario Aleksic (Bosnia and Herzegovina) 16-2
Defeated Craig Evans (Wales) 15-1
Defeated Branimir Stankovic (Serbia) 8-2
Defeated Oscar Valdez (Mexico) 12-1
Defeated Sergey Vodopyanov (Russia) 12-1
2011
Defeated Lomalito Moala (Tonga) RSC 1
Defeated José Ramírez (USA) 16-9
Defeated Robson Conceicao (Brasil) 19-18 (originally lost 19-20 but decision was controversially overturned)
Defeated Fazliddin Gaibnazarov (Uzbekistan) 18-10
Defeated Domenico Valentino (Italy) 17-11
Defeated Yasniel Toledo (Cuba) 17-12
Olympic Games results
2008
Defeated Albert Selimov (Russia) 14-7
Defeated Bahodirjon Sooltonov (Uzbekistan) 13-1
Defeated Li Yang (China) 12-3
Defeated Yakup Kılıç (Turkey) 10-1
Defeated Khedafi Djelkhir (France) 9-1 RSC 1
2012
1st round bye
Defeated Wellington Arias (Dominican Republic) 15-3
Defeated Félix Verdejo (Puerto Rico) 14-9
Defeated Yasniel Toledo (Cuba) 14-11
Defeated Han Soon-Chul (Republic of Korea) 19-9
European Championships results
2008
Defeated Vladimir Nikiforov (Estonia) 10-0
Defeated David Oliver Joyce (Ireland) 10-2
Defeated Hicham Ziouti (France) 2-1
Defeated Araik Ambartsumov (Russia) 7-1.
World Series of Boxing
Prior to turning professional, Lomachenko competed in the lightweight division of the World Series of Boxing (WSB) from January to May 2013. Despite having six fights in this tournament, some outlets would later claim that those fights should have counted towards Lomachenko's professional record prior to his official debut later that year, due to the lack of headgear and rounds being scored using the ten-point must system in WSB.
Featherweight
After winning his second Olympic gold medal, Lomachenko made the decision to turn professional. After meeting with several fight promoters, he signed a contract to fight for Top Rank. Lomachenko made his professional debut in United States on 12 October 2013 as part of the undercard to Timothy Bradley vs. Juan Manuel Márquez, defeating Mexican fighter José Ramirez with a fourth-round knockout.
Lomachenko vs. Salido
Lomachenko attempted to make history by winning a world championship in his second fight and breaking Saensak Muangsurin's record, who won a junior welterweight world title in his third pro fight in 1975. He challenged veteran boxer Orlando Salido for World Boxing Organization's featherweight title. The title became vacant after Salido failed to make weight, weighed in 128¼ pounds, over the 126 pound limit. On fight night, he rehydrated to 147 pounds, which was equivalent to the welterweight limit. The fight took place at the Alamodome in San Antonio, Texas on March 1, 2014.
Lomachenko shied from engaging Salido throughout most of the fight, something that his opponent exploited. A late surge, which saw him injure Salido in the final round, was unable to change the final result, losing a controversial split decision despite landing 164 punches out of 441 vs 142 punches out of 645 for Salido. Two judges had it for Salido, 116–112 and 115–113, while the third had it for Lomachenko 115–113. ESPN.com had it 114–114. Lomachenko, for his part, stated he felt the decision was "fair" and accepted blame for not following through with his corner's game plan, promising to learn from the experience and come back stronger. The referee of the fight, Laurence Cole, was roundly criticized by many boxing media-outlets for his perceived failure to properly conduct the match. They mentioned that the referee allowed Salido to deliver an inordinate number of low blows. Salido was also criticized for failing to make weight and some sources stipulated that he did so intentionally, as well as coming back much heavier than Lomachenko on the fight night.
Lomachenko vs. Russell, Jr.
The WBO title remained vacant due to Salido not making weight. On March 20, 2014 the WBO contacted Golden Boy and Top Rank to make them aware that they ahd 30 days to negotiate a fight between Lomachenko and Gary Russell Jr. (24-0, 14 KO) for the vacant WBO featherweight title. In an interview, WBO President Paco Valcarcel said that the fight should take place no later than July 2014. The fight took place on June 22 at the StubHub Center in Carson, California. Lomachenko defeated Gary Russell Jr. via twelve-round majority decision to win the vacant WBO featherweight title. Judge Lisa Giampa scored the fight a 114-114 draw, but judges Max DeLuca and Pat Russell scored the fight 116-112 in favour of Lomachenko. Lomachenko used his power and swift skills to maintain control of the fight until the final bell. Lomachenko began to take hurt Russel Jr. more in the later rounds with power shots. Russell Jr. landed only 10% of his punches thrown, with a lot of combinations being missed or blocked. In doing so he joined Saensak Muangsurin as the only other boxer to have won a world title in the quickest amount of time since turning professional, accomplishing the feat in just his third professional bout.
Lomachenko vs. Piriyapinyo
Lomachenko made his first title defense against mandatory challenger Chonlatarn Piriyapinyo (52-1, 33 KOs) of Thailand. This fight took place on the undercard of the Pacquiao vs. Algieri on HBO PPV bout on November 22, 2014 at the Cotai Arena, Venetian Resort in Macao. Although Piritapinyo's record of 52 wins and 1 loss made the fight sound challenging for Lomachenko, the only time he stepped up in his 11 year career was in 2012 against Chris John, which he lost via unanimous decision. Lomachenko handled his opponent easily, hurting him a few times and scoring a knockdown at the end of the fourth round. In the seventh round, Lomachenko stopped using his left hand; it was later confirmed that he injured that hand. Lomachenko won a unanimous decision with the scores of 120-107 on all three of the judges' scorecards.
Lomachenko vs. Rodriguez, Koasicha
It was announced prior to Lomachenko's mandatory fight against Piriyapinyo that the winner would next fight 28 year old Puertorican boxer Gamalier Rodriguez (25-2-3, 17 KOs). Rodriguez earned the title shot after knocking out Martin Cardona. The fight was announced to take place on May 2, 2015 on the under-card of Mayweather-Pacquiao at the MGM Grand Garden Arena. Prior to the fight, Rodriguez was on a 17-fight winning streak dating back to 2010, where the fight resulted in a first round technical draw. Top Rank announced before the fight that Lomachenko had signed a five-year contract extension. On fight night, Lomachenko retained his WBO title against Rodriguez via a ninth-round KO victory. Lomachenko's speed and precision was too much for Rodriguez, who took a knee twice in the fight, once in the seventh and again in the ninth, which ended the bout. He was also docked a point by referee in fifth round for a low blow. Lomachenko landed 227 of 586 punches thrown (39%) compared to Rodriguez who landed only 55 of 285 (19%). After the fight, Lomachenko spoke through a translator about his performance, "I was just boxing for the fans, having a good time out there." Top Rank were hoping to match Lomachenko with then-WBA featherweight champion Nicholas Walters in a unification fight.
Lomachenko next fought on the Tim Bradley vs. Brandon Rios undercard on HBO against #7 WBO ranked 24 year old Romulo Koasicha (25-4, 15 KOs). The fight took place on November 7, 2015 at the Mandalay Bay Resort & Casino in Paradise, Nevada. He overwhelmed, dominated and stopped Koasicha in the tenth round on a body shot. In the post fight interview, Lomachenko told of how he wanted to put on a good show, "I was just having fun in there, "If I really wanted to knock him out, I would have done it earlier. I was having a good time, but I knew the end would be on a body shot. I just didn't know which one." Lomachenko earned a career high $750,000 for the fight and out landed Koasicha by 259 punches. CompuBox stats showed that Lomachenko dominated throughout, landing 334 of his 717 punches thrown (47%). Koasicha only managed to land 75 of 607 (12%) and earned $35,000 for the loss. The loss ended Koasicha's run of 4 straight wins and he suffered his first stoppage defeat.
Lomachenko vs. Martinez
Following a third successful defense, Lomachenko, still the reigning WBO featherweight champion decided to move up weight to super featherweight to challenge Román 'Rocky' Martínez (29-2-3, 17 KOs) for his WBO super featherweight title on June 11, 2016 at the Madison Square Garden Theater. Martinez was coming off a draw against Orlando Salido in September 2015, after he controversially defeated him in their first fight in April 2015 for the WBO title. Lomachenko became the fastest boxer to win a world title in two weight divisions knocking out Martinez in the 5th round of the world title fight. Lomachenko dominated the fight from the start with superior footwork, hand speed and slick punching from different angles. According to CompuBox research, Lomachenko out-landed Martinez 87 to 34. After the fight, Lomachenko called out Orlando Salido, "Hey Salido, I'm ready to fight you at any time, before the Vargas fight, I told him to win the fight but I never told him I wasn't going to fight him if he didn't, so let's do it. I want to revenge Salido for my fans and give them a win over him."
Lomachenko vs. Walters
After failing to make the fight happen earlier in the year, Top Rank vice president Carl Moretti confirmed on September 28 that Lomachenko would defend his WBO title against 30 year old unbeaten Jamaican boxer Nicholas Walters (26-0-1, 21 KOs) at The Cosmopolitan in Las Vegas on November 26 on HBO.
After Lomachenko dominated the first six rounds with his movement, he threw more combination punches in the sixth which left Walters visibly shaken. Lomachenko won the fight after Walters retired on his stool at the end of the seventh round. Upon returning to his corner, Walters got up and walked to referee Tony Weeks, where he reiterated twice he did not want to continue. A lot of boos followed the confirmation of the fight result as Walters seemed to back himself up for not returning for round 7, blaming his inactivity in the ring, "Listen to me, if I get the chance to fight two or three fights leading up to this fight, I'll definitely take him on in different circumstances where we are more active and definitely beat him but it was all him tonight... he fought me with three fights this year. So it was all him tonight... Nothing take away from him, he's a very good fighter, I learned a lot from fighting him and it was seven rounds of beautiful boxing until my corner decided to end it."
Compubox stats showed Lomachenko landed 114 of 437 punches thrown (26 percent) while Walters landed 49 of 264 (19 percent). Lomachenko earned his first $1 million purse. Following the post fight, Arum told ESPN, he would like to make a rematch with Salido next, followed by a lightweight title fight against Terry Flanagan and then a super fight with Manny Pacquiao. The fight drew 761,000 viewers on HBO.
Lomachenko vs. Sosa
On February 2, 2017, Bob Arum spoke to ESPN. After failing to make a match up with WBA 'Super' champion Jezreel Corrales, he announced Lomachenko's next fight would take place on April 8 at the MGM National Harbor in Washington, D.C., in a featherweight unification against WBA 'Regular' champion Jason Sosa (20-1-4, 15 KOs). This would have been Sosa's third defence of his secondary title, but on February 16, he vacated the title. Lomachenko weighed 129.6 pounds. Sosa weighed in at 130.4 pounds, he then stripped down naked and still over weighed at 130.2 and was given the time to trim the extra weight. He later returned to the Maryland commission's scale and successfully made weight exactly 130 pounds allowing himself to challenge for the WBO title. The fight headlined HBO "World Championship Boxing". In front of sell out crowd of 2,828, mostly Ukrainian, Lomachenko successfully retained his WBO title for a second time after Sosa failed to return for round 10 when his trainer pulled him out. The bout was similar to Lomachenko's previous fight with Walters, who also pulled out. Lomachenko's flashy style and fast combinations won him the rounds. Sosa appeared more hurt in round 8 when he was hit hard on the body.
Sosa was the most successful opponent Lomachenko had fought since Salido in terms of landing punches. He landed 68 of his 286 thrown (24%). Lomachenko landed 275 of 696 punches (40%). Sosa's trainer, Raul Rivas explained why he pulled him out of the fight, "It was an accumulation of too many punches. I didn't want to get Jason hurt. He was out of the fight." Lomachenko said he wanted to follow this victory by only fighting current world champions at super featherweight for a chance to unify the division or he would move up lightweight. The fight peaked at 886,000 viewers HBO and averaged 832,000 viewers. These numbers showed an increase in viewership for Lomachenko from his last fight on HBO against Walters.
Lomachenko vs. Marriaga
On June 30, 2017 Top Rank announced that a deal was in place for Lomachenko to make a third defense of his WBO title against Colombian former featherweight world title challenger Miguel Marriaga (25-2, 21 KOs), who was coming off a loss and moving up to super featherweight. It was confirmed that the fight would take place live on ESPN on August 5, 2017 at the Microsoft Theater in Los Angeles. Carl Moretti of Top Rank stated that Salido had initially turned down a $720,000 purse to fight Lomachenko in a rematch. Even after negotiations to meet his financial needs, Salido still denied the offer due to other problems, mentioning weight and hand issues.
In front of before 4,102, Lomachenko dominated the fight from the opening bell and proved too much for Marriaga, dropping him twice in the fight, before Marriaga's corner stopped the fight after round 7. Lomachenko retained his WBO title for the third time. The first knockdown came towards the end of the third round when Lomachenko landed a straight left to Marriaga, who was off balance. Marriaga got up straight away and didn't appear hurt. In the fourth round, an accidental clash of heads opened up a cut above Lomachenko's left eye. In the following round, Lomachenko protested to referee Jack Reiss, claiming he was being hit low and headbutted. In the seventh round, Lomachenko landed body shots and uppercuts, eventually dropping Marriaga for the second time with a left hook at 2 minutes and 59 seconds of round 7. Marriaga beat the count and walked towards his corner. The referee waved an end to the fight moments later. Although it was a corner retirement, the CSAC ruled it a KO win. Lomachenko earned a $750,000 purse for the fight, compared to the $50,000 received by Marriaga.
During the post fight interviews, Marriaga praised Lomachenko, "He dominated the fight. I connected with some good punches, but I couldn't get the result I was looking for. I wanted to continue the fight, but my corner stopped the fight. He basically overwhelmed me with pressure." Bob Arum also showed his admiration of Lomachenko, comparing him to former heavyweight world champion and legend Muhammad Ali, who had 27 of his professional fight promoted by Arum. He said "I never saw anything like this. He's unbelievable. Not only does he have the knowledge, he has the skill set that I've never seen before. Fast, reflexes, everything and he really entertains. Who else did that? Muhammad Ali." The fight averaged 728,000 viewers on ESPN. The move from HBO to ESPN was done to expose Lomachenko and gain more viewership, but was down by 104,000 compared to Lomachenko's last fight against Sosa on HBO. Viewership was adversely affected by a channel switch when the broadcast began and the time at which their main event started.
Lomachenko vs. Rigondeaux
On August 6, Arum stated that Lomachenko would fight for a third time in 2017, likely on December 9th or 23rd. When asked who the potential options were, Arum stated, "Well, there's a few guys. (Guillermo) Rigondeaux if he answers Dino (Duva's) call. There's (Orlando) Salido, who's sniffing around and the third is (Miguel) Berchelt." Arum also mentioned lightweight contender Ray Beltrán, but said he would like to capture a world title at lightweight before a potential fight with Lomachenko. Salido informed his manager Sean Gibbons, that he had no issues with fighting Lomachenko in December. Gibbons believed Lomachenko needed Salido more than Salido would need Lomanchenko, as Lomachenko was looking to raise TV ratings and sell out a 10,000 capacity arena. On August 14, Arum spoke to LA Times and confirmed either Rigondeaux or Salido would be Lomachenko's next opponent. He stated if the bout with Rigondeaux was made, it would likely take place at the Madison Square Garden Theatre and a potential rematch with Salido would take place in Los Angeles. On August 21, Arum stated both camps were closing in on finalising a deal for December 9. A fight between Lomachenko and Rigondeaux would take place at 130 pounds. The fight was officially confirmed on September 15. It has since been confirmed by LA Times that the fight will in fact be at Madison Square Garden, headlining an ESPN televised card.
References
Vasyl Lomachenko Wikipedia
(Text) CC BY-SA