Reach

67 in (170 cm)




Name

Manny Pacquiao




Total fights

65




Spouse

Jinkee Pacquiao (m. 2000)




Stance

Southpaw




Weight

65 kg




Nationality

Filipino




Height

1.66 m








Nickname(s)

Pac-Man,Ang Pambansang Kamao(The Nation's Fist),Ang Pambansang Ninong (National Godfather),The Filipino SluggerThe Mexicutioner The Destroyer




Rated at

Flyweight (108-112 lb)Super bantamweight (122 lb)Featherweight (126 lb)Super featherweight (130 lb)Lightweight (135 lb)Light welterweight (140 lb)Welterweight (147 lb)Light middleweight (154 lb)




Born

December 17, 1978 (age 42) Kibawe, Bukidnon, Philippines (

1978-12-17

)


Role

Member of the Philippines House of Representatives · mp8.ph




Movies and TV shows

Kid Kulafu, Anak ng Kumander, Wam Bam Pac's The Man, Manny Many Prizes, Show Me Da Manny






Similar

Jinkee Pacquiao, Canelo Álvarez, Floyd Mayweather Jr.




Profiles




Instagram

Facebook




Trained by

Freddie Roach, Joel Diaz



Manny pacquiao career highlights 2016
Emmanuel Dapidran "Manny" Pacquiao, PLH ( ; [pɐkˈjaʊ]; born December 17, 1978) is a Filipino professional boxer and politician, currently serving as a Senator of the Philippines.
Contents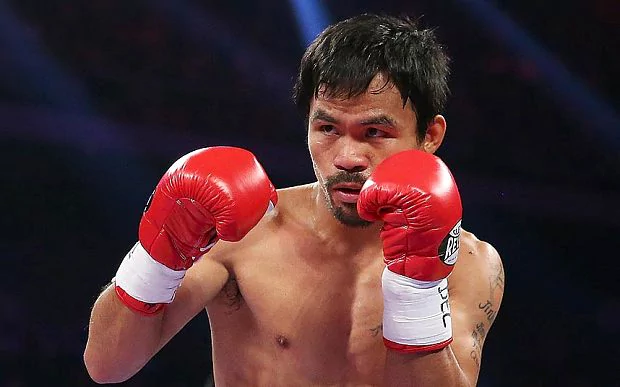 In 2016, Pacquiao was ranked number 2 on ESPN's list of top pound-for-pound boxers of the past 25 years. He is the only eight-division world champion in the history of boxing, having won eleven major world titles, as well as being the first boxer to win the lineal championship in five different weight classes. Pacquiao is also the first boxer in history to win major world titles in four of the original eight weight classes of boxing, also known as the "glamour divisions": flyweight, featherweight, lightweight, and welterweight.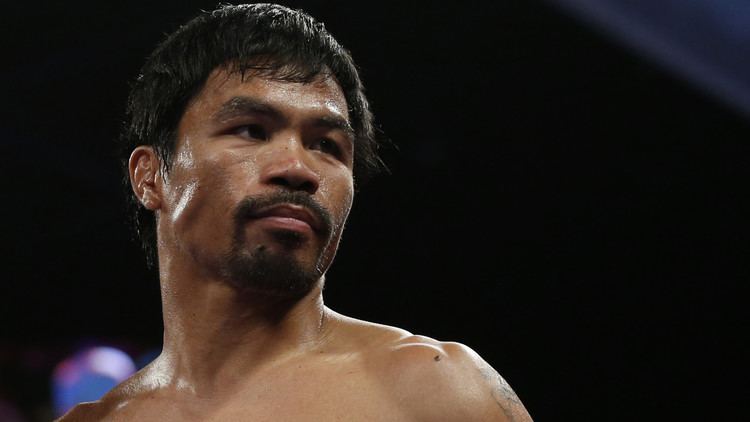 He was named "Fighter of the Decade" for the 2000s by the Boxing Writers Association of America (BWAA), WBC, and WBO. He is also a three-time Ring magazine and BWAA Fighter of the Year, winning the award in 2006, 2008, and 2009; and the Best Fighter ESPY Award in 2009 and 2011. Pacquiao has generated approximately 19.2 million in pay-per-view buys and $1.2 billion in revenue from his 23 PPV bouts. According to Forbes, he was the second highest paid athlete in the world as of 2015.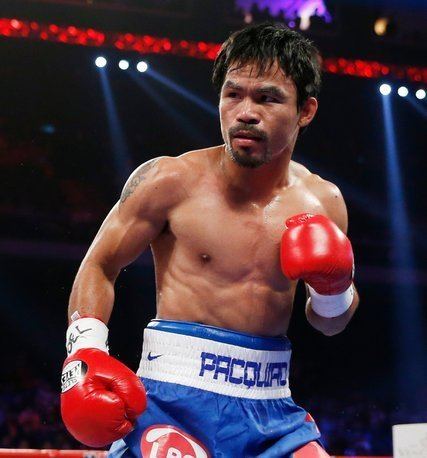 Beyond boxing, Pacquiao has participated in basketball, business, acting, music recording, and politics. In May 2010, Pacquiao was elected to the House of Representatives in the 15th Congress of the Philippines, representing the province of Sarangani. He was re-elected in 2013 to the 16th Congress of the Philippines. In June 2016, Pacquiao was elected as a senator and will serve a six-year term until 2022. While mostly focused on being a boxer and a politician, Pacquiao is listed as the head coach of the basketball team Mahindra Floodbuster. He was also drafted onto the team as 11th overall pick in the first round of the 2014 PBA draft, making him the oldest rookie drafted, as well as the shortest player and the first dual-sport athlete in the Philippine Basketball Association.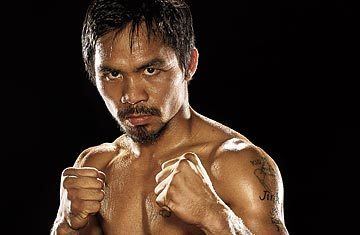 Billionaire Pacquiao remains richest congressman
Early and personal life
Pacquiao was born on December 17, 1978, in Kibawe, Bukidnon, Philippines. He is the son of Rosalio Pacquiao and Dionisia Dapidran-Pacquiao. His parents separated when he was in sixth grade, after his mother discovered that his father was living with another woman. He is the fourth among six siblings: Liza Silvestre-Onding and Domingo Silvestre (from first husband of his mother) and Isidra Pacquiao-Paglinawan, Alberto "Bobby" Pacquiao and Rogelio "Roel" Pacquiao.
Pacquiao married Jinkee Jamora on May 10, 2000. Together, they have five children, Emmanuel Jr. (Jimuel), Michael Stephen, Mary Divine Grace, Queen Elizabeth and Israel. His daughter, Queen, was born in the United States. He resides in his hometown General Santos City, South Cotabato, Philippines. However, as a congressman of lone district of Sarangani, he is officially residing in Kiamba, Sarangani, the hometown of his wife.
Raised in the Roman Catholic faith, Pacquiao is currently a practicing Evangelical Protestant. Pacquiao said he once had a dream where he saw a pair of angels and heard the voice of God; this dream convinced him to become more religious.
Education
Pacquiao completed his elementary education at Saavedra Saway Elementary School in General Santos City, but dropped out of high school due to extreme poverty. He left his home at age 14 because his mother, who had six children, was not making enough money to support her family.
In February 2007 he took, and passed, a high school equivalency exam making him eligible for college education. He was awarded with a high school diploma by the Department of Education. Pacquiao enrolled for a college degree in business management at Notre Dame of Dadiangas University (NDDU) in his hometown in General Santos City.
On February 18, 2009, Pacquiao was conferred the Honorary Degree of Doctor of Humanities (Honoris Causa) by Southwestern University (SWU) at the Waterfront Cebu City Hotel & Casino in Lahug, Cebu City in recognition of his boxing achievements and humanitarian work.
In preparation for his career as a lawmaker in the House of Representatives, Pacquiao enrolled in the Certificate Course in Development, Legislation and Governance at the Development Academy of the Philippines – Graduate School of Public and Development Management (DAP-GSPDM).
Military
Pacquiao is a military reservist with the rank of Lieutenant Colonel in the Reserve Force of the Philippine Army. Prior to being commissioned to the rank of Lieutenant Colonel, he first entered the Army's reserve force on April 27, 2006 as a Sergeant. Later, he rose to Technical Sergeant on December 1 of the same year. On October 7, 2007, he became a Master Sergeant, the highest rank in the enlisted personnel. On May 4, 2009, he was given the special rank of Senior Master Sergeant and was also designated as the Command Sergeant Major of the 15th Ready Reserve Division.
Boxing career
Pacquiao started boxing at the age of 14 while living in the streets of Manila for some time. He turned professional when he was 16 years old.
"Many of you know me as a legendary boxer, and I'm proud of that," he said. "However, that journey was not always easy. When I was younger, I became a fighter because I had to survive. I had nothing. I had no one to depend on except myself. I realized that boxing was something I was good at, and I trained hard so that I could keep myself and my family alive."
In July 2017 after his controversial defeat to Jeff Horn, Pacquiao said, "I love this sport and until the passion is gone, I will continue to fight for God, my family, my fans and my country."
Professional career
On April 17, 2014, Pacquiao announced his intentions to join the Philippine Basketball Association as the playing coach of Kia Motors Basketball team, an incoming expansion team for the PBA's 2014–15 season Though he can be the head coach of the incoming team, the league's commissioner, Atty. Chito Salud, clarified that all incoming players should join the PBA draft. Pacquiao plays basketball as cross-training to keep himself in shape. He previously played in the semi-professional basketball league, Liga Pilipinas, for the MP-Gensan Warriors, a team that he also owns. He made his debut in the Smart-Liga Pilipinas Conference II in January 16, 2009.
After the decision, he was criticized by others specifically online by netizens, saying that Pacquiao could not handle boxing together with basketball. Pacquiao said that even before he started boxing, he was also criticized that he can not be a world champion, but he proved them wrong, it served as a challenge for him and he dared his critics to wait until they see him step onto the court. 'It will serve as a challenge for me, they do not know what they are saying, before I have also experienced this before I started boxing, but I proved them wrong.', Pacquiao said. On July 9, 2014, he submitted his application for the upcoming rookie draft to the commissioner's office. His camp also hopes that the board of governors "respect" his request to be not drafted until Kia's turn.
He got picked 11th overall in the first round of the 2014 PBA draft by the Kia basketball team, being the oldest rookie to be drafted in the Philippine Basketball Association.
Pacquiao also owns a team in the PBA Developmental League (PBA D-League), the MP Hotel Warriors, which debuted in the league's 2014–15 season. He was briefly a co-owner of the Pacquiao Powervit Pilipinas Aguilas (now known as Pilipinas MX3 Kings), an Asean Basketball League team.
In 2016, Pacquiao was supposedly lined-up for the Senate Defenders basketball team in the UNTV Cup Season 5, but decided that he will not play in the tournament due to his existing contract as a player and coach of Mahindra Enforcer in the PBA.
PBA career statistics
Correct as of September 2, 2016
2007 election
On February 12, 2007, Pacquiao officially announced that he would be running for a seat in the Philippine House of Representatives in the May 2007 legislative election, aiming to represent the 1st District of South Cotabato province. He would run as the candidate of the Liberal Party faction under Manila mayor Lito Atienza that had affiliated with the government of President Gloria Macapagal-Arroyo. Pacquiao, who has himself been known to be supportive of the Arroyo government, said that he was persuaded to run by local officials of General Santos City, who hoped he would act as a bridge between their interests and the national government. But after the Philippine Supreme Court declared null and void all nominations of the Liberal Party faction under Atienza, Pacquiao ran under the Kabalikat ng Malayang Pilipino (KAMPI), a pro-Arroyo political party. Pacquiao was defeated in the election by incumbent Rep. Darlene Antonino-Custodio of the Nationalist People's Coalition, who said, "More than anything, I think, people weren't prepared to lose him as their boxing icon."
2010 election
On November 21, 2009, Pacquiao confirmed that he would run again for the congressional seat, but this time in Sarangani province, the hometown of his wife Jinkee. He originally planned to run for congress under his own party, the People's Champ Movement, but has since joined the Nacionalista Party headed by Manny Villar. Villar said arrangements were made to accommodate Pacquiao's People's Champ Movement in a coalition with the Nacionalista Party for the May 2010 elections in Sarangani.
On May 13, 2010, Pacquiao was officially proclaimed congressman of the lone district of Sarangani. He scored a landslide victory over the wealthy and politically well-entrenched Chiongbian clan that had been in power in the province for more than thirty years. Pacquiao got 120,052 votes while his opponent for the seat, Roy Chiongbian, got 60,899 votes.
On June 28, 2010, Pacquiao took his oath of office as congressman before Supreme Court Associate Justice Antonio T. Carpio in the Provincial Capitol of Sarangani in Municipality of Alabel. He announced that he would transfer to President-elect Benigno "Noynoy" Aquino III's Liberal Party from Nacionalista Party as he wanted to ensure the entry of more projects to his province.
2013 election
Pacquiao later moved to the Partido Demokratiko Pilipino-Lakas ng Bayan (PDP-Laban) led by Vice-President Jejomar Binay. He took his oath on April 16, 2012 in front of PDP-LABAN President and Senator Aquilino Pimentel III and Secretary-General Joey de Venecia in preparation for the upcoming 2013 elections. In congressional elections in 2013 he ran unopposed for his second term as congressman. Additionally, his wife, Jinkee, was also elected as Vice-Governor of Sarangani, while his younger brother, Rogelio was defeated by incumbent Rep. Pedro Acharon of Team PNoy in second district race in South Cotabato which includes General Santos City.
2016 election
During the Sarangani's 1st district state of the district address on October 5, 2015, Pacquiao formally declared that he was running for Senator under the United Nationalist Alliance (UNA) party of Vice President Jejomar Binay. On May 19, 2016, Pacquiao was formally proclaimed as one of the winners of Philippine Senate seats by the Commission on Elections. At the proclamation ceremony, an elections commissioner introduced Pacquiao as the people's champion and called out his name in the same slow style that he is introduced in his world-famous bouts, drawing cheers from the audience. Pacquiao garnered more than 16 million votes, landing 7th among 12 new members of the Senate.
U.S. political endorsements
He also has endorsed politicians outside the Philippines, in particular his secondary home country in the United States, as he endorsed Nevada Senator Harry Reid and California Governor Jerry Brown in November 2010. Pacquiao also endorsed Republican Duke Aiona for Hawaii governor in 2014.
Acting career
Pacquiao started his acting career as an extra in some local films and guest appearances on ABS-CBN shows.
In December 2005 Pacquiao took his first lead role in Violett Films' Lisensyadong Kamao (Licensed Fist). The movie is titled so because (according to director Tony Bernal), being a boxer, Pacquiao is licensed to use his hands.
In 2008, Pacquiao starred with Ara Mina and Valerie Concepcion in Anak ng Kumander (Son of Commander). The movie was not a commercial success and was panned by critics.
Pacquiao starred in the superhero/comedy film entitled Wapakman, which was released on December 25, 2009 as an entry to the 2009 Metro Manila Film Festival. Like his previous films, Wapakman was not commercially successful.
Upon the expiration of his contract with ABS-CBN, Pacquiao signed with GMA Network as an actor in September 2007. On December 17, 2007, he taped his first episode of the networks infotainment show Pinoy Records. His other projects with the network included Totoy Bato and the sitcom Show Me Da Manny in which his mother, Dionisia, also appeared.
In 2012, American actor Sylvester Stallone was reportedly in talks with Pacquiao over co-starring in one of Stallone's future films. The project did not push through as no further updates were given after the initial report.
In 2011, Pacquiao appeared on Tosh.0 in which he was paired in a fight with Daniel Tosh. It resulted in Pacquiao winning in one punch.
On May 18, 2012, it was reported that Pacquiao will shoot his first Hollywood film after his June 9 fight with Tim Bradley. He will play a gangster in this movie that will also feature other fighters and martial artists such as Hector Echavarria, Lyoto Machida, Anderson Silva and Frank Mir. Filipino-American Rob Schneider also confirmed the report in an interview that he'll be working with Pacquiao in a movie. The working title is Brass Knuckles and will be directed by Erick Geisler.
Discography
Pacquiao has also turned to singing as part of his entertainment career. Most of the Tagalog songs of Pacquiao were composed by Lito Camo. The following are the songs from Manny Pacquiao's albums:
Laban Nating Lahat Ito (2006) – under Star Records
"Bilog" (Circle)
"Para Sa'Yo Ang Laban Na 'To" (This Fight is for You)
"Pagsubok Lamang Yan" (It's Just a Challenge)
"Byaheng Pag-asa" (Voyage of Hope)
"Ipakita Mo" (Show Them)
"Ikaw at Ako" (You and Me)
"Hindi Ko Kaya" (I Can't Do It)
"Kanta Tayo" (Let's Sing)
"Champion Sa Kantahan" (Champion in Singing)
"Laban Nating Lahat Ito" (This is Our Fight) (feat Francis M.)
Pac-Man Punch (2007) – under MCA Records
"Pac-Man Punch" – Willie Wilcox feat. Nemesis Yankee and Manny Pacquiao
"Pac-Man Punch (R U Ready?)" – Willie Wilcox feat. Nemesis Yankee
"Pac-Man Punch (Knockout Remix)" – Willie Wilcox feat. Nemesis Yankee and Manny Pacquiao
"Pac-Man Punch (Minus One)"
2009 Single under GMA Records
"Lahing Pinoy"
2011 Single
Remake of Dan Hill's Sometimes When We Touch
Collaborations
"Bangon Kaibigan" (Rise My Friend, 2013) – with various Kapuso Artists
Lalaban Ako Para Sa Pilipino (EP, 2015)
Lalaban Ako Para Sa Pilipino (I Will Fight For The Filipinos)
Team Pacquiao feat. Gloc 9
Lahing Pinoy (The Filipino Race)
Para Sa'yo Ang Laban Na 'To (This Fight is For You)
In popular culture
A film based on Pacquiao's life, Pacquiao: The Movie, was released on June 21, 2006, featuring Filipino actor Jericho Rosales as Manny Pacquiao and was directed by Joel Lamangan. The film flopped at the box office, grossing a total of only P4,812,191 (approximately US$99,322), as confirmed by Lamangan.
Another film was based on Pacquiao's early life in boxing Kid Kulafu, was released on April 15, 2015, featuring young actor Robert Villar as Emmanuel "Manny" Pacquiao The film dramatizes the life of the Filipino boxing superstar during his childhood.
A documentary entitled "Manny" which featured Pacquiao's early life as well as his boxing and political career was released with Liam Neeson as the narrator.
Pacquiao is featured in the boxing video games Fight Night Round 2, Fight Night Round 3, Fight Night Round 4 and Fight Night Champion. EA Sports released a limited edition demo of Fight Night Round 4, featuring Pacquiao and Ricky Hatton prior to their May 2 fight.
Pacquiao became the first Filipino athlete to appear on a postage stamp.
Pacquiao became the first Filipino Olympic non-participant to be Team Philippines' flag-bearer during the August 8 opening ceremonies of the 2008 Summer Olympics at the Beijing National Stadium. Swimmer Miguel Molina, 2005 Southeast Asian Games' Best Male Athlete, yielded the honor to Pacquiao, upon the request of President Gloria Macapagal-Arroyo to the national sports officials on the Philippines at the 2008 Summer Olympics.
Various business sectors have solicited Manny Pacquiao's help in endorsing their products through commercial advertisements in print and in broadcast media. These include detergents, medicines, foods, beverage, garments, telecommunications and even a political ad for politicians during the 2007 and 2010 Philippine elections. Additionally, Pacquiao appeared in commercials for Nike's "Fast Forward" campaign (with Tiger Woods, Kobe Bryant, Maria Sharapova, Roger Federer, Cristiano Ronaldo and Liu Xiang). Pacquiao also appeared in a commercial for San Miguel Beer with Jet Li and Érik Morales.
Pacquiao was one of Time's 100 most influential people for the year 2009, for his exploits in boxing and his influence among the Filipino people. Pacquiao was also included by Forbes in its annual Celebrity 100 list for the year 2009, joining Hollywood actress Angelina Jolie and fellow athletes Tiger Woods and Bryant.
Forbes also listed Pacquiao as the World's 6th Highest Paid Athlete, with a total of $40 million or ₱2 billion pesos (₱2,000,000,000.00) from the second half of 2008 to the first half of 2009. Tied with him on the sixth spot was NBA player LeBron James and golfer Phil Mickelson. Pacquiao was again included in Forbes' list of Highest Paid Athletes from the second half of 2009 to the first half of 2010; he was ranked 8th with an income of $42 million. Pacquiao also won the 2009 ESPY Awards for the Best Fighter category, beating fellow boxer Shane Mosley and Brazilian mixed martial arts fighters Lyoto Machida and Anderson Silva. ESPN Magazine reported that Pacquiao was one of the two top earning athletes for 2010, alongside American Major League Baseball player Alex Rodriguez. According to the magazine's annual salary report of athletes, Pacquiao earned $32 million (approximately PhP 1.38 billion) for his two 2010 boxing matches against Clottey and Margarito.
Pacquiao has also appeared on the cover of Time magazine Asia for their November 16, 2009 issue. According to their five-page feature story, "(Pacquiao is) a fighter with enough charisma, intelligence and backstory to help rescue a sport lost in the labyrinth of pay-per-view. Global brands like Nike want him in their ads." They also added, "Pacquiao has a myth of origin equal to that of any Greek or Roman hero. He leaves the Philippines to make it even bigger, conquering the world again and again to bring back riches to his family and friends." Pacquiao became the eighth Filipino to grace the cover of the prestigious magazine, after former Philippine presidents Manuel L. Quezon, Ramon Magsaysay, Ferdinand Marcos, Corazon Aquino, Gloria Macapagal-Arroyo, Benigno Aquino III and Filipino actress and environmentalist Chin Chin Gutierrez. Pacquiao was also featured on the cover of Reader's Digest Asia, where a seven-page story was written about the Filipino boxing superstar. The issue came out before Pacquiao's epic match against De La Hoya on November 2008.
Pacquiao is also mentioned in some hip-hop tracks including Kool A.D.'s song entitled "Manny Pacquiao" on his mixtape, "51". A few notable ones are Pitbull's "Get it started," A$AP Rocky's "Phoenix," Bad Meets Evil and Bruno Mars' "Lighters," Eminem and Skylar Grey's "Asshole," Future's "Never Gon' Lose," Migos' "Chinatown," Nicki Minaj and Ciara's "I'm Legit" and Rick Ross's "High Definition" to name a few.
Tax evasion case
On November 26, 2013, a few days after Pacquiao's victory over Brandon Rios, the Philippine Bureau of Internal Revenue (BIR) issued a freeze order on all of Pacquiao's Philippine bank accounts due to his alleged failure to pay ₱2.2 billion in taxes for earnings he made in his fights in the United States from 2008 to 2009. A day after the bank account freeze, the BIR also issued an order to freeze all of Pacquiao's Philippine properties, whereupon Pacquiao presented documents to the press showing the income tax for non-resident alien payment by his promoter to the BIR's US counterpart, the Internal Revenue Service, as well as a letter from Bob Arum.
Remarks on LGBTs and same-sex marriage
In May 2012, Pacquiao was mistakenly quoted on making a public remark regarding gays, it was first reported that Manny made a remark regarding a Bible verse saying "gay men should be put to death." However Pacquiao later said that he did not say those exact words. It was confirmed by Granville Ampong, the writer who wrote the article containing the said Bible verse, that it was him and not Pacquiao who quoted the verse in his article. Pacquiao is openly supportive of LGBT activism but strongly against same-sex civil marriage quoted as saying "God only expects man and women to be together and to be legally married."
In February 2016, Pacquiao, in a video statement posted by TV5, made a comment on the issue of same-sex marriage. Pacquiao, in vernacular, described people in same-sex civil marriages as behaving worse than animals because animals generally do not have same-sex mating. LGBT celebrities including comedian Vice Ganda, singer Aiza Seguerra, TV host Boy Abunda and the party-list Ladlad criticized the statements of the senatorial candidate. Pacquiao later apologized and stated that while, as a Christian, he is still against same-sex marriage, which is against Biblical teachings, and he did not condemn gay people themselves, saying that he loves them all and is praying for them. Nike ended their longtime partnership with Pacquiao stating his comments against gay people were abhorrent. The Grove at Farmers Market in Los Angeles also banned Pacquiao from the shopping mall.
Towards the end of the video, Pacquiao clarified that he is not condemning gay people.
After being dropped by Nike, Pacquiao uploaded a photograph of himself and his wife onto Instagram, alongside Biblical verses relating to homosexuality, including Leviticus 20:13 which prescribes death as a punishment for male homosexual acts. He deleted the post two hours later.
Steroid allegations
Because of a fear of blood drainage, especially close to a bout, the steroid allegation began when Pacquiao turned down a random blood test arrangement when in negotiations for the Mayweather bout in 2010. The allegations by Mayweather ended in a lawsuit from Pacquiao that was settled with compensation by Mayweather out of court.
Awards and recognitions
International:
2000–2009 Boxing Writers Association of America Fighter of the Decade
2000–2009 HBO Fighter of the Decade
2001–2010 World Boxing Council Boxer of the Decade
2001–2010 World Boxing Organization Best Pound-for-Pound Fighter of the Decade
2006, 2008 and 2009 Boxing Writers Association of America's Fighter of the Year
2006, 2008 and 2009 ESPN Fighter of the Year
2006, 2008 and 2009 The Ring Fighter of the Year
2008 Sports Illustrated Boxer of the Year
2008 Yahoo! Sports Fighter of the Year
2008 and 2009 ESPN Star's Champion of Champions
2008 and 2009 World Boxing Council Boxer of the Year
2008, 2009, 2010 and 2011 The Ring No.1 Pound-for-Pound (year-end)
2009 ESPN Knockout of the Year (in Round 2 against Ricky Hatton)
2009 and 2011 ESPY Awards Best Fighter
2009 and 2015 Forbes magazine World's Highest-Paid Athletes (ranked 6th and 2nd)
2009 Sports Illustrated Fighter of the Year
2009 The Ring Knockout of the Year (in Round 2 against Ricky Hatton)
2009 TIME 100 Most Influential People (Heroes and Icons Category)
2009, 2010, 2012 and 2015 Forbes magazine Celebrity 100 (The World's Most Powerful Celebrity) (ranked 57th, 55th, 33rd and 2nd)
2010 World Boxing Organization Fighter of the Year
2010 Yahoo! Sports Boxing's Most Influential (ranked 25th)
2011 Las Vegas Walk of Stars Awardee
2011 Guinness World Records Most boxing world titles in different weight divisions (8 times; since November 13, 2010)
2013, 2014, 2015 and 2016 Reader's Digest Asia Pacific Most Trusted Sports Personality
2014 PublicAffairsAsia HP Gold Standard Award for Communicator of the Year
2015 Asia Society's Asia Game Changer of the Year
2016 Forbes magazine Boxing's MVPs (ranked 4th)
National:
2000–2009 Philippine Sportswriters Association Athlete of the Decade
2002, 2003, 2004, 2006 and 2008 PSA Sportsman of the Year
2003 Presidential Medal of Merit
2003 and 2010 Congressional Medal of Achievement / Distinction / Honor
2006 Order of Lakandula with the rank of "Champion for Life" (Kampeon Habambuhay)
2006 Eastwood City Walk of Fame Awardee
2008 Philippine Legion of Honor with the rank of "Officer" (Pinuno)
2008 University Athletic Association of the Philippines (UAAP) Honorary Award for Sports Excellence
2009 25th Philippine Movie Press Club Star Awards for Movies Newsmaker of the Year
2009 Order of Sikatuna with the rank of Datu (Grand Cross with Gold Distinction)
2011 Gabriel "Flash" Elorde Memorial "Quintessential Athlete" Award
References
Manny Pacquiao Wikipedia
(Text) CC BY-SA