Nickname(s)

Vasya




Name

Vasily Zaytsev




Allegiance

Soviet Union


Role

Sniper


Years of service

1937–1945




Siblings

Maksim Zaytsev




Rank

Captain








Native name

Василий Григорьевич Зайцев




Born

23 March 1915 Yeleninskoye, Orenburg Governorate, Russian Empire(now Chelyabinsk Oblast, Russian Federation) (

1915-03-23

)


Buried at

Mamayev Kurgan, Volgograd, Russia


Died

December 15, 1991 (aged 76), Kiev, Ukraine


Spouse

Zinaida Zaitseva (m. ?–1991)




Battles and wars

Great Patriotic War, Battle of Stalingrad


Books

Notes of a Russian Sniper: Vassili Zaitsev and the Battle of Stalingrad





Similar

Carlos Hathcock , Lyudmila Pavlichenko , Simo Häyhä
Vassili zaitsev vasily zaytsev
Vasily Grigoryevich Zaytsev; 23 March 1915 – 15 December 1991) was a Soviet sniper and a Hero of the Soviet Union during World War II. Prior to 10 November, he killed 32 Axis soldiers with a standard-issue rifle. Between 10 November 1942 and 17 December 1942, during the Battle of Stalingrad, he killed 225 enemy soldiers, including 11 snipers.
Contents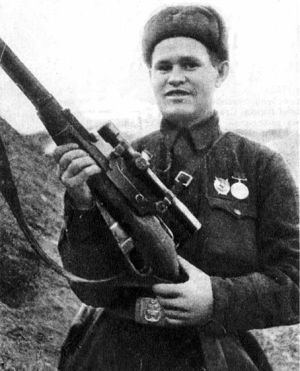 A feature-length film, Enemy at the Gates (2001), starring Jude Law as Zaytsev, was based on part of William Craig's non-fiction book Enemy at the Gates: The Battle for Stalingrad (1973), which includes a "sniper's duel" between Zaytsev and a Wehrmacht sniper school director, Major Erwin König.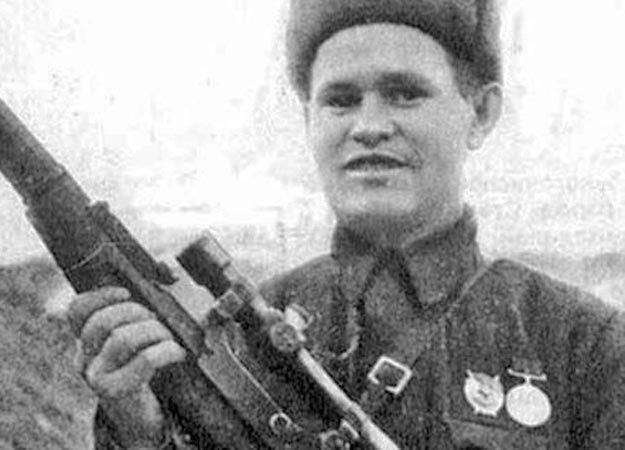 [Alliance of Valiant Arms] Vasily Zaytsev BGM
Early life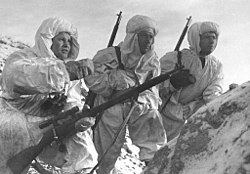 Zaytsev was born in Yeleninskoye, Orenburg Governorate in a peasant family of Russian ethnicity and grew up in the Ural Mountains, where he learned marksmanship by hunting deer and wolves with his grandfather and older brother. He brought home his first trophy at the age of 12: a wolf that he shot with a single bullet from his first personal rifle, a large single-shot Berdan, which at the time he was barely able to carry on his back.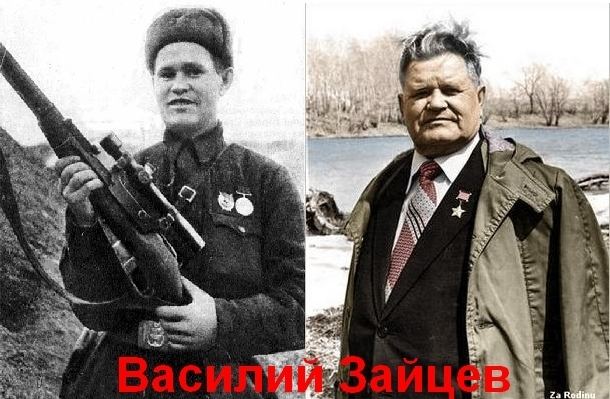 He graduated from seven classes of junior high school. In 1930 he graduated from a construction college in the city of Magnitogorsk, where he received the specialty of a fitter. Then he graduated from accounting courses.
Since 1937 he served in the Pacific Fleet, where he was enlisted as clerk of the artillery department. After studying at the Military School, he was appointed head of the financial part of the Pacific Fleet, in Transfiguration Bay. In this post he was caught by the Great Patriotic War.
War career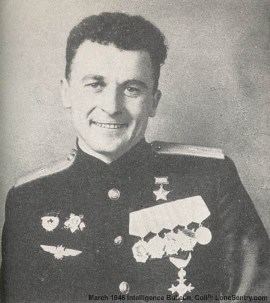 Zaytsev served in the Soviet Navy as a clerk in Vladivostok. When Germany invaded the Soviet Union, Zaytsev, like many of his comrades, volunteered to be transferred to the front line. He was a chief petty officer in the Navy and was assigned the rank of senior warrant officer upon transfer to the army. He was eventually assigned to the 1047th Rifle Regiment of the 284th "Tomsk" Rifle Division, which became part of the 62nd Army at Stalingrad on 17 September 1942.
World War II
During Zaytsev's career as a sniper, he would conceal himself in various locations – for example, on high ground, under rubble, or in water pipes. After a few kills, he would change his position. Together with his partner Nikolai Kulikov, Zaytsev would exercise his hide and sting tactics. One of Zaytsev's common tactics was to cover one large area from three positions, with two men at each point – a sniper and a scout. This tactic, known as the "sixes", is still in use today and was implemented during the war in Chechnya.
Zaytsev took part in the Battle of Stalingrad until January 1943, when a mortar attack injured his eyes. He was attended to by Vladimir Filatov, who is credited with restoring Zaytsev's sight. On 22 February 1943, Zaytsev was awarded the title Hero of the Soviet Union. He then returned to the front and finished the war at the Battle of the Seelow Heights in Germany, with the military rank of captain. He became a member of the Communist Party in 1943.
Civilian life
After the war, Zaytsev settled in Kiev, where he studied at a textile university before obtaining employment as an engineer. He rose to become the director of a textile factory in Kiev and remained in that city until he died on 15 December 1991 at the age of 76, just ten days before the final dissolution of the Soviet Union. He was initially buried in Kiev despite his final request to be buried at Volgograd.
2006 commemoration
On 31 January 2006, Vasily Zaytsev was reburied on Mamayev Hill in Volgograd with full military honors. Zaytsev's dying wish was to be buried at the monument to the defenders of Stalingrad. His coffin was carried next to a monument where his famous quote is written: "For us there was no land beyond the Volga".
Colonel Donald Paquette of the U.S. Sniper School was present and laid a wreath as a sign of respect to a legendary sniper. U.S. Army News quoted Colonel Paquette: "Vasily Zaytsev is a legend and every American sniper must memorize his tactics and methods. He is a legend amongst snipers. May he rest in peace."
Film
Literature
Gaming
Awards and honors
References
Vasily Zaytsev Wikipedia
(Text) CC BY-SA