Notable aliases

Amor (a pop singer)

Supporting character of

Kobra




Team affiliations

Braguda, Serpina, Serpent Queens of Tiamat

Abilities

snake hairsuperhuman strengthnear-invulnerable skinPsychic powerSuper VisionSuper HearingVenomControl of any snakes

Place of origin

Manila, Philippines, formerly Tiamat, Nibiru (or Marte)

Similar

Darna

, Captain Barbell, Dyesebel, Lastikman, Varga
Valentina is a fictional character. A Supervillainess who appeared in the Filipino comic book Darna. She is a snake goddess and one of Darna's greatest enemies. She was originally a bitter, deformed woman born with snakes for hair from ordinary human parents. When she grew up, she killed her parents were and was subsequently taken in by a creature named "KOBRA", a giant serpent with a hag's head. Valentina was soon referred to as "goddess of the snakes" who had a close familiar -- "VIBORA", a loyal serpent.
Contents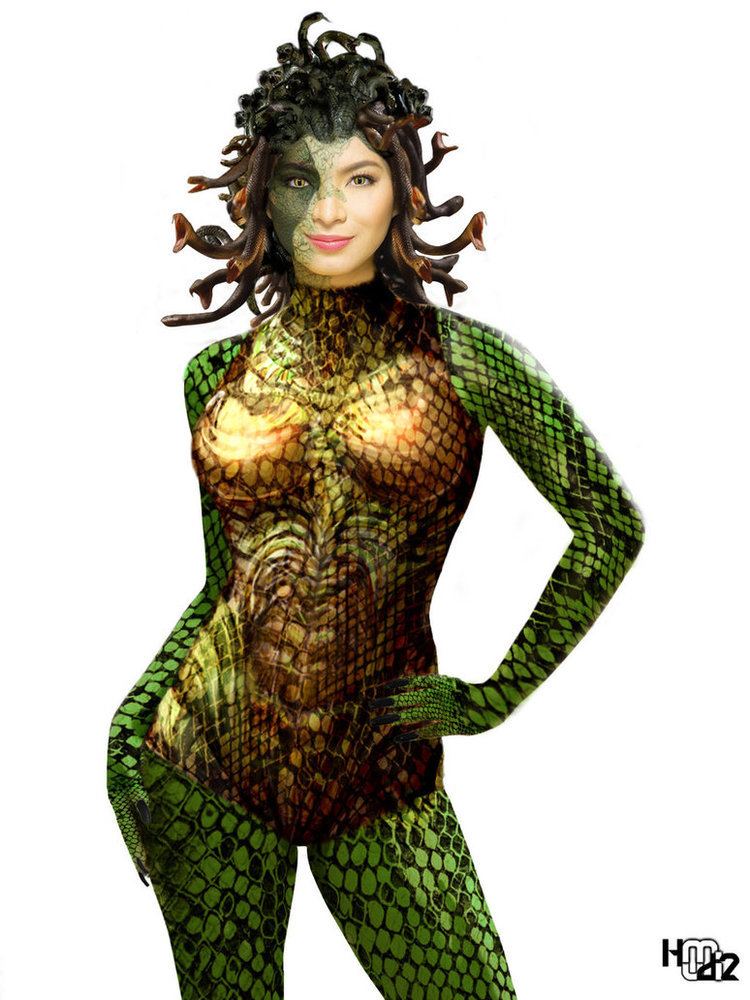 Regina uses Valentina to end her abductors | Darna Recap
Powers and Abilities
Valentina is a Serpent Queen similar in appearance to Medusa of Greek mythology, and as such has the ability to communicate with and control all sorts of serpents. As a result, she can use her snakes/hair to bite regular humans with similar effect to a deadly viper. If they should survive the experience, their strength and toughness increase dramatically but they can be controlled by Valentina in a similar fashion to her serpentine servants. She also has her own fangs (which assumably also contain venom) as well as the ability to change her form. She can either transform herself into a giant snake-like creature or her limbs into one or more snakes. She does not seem to be able to separate any of these snakes.
Early years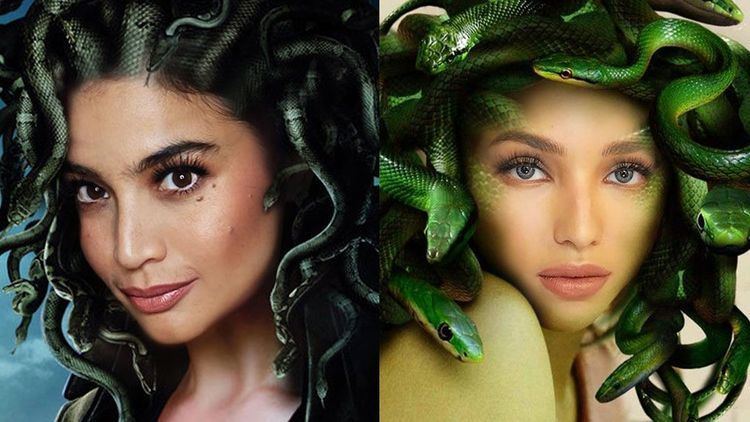 Darna's first adventure (as Darna) was first serialized in the pages of Pilipino Komiks #77, where she was pitted against the snake goddess Valentina. The komik serial, created by the great Mars Ravelo ran for 28 issues and those issues were vividly and expertly illustrated and executed by Nestor Redondo.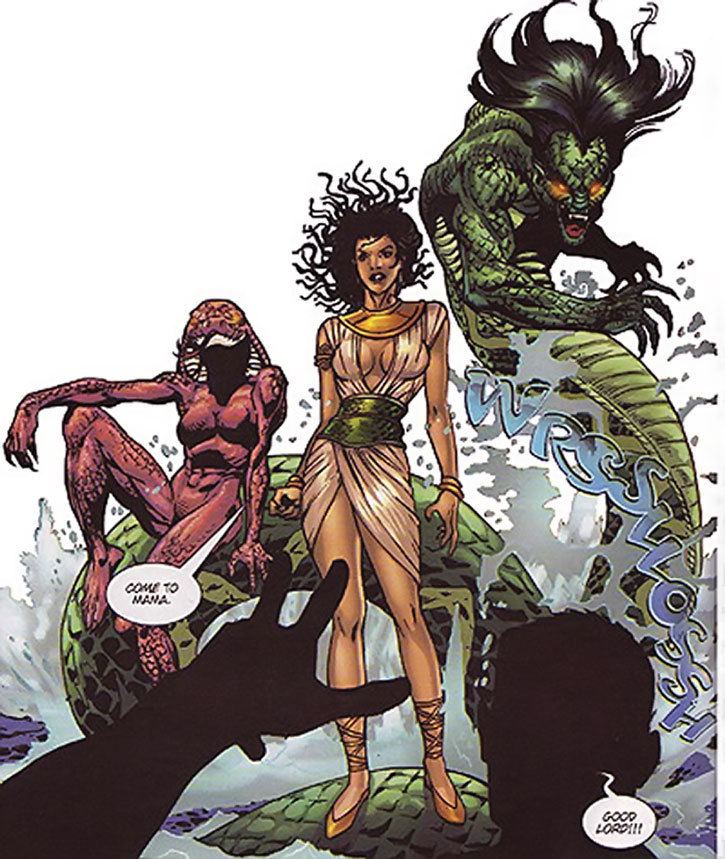 Valentina was introduced in issue no. 2 (THE BIRTH OF VALENTINA) of the comic serial. Since then she appeared in the next issues: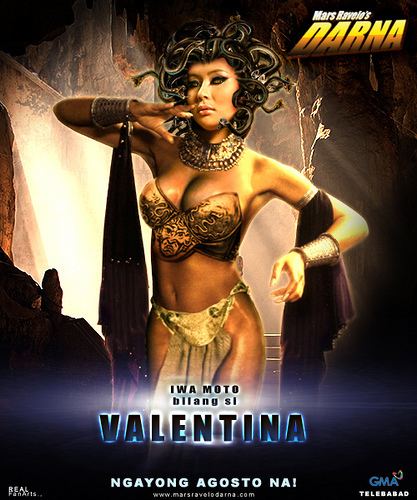 issue no. 3 (THE YOUNG VALENTINA)
issue no. 4 and 5 (THE EVIL VALENTINA)
issue no. 7 (VALENTINA FINDS HIS MAN)
issue no. 8 (VALENTINA MEETS, FALLS FOR EDWARDO)
issue no. 9 (VALENTINA ENTERS TOWN)
issue no. 10 (VALENTINA DISGUISES)
issue no. 11 (VALENTINA PERFORMS MIRACLE, IDOLIZED BY TOWNSFOLK)
issue no. 12 (VALENTINA REVEALS TRUE IDENTITY)
issue no. 13 (VALENTINA WREAKS HAVOC, FLEES TOWN)
issue no. 14 (VALENTINA BARES TRUTH TO EDWARDO)
issue no. 15 and 16 (VALENTINA PLANS ATTACK, DARNA RETURNS)
issue no. 18 (VENGEFUL VALENTINA ATTACKS TOWN)
issue no. 19 (DARNA LEARNS OF ATTACK, VOWS TO NEUTRALIZE VALENTINA)
issue no. 20 (WHO IS CONSUELO?)
issue no. 21 (VALENTINA CONFRONTS EDWARDO & CONSUELO)
issue no. 22 (PLOY SAVES EDWARDO AND CONSUELO)
issue no. 23 (DARNA HUNTS DOWN VALENTINA)
issue no. 24 and 25 (DARNA FIGHTS VALENTINA)
issue no. 26, 27 and 28 (THE DEATH OF VALENTINA)
The snake queen Valentina appears as early as the 1940s and has been Darna's nemesis in every incarnation. Valentina seems based on both the Greek Gorgon, Medusa, and the Asian myths of Naga. Valentina's origin was originally that of a deformed woman who had green snakes for hair (often covered with a brown wig). Her eye color varies usually colored gold or green as well as her skin color which is usually green or flesh.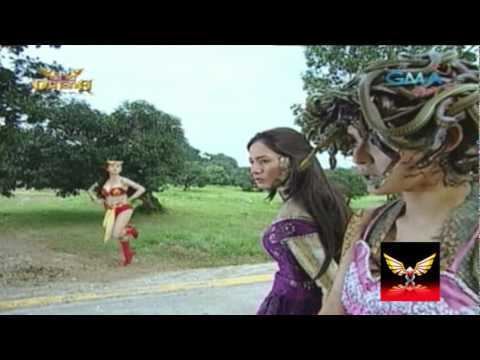 When her parents were killed by a crowd of superstitious villagers, she escaped and was adopted by a mysterious entity known as Kobra who guided her into becoming "The Serpent Queen."
Later years
Valentina is the nemesis of Darna. As Darna has appeared across all forms of media, so has Valentina. Unlike Darna, her incarnations have little variation across versions.
Darna is one of the most prolific superheroes of all time in movies and first appeared in the movies in the early 1950s. Valentina also appears in the movie versions, often disguised as a model or religious leader (of course the cult of victims don't realize what they're serving). She can shape shift into a snake and usually has demonic henchmen (who also can transform into snakes).
The Mango Comics miniseries
In 2003, an award-winning Darna miniseries was published by Mango Comics, with major input from Ravelo's family. In the Mango comic version, Valentina can entrance her victims to become her willing slaves. She also uses snakes and their venom to increase her slaves' physical prowess, particularly strength. Similar to previous versions, she has a pair of accomplices in the comic who in this case are also Snake Queens from Tiamat. The background origins of Darna's race of "Adarna Warriors" (named for the Adarna bird of Filipino legend) and Valentina's race of "Serpent Queens" (still resembling Medusa and/or Naga) is revealed in this version. The two races shared the planet of Tiamat and became embroiled in a fierce war which ravaged the planet. The Adarna Warriors then sought a new planet, Nibiru (also known as Marte possibly to consolidate earlier retcons).
Darna Movies
In the 1973 film "Lipad, Darna, Lipad!" (Fly, Darna, Fly!), she is played by Celia Rodriguez and is known as "Dr. Valentina Vrandakapoor", with a Ph. D. in Reptilian Zoology from the University of New Delhi. Valentina is portrayed as the Queen of the Serpents and moonlights as a ramp model. She was seen walking on the lobby of the Manila Hotel in a turban covered Medusa wig, bare midriff Indian sari, and on her belly button, a giant ruby known as the "Star of Bombay" that can blow away suspecting Bollywood wannabees. Humorously, she sees Darna flying across Rizal Park and she says, "Sino ba yang babaeng mababa ang lipad?".
Celia breathed new life to the term antagonist with her classy portrayal of Valentina. One scene has the actress naked in bed being caressed by a dozen snakes. She portrayed Valentina in Lipad, Darna, Lipad! (1973), Lei Ming, an evil Chinese sorceress in Darna and Ding (1980), Braguda in the 2005 TV series and Ms. Perfecta in the 2009 TV series.
2005 TV series
In the Darna (2005 TV Series), Valentina is Braguda's lady-in-waiting and is played by actress Alessandra de Rossi. Narda and Valentina are also cousins, but in the latter they found out that they are twins. Efren is also Valentina's love interest, and she will do anything to get him. Valentina changed to Ava (Nadine Samonte) in order for her to get Efren.
Valentina was the Anomalkan who will kill the Queen of Anomalka, Braguda, according to the prophecy.
2009 TV series
In Darna (2009 TV Series), Valentina used to be Narda and Eduardo's childhood friend until she becomes evil to fight against Darna.
Valentina is a gorgon with superhuman strength, stamina, reflexes and a psychic bond to all manner of serpents. She also has the ability to heal humans who are sick and suck out poisons and all manner of toxins from any human and cure them in the process. She possesses a healing factor that allows her to survive, recover and heal from any injury. But if her heart was ever injured in any way, it would be the one thing that she cannot heal herself from. Valentina also possesses telepathic/empathic rapport with all serpents as well as her half-sister, Serpina.
She also possesses super-human strength that allows her to uproot trees as well as rival Darna's strength. Although she is a monster, her mother was a human named Consuelo who was attacked and impregnated by a half-human, half serpent being who dwelled in a mysterious cave in the forest of San Martin. Aside from being Consuelo's daughter she is also the daughter of Kobra, a half-human, half-serpent who is also one of Darna's adversaries whose agenda is to use his daughter Valentina to facilitate his plans of making humanoid serpents the dominant lifeform of Planet Earth. But because Valentina would rather pursue her heart's desire—the love of a mortal man named Eduardo, Kobra has procreated another offspring by abducting and impregnating Roma, Ang Babaeng Impakta. Kobra's new daughter is Serpina, a hybrid creature who looks human but can transform into a snake. Kobra has also explained to Serpina that he and the rest of the Serpent-People race have one weakness—their hearts. Many of their special healing powers and abilities come from their hearts and although they possess a special healing factor that can help them recover from anything, an injured heart is the one thing they cannot survive from.
Dance
Darna has also been portrayed in ballet by Ballet Philippines. Liza Macuja danced the part of Darna in Comics: The Ballet in 1997. Another ballet was produced in August 2003 by the Cultural Center of the Philippines (CCP). In this version, entitled Darna: The Ballet, Kristine Crame and Kris Belle Paclibar alternately danced the part of Darna while the singing is done by Valentina (she has a haunting solo that, says Chin-Chin Gutierrez who plays the role alternating with Tex Ordoñez, speaks of loneliness and longing and shows that she's not all bad) and her Boy Toys, the bad guys of the production.
Movies
"Cristina Aragon" 1951 in Darna
"Celia Rodriguez" 1973 in Lipad, Darna, Lipad! (Fly, Darna, Fly!)
"Melissa Perez Rubio" 1990 in "Valentina"
"Pilar Pilapil" 1991 in Darna
"Pilita Corales" 1994 in Darna Ang Pagbabalik (Darna The Return)
"Cherie Gil" 1994 in Darna Ang Pagbabalik (Darna The Return) as Valentine, the daughter of Valentina and like her mother, Valentine is actually a gorgon concealing the snakes on her head beneath a turban. She is a tele evangelist who claims that only she can protect the city from an advancing volcanic mud flow and will save those who have pledge their undying devotion to her.
Television
"Alessandra De Rossi"/"Nadine Samonte" 2005-2006 in Darna (2005 TV Series)
"Jodi Sta. Maria 2006 (Komiks Presents: Valentina) - as hero
"Iwa Moto" 2009 in Darna (2009 TV Series)
"Melissa Ricks" 2010 in (Wansapanataym Presents: Valentina) - as hero
References
Valentina (Darna) Wikipedia
(Text) CC BY-SA