Director

Gautham Menon




Release date

November 14, 2008 (India)


Duration




Language

Tamil




Genre

Drama, Romance




Music director

Harris Jayaraj


Country

India







Release date

November 14, 2008 (2008-11-14)




Writer

Meghana Karthik (subtitles), Gautham Menon


Songs

Adiyae Kolluthey




Cast

Suriya Sivakumar (Krishnan / Suriya), Simran (Malini Krishnan), Sameera Reddy (Meghana),

Ramya

(Priya)

Vaaranam aayiram trailer surya tamil movie 2008
Vaaranam Aayiram (English: A Thousand Colors/A Thousand Elephants) is a 2008 Indian Tamil-language drama film written and directed by Gautham Menon. Suriya plays dual lead roles, with Simran, Sameera Reddy and Divya Spandana. The film had been under production since late 2006, and was released worldwide on 14 November 2008. It was dubbed and released in Telugu as Surya s/o Krishnan.
Contents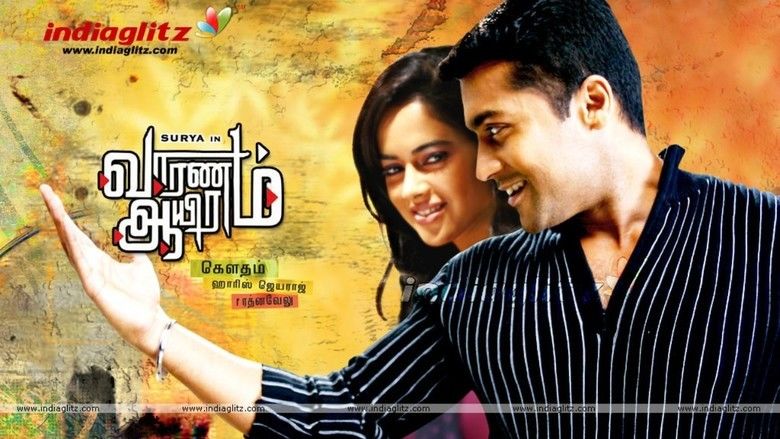 The film illustrates the theme of how a father often came across his son's life as a hero and inspiration, whose death was deeply mourned in the end. As a tribute to the father of the director, the film opened in several countries with critical acclaim. The film was produced by Venu Ravichandran and has musical score by Harris Jayaraj, making Vaaranam Aayiram his final project with Gautham Menon before the formal break-up of their partnership, which was eventually resumed 7 years later, in Yennai Arindhaal (2015). It won many awards including the National Film Award for Best Feature Film in Tamil. The film was also a commercial success, eventually becoming the biggest hit in Suriya's career then.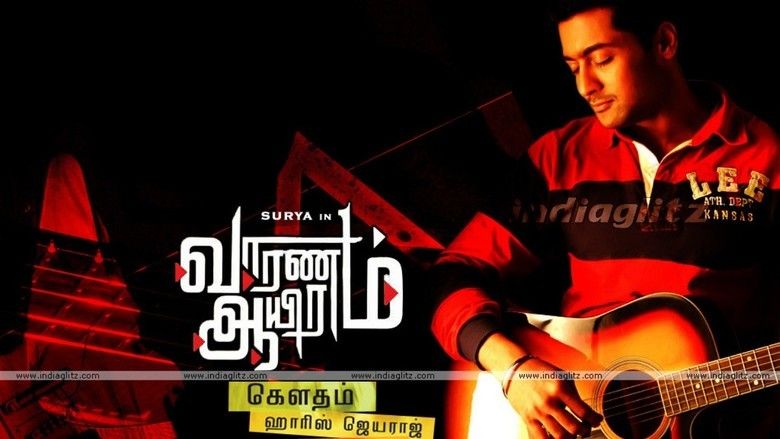 Plot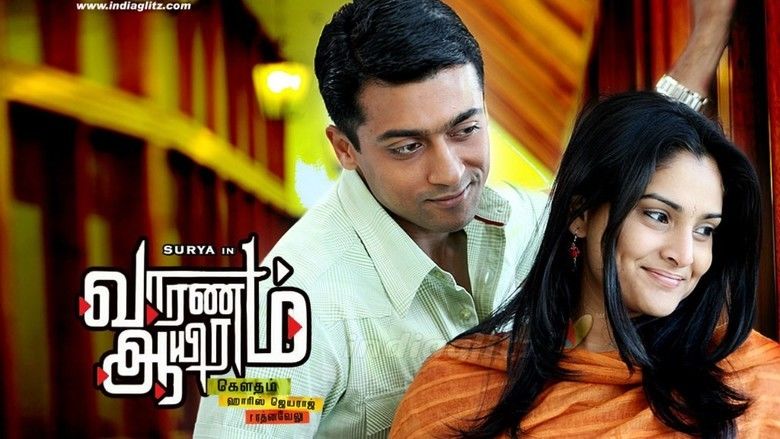 The film begins with elderly Krishnan (Suriya) returning home after a haircut. Once he reaches home, he vomits profuse amounts of blood and is kept to rest. After the doctor checks him, he is reported dead after a few moments of grief with his wife Malini (Simran), daughter Shreya, and daughter-in-law Priya (Divya Spandana). This news is informed to his son Surya (Suriya), who is on his way to Kashmir on a military mission traveling in a helicopter to rescue a kidnapped journalist from terrorists. He begins to shed tears and starts to think about his memorable moments with his father and the story of how his parents loved each other during their college days.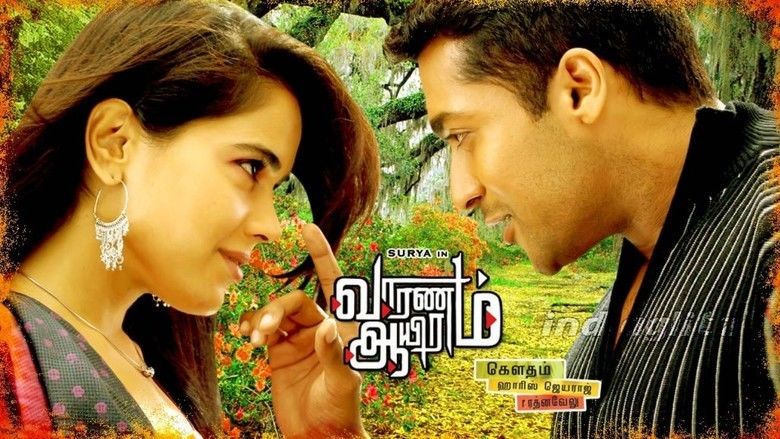 Krishnan is a student in Madras Christian College, the same college where Malini studies. They fall in love and get married. They soon have a son, Surya. He grows up as a friend to his father. He joins an engineering college near Tiruchi and parts from his family. There, he takes part in cultural activities and develops his guitar skills. When he is on a train back home after completion of college, he meets Meghna (Sameera Reddy), who is doing Computer Science in National Institute of Technology, Tiruchirappalli(Regional College of Engineering,Tiruchirapalli). Instantly smitten by her, he soon proposes to her. She rejects him, saying that they have known each other for a very short period and it's not possible to fall in love without taking time to understand him. Surya then tells her that wherever she goes, he will be able to find her.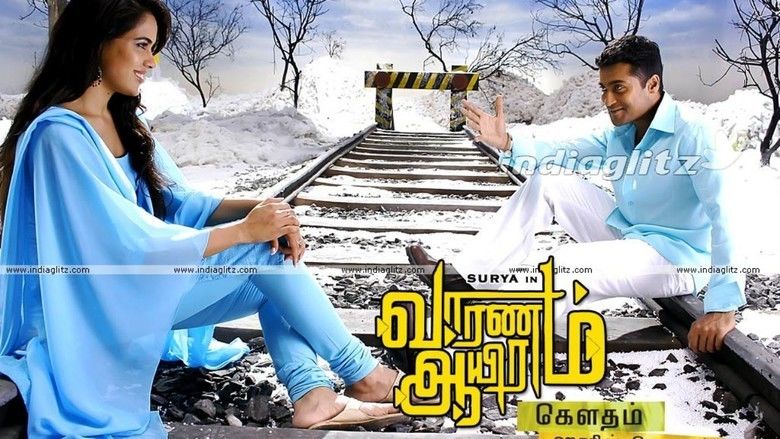 Surya is disturbed constantly by Meghna's thoughts and consequently ends up going to her house. There she reveals to him that she is going to University of California, Berkeley in a week to do her Masters in Computer Science. Then, Surya bids adieu to her. After that, Krishnan, gets his first mild heart attack and is admitted to a hospital. Surya feels that he needs to resolve the financial constraints in his family, and so starts an office with his friends and does concerts for money and succeeds.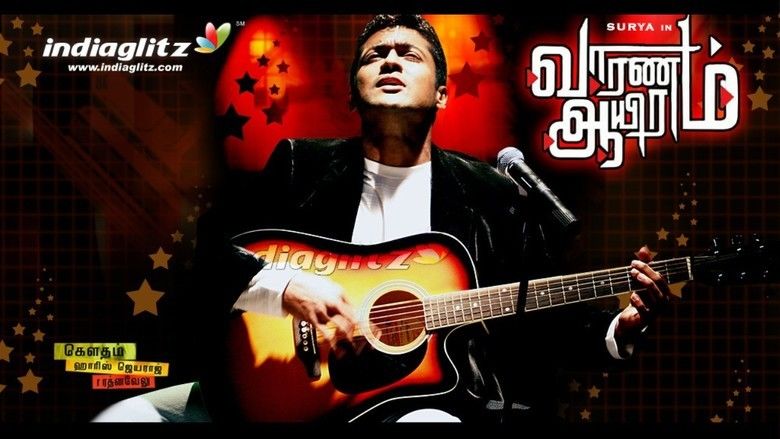 A few months later, Surya goes to the United States, with the acceptance of his father, and meets Meghna in San Francisco. Though shocked by his presence, Meghna feels relieved to find someone she knows in California. They have the time of their lives there. Meghna is convinced that he is the right person and that he will be accepted by her father, so she proposes to him, much to delight to Surya and his parents. Their happiness does not last long when she goes to Oklahoma City for a project. Surya joins her later traveling by the Greyhound Lines. When he reaches there, he witnesses the Oklahoma City bombing and realizes that Meghna is amongst those injured. She dies on her way to the hospital. He meets Shankar Menon at the airport who tries to console him with words and offers him encouragement. A heartbroken Surya returns to India.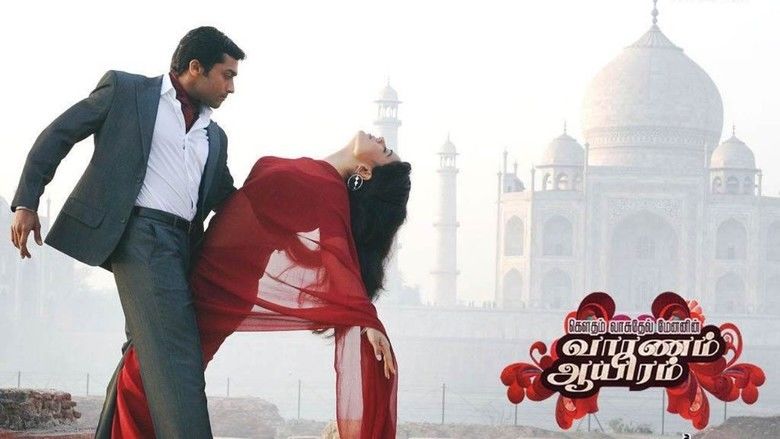 A few days later, Surya still cannot take the situation. He starts hanging out with his friends to get over his loss. He meets Priya, his sister's friend. However, the thoughts of losing Meghna still haunt him, and he resorts to taking drugs. Surya's parents try to get him to break the habit by locking him up in his room and removing him from all external contact. Once they detect his withdrawal symptoms, they ask him to take a long break to rejuvenate himself. Subsequently, he takes a leisure trip to Kashmir. There he learns that Aditya, the son of Shankar Menon, the person who inspired him in the airport was kidnapped. He visits them in Delhi. On seeing the lethargic attitude of the police, he takes matters into his own hands and goes in search of the kidnappers. After days of roaming streets and gathering information, he locates the kidnapper Asad (Babloo Prithiveeraj) and the place where Aditya is kept. He battles the kidnappers single-handedly, overpowers them and rescues Aditya.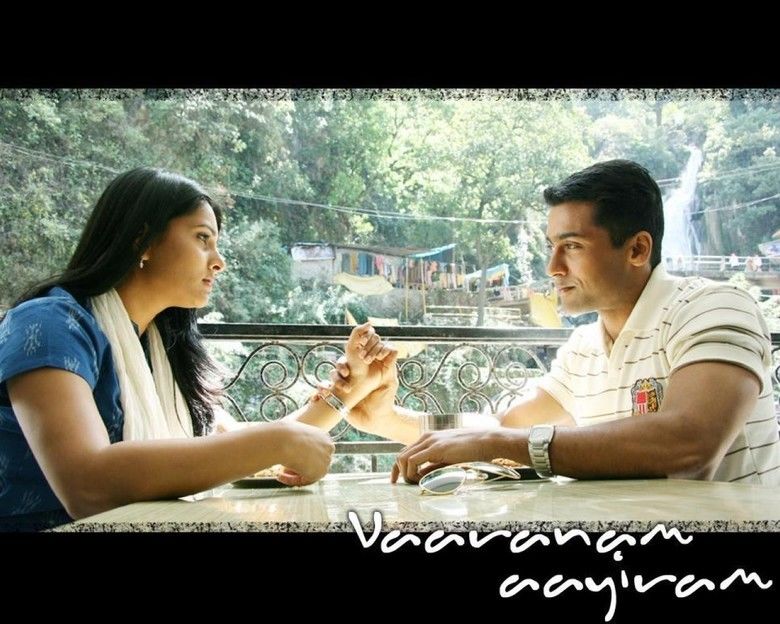 Back home, Surya starts to go out with Priya. One day Priya proposes to him, but he does not respond. Surya decides that the only way to forget the pain in his body is to prepare it for bigger things. He goes on a strict workout training and joins the army. After six years, Priya comes to the Indian Military Academy where she is posted along him and proposes again; this time he accepts. They marry and have a son. Suddenly, Krishnan is diagnosed with throat cancer and is operated on. After some days, Surya is called upon to go on a mission to rescue a journalist, which brings the scene back to the present day.
After completing the military mission with the help of a masked man (Gautham Vasudev Menon) who tells them where the culprits were, Surya returns home to see his dead father. Surya, his sister Shriya, Malini and Priya let go his father's ashes in the sea and Malini relates her husband's life to Surya by uttering a verse from a prayer. The film ends on a happy note as the four walk away smiling, conveying the message that "Whatever happens, life has to go on."
Cast
Suriya as Krishnan and Surya Krishnan
Simran as Malini Krishnan
Sameera Reddy as Meghna
Divya Spandana as Priya Surya Krishna
Deepa Narendran as Shreya Krishnann
Shreya Gupta as Teen Shreya
Babloo Prithviraj as Asad, the kidnapper
Ganesh Janardhanan as Antony (Librarian)
Sathish Krishnan as Surya's Friend
Danny as Priya's father
Indra as Priya's mother
Rajeevan as Meghana's father
Gautham Menon as Commando informer
Veera Bahu as Commando
Amitash Pradhaan as Krishnan's friend (dancer in "Mundhinam Parthene")
Development
Following Kaakha Kaakha in 2003, the director Gautham Menon and Suriya expressed their desire to work together on a film. In early 2005, the pair got together for a film tentatively titled Chennaiyil Oru Mazhaikaalam which featured Asin Thottumkal in the lead role and Daniel Balaji in a supporting one. However, after a photo shoot, the film was delayed and then subsequently called off. Nevertheless, in 2006, producer Venu Ravichandran signed up the pair for a new film, which they confirmed was not going to be a sequel of their previous venture; it was going to be a romantic thriller. Initially titles such as Naan Thaan and Udal Porul Aavi were considered for the project, but Menon announced the title was Vaaranam Aayiram, title derived from "Nachiyar Thirumozhi" with the literal meaning of "the strength of a thousand elephants". According to Menon, he received the news of his father's death while he was travelling in an aeroplane in 2007; this incident inspired him to direct Vaaranam Aayiram which begins in a similar manner.
Before the start of shooting, technical crew members were signed up, and the shoot commenced without a leading lady on 24 November 2006 at a nightclub in Chennai. In 2007, it was announced that a 10-day shoot in Afghanistan would be followed by shooting in Malaysia, Russia and the United States of America. However, the film only completed a shoot at the University of California, Berkeley in Berkeley, USA, and shooting was not held in Afghanistan.
In November 2007, Gautham Menon decided to send the reels back to Chennai from San Francisco. Two of the production managers were assigned the task of bringing the reels to the producer's office. But they stayed in Singapore for a couple of days before returning to Chennai. Following their arrival, it was understood the reels went missing in the hotel they stayed in at Singapore, but a search by the police proved unsuccessful. The whole crew of Vaaranam Aayiram was in a fix as the reels held fight scenes, songs and other scenes worth $500,000. Soon after, the reels were found with the Singapore airport authorities. The film finished its shoot in August 2008.
A song was filmed by an assistant cameraman with a high-tech camera, costing about Rs. 1.5 crore, fastened to his hip. While the assistant was moving behind the actors canning the shots, he tripped unexpectedly and the camera broke to pieces. The shot resumed a day later with a similar camera.
Vaaranam Aayiram was believed to be based on the Dutch film by Mike van Diem, Character; others have claimed that it is inspired by the 1994 Hollywood film, Forrest Gump, starring Tom Hanks. Menon too admitted the film will draw inspirations from Forrest Gump but would be fixed to suit the Indian audience. Furthermore, Menon stated that Surya Sivakumar will be seen playing the dual roles of a 21-year-old and his father and that the film will be society themed. It was set to release in 2007 and was delayed for a 14 November 2008 release. The audio of Vaaranam Aayiram was released on 24 September 2008. Menon has described the film as "autobiographical and a very personal story and if people didn't know, that 70% of this [the film] is from my life". Suriya lost weight using capsules and prepared a six-pack for the film through an eight-month fitness regime.
Casting
After the cancellation of Chennaiyil Oru Mazhaikaalam, originally starring Surya Sivakumar, Asin Thottumkal and Daniel Balaji, Gautham Menon, keeping the male leads the same, wanted to opt for a new heroine to begin Vaaranam Aayiram. Deepika Padukone was signed up and set to make her debut in Tamil films; she backed out due to the inactivity and signed the Bollywood film, Om Shanti Om. Soon after, another confirmed heroine, Andrea Jeremiah, was dropped from the film for unknown reasons. Asin expressed her desire to be a part of the project, but the male lead, Surya, refuted her offer citing that she had walked out of his previous film, Sillunu Oru Kadhal and refused to act opposite him.
The producers then announced the film with Divya Spandana, who was making her comeback to Tamil films and Genelia D'Souza in the lead roles. Soon after the start of the shoot, Genelia decided to walk out, after Menon refused to pay the hefty salary that she was demanding and was receiving in Telugu films allowing Sameera Reddy to act in her first Tamil film. Simran Bagga signed and completed her shoots swiftly after she was selected to portray the mother of Surya, after Tabu had rejected the role. TV actress Deepa Venkat and playback singer Chinmayi dubbed for actresses Simran Bagga and Sameera Reddy respectively.
Soundtrack
The film has seven songs composed by Harris Jayaraj. All Lyrics are penned by Thamarai, except Yethi Yethi song (Na. Muthukumar). The songs from the albums were released to four leading radio stations in Chennai, with one song per station, in attempt to popularise it five days before the official launch. The move by Sony BMG was the first of its kind in Indian cinema.
Telugu (Dubbed)
All Lyrics are Penned by Veturi Sundararama Murthy.
Critical response
The album received tremendous response from music critics as well as the public. Indiaglitz stated "'Varanam Aayiram' is no doubt one of the best from Harris Jeyaraj and Gautham duo. It is energetic and entertaining. A must listen musical score that is serene even while repeated." Malathy Sundaram from Behindwoods gave a 4/5 rating and praised the album calling it a "blockbuster" further citing "The guitar simply enthralls you. So do the native drums. There is a slight monotony in the instrumentation, but it doesn't seem to affect the overall effect. Thaamarai needs to be complimented for the soft lyrics." Pavithra Srinivasan from Rediff gave a 3.5/5 rating and said "Put together, you definitely feel that Harris Jayaraj has set out to provide quality music with a difference."
Box office
Varanam Aayiram emerged as the biggest blockbuster for Suriya since Ghajini, grossing ₹5.66 crore in Chennai alone. In overseas market, the film grossed $921,007 from both United Kingdom and Malaysia.
Critical reception
Sify stated that it is a "film straight from the heart". Indiaglitz reviewed that it "proves to be a tame affair" but stated that "Suriya the actor rocks throughout". Behindwoods rated it 2.5/5 stating that "what could have been a subtly told story turns into a sloppy fare" and "there are touching and heart-warming moments in the movie but, they are few and far between". Rediff gave the film 3/5 and called it a "moving story", further mentioning that "It might be just a feather in Gautam's hat. As for Surya, it's an ostrich plume, a justified triumph." The Hindu said, "The same combo came together for Kaakha Kaakha and signed off with a flourish not so long ago! Of course Vaaranam … does have some great moments, but it's a lengthy film, and you feel it!"
Accolades
In addition to the following list of awards and nominations, prominent Indian film websites (including Rediff, Sify and Behindwoods) named Vaaranam Aayiram one of the 10 best Tamil films of 2008. Before its release, the film's title had appeared on film websites' "most awaited" lists.
References
Vaaranam Aayiram Wikipedia
(Text) CC BY-SA
Vaaranam Aayiram IMDb
Vaaranam Aayiram themoviedb.org