Years active

1997–present

Spouse

Jyothika (m. 2006)




Full Name

Saravanan Sivakumar

Born

23 July 1975 (age 48) (

1975-07-23

)

Coimbatore, Tamil Nadu, India

Occupation

Actor, Producer, Television Presenter

Movies

Singam 2, Anjaan, Massu Engira M, Singam, Ayan




Similar

Jyothika, Karthi, R Madhavan




Profiles



Suriya (born Saravanan Sivakumar on 23 July 1975) is an Indian film actor, producer, philanthropist and television presenter, who is currently working in the Tamil film industry. After making his debut in Nerukku Ner (1997), Suriya went on to feature in several critical and commercial successes, most notably Nandha (2001), Kaakha Kaakha (2003), Pithamagan (2003), Perazhagan (2004), Ghajini (2005),Vel (2007), Vaaranam Aayiram (2008), Ayan (2009), Aadhavan (2009), Singam (2010), 7aum Arivu (2011) and Singam II (2013). As of 2010, he has won three Tamil Nadu State Film Awards and three Filmfare Awards South. He was listed 33 in Forbes India's "Celebrity 100 List" for the year 2013. In 2010, he made his Bollywood debut with Rakta Charitra along with an equally famous Tamil actor, Vikram, who debuted in Raavan.
Contents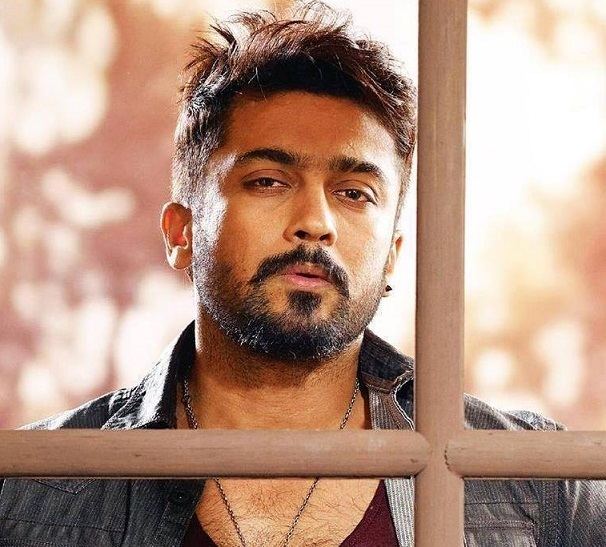 He is the eldest son of Tamil film actor Sivakumar and his brother Karthi is also an actor. Suriya married actress Jyothika in 2006, after being engaged for several years. In 2008, he began Agaram Foundation, which funds for various philanthropic activities. The year 2012 marked his debut as a television presenter with the popular STAR Vijay gaming show Neengalum Vellalam Oru Kodi, Tamil version of Who Wants to Be a Millionaire?.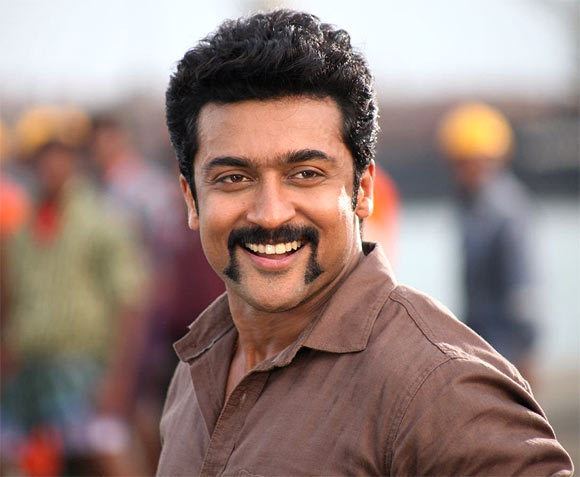 Early life and family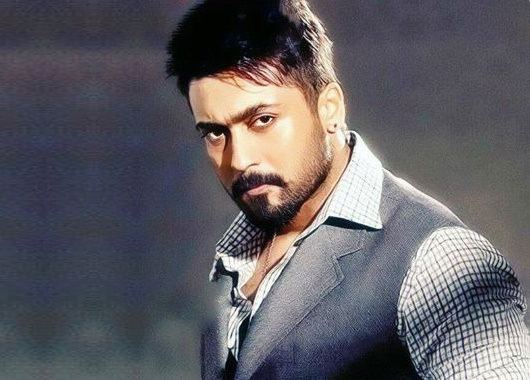 The stage name Suriya was bestowed to the actor by director Mani Ratnam to avoid a clash of names with established actor Saravanan. The name Suriya was frequently used for characters in Mani Ratnam films. Suriya attended Padma Seshadri Bala Bhavan School and St. Bede's Anglo Indian Higher Secondary School in Chennai, and obtained his under graduate degree B.Com from Loyola College, Chennai. Suriya has a younger brother Karthi, who is also a Tamil film actor, and a younger sister Brindha.
Suriya is married to Jyothika, who was also a popular actress, with whom he was paired in as many as seven films. The couple, after being together for several years, officially got married on 11 September 2006. They have two children, a daughter named Diya (born 10 August 2007) and a son named Dev (born 7 June 2010). Jyothika had quit acting after their marriage and became a full-time housewife, but made a comeback with the 2015 film 36 Vayadhinile.
1997–2002: Early career
Before his career in films, Suriya worked at a garment exports factory for 6 months without revealing his identity as the son of a well-known actor. He was initially offered the lead role by Vasanth in his film Aasai (1995), but he rejected the offer citing a lack of interest in an acting career. He later debuted in Vasanth's own 1997 film Nerrukku Ner, produced by Mani Ratnam when he was 22 years of age. Vijay, who would also go on to become a leading contemporary actor in Kollywood, co-starred with him in the film. This was followed by a series of roles in commercially unsuccessful films in the late 1990s. In 2001, he starred in Siddique's comedy film Friends, also co-starring Vijay.
Suriya confessed that he struggled due to lack of confidence, memory power, fighting or dancing skills in his early career, but it was actor Raghuvaran, one of his mentors, who advised him to create his own identity, rather than stay under his father Sivakumar's shadow.
His major break in acting came in the form of Nandha, which was directed by Bala. Playing the role of an ex-convict who is very attached to his mother, he received a Tamil Nadu State Film Award for Best Actor. His next venture was Vikraman's Unnai Ninaithu which was a moderate success, followed by the successful Mounam Pesiyadhe directed by Ameer Sultan.
2003–07
In 2003, he starred in Gautham Menon's Kaakha Kaakha, a film about the life of a police officer. The film opened to positive reviews with a critic from Rediff.com claiming that "Surya as Anbu Selvan fits the role and this film is certainly a career high for him". His portrayal of a happy-go-lucky village crook with a comic touch in Bala's Pithamagan, along with Vikram, won him Filmfare Award for Best Supporting Actor – Tamil and the film did well commercially. In 2004, he played dual roles in Perazhagan, as an aggressive boxer and a handicapped phone booth keeper. Suriya's performance won positive reviews from critics with a reviewer describing it as "Surya deserves appreciation for his astounding performance. He is at his best be it humor or action. The actor has scored a hat trick". The film became a successful venture at the box office and Suriya won his first Filmfare Award for Best Actor – Tamil. The same year, he portrayed the role of a student leader in Mani Ratnam's political drama Aaytha Ezhuthu along with Madhavan and Siddarth which was largely applauded by critics.
Suriya signed on to feature in the psychological thriller, Ghajini directed by A. R. Murugadoss in November 2004; he played the role of a patient suffering from short-term memory loss. Ghajini released in late 2005 and became the third highest grossing film of that year in Tamil. Suriya's role was unanimously praised, with a reviewer from Sify citing that "the film is driven by Surya's riveting performance". Later he worked in Hari's action film Aaru and the film received a moderate response at the box office. His performance fetched positive reviews with a reviewer citing that "Surya keeps you riveted to the seats with another wholesome effort".
In 2006, he starred with Jyothika and Bhumika Chawla in N. Krishna's film Sillunu Oru Kaadhal. The film took a strong opening, but soon faded out and became a flop. But his performance was praised, with a reviewer from Sify citing that "Surya pitches in with yet another fantastic performance, be it the responsible husband and father, or the cool dude at college". In 2007, his only release was director Hari's Vel, where he was paired with Asin for the second time after Ghajini. The film, which featured him in dual roles, was commercially successful.
2008–2010
His next release was a collaboration with Gautham Menon, after the success of Kaakha Kaakha, Suriya began work on Menon's biopic Vaaranam Aayiram in November 2008. Playing dual roles for the third time in his career, Suriya appeared as father and son, with both characters also demanding scenes shot throughout their lives ranging from scenes as a 16-year-old to scenes as a 65-year-old. During the production of the film, Suriya described the project as "unique" and "straight from the heart", describing the physical hardships he endured during the making. He lost weight and prepared a six pack for the film through an eight-month fitness regime without steroids, with the movie being a trend-setter for other leading actors from South India. The film, which also featured Simran, Sameera Reddy and Divya Spandana in prominent roles, became commercially successful at the box office upon release as well as receiving positive reviews from film critics, with Suriya's performance being lauded. A critic from Rediff labelled the film as his "magnum opus", citing that he is "perfect" and that the film for him is a "justified triumph". Similarly, critics cited Suriya's performance as "outstanding" and claimed that the film "works because of his performance", whilst other reviewers claimed the film was an "out and out Suriya show". His portrayals also fetched him several notable awards, including the Filmfare Award for Best Actor – Tamil, a Tamil Nadu State Film Award for Best Actor by the jury and also the Vijay Award for Best Actor for 2008. The film also went on to receive a National Film Award for Best Feature Film in Tamil for 2008.
In 2009, Suriya's first release was K. V. Anand's action-thriller Ayan, which went on to become the highest grossing Tamil film of the year. With Suriya portraying the role of a smuggler, the film also featured Prabhu as his guardian and Tamannaah Bhatia as the lead actress. The film was shot extensively across Tanzania, Namibia, Malaysia and India and featured acrobatic stunts by Suriya, without the use of a stunt double. Upon release, the film won positive reviews citing that the film was a "must watch" and Suriya's performance was yet again acclaimed and he found himself nominated for leading awards and won the Vijay Award for Entertainer of the Year. The film's success saw Suriya emerge as the most profitable leading actor in Tamil films, following a hat trick of large commercial hits, with film journals suggesting that his success was due to "experiments within the commercial format" and he was successful in "avoiding being typecast".
His next film, K. S. Ravikumar's action entertainer Aadhavan also achieved commercial success, while Suriya's depiction of a hitman was praised. A critic from Sify.com labelled it as an "out and out Suriya show", stating that "the film rides on the magic of the actor, and his zany shenanigans alone makes it worth a watch" and Rediff.com cited that "he sings, dances, and fights with absolute sincerity, but when he looks at you with tears in his eyes in an emotional scene tailor-made for him, the applause hits the roof", concluding that it is "completely his film". In 2010, he had his 25th release with Singam directed by Hari, in which he played the role of a police officer from a small village going to work in the city. The film opened to positive reviews with The Hindu noting that "Suriya shows that be it a performance-oriented role or a formulaic concoction he can deliver", while Sify.com stated "Ultimately it is Suriya who carries the film to the winning post. His passion and the way he brings an ordinary regular larger-than-life hero character alive on screen is lesson for other commercial heroes." The film won Suriya the Vijay Award for Best Entertainer again and saw him nominated for the Filmfare Award for Best Actor – Tamil again, and subsequently went on to become the second highest grossing film of the year. He made his Bollywood debut in Ram Gopal Varma's two-part political drama Rakta Charitra in 2010. Suriya subsequently went on to appear as himself in three consecutive guest appearances, appearing alongside Trisha and Madhavan in a song in Manmadhan Ambu (2010), before also starring in K. V. Anand's Ko and Bala's Avan Ivan (2011).
2011–present
His only release in 2011 that featured him in a starring role was A. R. Murugadoss's science fiction thriller 7aum Arivu. Suriya played dual roles in the film, as a circus artist and as the Buddhist monk named Bodhidharma, who lived in the 6th century. The film met with mixed reception, but was a commercial success. His 2012 release was the K. V. Anand directed Maattrraan in which he played the role of conjoined twins, Vimalan and Akhilan. The film received mixed reviews and the film ended up being an average grosser.
In January 2012, Suriya was named as the official host of the new game show to be presented on STAR Vijay, Neengalum Vellalam Oru Kodi, the Tamil version of Who Wants to Be a Millionaire?, which began airing on 27 February 2012 and ended on 12 July. His next film was Singam II, a sequel to his 2010 film Singam, that released on 5 July 2013 to mixed responses from critics. However, the film received a huge opening and emerged one of the highest grossing Tamil films of all time. Suriya was once again acclaimed for his portrayal of Durai Singam and his performance was hailed as "the film's backbone". He had signed on to feature in Gautham Menon's film Dhruva Natchathiram and reportedly waited for six months to start filming. However, in October 2013, he backed out due to lagging of the project and differences with the director. His next film Anjaan directed by N. Lingusamy was released on 15 August 2014 to mixed reviews. His recent release is Venkat Prabhu's film Masss which released to mixed reviews but critics were all in praise for Suriya's performance. His next release would be 24 directed by Vikram Kumar scheduled to release in early 2016.
Other work
In 2004, Suriya was signed as Pepsi's brand ambassador in Tamil Nadu. He has been the ambassador for TVS Motors, Aircel and Sunfeast since 2006. He has endorsed Saravana Stores, Bharathi Cements and Emami Navaratna products since 2010. In 2011, he had signed a new deal with Nescafe, Close-Up and with Zandu Balm brand as of May 2011, for which he appeared with actress Malaika Arora. In 2012, Suriya endorsed Malabar Gold, a leading jewellery group. The commercials for Aircel and Nescafe featured Suriya and his wife Jyothika together. In 2013, he was honored at the Edison Awards as the Best Male Endorser in South India. In 2014, he was signed as Complan's brand ambassador. In 2015, Suriya has been named as the brand ambassador for Quikr and Intex Moblies.
Philanthropy
In 2007, Suriya was the brand ambassador of Tanker Foundation and acted in a short film on AIDS awareness In 2008, Suriya began the Agaram Foundation, working to help children who drop out of school early in Tamil Nadu. Suriya revealed that he was inspired to begin the movement as a result of his father's own organisation, Sivakumar Educational Trust, which had been operating similar benefits on a smaller scale since the 1980s. With the Ministry of Education in Tamil Nadu, he created a short commercial video outlining child poverty, labour and lack of education, titled Herova? Zerova?. The film was written and produced by Sivakumar and also starred Vijay, Madhavan and Jyothika. Agaram sponsored 159 underprevileged students in 2010 for their higher education in various disciplines, and has continued to provide free seats and accommodation for pupils. With the firm belief that the educated mind can not only eliminate social evils but also aid in the socio-economic upbringing of society, Agaram Foundation works towards providing appropriate learning opportunities to the rural populace who do not otherwise have access to quality education. Through the foundation, he has also set up a platform for students to participate in workshops and improve communication skills, teamwork, goal setting and leadership.
Suriya, along with his father and brother, has also extended help towards the education of Sri Lankan Tamil children on behalf of the Sivakumar Charitable Trust. He is also an active participant in other humanitarian works such as "Save The Tigers" campaign, which aids in the protection and preservation of Tigers in India, and "REACH", a non-profit that cures TB patients for free using supervised medication programs. The actor celebrates every birthday by doing charity work across Tamil Nadu.
In 2013, during his 38th birthday celebrations, some of his fans requested Suriya to enter politics. He apparently discussed the same with his father Sivakumar who was of the opinion that apart from the late matinee idol MGR, no Tamil film actor can "shine" in politics and advised his son to stay focused on acting and excel in it. In an interview with the Bangalore Mirror, Disney UTV's head of business in South India, G. Dhananjayan credited Suriya as the "biggest star" in contemporary Tamil film and claimed it was mainly because of his popularity among Telugu and Malayalam speaking audience.
Filmography
As a producer
Suriya turned producer with his studio 2D Entertainment and started off by distributing his own film Singam II.
Songs
Ek Do Theen
Kaadhal Aasai
Oru Azhagana
Adiyae Kolluthey
Yellae Lama (From "7 Aum Arivu")
En Idhayam (From "Singam")
Vizhi Moodi
Irava Pagala
Chudithar Aninthu
Nilave Nilave
Yaaro Yaaro (From "Maattrraan")
Nenjukkul Peidhidum (From "Vaaranam Aayiram")
Oru Kan Jaadai
Ennai Konjam
Yamma Yamma (From "7 Aum Arivu")
Aayiram Jannal Veedu
Munbe Vaa
New York
Kovakkara Kiliye
Pala Pala
Thendral Varum
Rukku Rukku
Vaarayo Vaarayo
Kuyilikku Koo Koo
Mun Andhi (From "7 Aum Arivu")
Bang Bang Bang
Oru Maalai
Nenje Nenje
Stole My Heart
Mundhinam
Penkaloda Potti
Orayiram

References
Suriya Wikipedia
(Text) CC BY-SA