Covid-19
Ute Bock





Educator





Ute Bock (born 1942 in Linz), is an Austrian educator who got known for her projects helping asylum seekers. In Vienna, there was the campaign Bock auf Bier in which a small percentage of the price of the beer (the price was increased) was earmarked to Bock - who gave therewith asylum seekers a home.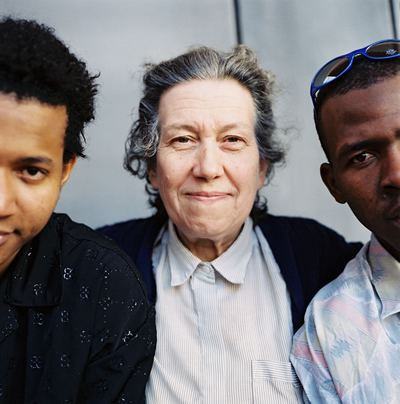 After graduation she spent a year in private industry before she decided to be an educator. In 1969, she obtained work at Gesellenheim Zohmanngasse in Favoriten, the 10th District of Vienna. In 1976 she was eventually appointed as director. In the early 1990s the youth welfare office sent increased foreign youth to Ute Bock's facility, these were also cumulative clients who already were turned away by other facilities. At that time, Ute Bock began to occupy herself with the fate of these people and began to be involved in helping asylum seekers.
During a raid in the asylum in 1999 about 30 young Africans were under the controversial Operation Spring arrested for drug traffic and Ute Bock was charged with banditry and drug traffic and she was temporarily suspended from duty. Later the charges were dropped, though she was forbidden to accommodate other African asylum seekers in the Zohmanngasse. She then organized private residential communities, which she self-funded and supervised. In the year 2000 she retired and now she is working continually on her project. Meanwhile, there are over 350 asylum seekers who find accommodation and board in Ute Bock's organised apartments. Another 1.000 homeless asylum seekers have their mailing address at the Association Ute Bock. In addition, she has made legal advice available to her clients. It relies on donations.
On October 31, the documentary Bock for President has been shown for the first time as a preview in cooperation between Stadtkino and Viennale during the 2009 student protests in Austria in the winter of 2009 in the occupied lecture hall of the University of Vienna. The official premiere took place as part of the Viennale at the Künstlerhaus-cinema on November 1, in the Austrian cinemas the film was shown on January 15, 2010. In the year 2010, Houchang Allahyari dedicated himself to Ute Bock's life again with another film project. In the feature film Die verrückte Welt der Ute Bock (The crazy world of Ute Bock) Josef Hader, Karl Markovics, Viktor Gernot, Andreas Vitasek, Julia Stemberger, Dolores Schmidinger, Peter Kern and Alexander Pschill are taking part. Shown are the work of Bock, who can also be seen in the film, and the stories of people with whom she meets, from the refugees, who play themself, to the police. The film came out in Austria November 2010.
Bock has already won several awards for her social implication .
1999: Ute Bock Award for Moral Courage Zivilcourage
2000: UNHCR-Refugee-Award
2002: Bruno Kreisky Award
2003: Karl Renner Prize and Greinecker Seniorenpreis
2005: One of the five Austrian women, who were selected for the project PeaceWomen Across the Globe2007
2007: International Human Award
with Cornelia Krebs (Hrsg.): Ute Bock. Die Geschichte einer Flüchtlingshelferin. Wien: Molden, 2010, ISBN 978-3-85485-268-1.
Ute Bock Wikipedia