Country

India




Director

Boyapati Srinu




Language

Telugu






Similar

Sarrainodu, Bunny (2005 film), Legend (2014 film)
Jaya janaki nayaka full songs jukebox bellamkonda sreenivas rakul preet dsp
Jaya Janaki Nayaka is a 2017 Telugu action film, produced by M. Ravinder Reddy on Dwaraka Creations banner and directed by Boyapati Srinu. Starring Bellamkonda Sreenivas, Rakul Preet Singh, Pragya Jaiswal in the lead roles while Jagapathi Babu and Sarath Kumar play other important roles.
Contents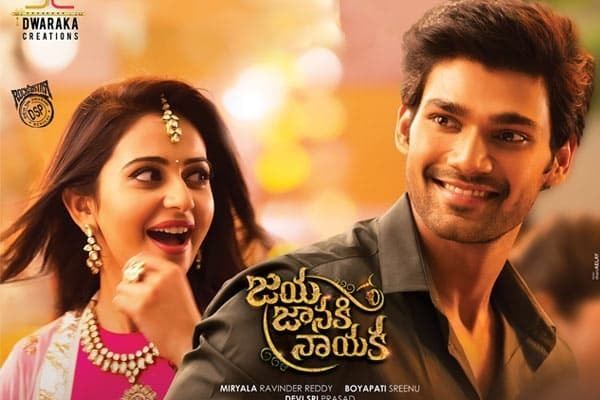 Jaya janaki nayaka teaser 2 bellamkonda sreenivas rakul preet jayajanakinayakateaser2
Plot
Sweety (Rakul Preet Singh) is a college-going student. When an eve teaser son of Central Minister (Suman) bothers her, he gets beaten up by co-student Gagan (Bellamkonda Sreenivas) his father Chakravarthy (Sarath Kumar) & brother Pruthvi (Nandu). Central Minister then makes it a point to take Gagan and his family down. Gagan, his father & Brother are best friends and liquor buddies. They do everything from drinking alcohol to eating roadside foods and beating up wrongdoers in society. Sweety starts to get attracted to Gagan and they start to hang out and she gets to know what his family is like and everything. She comes to Gagan's house and makes a change in their lifestyle for their own sake for which Chakravarthy happily agrees. In the meantime, Sweety learns about Gagan brother's love failure and ends up reconciling with the would-be bride's parents and the marriage is conducted in a grand manner. Chakravarthy upon seeing the happiness and joy in the atmosphere at the wedding realizes that Sweety is the reason behind everything and asks Gagan to always be by her side and if he is not by her side one day, then Chakvarathy and his family as good as dead.
In a parallel track, the CM attends the engagement of a very rich and ruthless businessman Aswith Narayana Varma's (Jagapathi Babu) daughter. The would be groom, however, finds a video of Aswith's daughter romancing and kissing another guy she liked before the engagement. The groom shows Aswith and tells him about this. The next morning, the breaking news on TV, it's revealed that Aswith has intentionally killed the groom in fear of his pride being destroyed. Aswith says the thing he cares about the most in the world in his pride and he will go to any extent to preserve it. He leaves a gun on the table and his daughter picks it up and shoots herself. Aswith and his company plan to build a highway that will make his company the most successful company in all of Asia but Aswith's son (Shashank) reveals that the project has competition in the form of the biggest liquor don in North India, Arun Pawar (Tarun Arora). Pawar is supported by his 2 brothers and has bought off all of Aswith's close associates and subordinates except for his lawyer (Jayaprakash) who happens to be Sweety's father. Pawar threatens the lawyer stating that if he doesn't agree to his terms, that Sweety should get married to his youngest brother otherwise he will kill her. The lawyer agrees out of fear. Aswith however, retaliates and sends his son to kill Pawar's brother and breaks up the back and puts him in a critical condition. Now Pawar then decides to hit back.
Sweety realizes that she's truly in love with Gagan and expresses her feelings towards him. Gagan is delighted and Sweety takes him to her house to meet her father where he insults him after realizing his lifestyle and the reputation that Chakravarthy has in society, then proceeds to insult Sweety. Enraged, Gagan gives Sweety's father a warning but Sweety who cares for her father's life more than anything sends Gagan away and tells him to never come back. Heartbroken, Gagan drives and tries to forget Sweety but is unable to and gets into a car accident. Fearing for his life, Chakravarthy and his uncle send him away with known relatives in Vizag. Faluguni (Pragya Jaiswal) arrives at the airport and picks Gagan up and Gagan realizes her lifestyle is young, wild, and free. Falguni, however, has no interest in Gagan romantically. While driving back after a party on the beach. Gagan witnesses a family being attacked. He decides to save them and they turn out to be Varma's family and Pawar's brother has been sent to finish them off. Aswith's family pleads Gagan to save them and their daughter in law. Gagan fights off some of Pawar's men and saves the daughter in-law and she happens to be none other than Sweety. Shocked, Gagan is then shot 4 times and is left for dead. The doctors end up saving him and then the flashback is revealed by Varma's wife.
After breaking Pawar's brothers back, Aswith then met Sweety's father, they decide to get Aswith's son married with Sweety. At the wedding is Aswith's son is about to tie the knot, he is shot and killed and Pawar's men come and kidnap everyone to kill them. At the right moment, Gagan came and rescued them. Gagan then vows to protect Sweety until he dies and will solve all her problems. Aswith's sister (Vani Viswanath) comes and says the family must perform a pooja at the Hamsala Deevi river area. She sees Gagan and says he can't come along. Aswith's sister, in reality, has cut a deal with Pawar to get Sweety and leave her family alone, Pawar agrees. As Aswith and the rest of his family perform the pooja, they attacked by Pawar's men. As they are about to attack Sweety, Gagan emerges from the water along with his father & brother and kills everyone. He takes Sweety along with him and Aswith feels his pride has once again been damaged. So, he joins hands with Pawar in eliminating Gagan once and for all.
And in the attack, Gagan's father & brother are seriously injured and Aswith kidnaps Sweety. Gagan then lugs his dying brother and father to where Sweety is being kept and kills everyone but Aswith. Finally, Gagan says ASwith lost his pride a long time ago, listening to this Aswith shoots himself and dies. Chakravarthy decides to get Gagan married to Sweety and asks what name she would like on the wedding card. Sweety says Janaki and the whole family says Jaya Janaki Nayaka and the film ends on a happy note.
Soundtrack
The music was composed by Devi Sri Prasad. Music released on Junglee Audio Company.The song Nuvvele Nuvvele has received well to the audience behind all the songs.
Development
Bellamkonda Suresh selected director Boyapati Srinu to direct his son Bellamkonda Sreenivas' third film. It was confirmed by the director later when the script work was in its final stages. The film was officially launched at Annapurna Studios in Hyderabad on 27 August 2014. Devi Sri Prasad was declared as the music director, Arthur A. Wilson was declared as the cinematographer, A. S. Prakash was declared as the art director while the story and dialogues were written by M. Rathnam. The film was said to be on the lines of Boyapati Srinu's debut film Bhadra and the script work was complete by then. Nallamalupu Bujji was reported to replace Bellamkonda Suresh as the film's producer due to the latter's financial crisis. However, Sreenivas confirmed that his father would produce the film and it has been delayed due to story discussions but not due to financial problems.
Casting
Early reports said that Shruti Haasan would be selected as the female lead of the film. However, in a press meet, Bellamkonda Suresh said that the female lead is yet to be finalized and discussions are going on. Tamannaah was selected as the female lead who said that her role was well written, unique and something she never did in her earlier films. On the day of launch, Boyapati Srinu said that another heroine will act in a guest role. Reports in mid-October 2014 suggested that Tamannaah may opt out of the film as she has to accommodate dates for Baahubali and for a Tamil film. In early November 2014, it was known that Sreenivas is working on his body language and would sport a new look for the film.
Due to the halt in the project, search for the female lady began in January 2016 and was reported that makers are keen on signing Shruti Haasan or Rakul Preet Singh. On 17 January 2016 it was confirmed that Rakul Preet Singh was signed in as a female lead on paying her an amount of ₹0.25 crore (US$39,000). Aadhi Pinisetty was roped in to play a crucial role.
Filming
The makers planned to start the regular shooting in late October 2014 or early November 2014. In early November 2014, the filming was announced to start in December 2014 once Sreenivas undergoes the transformation envisioned by Boyapati Srinu.
The principal photography began in mid-November 2016.
After a much delay of two years the shooting commenced in November 2016. It released on August 11, 2017.The film received positive reviews from critics and audience.
References
Jaya Janaki Nayaka Wikipedia
(Text) CC BY-SA