3.8

/

10

Alchetron

7

Rate This




Also known as

Udann Sapnon Ki




Country of origin

India




Genre

Drama


Written by

Robin Bhatt, Javed Siddiqi, Sameer Siddiqui (Dialogues)


Starring

Meera Deosthale, Varun Sharma, Paras Arora, Vijayendra Kumeria


Opening theme

"Ye Honslo Ki Udaan Hai"




Similar

Ishq Ka Rang Safed, Thapki Pyar Ki, Balika Vadhu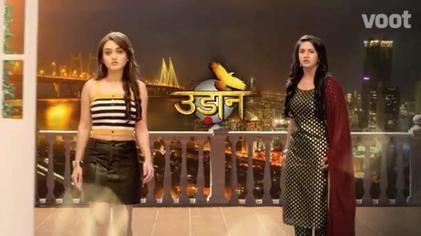 Udaan (English: Flight, Fly) (also known as Udann Sapnon Ki) is an Indian television drama show, which premiered on 18 August 2014, and airs on the Colors TV channel, Monday through Friday. The show is produced by Bollywood filmmaker, Mahesh Bhatt and is based on his unreleased movie of the same name. It stars child artist, Spandan Chaturvedi in a lead role. The first promo of the show was released on 10 July 2014.
Contents
The series is being dubbed into Tamil as Poovizhi Vasalile on Raj TV and being telecasted from Monday To Saturday at 8.30pm giving tough competition to Vamsam, a Sun TV serial.
It is also dubbed into Sinhala as Dhoni on Hiru TV and telecasts from Monday to Friday at 6.30pm. It is also rebroadcast as Sathi Aga Dhoni on Saturday and Sunday at 5.30pm.
Udaan is a social message program to highlight the issue of bonded labour in Indian villages.
Udaan: Fun with Sapndan and Tasheen aka Chakor and Imli
Plot summary
Set in 1996 in the village of Azadganj, Udaan is the story of the bonded labourers of a wealthy landlord, Kamal Narayan Rajvanshi (Sai Ballal). The story features the female protagonist Chakor (Spandan Chaturvedi), who is kept as collateral (girvhi). While Chakor's mother Kasturi Bhuvan (Sai Deodhar) is pregnant with her, her father, Hariya, dies in an accident. Bhuvan has neither money nor a cow to donate to Pandit for Hariya's funeral, so Bhuvan and Kasturi go to Rajvanshi's haveli and beg for money from him. Instead, his wife Tejaswini suggests that they keep the unborn child as a collateral. The couple agrees that the child can be Rajvanshi's bonded labourer. Kasturi gives birth to a daughter, Chakor, on the night of a full moon. Tejaswini allows them to take her home for seven years; then she must be brought back to Rajvanshi to serve.
After seven years (2003), Chakor enters the haveli. She is a fearless, kind-hearted, and an intelligent girl. In the haveli, she meets and makes friends with Vivaan Rajvanshi, Manohar Rajvanshi's son. With Vivaan's help, Chakor escapes the haveli but is dragged back into slavery by her mother. While being supported by Ishwar Rawat, (Sandeep Baswana) she dreams of freedom. Ishwar is Aditya Rawat's father, a free spirited collector from Lucknow. He adores Chakor like a daughter and wants her to study. Chakor goes to school where Arjun Khanna (Vineet Raina), a physical education trainer, enters her Chakor's life.
Ishwar is determined, against all odds, that Chakor be educated. He takes her to Lucknow to seek his family's support. His father, Purshottam, is fearful of Bhaiyaji and tries to return Chakor to Rajvanshi. Ishwar is arrested on a false charge by Bhaiyaji, who argues that Ishwar kept Chakor in his home illegally in order to sell her. To protect Ishwar, Chakor faces a difficult decision between saving the man who helped her, and her own education. She vows that she will abandon the idea of getting an education. Arjun Khanna enters Azadganj to help Chakor and Ishwar. Vivaan Rajwanshi also enters Azadganj. Chakor meets Bhagya, (Sheetal Pandya) Kamal Narayan's daughter. Arjun and Bhagya fall in love. Ishwar sends Kamal Narayan to jail. Arjun and Bhagya are happily married. Ishwar dies in a bomb blast set by Kamal Narayan. After Ishwar's death, Kamal Narayan is released.
Narayan does not accept Arjun as his son-in-law and wants to kill Arjun. Kamal and Manohar see a girl, Chunni, in Delhi, who looks like Chakor. They gave her ₹50 lakhs to act as Chakor. Arjun takes Bhagya to Lucknow. Kamal and Manohar come to Azadganj with Chunni. Kasturi and others are happy to see Chakor. Kamal Narayan learns that Arjun took Bhagya to Lucknow and becomes very angry. Finally, it is revealed that Chunni is Chakor's twin-sister. Bhaiyaji kills Chunni. Chakor goes to the rainbow circus, unaware of Chunni's death. She bravely exposes the murderer in the circus and then travels to perform in Bhaiyaji and Ranjana's wedding after Ranjana kills Manohar. Ranjana marries Bhaiyaji. Bhayiaji tries to kill Chakor but Arjun re-enters Azadganj and saves her. Bhayiaji gets angry and captures her dadi to maintain his grip over the fearful villagers. Arjun asks Chakor to give her 10 years to him and she agrees.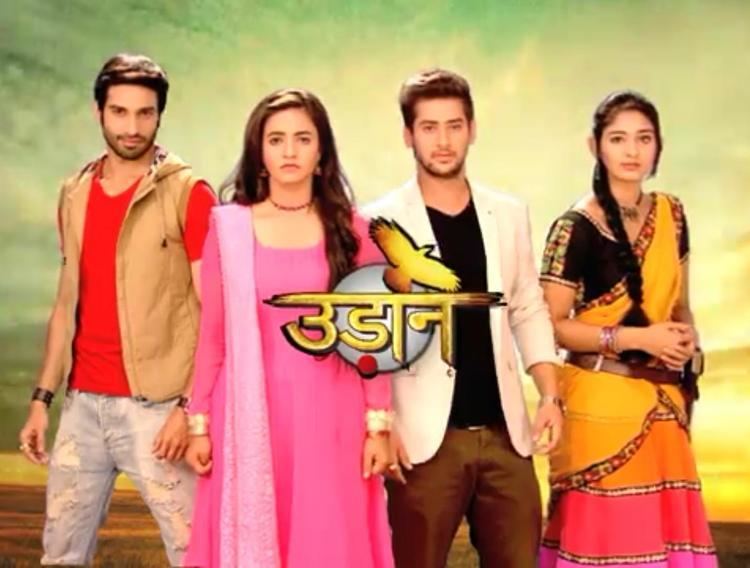 After ten years
The show leaps ahead ten years. The story now follows three protagonists:- Chakor(Meera Deosthale), Aditya Rawat(Varun Sharma) and Vivaan Rajawanshi (Paras Arora). Chakor is trained under Arjun Khanna. Arjun(Vineet Raina) and Bhagya (Sheetal Pandya) who take care of her like their own daughter. She grows up with a dream: to free Azadganj from the clutches of Kamal Narayan Rajvanshi. She enters Azadgarh after gaining fame by winning various races. Upon returning to Azaadganj she learns that her dadi was killed by Kamal Narayan, and that her sister Imli has been brainwashed against her. She has now become loyal to Kamal Narayan and his son Suraj. She meets Vivaan who she feels is not normal and is always in a semi-conscious state. She soon finds out that he is in fact being drugged by Tejaswini. Vivaan eventually quits drugs for Chakor's sake. Together, Vivaan and Chakor successfully conspire against Kamal Narayan to end his reign of terror. He and his son are jailed for their crimes. The whole village of Azaadganj celebrates and Vivaan proposes to Chakor who accepts. Suraj, with the help of Imli, manages to get out of jail and vows revenge against Chakor and Vivaan. Suraj fixes his marriage with Tina who is daughter of a rich businessmen in Delhi. Imli informs Suraj that she is pregnant with his kid. But Suraj refuses to accept her and ask her to go for an abortion. A shocked and broken Imli tries to commit suicide. But Chakor saves her on time and promises to make her marry Suraj . Chakor's marriage get fixed with Vivaan. On the same day Suraj's marriage with Tina too gets fixed. Chakor learns that Tina is forced into this marriage and with the help of Tina, Vivaan and Imli she plans to swap Tina with Imli and make her get married to Suraj. Chakor manages to help Tina to runaway on the wedding and makes Imli ready as a bride for Suraj. Suraj learns about the bridal swap and with the help of Tejaswini he swaps Imli and Chakor. Eventually without anyone's knowledge Suraj Marries Chakor. Everyone is unaware of this as both Chakor and imli had covered there faces with dupattas and Suraj and Vivian too have covered there faces with Sehra. After marriage everyone is shocked as Chakor had married Suraj and Vivaan had married Imli. Suraj manages to put the blame for bridal swap on Chakor's head and everyone believes it including Vivaan and Imli shattering Chakor.
Main cast
Meera Deosthale as Chakor Bhuvan Lal/Chakor Suraj Rajvanshi
Vijayendra Kumeria as Suraj Kamal Narayan Rajvanshi
Paras Arora as Vivaan Manohar Narayan Rajvanshi
Vidhi Pandya as Imli Bhuvan Lal/Imli Vivaan Rajvanshi
Vandana Singh (actress) as Ragini Kamal Narayan Rajvanshi
Sai Ballal as Kamal Narayan Rajvanshi
Guest stars
Crossover Episodes
Trishakti
Trishakti was a segment in which three serials were involved. This was not a crossover but each serial was broke down into smaller parts. All serials part were shown one after another. There are total of 9 Trishakti. There are total of 9 Trishakti. Three heroines of the serials were in the main lead in each Trishakti.
Main Leads
indicates Dhaani (Eisha Singh) from
Ishq Ka Rang Safed
.
indicates Thapki (
Jigyasa Singh
) from Thapki Pyaar Ki.
indicates Simar (Dipika Kakar) from
Sasural Simar Ka
.
indicates Anandi (
Toral Rasputra
) from
Balika Vadhu
—Kachi Umar Ke Pakke Rishte
indicates Nandini (Mahhi Vij) from Balika Vadhu—Lamhe Pyaar Ke
indicates Chakor (Meera Deosthale) from
Udaan Sapnon Ki
indicates Swara (Helly Shah) from Swaragini — Jodein Rishton Ka Sur
indicates Ragini (Tejaswi Prakash Wayangankar) from Swaragini — Jodein Rishton Ka Sur.
Notes
In the first Trishakti episode, Thapki (Jigyasa Singh) calls Dhaani (Eisha Singh) and talks to her as they have become friends at the temple in a crossover episode broadcast in February 2016. Dhaani says that she don't know what to choose. Whether her respect or her love. Thapki says do whatever your heart wants you to. Dhaani then thanks Thapki.
In the first Trishakti episode, Shraddha asks Thapki to order Laddos from Daddoji Halwai. She calls Simar (Dipika Kakar) and ask her to place her order on her behalf as she hasn't know the shop contact number. Simar says OK. Shraddha scolds Thapki while she is on call. Simar then asks her why the girl was scolding her. She says it is a long story but shortly I am servant at my in-laws in order to unite them. Simar, then motivates Thapki by saying it is very difficult to find such a brave daughter-in-law. Thapki thanks Simar for placing her order.
In the third Trishakti episode, Anandi (Toral Rasputra) was in lead while in the last Trishakti episode, Nandini (Mahhi Vij) was in lead. However they were from the same drama serial, Balika Vadhu. This happening of change lead took place when Balika Vadhu — Kachi Umar Ke Pakke Rishte, the first season of the show ended and the second one started which was Balika Vadhu — Lamhe Pyaar Ke.
In the seventh Trishkti episode, Swara (Helly Shah) was in lead as she had to save her life. Her sister, Ragini (Tejaswi Prakash Wayangankar) was not in lead.
In the eighth Trishakti episode, Chakor (Meera Deosthale) was in lead. However, in the episode promo, it showed Imli, her sister helping her.
References
Udaan (2014 TV series) Wikipedia
(Text) CC BY-SA