Birth name

Tulele Faletolu

Record label

Hillsong Music Australia

Genres

Praise, Worship, Gospel, Soul, Funk, RNB

Labels

Hillsong Music , Independent

Similar People
Hillsong Live Worship "Magnificent" led by Tulele Faletolu
Tulele Faletolu, born 21 December in Wellington, New Zealand, is a Christian singer/songwriter and a former worship leader at Hillsong Church in Sydney.
Contents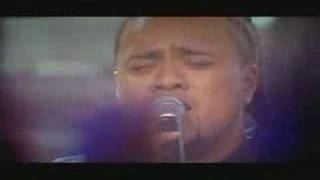 Tulele is of Samoan descent and started singing at a young age. He moved from Wellington to Auckland with his younger brother Tolu to attend the Excel School of Performing Arts in the early 1990s.
In 1997, Tulele and Tolu joined Revelation, a RNB/Funk/Gospel Live Band formed by bass player Carl Gavet. Tulele shared vocal leads with Marcus Temu, Tolu on rhythm keyboards (later becoming the 3rd Lead Vocalist alongside Tulele and Marcus) alongside fellow keyboardist Louis Collins, and James Clay on the drums.
Revelation then relocated to Sydney, Australia in 1999 where the band began to gig at places like the Marble Bar formerly at the Hilton Hotel, The Cave at Star City Casino, and their more regular gigs at the Basement near Circular Quay. It was not long after that Tulele began attending Hillsong Church at Baulkham Hills, and within the following months, he then volunteered to be in the Hillsong Church choir while still singing lead vocals for Revelation.
At the beginning of 2001, Tulele was elevated from a member of the choir to backing vocals and sang and recorded some ad lib worship for the songs "Emmanuel" and "Worthy is the Lamb" for You are My World even though he was in choir for that album. He was then put forward as a worship leader when his first solo recording was "Away in a Manger" on the Hillsong album Christmas followed by a remake of "My Heart Will Trust" on the studio album, Amazing Love. The first major Hillsong album he sang on was Blessed singing "Magnificent" and "King of Majesty". Tulele then left Revelation to concentrate solely on serving in the worship team for Hillsong and Hillsong United. In 2005 during the Hillsong Live album recording, God He Reigns, he re-united with Marcus Temu & Tolu Faletolu to sing the Mia Fieldes written "All for Love". This would be the last Hillsong album recording that Tulele would appear on as the later released song "Emmanuel" on the Celebrating Christmas album was recorded prior to the God He Reigns album.
In early October 2010, Tulele performed at his first major public appearance in over 5 years with his brother Tolu at the very first Samoan Music Awards and also at a live concert at Lalomanu Village where the Tsunami struck over 12 months prior to this event as part of the FOB Music Festival in Samoa.
On Sunday, 1 May 2011, Tulele alongside Barry Southgate and Dee Uluirewa did backing vocals with Darlene Zschech leading worship at The inaugural Hope Unlimited Church album recording. This marked the 1st time in 5 1/2 years since Tulele actively sung on a church stage of any sort as the last time was at Hillsong Conference 2004.
On Tuesday Night, 3 July 2012, At Hillsong Conference, Tulele sung backing vocals alongside Darlene Zschech, Israel Houghton, Sid Mohede, Stan Walker and others marking 8 years since his last time singing on that type of platform.
Facts
He is a famous Christian singer/
songwriter
and a former worship leader at Hillsong Church in
Sydney
.
In 1997, He and his brother Tolu joined Revelation, a Live Band formed by bass player Carl Gavet.
Tulele faletolu o holy night
Discography
List of songs by Tulele as Lead/Backing Vocals or written by him for Hillsong & Hillsong United include:
References
Tulele Faletolu Wikipedia
(Text) CC BY-SA