India




Marathi




Maharashtra




Nashik



Trimbak is a city and a municipal council in Nashik District in the Indian state of Maharashtra. Trimbakeshwar Shiva Temple is located here. The origin of the sacred Godavari river is near Trimbak.
Trimbak is located at 19.56°N 73.32°E? / 19.56; 73.32. It has an average elevation of 720 metres (2362 feet).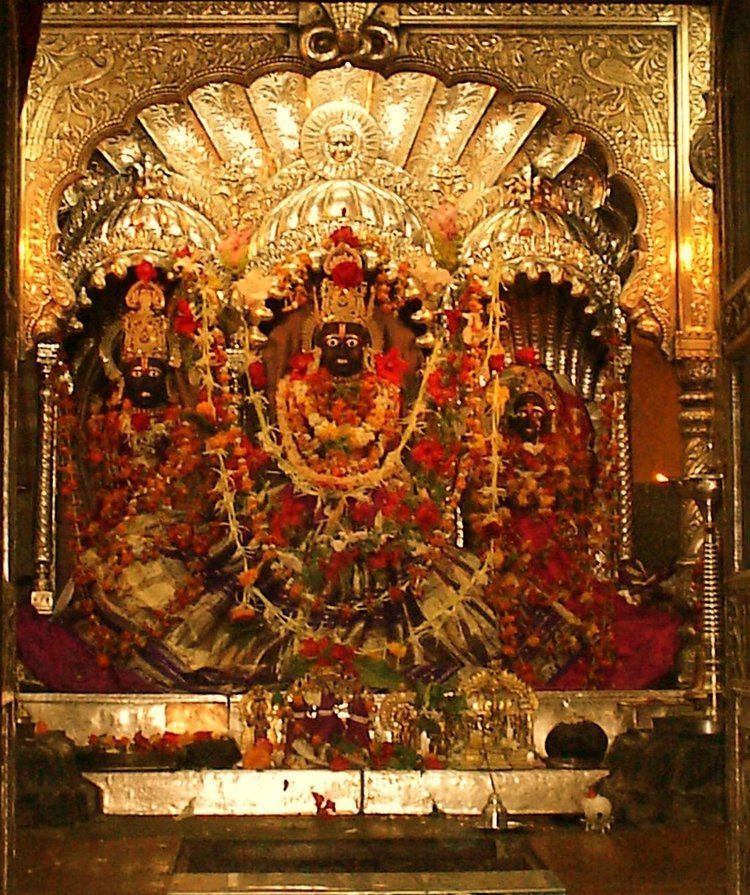 There was built a city which later on became famous as Trimbakeshwar. In the period of the Peshwas regime Nana Saheb Peshwa had instructed to construct the Trimbakeshwar temple and developed and beautified the city of Trimbakeshwar.
Neel Mani - Once a large Neel Mani (Blue Diamond), Now named as Nassak Diamond, adorned the Trimbakeshwar temple. The Diamond was looted by English colonel named J. Briggs. from Bajirao Peshva. In turn, Briggs delivered the diamond to Francis Rawdon-Hastings which then went to England.
Trimbak Wikipedia
(,)http://upload.wikimedia.org/wikipedia/commons/8/8f/Rama,_Lakshman_and_Sita_at_the_Kalaram_Temple,_Nashik..jpg(,)http://4.bp.blogspot.com/_iTfVkhEXqNw/S78NZX-1AiI/AAAAAAAAAEA/Og-yGwCwnag/s1600/Trimbakeshwar_city.JPG(,)http://www.halobackwaters.com/yahoo_site_admin/assets/images/4_-_Trimbakeshwar_Temple__Nasik.334145830_std.jpg(,)http://upload.wikimedia.org/wikipedia/en/6/62/John_Wilson_missionary.jpg(,)http://i2.wp.com/wetourindia.files.wordpress.com/2010/09/100_1509new.jpg(,)http://upload.wikimedia.org/wikipedia/commons/f/fc/Indian_Camp_Scene.jpg(,)http://i.ytimg.com/vi/pe2JBjenqjA/0.jpg(,)http://en.academic.ru/pictures/enwiki/84/Trimbakeshwar_Shiva_Temple,_Trimbak,_Nashik_district.jpg
(,)http://allthecities.com/system/panoramas/pictures/000/892/140/original/original.%3F1380268296(,)https://farm4.staticflickr.com/3304/4626109472_c3377db5a7.jpg(,)https://mygov.in/frontendgeneral/images/incredible_india05.jpg%3Fv%3D25112014(,)https://harshad30.files.wordpress.com/2014/11/9350c-jammu2band2bkashmir.jpg(,)https://thaitravellers.files.wordpress.com/2010/04/rice-fields1.jpg(,)http://cache4.asset-cache.net/gc/148755180-landscape-around-trimbak-gettyimages.jpg%3Fv%3D1%26c%3DIWSAsset%26k%3D2%26d%3DMXgGDPvD4fMn3pVl1khLkiWZu%252BRj6UiWfpC0jtk4YL5ZJ2YIpB4hpzrG8mToihJP(,)http://mw2.google.com/mw-panoramio/photos/medium/45204037.jpg(,)http://mw2.google.com/mw-panoramio/photos/medium/25375580.jpg(,)http://mw2.google.com/mw-panoramio/photos/medium/78636611.jpg(,)http://mw2.google.com/mw-panoramio/photos/medium/14391350.jpg(,)http://mw2.google.com/mw-panoramio/photos/medium/11413538.jpg(,)http://mw2.google.com/mw-panoramio/photos/medium/57166342.jpg(,)http://mw2.google.com/mw-panoramio/photos/medium/56317125.jpg
(,)http://media-cdn.tripadvisor.com/media/photo-s/02/4a/e2/84/mtdc-holiday-resort-trimbakesh.jpg(,)http://media-cdn.tripadvisor.com/media/photo-s/02/4a/e2/87/mtdc-holiday-resort-trimbakesh.jpg(,)http://media-cdn.tripadvisor.com/media/photo-s/05/36/20/de/shree-gajanan-maharaj.jpg(,)http://economictimes.indiatimes.com/thumb/msid-47094568,width-600,resizemode-4/shiv-senas-trimbak-tupe-elected-aurangabad-mayor.jpg(,)http://www.yogapoint.com/info/images/trimbak_4.jpg