Time Travel Girl: Mari, Waka, and the Eight Scientists (タイムトラベル少女~マリ・ワカと8人の科学者たち~, Taimu Toraberu Shōjo: Mari Waka to Hachi-nin no Kagakusha-tachi) is an educational anime television series directed by Osamu Yamasaki and produced by WAO World. The anime aired between July 9, 2016 and September 24, 2016 and was simulcast by Funimation.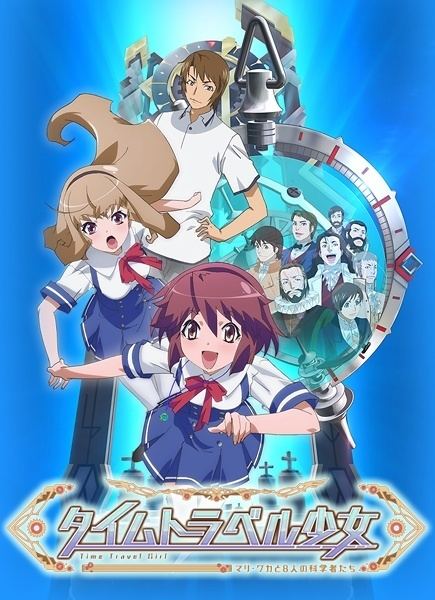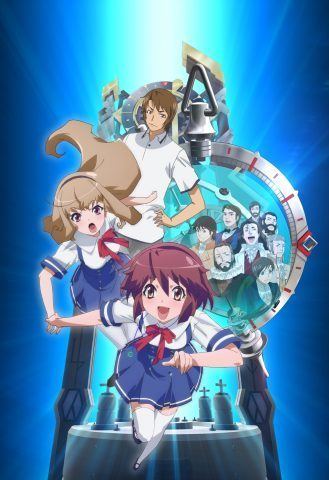 Mari Hayase is a school girl whose father, Eiji, disappeared three years ago, leaving behind a pendant known as the armillary compass. One day, after coming across a peculiar book about various scientists throughout history, the armillary compass glows, sending Mari back in time. Mari, supported by her best friend Waka Mizuki and her brother Shun, travels all across time in search of her father, meeting the famous scientists who changed the way people think about electricity.
Mari Hayase (

早瀬 真理

,

Hayase Mari, usually written

マリ

)
Voiced by: Aki Toyosaki
A second-year 10th grade student and Waka's friend. Daughter of a great patissier and a brilliant scientist. While relatively skilled at cooking and tasting, her academic performance is somewhat random (for instance, when a science test question concerning reflection asked how her reflection in a mirror would look, she responded "it looks cute"). Subtle hints that she have feelings for Shun. She first slipped into the past by accidentally touching a book she stumbled upon in Shun's room; who was passed to him by Mari's father. Got captured by Mikage and forced to slip back to the past to find Eiji after finding out about the machine. Got saved by her father in the midst of a time paradox, but managed to return safely to the future after Shun saved them. She became a scientist in the future, discovering the time machine; following the aftermath of her father.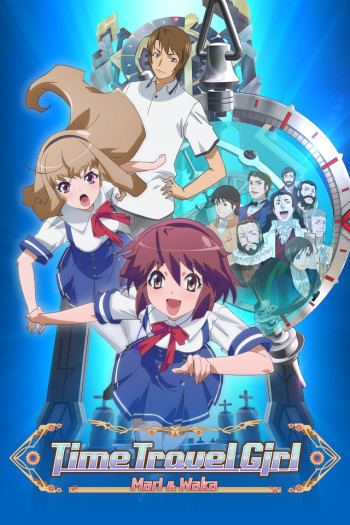 Waka Mizuki (

水城 和花

,

Mizuki Waka, usually written

ワカ

)
Voiced by: Minako Kotobuki
Mari's second-year classmate and best friend and Shun's younger sister. She has a crush on fellow classmate Futa. She is also the first person to witness Mari slipping back to the past and informed Shun about it. Waka also happened to accidentally slipped back to the past along with Mari, and was unable to come back and panicked while she was alone in the past- different from how Mari reacted when she first slipped back to the past.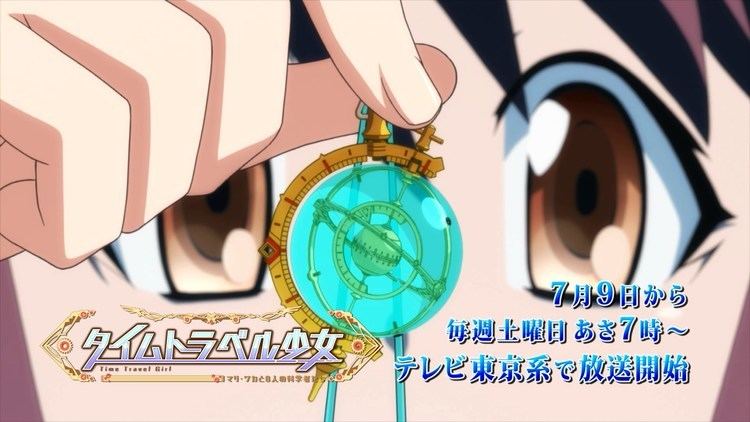 Shun Mizuki (

水城 旬

,

Mizuki Shun)
Voiced by: Ryuichi Kijima
A third-year 12th grade Waka's older brother who aims to be a doctor in the future. Eiji passed a book to him and Mari stumbled upon it, allowing her first time slip to happen. He found out that in the future, along with Mari, he would become a scientist who discovered the time machine.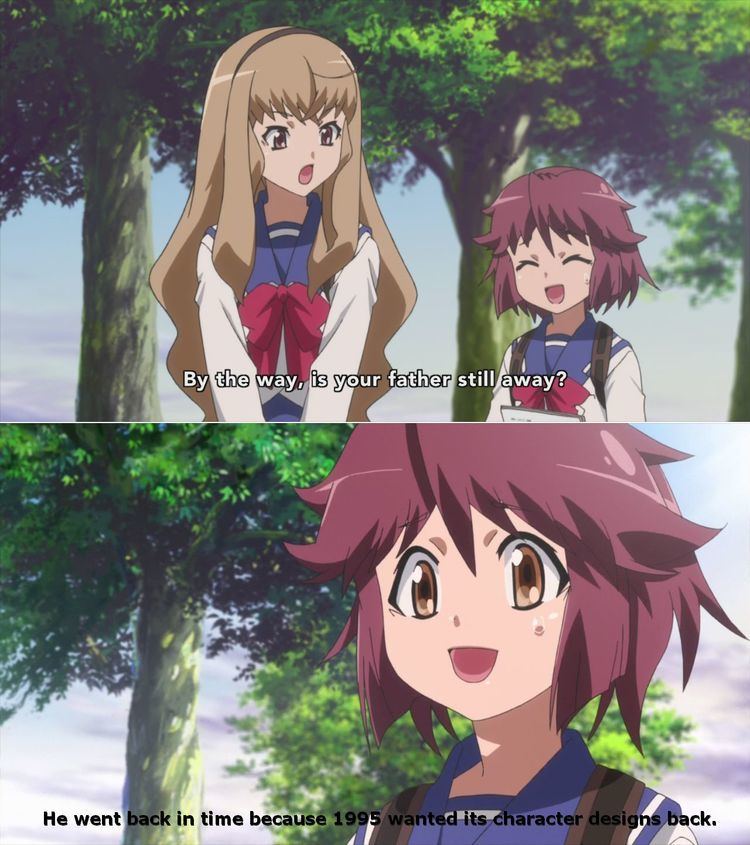 Eiji Hayase (

早瀬 永司

,

Hayase Eiji)
Voiced by: Toshiyuki Morikawa
Akira's husband. Mari and Rika's father. A passionate scientific researcher, he tends to become excessively engrossed in his studies and expeditions; the day after his wedding he disappeared for half a year without any contact, and hasn't seen or contacted his wife or daughters in three years. Found him to be in most of the past traveled when Mari slipped back. Happened to find out in one of the past journey that Mari was captured by Mikage, and tried to save his daughter only to have a time paradox occur in the midst of it.
Futa Ichikawa (

市川 風太

,

Ichikawa Fuuta)
Voiced by: Daiki Yamashita
A member of the soccer team and a classmate of Mari and Waka. Despite being oblivious, Waka has a crush on him.
Jō Mikage (

御影 丞

,

Mikage Jō)
Voiced by: Tomohiro Tsuboi
A cold-hearted businessman who is interested in the timeslip machine, researching about the "transporter matter", which the matter used in the laboratory. Captured Shun, Mari's mother, Waka and Mari inside the laboratory after discovering the timeslip machine located at the basement of Eiji's laboratory. Forced Mari to return to the past with him in order to located Eiji, only resulting in himself to be stuck in the past due to a time paradox error occurring.
William Gilbert (

ウィリアム・ギルバート

)
Voiced by: Tōru Ōkawa
A British astronomer, who revealed to be 150 years old at the future.
Benjamin Franklin (

ベンジャミン・フランクリン

)
Voiced by: Shinichiro Miki
An American entrepreneur, he always says in front of Mari related about love.
Alessandro Giuseppe Antonio Anastasio Volta (

アレッサンドロ・ジュゼッペ・アントニオ・アナスタージオ・ヴォルタ

,

usually written,

アレキサンドロ・ボルタ

)
Voiced by: Daiki Nakamura
An Italian physicist and chemist. He speaks eloquently, talks in an appropriate and polite word and preventing himself from touching things comes from the future.
Michael Faraday (

マイケル・ファラデー

)
Voiced by: Showtaro Morikubo
A British physicist and chemist, he cares to Waka revealed to be imaged with the motto, "Create! Battle! Let's mix all of our energy"
(

つくって!たかって!元気をレッツ まぜまぜ!

,

Tsukutte! Takatte! Genki o Rettsu Maze Maze!)
Samuel Finley Breese Morse (

サミュエル・フィンリー・ブリース・モールス

,

usually written,

サミュエル モールス

)
Voiced by: Kōji Yusa
An American inventor. He is good at drawing and imaged with a quite-girlish delicate aura.
Alexander Graham Bell (

アレクサンダー・グラハム・ベル

,

usually written,

グラハム・ベル

)
Voiced by: Tomoaki Maeno
An American inventor.
Heinrich Rudolf Hertz (

ハインリヒ・ルドルフ・ヘルツ

,

usually written,

ハインリッヒ・ヘルツ

)
Voiced by: Akira Ishida
A German physicist.
Thomas Alva Edison (

トーマス・アルバ・エジソン

,

usually written,

トマス・エジソン

)
Voiced by: Wataru Hatano
An American inventor.
Akira Hayase (

早瀬 晶

,

Hayase Akira)
Voiced by: Haruka Tomatsu
Eiji's wife and mother of Mari and Rika. She's a professional patissier.
Rika Hayase (

早瀬 理香

,

Hayase Rika, usually written

リカ

)
Voiced by: Yui Fukuo
Mari's younger sister.
Rei Mizuki (

水城 麗

,

Mizuki Rei)
Voiced by: Kikuko Inoue
Shun and Waka's mother.
Satsuki Kuroki (

黒木 さつき

,

Kuroki Satsuki)
Voiced by: Ayahi Takagaki
Mikage's assistant.
A 12 episode anime tv series aired between July 9, 2016 and September 24, 2016 on TV Tokyo. Funimation have licensed the anime for streaming. The series' opening theme is "Kibō Traveler" (希望TRAVELER, "Hope Traveler") by AŌP while the ending theme is "Miss Rabbit" (ミス・ラビット, Misu Rabitto) by Erabareshi.