Set in Paris, the film is about a woman whose husband and child are killed in a car accident. Suddenly set free from her familial bonds, she attempts to cut herself off from everything and live in isolation from her former ties, but finds that she can't free herself from human connections.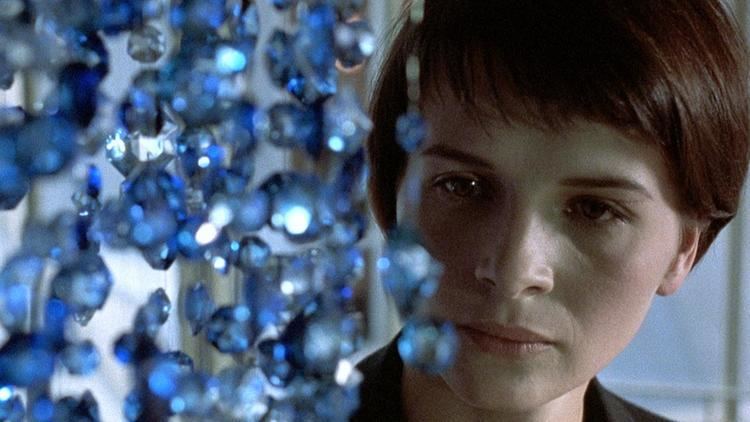 Julie (Juliette Binoche), wife of the famous composer Patrice de Courcy, must cope with the death of her husband and daughter in an automobile accident she herself survives. While recovering in hospital, Julie attempts suicide by overdose, but cannot swallow the pills. After being released from hospital, Julie, who it is suggested wrote (or helped to write) much of her husband's famous pieces, destroys what is left behind of them. Calling Olivier (Benoît Régent), an unmarried collaborator of her husband's who has always admired her, she spends a night with him and says goodbye. Emptying the family house and putting it up for sale, she takes an apartment in Paris without telling anyone, her only memento being a mobile of blue beads that the viewer assumes belonged to her daughter.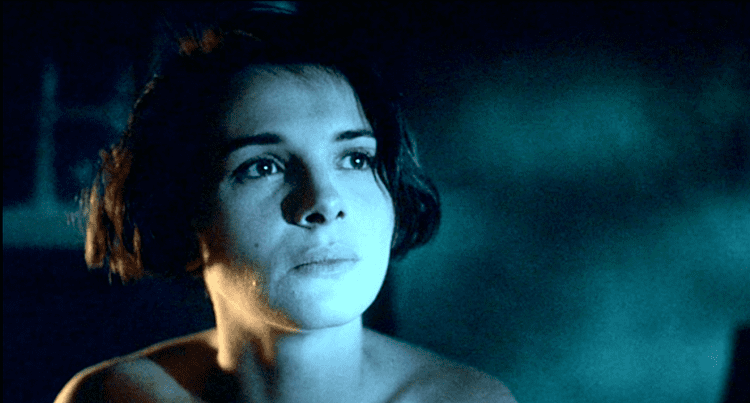 Julie disassociates herself from all past memories and distances herself from former friendships, even being no longer recognised by her mother, who suffers from Alzheimer's disease. She also reclaims and destroys the unfinished score for her late husband's last commissioned work—a piece celebrating European unity following the end of the Cold War. Snatches of its music, however, haunt her throughout the film.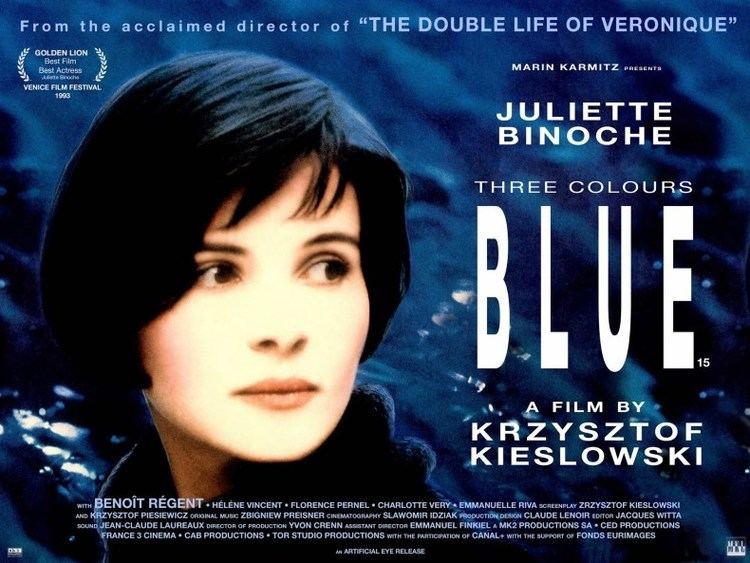 Despite her desire to live anonymously and alone, life in Paris forces Julie to confront elements of her past that she would rather not face. A boy who saw the accident seeks her out to give her a Christian cross he found by the car and to repeat her husband's last words, the punchline of an indelicate joke. She reluctantly befriends an exotic dancer named Lucille (Charlotte Véry) who is having an affair with one of the neighbors and helps her when she needs moral support. Then on TV she sees Olivier in an interview, announcing that he will try to complete Patrice's commission and showing pictures of Patrice with an attractive young woman.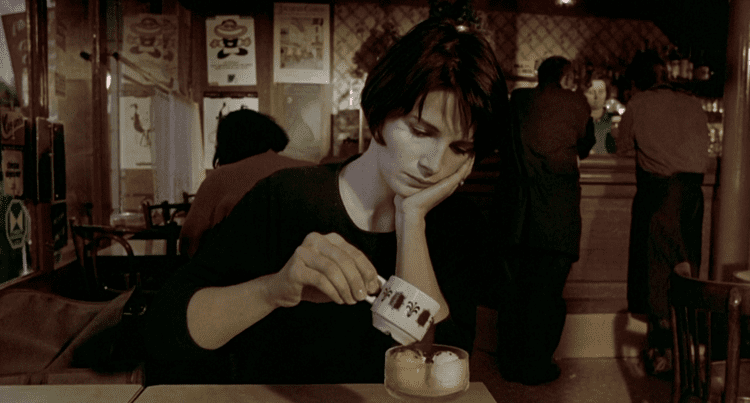 While trying both to stop Olivier from completing the score and to find out who her husband's mistress was, she becomes more engaged in her former life. She tracks down Sandrine (Florence Pernel), Patrice's lover, and finds out that she is carrying his child; Julie arranges for her to have her husband's house, not yet sold, and recognition of his paternity for the child. This provokes her to restart her relationship with Olivier and to collaborate with him after all.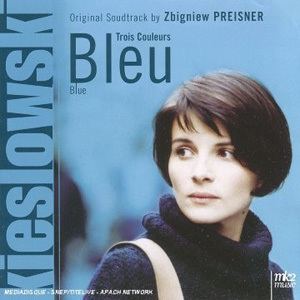 In the final sequence, part of their completed Unity of Europe piece is played (which features chorus and a solo soprano singing in Greek the praise of divine love in Saint Paul's first letter to the Corinthians) and images are seen of all the people Julie has affected by her actions. The final image is of Julie, crying—the second time she does so in the film.
Juliette Binoche as Julie de Courcy (née Vignon)
Benoît Régent as Olivier Benôit
Emmanuelle Riva as Madame Vignon, Julie's mother
Florence Pernel as Sandrine
Guillaume de Tonquédec as Serge
Charlotte Véry as Lucille
Yann Trégouët as Antoine
Hélène Vincent as La journaliste
Philippe Volter as L'agent immobilier
Zbigniew Zamachowski as Karol Karol (cameo)
Julie Delpy as Dominique (cameo)
Blue was an international co-production between the French companies CED Productions, Eurimages, France 3 Cinéma, and MK2 Productions, the Swiss company CAB Productions and the Polish company Studio Filmowe TOR.
Like the other films in the trilogy, Blue makes frequent visual allusions to its title: numerous scenes are shot with blue filters or blue lighting, and many objects are blue. When Julie thinks about the musical score that she has tried to destroy, blue light overwhelms the screen. The film also includes several references to the colors of the tricolor that inspired Kieślowski's trilogy: several scenes are dominated by red light, and in one scene, children dressed in white bathing suits with red floaters jump into the blue swimming pool. Another scene features a link with the next film in the trilogy: spotting the lawyer Sandrine, her husband's mistress, Julie is seen entering a courtroom where Karol, the Polish main character of White, is being divorced by Dominique, his estranged French wife.
Music plays an intricate element of the plot in that it illustrates Julie's efforts to be isolated from everything but cannot do it, such as music cannot be made with a single note but through harmony with all others and how everyone has (or represents) a different kind of music, such as the union of Julie/Patrice had a special tone, which is quite different and more raw with the union of Julie/Olivier.
Another aspect in the film are the fade outs, which are traditionally used in movies to represent time passing or to conclude a certain scene, instead bring the viewers back to the point in time which the fade out began. The occasional fade outs and fade ins to Julie's character are used to represent an extremely subjective point of view. According to Kieślowski: "at a certain moment, time really does pass for Julie while at the same time, it stands still. Not only does her music come back to haunt her at a certain point, but time stands still for a moment."
Three Colors: Blue received wide acclaim from critics, with review aggregator Rotten Tomatoes reporting unanimous approval and an average rating of 8.5/10. It also holds an 85/100 on Metacritic.
Marjorie Baumgarten of the Austin Chronicle said:
Blue is a film that engages the mind, challenges the senses, implores a resolution, and tells, with aesthetic grace and formal elegance, a good story and a political allegory.
Evangeline Spachis of the GirlonFilm states that:
Blue is a visual and arousing cinematic experience, one that deserves repeated and in-depth viewings.
Derek Malcolm of the Guardian commented on the film as:
Blue remains an intense and moving tribute to the woman at its centre who, in coming back from tragedy, almost refuses, but ultimately accepts the only real love that's on offer.
Awards and recognition
Venice Film Festival, 1993: Best Film, Best Actress (Juliette Binoche), Best Cinematography (Sławomir Idziak)
César Award, 1993: Best Actress (Juliette Binoche), Best Sound, Best Film Editing
Golden Globe Award: Best Actress - Motion Picture Drama (Juliette Binoche) (Nominated)
Goya Awards (Spain's Academy Awards): Best European Film
Guldbagge Awards: Best Foreign Film (nominated)