Story by

Craig KyleChristopher YostStephany Folsom

Based on

ThorbyStan LeeLarry LieberJack Kirby

Starring

Chris HemsworthTom HiddlestonCate BlanchettIdris ElbaJeff GoldblumTessa ThompsonKarl UrbanMark RuffaloAnthony Hopkins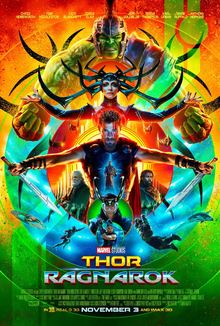 Thor: Ragnarok is an upcoming American superhero film based on the Marvel Comics character Thor, produced by Marvel Studios and distributed by Walt Disney Studios Motion Pictures. It is intended to be the sequel to 2011's Thor and 2013's Thor: The Dark World and the seventeenth film installment of the Marvel Cinematic Universe (MCU). The film is directed by Taika Waititi with a screenplay by Eric Pearson, and stars Chris Hemsworth, Tom Hiddleston, Cate Blanchett, Idris Elba, Jeff Goldblum, Tessa Thompson, Karl Urban, Mark Ruffalo and Anthony Hopkins. In Thor: Ragnarok, Thor must defeat the Hulk in a gladiatorial duel in Time to save Asgard from Hela and the coming Ragnarök.
Contents
A third Thor film was confirmed in January 2014, with the title and involvement of Hemsworth and Hiddleston announced that October. Waititi joined the film as director the next October, after Alan Taylor chose not to return from the second film, and Ruffalo joined the cast, crossing over the character Hulk from other MCU films. With the Hulk's inclusion, elements from the 2006 comic storyline "Planet Hulk" were adapted for Ragnarok. The rest of the cast was confirmed the next May, with Pearson revealed to be involved with the film at the start of filming in July 2016. Principal photography took place from July to October, 2016, in Queensland and Sydney, Australia, with the film having exclusive use of Village Roadshow Studios in Oxenford.
Thor: Ragnarok is scheduled to be released on November 3, 2017, in IMAX.
Premise
After the events of Avengers: Age of Ultron, Thor, held captive on the planet Sakaar without his hammer, must win a gladiatorial duel against an old friend — the Hulk — in order to return to Asgard in time to stop the villainous Hela and the impending Ragnarök, the doom of the Asgardian civilization.
Cast
crown prince
of Asgard, based on the
Norse mythological
deity of the
same name
. Hemsworth stated that following the events of
Avengers: Age of Ultron
,
Ragnarok
finds Thor exploring and policing the universe while enjoying being a "drifter". Hemsworth expressed interest in having Thor interact with Bruce Banner, as the two have not had a lot of interaction previously and "it would bring something different out of the characters," adding he hoped the film was a "[
Butch Cassidy and the Sundance Kid
] sort of story" for the duo. Director Taika Waititi said that he wanted to use more of Hemsworth's comedic talents showcased in films like
Vacation
and
Ghostbusters
, saying, "He's so good and underutilized in that department. He's legitimately one of the funniest things in this film."
nemesis
based on the deity of the same name. On playing the character for a fourth time, Hiddleston said he was interested in how Loki's attitude has changed, adding "I'm four years older... and there will just be new things [I] find in it. The most exciting thing about [Loki] is that he is always a trickster. It is trying to find new ways for him to be mischievous". Regarding the inclusion of the Hulk in the film, Hiddleston said that Loki has "a few chips on his shoulder" due to the previous interaction between the two characters in
The Avengers
.
Hel
and Niflheim, based on the deity Hel, who has been inadvertently released from her prison. About the character, Blanchett said, "She's been locked away for millennia getting more and more cross, and then, with a mistake, she gets unleashed and she ain't getting back in that box." Blanchett also stated that Hela's headdress can be used as a weapon and that she can manifest weapons from different parts of her body. She also took care to discuss with Marvel and Waititi to help define when Hela would be masked and when she would not be. Blanchett worked with stuntwoman
Zoë Bell
and studied
capoeira
in preparation for the role.
Valkyrie
's inclusion in the film, producer
Kevin Feige
said, "[Thor's] relationship with Jane [Foster] may have evolved in unexpected ways in between
The Dark World
and
Ragnarok
and we wanted to pit him against a character who was much more his equal and in many ways his superior." Feige also stated that Valkyrie has spurned her Asgardian heritage elaborating, "Thor thinks maybe that will create a bond between them and, on the contrary, she wants to forget it all entirely." Waititi stated that Thompson's casting was not just about creating diversity explaining, "I'm not obsessed with the idea that you have to cast someone just to tick a box... You should cast people because they're talented. [With Valkyrie] I wanted to make sure we weren't making a female character that was boring and pretty. What I wanted was someone who was going to play the opposite and be even more of the 'guy' character than the guys." Regarding Valkyrie's wardrobe, Thompson said, "she's such a bad ass that she doesn't need a lot of metal to protect her. I'm essentially in leather." Thompson stated that she was inspired by pictures of
Linda Hamilton
as
Sarah Connor
in
Terminator 2: Judgement Day
while training for the role. Thompson will also appear in future Marvel films.
gladiator
on Sakaar. Ruffalo, who said he is always excited to keep returning to the role as he sees "a lot of space for it to grow", hoped the film would explore the relationship between Banner and the Hulk, potentially with the two in a scene together. Regarding the relationship between Banner and Thor, Ruffalo said, "There's a little bit of
Midnight Run
, with [Charles] Grodin and [Robert] De Niro. I feel like that's kind of where we're heading with this relationship between Thor and Banner." Describing the character, Ruffalo stated, "He's much more of a character than the green rage machine you've seen in the
Avengers
movies. He's got a swagger. He's like a god." Waititi said there was "a big conversation" regarding how verbal and conscious the Hulk would be compared to previous MCU films. Waititi added that the decision was a "larger group decision, rather than anything to do with just me or the writer" since it was taking into account future appearances for the character.
Additionally, Benedict Cumberbatch reprises his role as Stephen Strange from the film Doctor Strange, and Sam Neill is cast in an undisclosed role. Waititi makes a cameo appearance in the film.
Development
While promoting the release of Thor: The Dark World in October 2013, Chris Hemsworth stated that he was contracted for another Thor film and two more Avengers films, and would be happy to continue portraying Thor beyond that if people wanted more. Also in the month, producer Kevin Feige stated that certain elements at the end of The Dark World hint at a direction for a possible third film, adding, "We definitely have a story we'd like to tell." In January 2014, Marvel announced that Craig Kyle and Christopher Yost would write the screenplay for the film, with Feige again producing; the story was being outlined that July. In October 2014, while talking about Avengers: Age of Ultron, Hemsworth stated that his next film "won't be Thor 3—that will be the following year".
On October 28, 2014, Feige announced that the film would be titled Thor: Ragnarok, would be released on July 28, 2017, and would see Hemsworth and Tom Hiddleston reprising their roles of Thor and Loki, respectively. Feige called the film "a very important movie for us in Phase 3" of the Marvel Cinematic Universe (MCU), and stated that it would pick up after the events of Age of Ultron. He also confirmed that, in the context of the film, the word Ragnarok means "the end of all things". He later added, "I don't think people will read into that title alone what the movie's going to be." In February 2015, Marvel pushed back the release date to November 3, 2017. In April, Feige was expecting a draft for the film soon. A month later, Feige stated that a director, additional screenwriter and further casting announcements would be revealed "towards the end of the summer", and that filming would begin in June 2016. Also in June, The Dark World director Alan Taylor said that he would not be returning, as "the Marvel experience was particularly wrenching because I was sort of given absolute freedom while we were shooting, and then in [post-production] it turned into a different movie. So, that is something I hope never to repeat and don't wish upon anybody else." During the 2015 San Diego Comic-Con International, Jaimie Alexander said that she would reprise her role as Sif in "a very pivotal part" of the film.
By October 2015, Taika Waititi entered negotiations to direct Thor: Ragnarok. Other directors under consideration included Ruben Fleischer, Rob Letterman, and Rawson Marshall Thurber. Marvel presented the prospective directors with "the ten different ideas that we had for the movie", asking them all to come back with a clearer picture of what the film should be. Waititi created "a sizzle reel for the tone, and some joke stuff" using clips from other films, including Big Trouble in Little China, a practice that Marvel discourages because it "oftentimes can be really terrible". However, Marvel thought that Waititi's reel was "amazing". On why he decided to pursue directing the film, after stating in 2012 that he had no interest in "big features, where the art of the project was sacrificed for profit," Waititi said he felt "like a guest in Marvel's universe but with the creative freedom to do what I want." Later that month, Mark Ruffalo was finalizing a deal to reprise his role as Bruce Banner / Hulk from previous MCU films, and Waititi was confirmed as director of the film by multiple news outlets. Australia's Minister for Foreign Affairs Julie Bishop announced that filming would take place in the country, exclusively throughout the state of Queensland, including at Village Roadshow Studios in Oxenford, Gold Coast. According to Premier Annastacia Palaszczuk, the production was to spend over $100 million in Queensland and employ 750 Queenslanders. Days later, Ruffalo confirmed that he would appear in the film.
In November, Hemsworth indicated that he wanted a lighter tone compared to the previous Thor films, especially the second one, similar to Guardians of the Galaxy. Hemsworth said, "I feel we had less of the sort of the naivety or fun or humor that the first [Thor] might have had. I wish we had more of that in the second [movie] ... We've done regal. We've done Shakespeare, and we've shown that. I think now it's time to go, 'Ok, cool. Let's try something different.'" At the end of that month, Stellan Skarsgård, who portrayed Erik Selvig in the previous Thor films, said that he was contracted to appear should Marvel want to include him, but he was uncertain at the time if they did. He later confirmed that he would not appear in Thor: Ragnarok.
In December 2015, Stephany Folsom was hired to work on the script, and Cate Blanchett entered final negotiations to join the cast, while Hemsworth said that in order to prevent the character or film from becoming "predictable", there was "definitely a goal to do something unexpected... and really mix it up... I think we want to get back to more of a sense of adventure and fun in the" film. Feige revealed that Thor: Ragnarok would take "place within the cosmos primarily which is to say, frankly, very little Earth," a departure from the previous Thor films. He expanded, saying there were only three scenes on Earth, with "80 to 90 percent [taking] place in the cosmos. Tonally and geographically there are a lot of different planets outside of the nine realms that we visit" in the film.
Pre-production
In January 2016, with the film beginning pre-production, Ruffalo described it as a "road movie" and indicated that additional filming would take place in Sydney. Waititi stated that he was working on the script "a little bit", mainly adding humor to the screenplay. The next month, Blanchett was confirmed to have been cast as Hela, while Alexander said in early March that she was no longer sure if she would appear in the film, due to the recent script rewrites, and her only having a short time frame to participate during the hiatus of her television series Blindspot. In April, Tessa Thompson joined the cast as Thor's love interest, as Natalie Portman was confirmed to not be returning from the previous films as love interest Jane Foster. Feige later explained that Foster and Thor have broken up between films.
In May, Marvel confirmed Blanchett and Thompson's castings, revealing the latter's role to be Valkyrie, while announcing the casting of Jeff Goldblum as Grandmaster and Karl Urban as Skurge. The announcement also confirmed that Idris Elba and Anthony Hopkins would reprise their roles of Heimdall and Odin, respectively, from the previous films. Marvel did not reveal Alexander as part of the cast in their announcement, with The Hollywood Reporter stating that she was no longer part of the film due to scheduling conflicts with Blindspot. However, Alexander responded to her lack of inclusion in the announcement on Twitter by saying, "Don't worry ;) ....". In early June, Palaszczuk and Marvel Studios executive David Grant announced that filming would begin on July 4, 2016, with Weta Workshop creating props for the film.
Before the sets created for Marvel's Doctor Strange were demolished, Waititi took advantage of them by writing and filming a scene for Ragnarok featuring Thor meeting Benedict Cumberbatch's Stephen Strange. Marvel and Doctor Strange director Scott Derrickson felt the scene was "kind of perfect" to show Strange joining the wider MCU after his stand alone introduction in that film, so the scene appears during the credits of Doctor Strange.
Filming
Principal photography began on July 4, 2016, under the working title Creature Report, at Village Roadshow Studios in Oxenford, Gold Coast, Queensland, Australia, exclusively using all nine of the studios' sound stages. Javier Aguirresarobe served as cinematographer on the film, with Dan Hennah as Production designer. Aguirresarobe described working on the film as "a rare combination of satisfaction and frustration" stating, "As a cinematographer you dream of doing a personalized job and this is not the case, quite the opposite. You disappear. Your function is to achieve a technically flawless image, to the service of the director and a key character of production, which is the visual effects supervisor." He added that it became frustrating at times because it was difficult to know "where you are inside the movie" but felt "very happy to have been able to respond to such incredible technical requirement."
Additional filming was to occur throughout the state of Queensland, as well as in Sydney. At the start of filming, Eric Pearson was revealed to be an additional writer on the film, which was confirmed in January 2017, with Pearson receiving sole screenwriting credit and Kyle, Yost and Folsom receiving story credit. Later in July, regarding the film's plot and "buddy-style comedy" nature, Waititi said it was hard to define, since "the plot has changed and the script has changed. There are buddy elements to it between Thor and the Hulk, but who knows what the final movie will look like." Waititi later called the film a "'70s/'80s sci-fi fantasy" and "the most 'out there' of all the Marvel movies", with the tone closest to that of Big Trouble in Little China. Inspiration for the road-trip aspect of the film that Thor and Hulk embark on included 48 Hrs., Withnail and I and Planes, Trains and Automobiles. At the end of the month, Hulk's gladiator armor was displayed at the San Diego Comic-Con International, revealing that the film would take some inspiration from the "Planet Hulk" storyline. Concept art released at the convention also revealed that the characters Surtur and Fenris Wolf would appear in the film.
By August, over 100 set and construction workers were given termination notifications, with some complaining that they had been promised work until October or November 2016, and that members of the crew from New Zealand were receiving preferential treatment over the Australian locals. However, Premier Palaszczuk stated that the work for set builders simply "finished" explaining, "What we have seen is that the stage for Thor has been completed and those jobs are finished. As the construction comes to an end, what we will see is more jobs when actors come in." Waititi, who is Māori, made hiring Indigenous and Aboriginal Australians, along with New Zealanders, a priority for the various departments, saying, "It's a responsibility you have to the Indigenous people. You're coming to a country and you're bringing money into the economy and creating jobs but I think you have an even bigger responsibility to look after the people that have less opportunities." He added that having these people on the crew "feel very much like family" and "helps calm me down and makes me feel relaxed." The Indigenous and Aboriginals were hired as part of an initiative by Screen Australia's Indigenous Department, whose mission is "to give Aboriginal and Torres Strait Islanders a foot in the door of the film industry." Filming took place in the Brisbane central business district from August 22 to 25, with the setting used to double as New York City.
Towards the end of September 2016, Sam Neill, who worked with Waititi in Hunt for the Wilderpeople, revealed he had a role in the film. Shortly after, Waititi teased the inclusion of the character Korg in the film. In mid-October, Waititi revealed that new camera technology had been used for a shot in the film, and that he had hoped to include John C. Reilly's Nova Corpsman Rhomann Dey in the film, but there was "no real way to pull it off." Principal photography wrapped on October 28, 2016, with Waititi also revealing that the character Miek would appear in the film.
Post-production
In December 2016, Waititi revealed the planet Sakaar, which is featured in the "Planet Hulk" storyline, would appear in the film, calling it "an insane, far-off futuristic place which was the biggest shift for the film and these characters." Waititi also added that his major visual inspiration for the film was comic artist Jack Kirby. In March 2017, Waititi felt that, despite the events of the film setting up Avengers: Infinity War, the film would not only stand on its own, but reinvent the franchise, saying, "A lot of what we're doing with the film is, in a way, kind of dismantling and destroying the old idea and rebuilding it in a new way that's fresh. Everyone's got a slightly new take on their characters, so in that way, it feels like [this is] the first Thor." Visual effects for the film were created by Industrial Light & Magic's (ILM) San Francisco and Vancouver studios, while Previsualization work was provided by Day for Nite.
Music
By August 2016, Mark Mothersbaugh was set to score the film.
Release
Thor: Ragnarok is scheduled to be released in the United Kingdom on October 27, 2017, and in North America on November 3, 2017, in IMAX. It was originally scheduled for release on July 28, 2017.
Marketing
At the 2016 San Diego Comic-Con, a physical model of Hulk's gladiator armor was revealed. A "mockumentary" short by Waititi, titled Team Thor, was also screened, showing what Thor and Banner were doing during the events of Captain America: Civil War, while concept art and rough animatics were shown. Daley Pearson also appeared in Team Thor as Darryl Jacobson, Thor's flatmate in Australia, with the short released online in August 2016, as well as with the digital download of Captain America: Civil War the following month. Team Thor: Part 2 was released on the home media of Doctor Strange in February 2017, with Pearson appearing once again as Jacobson. Footage and concept art for the film were shown at CinemaCon 2017.
References
Thor: Ragnarok Wikipedia
(Text) CC BY-SA