Occupation

Screenwriter




Role

Film writer




Name

Christopher Yost




Website

http://manvs.com


Years active

2002–present










Full Name

Christopher Lee Yost




Born

21 February 1973 (age 42) (

1973-02-21

)

St. Louis, MO




Residence

Los Angeles, California, U.S.




Notable work

Thor: The Dark World The Avengers: Earth's Mightiest Heroes X-Force




Movies

Hulk Vs, Next Avengers: Heroes of Tomorrow




Education

University of Michigan, University of Southern California




Books

Marvel's The Avengers, X‑Force: Old Ghosts, X‑Necrosha, X‑Men: Messiah Complex, X‑Force Vol1: Angels a




Similar People

Craig Kyle, Ryan Stegman, Mark Brooks, Frank Paur, Sam Liu
A marvelous career an interview with christopher yost
Christopher Lee Yost (born February 21, 1973) is an American film, animation and comic book writer best known as the head writer of the Marvel Comics animated series The Avengers: Earth's Mightiest Heroes and co-writer (with his frequent collaborator Craig Kyle) of the comic book series X-23: Innocence Lost, X-23: Target X, New X-Men, X-Force. and Scarlet Spider (Volume 2). Yost was a member of the Marvel Writers Program and has worked as a screenwriter for Marvel Studios' Marvel Cinematic Universe with Thor: The Dark World (2013) and Thor: Ragnarok (2017); while he is also signed on to write the Spider-Man: Homecoming spin-off movie, Silver & Black, based on the comic book superheroes Silver Sable and Black Cat.
Contents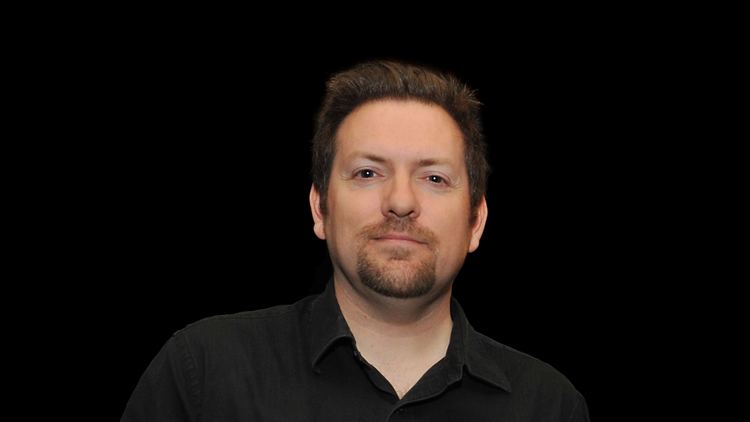 Career
Christopher Yost graduated from the University of Michigan with a film and video degree. With no clear sense of which direction to take his career in, he got into advertising in the Detroit area, producing TV commercials. He later interned, in 2002, in Marvel Comics' west coast office. His spec film scripts got attention from Marvel executives who hired Yost to write episodes of the TV series Wolverine and the X-Men. In 2003, Yost and Kyle co-wrote the episodes that introduced mutant character X-23, female clone of the popular X-Men character Wolverine. Marvel executives were impressed with X-23's reception on TV, and asked Yost and Kyle to adapt the character into comics, first by writing a six-issue mini-series titled X-23: Innocence Lost, and then by taking over writing chores (as of issue #20) on the New X-Men title, bringing X-23 in as a regular character. Yost and Kyle also co-wrote a second X-23 six-issue miniseries, titled X-23: Target X as well as X-Force. Yost also wrote Ender's Game: Battle School, the first in a series of adaptations of Orson Scott Card's Ender's Game by Marvel.
In 2012 Yost moved to work on Marvel's Spider-Man family of comics, revitalizing the character Kaine from the 1990s storyline, the Clone Saga, in the ongoing series Scarlet Spider. He also took over writing duties of the Spider-Man team-up book, Avenging Spider-Man, which was relaunched as Superior Spider-Man Team-Up in 2013.
Outside of Marvel, Yost has written several other comics including Red Robin from DC Comics and his own creator owned series Killer of Demons from Image Comics
Yost has also written for such animated shows as Teenage Mutant Ninja Turtles and The Batman and was the story editor and head writer on the Fantastic Four animated series that aired on Cartoon Network in 2006 as well as Iron Man: Armored Adventures. He was the head writer of Marvel Animation's The Avengers: Earth's Mightiest Heroes, which aired on Disney XD from 2010-2012, and currently working on Lucasfilm's "Star Wars: Rebels" on Disney XD.
Yost worked in the Marvel Feature Film Writers Program from 2010-2012 before embarking on his feature film screenwriting career. , and was one of the writers of Marvel's feature film Thor: The Dark World (2013). In August 2013, Yost was announced as the writer for Mattel's Max Steel feature film before returning to Marvel for work on "Thor: Ragnarok" and Sony's upcoming Masters of the Universe feature film adaptation.
Television
X-Men: Evolution (writer)
3.11 - X23 (story by Craig Kyle, co-written with Craig Kyle), 2003
3.12 - Dark Horizon Part 1 (co-written with Craig Kyle), 2003
3.13 - Dark Horizon Part 2 (co-written with Craig Kyle), 2003
4.03 - Target X (co-written with Craig Kyle), 2003
The Batman (writer)
1.07 - The Big Heat (co-written with J.D Murray), 2004.
2.02 - Riddled (co-written with J.D Murray), 2005
2.06 - The Pets (co-written with J.D Murray), 2005
3.04 - RPM, 2005
Teenage Mutant Ninja Turtles (2003 TV series) (writer)
3.19 - Reality Check, 2005
3.22 - The Real World Part 1, 2005
3.25 - Exodus Part 1, 2005
4.01 - Cousin Sid, 2005
4.06 - Grudge Match, 2005
4.09 - Aliens Among Us, 2005
4.13 - Samurai Tourist, 2005
4.17 - Outbreak, 2006
4.20 - Return of Savanti Part 1, 2006
4.21 - Return of Savanti Part 2, 2006
4.24 - Good Genes Part 1, 2006
4.25 - Good Genes Part 2, 2006
5.01 - Lap of the Gods, 2008
5.04 - More Worlds Than One, 2008
5.07 - Membership Drive, 2008
5.12 - Enter the Dragons Part 1, 2008
5.13 - Enter the Dragons Part 2, 2008
Legend of the Dragon (writer)
1.16 - Shell Game, 2006
Alien Racers (writer)
1.18 - Skrash and Burn, 2006
Fantastic Four: World's Greatest Heroes (head writer, story editor)
1.03 - Doomsday (story by Craig Kyle), 2006
1.12 - Annihilation (story by Craig Kyle), 2007
1.18 - The Cure (story by Craig Kyle & Dan Slott), 2007
1.26 - Scavenger Hunt, 2007
Next Avengers: Heroes of Tomorrow (writer), 2008
Wolverine and the X-Men (writer)
1.07 - Wolverine vs. Hulk, 2008 (story by Greg Johnson, Craig Kyle & Christopher Yost)
1.09 - Future X, 2008 (story by Greg Johnson & Craig Kyle)
1.10 - Greetings From Genosha, 2008 (story by Greg Johnson & Craig Kyle)
1.12 - Excessive Force, 2008 (story by Greg Johnson, Craig Kyle & Christopher Yost)
1.13 - Battle Lines, 2009 (story by Greg Johnson, Craig Kyle & Christopher Yost)
1.14 - Stolen Lives, 2009 (story only, with Greg Johnson & Craig Kyle)
1.15 - Hunting Grounds, 2009 (story only, with Greg Johnson & Craig Kyle)
1.16 - Badlands, 2009 (story only, with Greg Johnson & Craig Kyle)
1.18 - Backlash, 2009 (story by Greg Johnson, Craig Kyle & Christopher Yost)
1.19 - Guardian Angel, 2009 (story only, with Greg Johnson & Craig Kyle)
Hulk Vs (co-written with Craig Kyle), 2009
Iron Man: Armored Adventures (head writer, story editor)
1.01 - Iron Forged in Fire Part 1, 2009
1.02 - Iron Forged in Fire Part 2, 2009
1.12 - Seeing Red, 2009
1.19 - Technovore, 2009 (story only)
1.25 - Tales of Suspense Part 1, 2009
1.26 - Tales of Suspense Part 2, 2009
The Avengers: Earth's Mightiest Heroes (head writer, story editor)
1.05 - The Man in the Ant Hill, 2010
1.06 - Breakout Part 1, 2010
1.07 - Breakout Part 2, 2010
1.14 - Masters of Evil, 2010
1.25 - The Fall of Asgard, 2011
1.26 - A Day Unlike Any Other, 2011
2.01 - The Private War of Doctor Doom, 2012
2.11 - Infiltration, 2012
2.12 - Secret Invasion, 2012
2.13 - Along Came a Spider..., 2012
2.17 - Ultron Unlimited, 2012
2.19 - Emperor Stark, 2012
2.23 - New Avengers, 2012
2.24 - Operation Galactic Storm, 2012
2.25 - Live Kree or Die, 2012
2.26 - Avengers Assemble, 2012
Teenage Mutant Ninja Turtles (2012 TV series) (writer)
2.19 - The Wrath of Tiger Claw, 2014
References
Christopher Yost Wikipedia
(Text) CC BY-SA